A few days before we left for Belgium we were invited for brunch at Crepe & Co. located in Toronto's coolest neighbourhood, Queen West. We figured it was just the way to prime our palate for the European goodness we'd be sampling the following week and so Baby Boy, Little Monkey, the hubs and I wandered over on a Saturday afternoon. The spot opened earlier this summer and is a fairly popular breakfast joint during the week so I was curious to see how our afternoon experience would match up.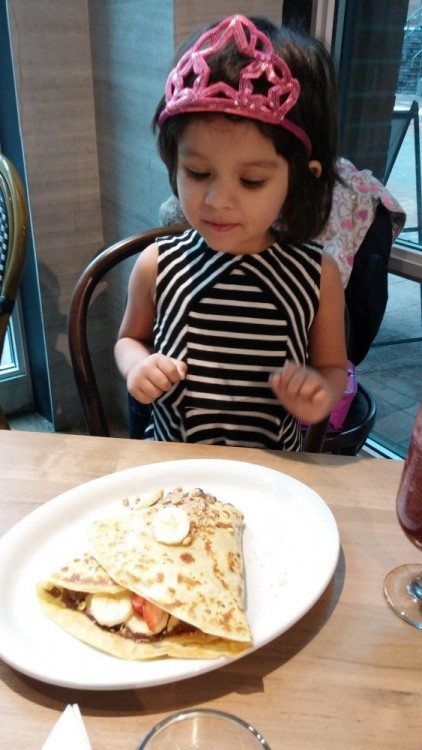 Even before we left the house we knew Little Monkey was not in a good mood, with many a meltdown we forced ourselves to venture outside in the hopes of having a better day after the fresh air…as you will see, that's not how it worked out! On arrival we were greeted by friendly welcomes and a cool cafe vibe. There's an order counter at the front, booths and tables for those looking to enjoy their Crepes in a leisurely manner. We chose to sit at the very back of the cafe so that we'd have space to spread out and there was back door we wanted to be close by to, incase of any meltdowns. Good thing too! Little Monkey was in a lousy mood and I felt bad that people were enjoying their Jazz only to hear her wail intermittently.
Baby Boy was given a high chair and Little Monkey settled into looking at the menu. There was a kids section but she had her heart set on Banana and Chocolate and so that's what we ordered. She also insisted on a Berry Smoothie and I wasn't going to say no! The hubs and I were in the mood for some savoury crepes and so I ordered the Polish Sausage and Mushroom one whilst he ordered the Chicken Kiev. Don't worry, we didn't forget Baby Boy, he wouldn't let us do that! We got him the kids breakfast option which came with scrambled eggs, bacon and 3 minier Blinchikis which are pancakes of sorts. The server plopped it in front of him and giggled but the joke was on her when he returned the plate nearly empty!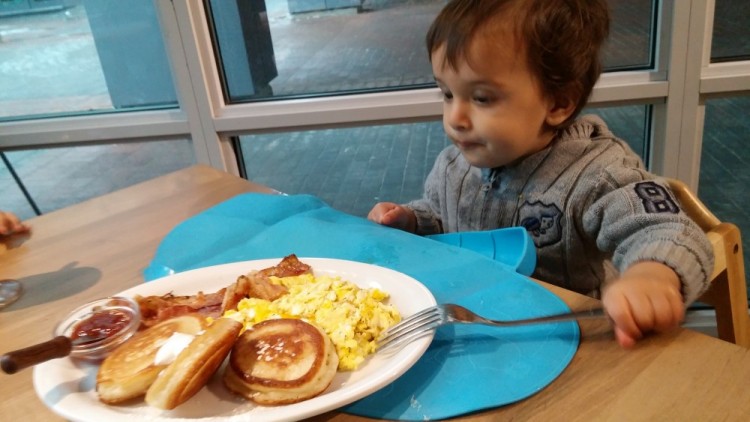 I actually stole some of his Blinchikis. They were fried pancakes that had a most interesting texture. I can't say I'm a crepe connoisseur but I did really enjoy my meal. The hubs who is NOT a fan of Crepes also enjoyed his, despite the toddler tantrums ensuing from Little Monkey. He ate his dish while I took her out on numerous occasions as every little thing (there's strawberries on my crepe!) made her cry. The hubs took her home whilst Baby Boy and I enjoyed our meal and had a lovely chat with co-owner Andrey. He and his wife had traveled through Europe with their kids for a year when they decided that they wanted to bring a little bit of Europe to Toronto. I loved chatting to him because he had many stories to share of their travels – how they worked at farms, got inspired by the locals and how their crepe menu features an array of traditional European ingredients and delicacies, ranging from a Ukrainian-inspired crepe (chicken Kiev) to an Italian Tiramisu crepe and a Polish sausage and mushroom option.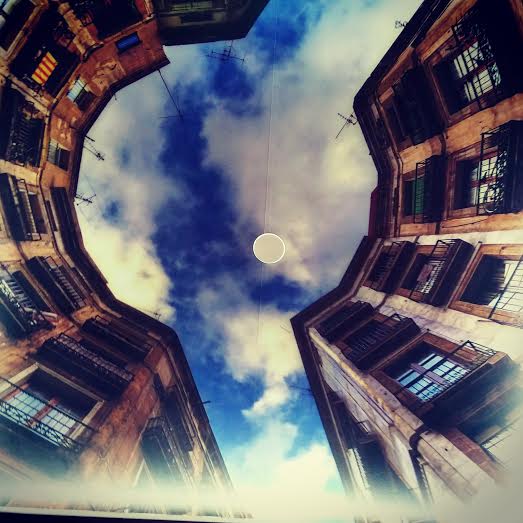 I loved that every menu item had a suggested pairing…yes folks they seve boozy drinks here as well. How oh so very European eh? There's a live Jazz band every Saturday afternoon and you can chat with Andrey and his wife Natalie on Twitter to stay up to date on their many specials. I think this is a spot I'd definitely go back to, especially since I MUST try their poached pear and Tiramisu crepes. It's a casual spot to hop into during your Queen West shopping sprees or explorations. Oh also don't forget to look up once you're seated. There's some stunning photos of Europe on their ceilings!