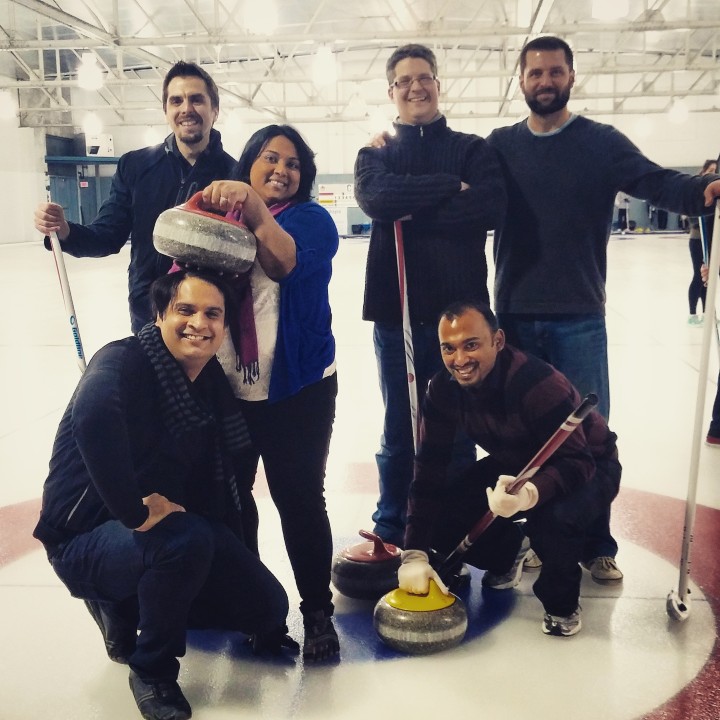 A few weeks ago, Yashy and I spent an evening away from the kids at the Royal Canadian Curling Club in Toronto's Riverdale neighborhood. Despite growing up in Canada and having spent countless hours in front the TV strangely riveted by Olympic Curling, I had never set foot inside of a curling rink in my life.
We were at the Club that night for the Annual Bonspiel, Beer, and Bar-be-cue. Some friends of ours had attended the event for several years, and I jumped at the invitation, dragging Yashy into the fray. Yashy had curled once before and enjoyed it, and so we figured it was a good chance to enjoy our kid-free weekend ( it was the same weekend as Cuvee). For $60 we got fed, enjoyed a pint, received group curling lesson and got to curl.
The event has a charitable component, with proceeds going to "For the Love of Curling", which focuses on three main areas:
Getting more Canadian kids to try curling. I can get behind that. I wish I had tried as a kid.
Helping local clubs grow membership and become sustainable. Sounds good. I like the idea of having a curling club in most areas of Canada.
Ensuring Canadians are the best curlers in the world. I am fully behind this, and, by the way, mission accomplished so far.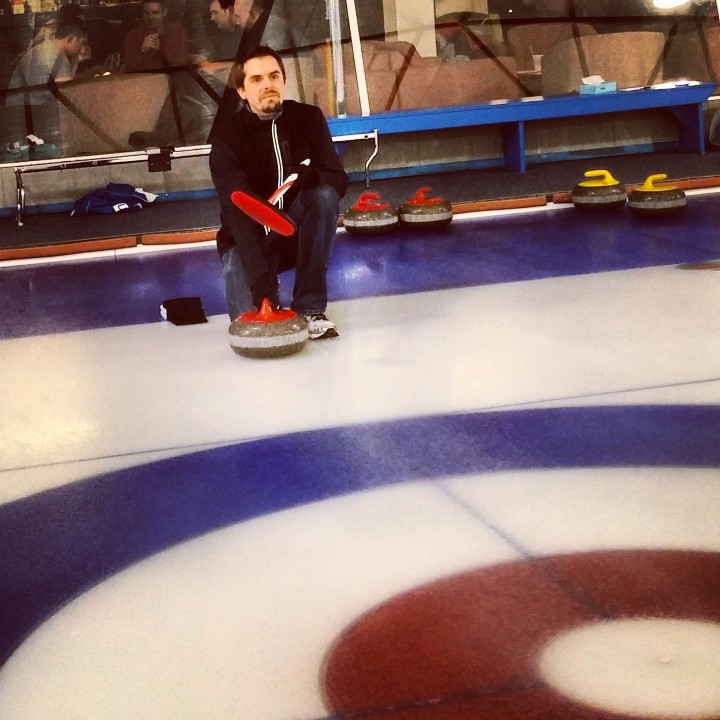 All attendees got the opportunity to play two games that last about 50 minutes each, and in between the two sessions, we were treated to a feast from Aft Kitchen that featured Brisket, Ribs, Pulled Pork, Smoked Chicken, Wings, a few veggies I ignored and can't recall, and, of course, Corn Bread. No one went home hungry. Most of us struggled out to play the second game and the excessive amount of meat available put a dent in our plans to finish up the evening at a dance club.
Luckily, attendees were given the option to participate in a training session prior to the opening matches. I had always assumed that the sweeping component of Curling would be the most difficult area of the game, but quickly discovered that pushing the 35 pound rock in a straight line was the trickiest part of all. If you have watched curling on TV, you will notice how effortlessly the participants gently pick up the rock and then propel themselves forward from the Hack at the End Line (terms I picked up that evening). This technique is very difficult to learn, and I have two bumps on the same knee to remember this struggle. Once we mastered the technique, by which I mean, once we were able to get the rock moving towards the Button at the other end without falling down, I confess to have put on a pitiful display of Curling throughout the two matches. Yashy fared much better than I and managed to place a few meaningful shots. I, however, either smashed the rock into the end wall, missing all intended targets on route or pitifully placed the Stone halfway down the ice, which meant that the shot was disqualified. After missing my first 11 shots, I finally hit the mark on the last shot, at which point, it was time to hit the bar.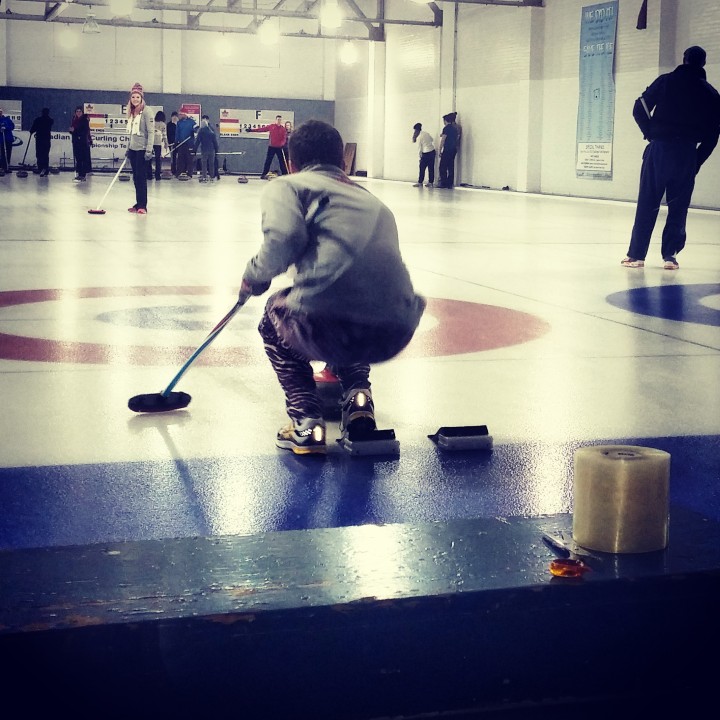 The Bonspiel and Beer is an event that I will look forward to every year. The evening was a great bonding experience and a chance to have a fun, if unusual, night out. Yashy and I got the opportunity to share an activity with friends that was not based solely on eating and drinking, though there was plenty of that as well. Having grown up playing a lot of sports, I have missed the thrill of competition on the weekends. Living in Toronto presents so many great cultural and culinary experiences that it's easy to overlook the neighborhood curling club when looking for an entertaining evening. The place was kid friendly. despite us not having our along and we spotted a toddler and a newborn running around. Not sure how we'd manage to play on the same team if our kids were around and in need of supervision but I guess we could easily play on different teams and swap our time on the ice. Check out your local curling club if you're looking for an unusual night out!