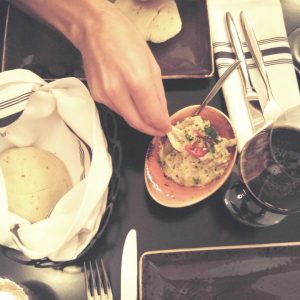 We recently passed through Ottawa on a trip to Outaouais with a craving for good Middle Eastern food. Luckily, we had a foodie friend in the area and she sent us in the right direction, recommending that we visit Fairouz Restaurant, and to make sure we ordered the Baba Ganoush. As we passed Kingston, Yashy pulled up Open Table and was able to secure a reservation for 9:30 pm that night. Due to passing through Ottawa at 8:30, we decided to test our luck and show up early. Kid free, just the two of us walked into Fairouz, located in Centretown in an old brick house, and were promptly seated. Our lucky day. We were greeted warmly and welcomed into modern yet subtly opulent seating area.
The old house provides a great backdrop for Fairouz. Its relaxing atmosphere was a blessing after four and half hours on the road. I immediately narrowed in on the beer menu, which features a small but appealing selection of Ontario Craft Beers, including beer from Left Field Brewery in Toronto, Silversmith from the Niagara region, and Black Swan Brewing Co. out of Stratford. I thought it strange that the beers had been mainly sourced from the Toronto area and not from the more local breweries, but The 32 ounce Black Swan porter that Yashy and I decided to share was a beer I hadn't previously tasted. It was quite good and so I was happy.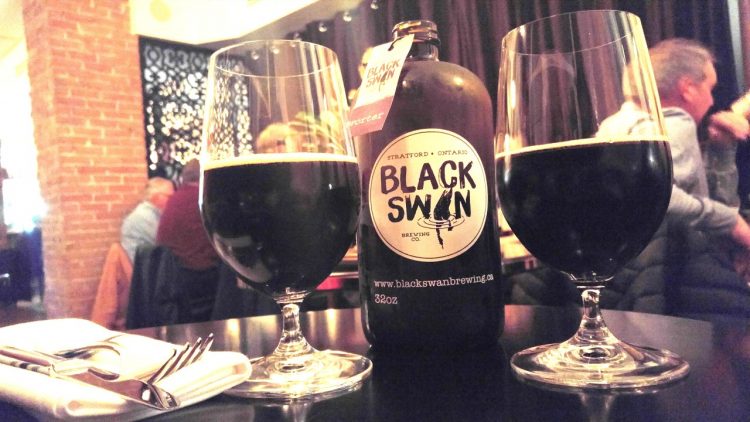 We naturally ordered the Baba Ganoush. I also noticed the Fattet Hummus, served with oil braised shredded lamb, pine nuts, crispy chickpeas, and excitedly waited for it to arrive, while Yashy didn't think twice about getting the Monforte Halloumi (it was delicious I was told!). Hummus being one of my favourite foods, halloumi being one of Yashy's, we enjoyed these appetizers immensely. All three dishes contained a sizeable amount of food. After devouring them, we wondered how we would get through the two additional plates we ordered: the Pomegranate Molasses Lamb Loin and the Iç Pilav.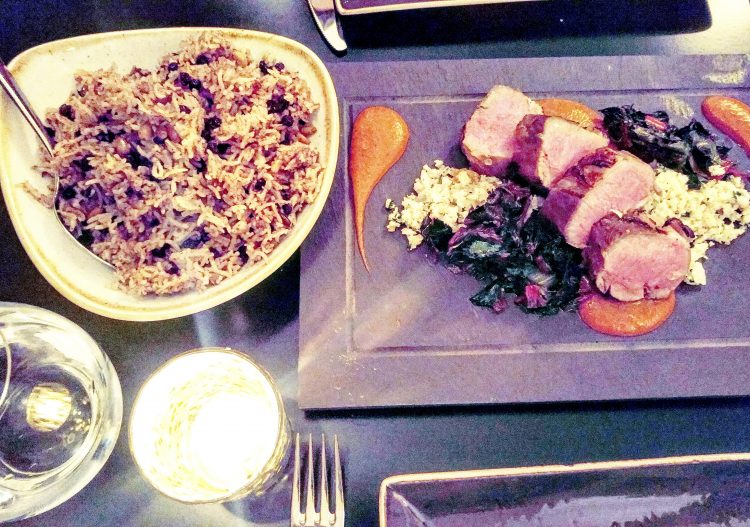 The Lamb was perfect, four loin slices cooked to rare perfection on top of a bed of cauliflower & raisin couscous, red chermoula, and rainbow silver beet. Chermoula is a sauce that is prepared using a variety of ingredients, usually lemon juice, olive oil, and chilies mixed with a few additional spices. All of the recipes I found on the internet using chermoula pair the sauce with seafood, but I thought it was an excellent addition to the lamb. I was feeling full after eating just one slice, having unwisely snacked on a large Burger King fries at a rest stop outside of Kingston, but together we polished off the dish. The great flavours won out over common sense telling me to stop eating. The Iç Pilav, a rice dish blended with all spice, red currant and pine nuts, was tasty as well – a side dish that stood well on its own.
With another 30 minutes on the road, we skipped desert  (but they brought over complimentary chocolates) and were feeling good on the way out the door. Fairouz has extremely helpful and attentive waitstaff, with answers to our many inquiries on the food and the beer, and we really enjoyed the setting and decor of the restaurant. Yashy loved the green hues, gold accents and Ottawa based artist, Kayla Pongrac's artwork by the stairs and has already recommended the place to a few of our friends. We have always found Ottawa to have a great options for Middle Eastern cuisine and Fairouz definitely filled our craving nicely. We had another craving on the way back and stopped in for shawarmas!