(Last updated on May 31, 2018 )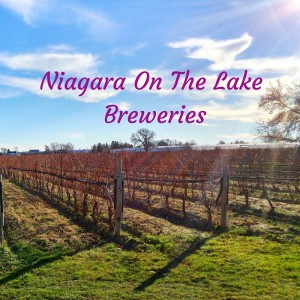 Now that Yashy's parents own a bed & breakfast in Niagara-on-the-Lake, Yashy and I find ourselves spending more and more time in the region. For several years, we have made it a point to assemble a group of friends, rent a limo and travel in style to the annual Wine & Herb fest but we are usually rushing from winery to winery in an effort to visit as many as we can. Now that we have more time on our visits, we've enjoyed exploring the growing wine industry, but the most welcome additions to the region for me have been three breweries that never fail to intrigue. A few years ago, we first discovered the small beer shop at Niagara College during one of those Wine & Herb excursions, and I recall being so relieved to be able to pick up some fresh beer for the ride home. Recently, three more breweries have opened in the region, The Exchange Brewery, Oast House and the Silversmith Brewing Co., and both offer unique flavours and great ambiance. If you are in Niagara-on-the-Lake and you love beer, you should check out all four spots.
The Exchange Brewery
Exchange is located in downtown Niagara-on-the-Lake, perfectly located on Queen Street, and filled with wide array of great beer choices. They produced a lot of barrel aged beers, with many of the offerings taking advantage of the many red and white wine barrels available from the bounty of wineries in the region. They have produced dozens of beers over the past couple years and feature a rotating tap selection of 8 beers, which are all available in a tasting flight. In their fridges and on their bottle list, they often have many more beers to choose from, my personal favourite being the Oud Bruin, a remarkable, tart Flemish Ale that regularly has a place in my beer fridge.
In 2017, the Exchange Brewery received two gold medals at the US Open Beer Championship, for their delicious Foreign Exchange Stout and for their Gluten Free Saison, which is the only gluten free beer Yashy truly loves. Early in the year, Exchange was named the Canadian Brewery of the Year at the 2017 New York International Beer Competition. This brewery is not to be missed.
Oast House
Oast House is just down the road from the Blue Skies Bed & Breakfast, where we spend most of our time when in Niagara-on-the-Lake. It's hard to miss the big, red Oast House barn on the way into town. Situated just before the Strewn and Jackson Triggs Wineries on Niagara Stone Road, the brewery is home to a constantly revolving array of taps that usually includes Barn Raiser, a tasty pale ale brewed year round, and numerous other beers, often including Dunkels, Porters, and Imperial Stouts, but the main reason to visit Oast House is to sample their Farmhouse Ale Collection. These bottle conditioned, funky flavored beers are usually available to sample and always available to purchase. Every time I visit for a sample, I end up buying a bottle. One of these days, I am going to have quite the party opening up all the Oast House beers I am currently aging. As a sour beer fan, I was also excited to see this brewery experimenting this past summer with the release of Verjus Sour, a beer brewed with grapes from the region, made in conjunction with Lepp Farms (Pinot Noir) & Ravine Vineyard Estate Winery. This brewery hasn't perfected their flavours just yet, but they are conducting some great experiments and have become a can't miss destination for me.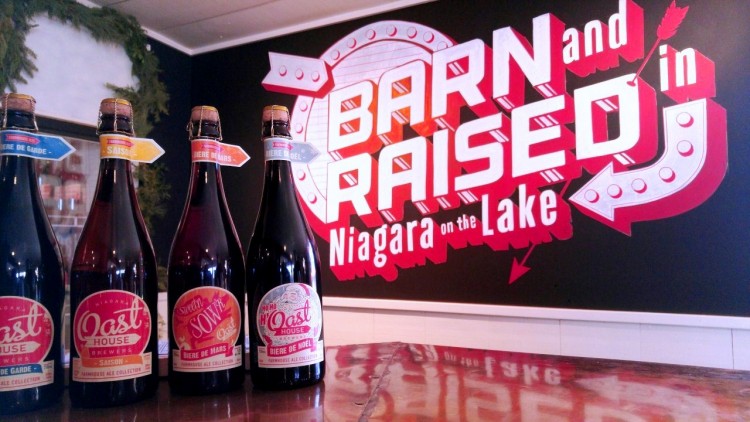 Silversmith Brewing Co.
Over the holidays, Yashy and I stopped into the Silversmith Brewing Co., also along Niagara Stone Road, in Virgil. We had a growler we wanted to fill, and I was curious to see inside. I expected a rustic brew pub, given the location is in a remodelled church, but when I entered, I was quite surprised to find a bustling eatery, complete with 3 styles of oysters and a range of chicken wings made with beer inspired sauces. The place was so welcoming that we decided to stay for some food and beer samples and we were not disappointed. I had previously only tried their widely available, and very good, Black Lager, and was happy to sample four additional selections. Whereas the Oast House brewers tend to experiment and rotate their taps, the beer-makers at Silversmith seem to have focused on producing a fresh and reliable selection of beer, including a pale ale, a blonde ale, a wheat beer, and the aforementioned black lager. All four are excellent. They also had a special Chili & Horchata Porter on tap, good as well, and since we got the feeling it wouldn't be there the next time we visited, we filled our growler with the porter (and drank it quickly on New Year's Eve).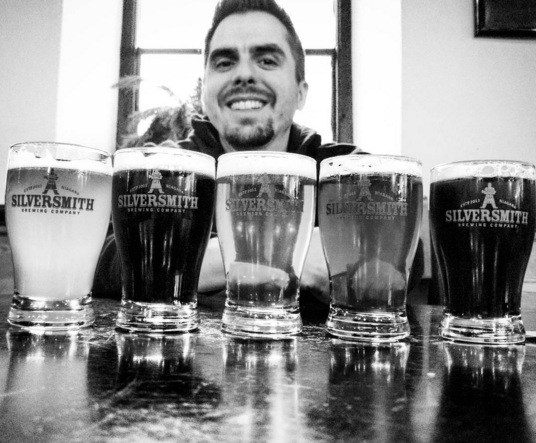 The Niagara College Teaching Brewery
The Niagara College Teaching Brewery is where the true adventures happen. That last time we stopped in, the taps were full of interesting experiments such as a Key Lime Radler. Many of the beers on tap and in bottles are student made one-off beers, while others are year-round recipes, some of which have won several awards. Their Butler's Bitter has won medals in the United States, Ireland, and Canada and is a well made bitter that is even available at the LCBO. Seeing the phrase Teaching Brewery in the name may lead some to believe that the beer available is substandard, but that is not the case. Yes, I have had some bad beer here, but I have had some bad beer almost everywhere. The brewery recently expanded and is worth visiting. The beer shop has a lot of options, and many are very good.
When Yashy's parents made the decision in the summer of 2014 to move to Niagara-on-the-Lake to open a bed & breakfast, we received the news with mixed emotions. The days when we could make a spur of the moment decision to enjoy a night out minus the kids, knowing that we had babysitters 5 minutes away, would soon be gone. Yashy and I knew that we were about to become full time parents, and that everywhere we went would be with the kids, but we also experienced a sense of relief when we realized that this new venture would keep the kids' grandparents from moving back to Sri Lanka. Now that they are open for business, we are hoping for long term success, but not full vacancy all the time. We relish the weekends in the off season when we can take the kids to play hide and seek in the big house, run around in the backyard, and spend time time with their grandparents, during which, as you can see, Yashy and I head to the pub!