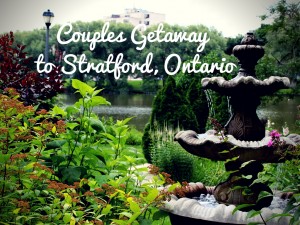 Stratford Ontario is the destination we chose for our first getaway without the kids. The weekend of our 5th wedding anniversary was spent immersing ourselves in theater, music and culture as it was the only way we knew we wouldn't miss the kids. With no diaper changes or tantrums to deal with we made the most of our weekend by being even more spontaneous than we are. Our luxurious weekend away started when we packed ourselves into the stunning Lincoln MKZ along with our ONE hand luggage. We had a smooth ride that weekend with the hybrid (cannot rave enough about the mileage we got in that baby!) and checked ourselves into a B&B.
It's hard to believe that the quaint city of Stratford, so rich in culture and history, was originally a railway junction to ensure the smooth passage of goods between ports. The hubs and I nicknamed Stratford the Cultural Florida of Canada. Yes, of course we met young people during our travels (seems like a great family friendly Victorian city) but we couldn't help but marvel at the older generations strolling down the streets, sipping cocktails at the bars or catching a late night show. This is how we aspire to retire!
Disclosure : Our visit was organized by Visit Stratford but as always, opinions are totally mine!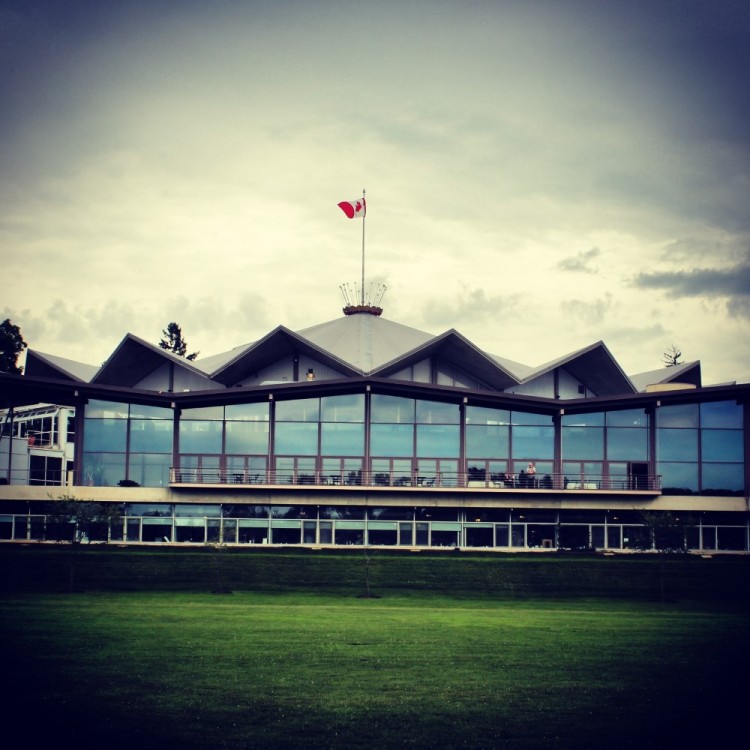 We were told that when Europeans first settled in the city back in 1832, the town site and  river were named after Stratford-upon-Avon, England, home town to Shakespeare. Of course Stratford has ties to Shakespeare but there's plenty more on offer here where theatre is concerned. We caught the musical Crazy For You (click here for a full review) and we're pretty sure that as far as theatre is concerned, there's no bad time to visit Stratford. Stratford Festival brings a wide array of classical and modern plays and musicals which has won Stratford the accolade of being Canada's arts capital.
We learned first hand that it's not just theatre in Stratford, the musical scene is thriving here. From pop ups in bars to large scale productions, artists can be found at every corner. We were lucky enough to be in town at the same time at Broadsway (click here for a full review) and saw them perform during Stratford's Summer Music festival which curates over 100 musical events between July and August.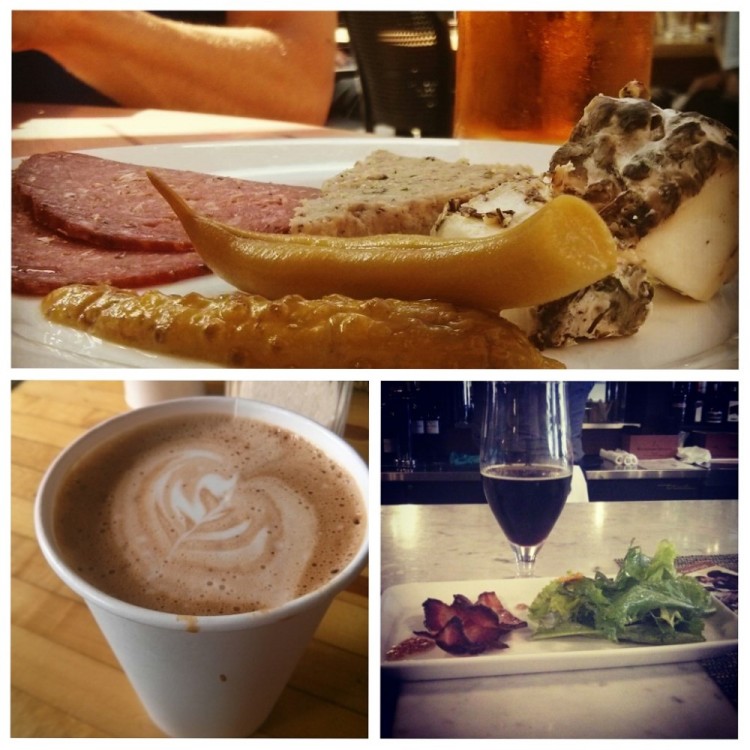 The one thing I knew I'd be happy with is Stratford's culinary scene. Many a foodie had sung high praises and boy were they right! There's so much to eat here that it's hard to choose where to start! It was well towards midnight and we wanted something good to eat after our Crazy For You musical and was directed by a local towards Down The Street. An uber chic spot late at night, this cozy restaurant and bar was just what we needed to wind down our first night in the city. The following night we had dinner at The Church and Belfry (click here to read a full review) and is one of the best restaurants in Ontario, in my opinion. Absolutely fabulous vibe and dining in a Church is most definitely very cool.
Monforte is definitely the spot to grab some cheese to take back home. I picked up the best halloumi and sheep's milk Brie to bring back. If you decide to pop by here for wine, it's a very neat experience. They give you a bottle and allow you to self pour into mini clay cups. They weigh the bottle before and after and you pay for the weight you consume. The Best Little Pork Shoppe is also a mandatory pit stop. It's a bit out of the downtown area and towards Toronto, so we swung by there to stock up on some goodies to BBQ once we got home.
Stratford has a couple food trails – bacon & ale (my favourite), chocolate and maple. This is definitely one way to explore local spots you may not venture to otherwise. Each trail offers you the chance to stop by 5 or 6 spots where you'll have a sample of food (and beer if you do the ale). There's quite a few spots listed so you get to choose the ones that tickle your fancy. In our case we got the chance to test a little bit from all the spots (each trail is $25 plus tax). First we popped by Monforte for a cheese and ale pairing (Bacon and ale trail) then we had a house cured maple-smoked bacon sandwich from the Canadian Grub restaurant (Maple trail), soft serve ice cream from JENN & Larrys, some delicious bacon paired with craft beer from Mercer (Bacon and ale trail – I will visit Mercer for a full meal next time!) and finally a Mocha from Revel Cafe. Some places even give you the samples to take home versus having to consume it on site.
The right way to enjoy a lunch is to grab a picnic from The County Food Company (they have picnic pails!!) and enjoy it by the river. The day we did this, we were serenaded by the National Youth Orchestra of Canada as part of the Stratford Summer Music Barge Music. Honestly, in the summer month, there's music at every corner and green pastures to laze around at in Stratford.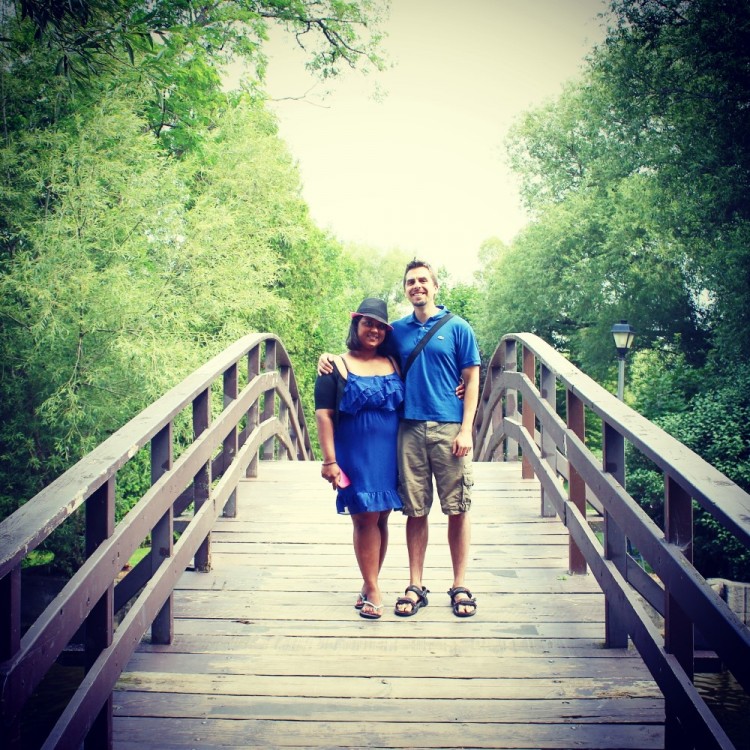 Of course there's plenty to do in terms of attractions but there's two that stood out for us. The Swans of Stratford are famous and newsworthy. Doing the Stratford Swan Walking Tour (despite being afraid of birds) was entertaining. Who knew Swans could have so much drama? It was like hearing a Bold and the Beautiful plot! The city takes pride in their swans and has a name for each and every one. During the winter months they're kept indoors and released for quick periods after which they come back inside. The swans are everywhere and can be dangerous, but we didn't feel threatened at all. We even Skyped near them so the Little Monkey could see them!
The second tour we enjoyed was a historical bicycle tour lead by charming lad from Avon Boat and Bicycle Tours. He knew about the history of the place having grown up in Stratford and gave us a tour of the area. From special houses he pointed to the county jail still in use today, he had a wealth of knowledge to share with us. It had been over 15 years since I was last on a bike but he and the hubs were patient with me and an hour into our two hour tour, I got the hang of it! Once we were done with the tour we saw some boats near by and hopped in one to enjoy the sunshine on the Avon River as another musical ensemble was playing by the water. It was a most lovely and relaxing way to end our getaway in Stratford, Ontario.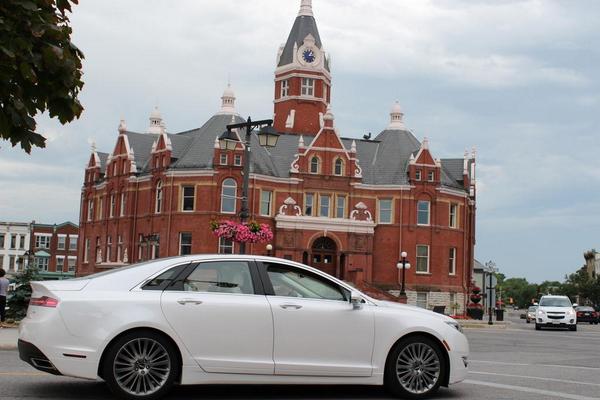 We only had two full days to explore Stratford and tried our best to squeeze in as much as possible but with so much to do and eat, it's quite clear that we need to return to Stratford! The Visit Stratford site has everything you could possibly need to plan a trip to explore this artsy hub and if you haven't made it out to Stratford, we suggest you put it on your list. This is such a gem of a place that it's now on our top list  for those visiting or living in Toronto to escape to.