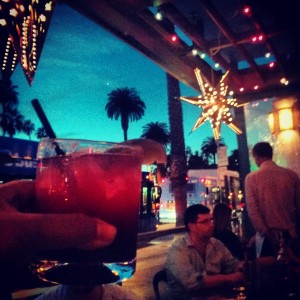 Mexican food was what we craved most during our Los Angeles travels so we were glad when our friends directed us towards Blue Plate Taco. Mind you our friends who live and breathe L.A were not fans of the cuisine…but after a visit to Blue Plate Taco they may have changed their minds! We were five adults and two kids and they accommodated our walk-in fairly easily on a Saturday afternoon. We were seated at their heated patio as we watched the sunset. Great little spot for people watching and enjoying a few cocktails!
We had popped in for a quick bite and a few drinks as we'd been exploring the Santa Monica Pier that afternoon and were planning for a late dinner that evening (at Tar and Roses). So we started with a heaping bowl of creamy Guacamole and Chips and ofcourse I got myself a Hibiscus Prickly Pear Margarita. It was delish.. and paired with the twilight it was bliss! They do have a Dulce De Leche Milkshake that was quite tempting but I decided to be good that afternoon (try it for me will you?).
The hubs and I shared the Fish taco and it was fresh and delicious. Our friend got the Lobster taco and I pretty much ate most of it for him! The Maine lobster was creamy and amazing. The tacos came piled high with fresh tomatoes and salsas. Their kids menu was quite good with burrito and taco offerings as well as a protein plate. However it was the side of beans and rice that the Little Monkey enjoyed the most. Yes they have high chairs!
The service was decent with the one exception when they dropped an entire plate of food and drink on me…luckily nothing got on Little Monkey who was seated next to me. She did have a bit of a crying fit at that stage though. I did get a sorry from the manager but that was all. That said we'd definitely be back here if our travels bring us back to Santa Monica! A very relaxing spot with fab drinks and good food!