Filipino cuisine is something I've been wanting to learn about for ages but had done nothing about it. That is until the day we walked into Lamesa Filipino Kitchen with the toddler and baby one sunny Saturday for brunch. Growing up in Dubai I had many Filipino friends but the closest I've come to exploring the cuisine is a few nibbles from their lunch boxes so when we were invited to try out Lamesa's Canadian influenced Filipino brunch we were excited.
On arrival we were greeted with co-owner Les' killer smile and he quickly put us at ease asking about high chair needs and informing us that there's a change table downstairs should the need arise. What? Sweeeeet! He has young tots of his own and they occasionally make a cameo appearance so he's well stocked with baby gear. The space is narrow but there's specific tables reserved for high chairs so be sure to make reservations if you're heading over with little ones. The table we sat at was great for the high chair and also gave me a mini booth setting so I was able to lay Baby Boy down near me. Lamesa recently celebrated their one year anniversary with a menu refresh and a bit of a restaurant facelift so needless to say, Chef Rudy and co-owner Les are keeping things fresh here. A friend of mine told me that Lamesa means table in tagalog… which may be a reason that they have really cool long wooden tables to convene around!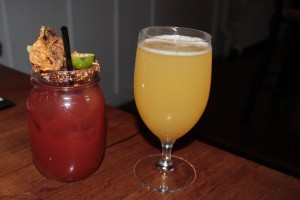 Their Fil-Can Brunch menu has some classic Canadian brunch items with a Filipino twist- I'm all about a good twist! The hubs and I ordered some cocktails to get our Saturday started right. A Filipino Shandy for me and a Caesar for the hubs… guess what the Little Monkey had? Calamansi juice in a kiddy cup! We took our time perusing the menu whilst Baby Boy and Little Monkey amused themselves and I couldn't help but notice that the dishes reminded me a bit of Sri Lankan cuisine. We Sri Lankans like our savoury curries for breakfast  too!
It was hard choosing our dishes but we finally made a decision. The hubs chose the Filipino Big Breakfast which was two fried eggs with housemade longanisa (a sausage similar to chorizo), sweet and salty plantain hash, and salad greens. This dish does come sunny side up so if you aren't a fan of runny eggs better let them know that ( I love a good runny egg but the hubs isn't a fan). I chose the Eggs Josephine (named after Chef Rudy's mom) which was had crispy pork with poached eggs on housemade biscuits and this came with an amazing bagoong hollandaise and was served with greens. Bagoong can be bit in your face but again we have something very similar in Sri Lanka and I am used to to eating this strong flavoured salty shrimp paste but I loved the way Lamesa had this infused in the classic hollandaise sauce. I'm going to try this at home! The Little Monkey got the best dish of all! The French Toast Turon. OHMY! It was finger licking good. A true Canadian and Filipino mash up, this dish had egg dipped bread with sweet plantain, jackfruit syrup and coconut whip. Watch the video to see how the Little Monkey attacked this one! Once she was done I enjoyed licking the rest of the dish for her!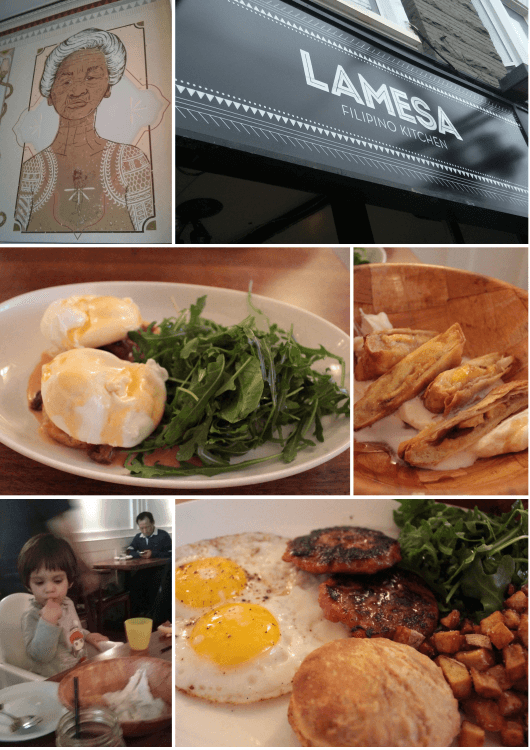 I know many who rave about the pork dishes here at Lamesa and we've been talking about going back to try out their tasting menu. Priced extremely reasonably I know that the next extended family outing will be here! The place is fairly small but it's a great spot for an intimate gathering with friends and family. My folks would love this spot, especially since they have the vegetarians covered as well. Warm hospitality, fusion cuisine and kid friendly … what more do you need?