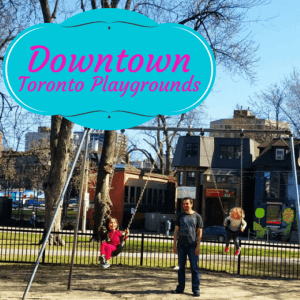 When folks find out that we live in the heart of Toronto with young kids one question we often get is… "where do they play?" Sure we live in a concrete world here and we may not have a backyard with green green grass but we do have a rooftop during the summers which we love and there are plenty of hidden parks and playgrounds in the downtown core. Only a true city kid would be able to hunt these downtown Toronto playgrounds down! For those looking for things to do in Toronto with kids, don't forget the playgrounds!
Little Monkey and Baby Boy have their favourite playgrounds in the downtown core and we think many a travelling family will enjoy our scoop because they're easily accessible and right in the centre of it all. One tip to remember is to keep an eye out for daycares…most of them have a playground which is open to the public at off hours. We tend to frequent these after 5 p.m. on weekdays and then all weekend long and are yet to be reprimanded. My guess is that everyone is allowed to use these facilities since there are no locks on the gates. I plan to plead the fifth if I ever get caught doing something wrong!
Allan Gardens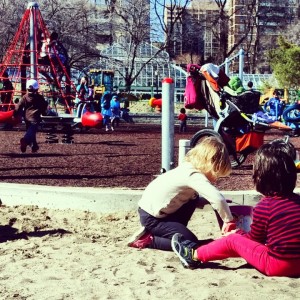 There's a new playground in town and it's right by the Allan Gardens where kids and dogs can have a pretty fine time. Allan Gardens is Toronto's oldest park and in addition to the Greenhouse which anyone can explore all year-round, there's two dog parks and up until this year kids only had a sandpit with a swing. The newest playground about to get a lot of love from us (and many local families) is a fancy one complete with a large sandpit, mazes and all sorts of monkey bars and riders. The only thing missing here is a splash pad!
Wellesley & Church Street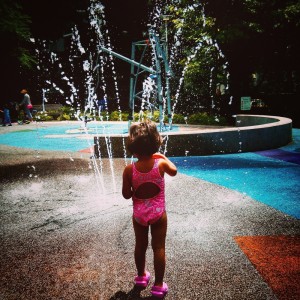 The 519 Community Centre has a drop in centre and we popped by one Tuesday evening for the Ontario Early Years Learning Program and that's how we discovered the park with a sandy area and a splash pad during the summer! If the centre is open you also have access to bikes and toy cars.
Esplanade & Lawrence Market Area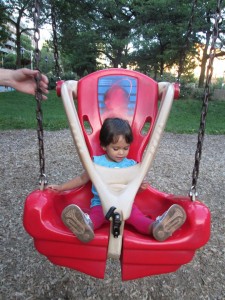 David Crombie park is nestled off the Esplanade and is between Lawrence Market and the Distillery District. It may be shady at night but is a major residential and schooling area so there's plenty of kids and families around. We love that there's two different playgrounds here, one for toddlers and one for older kids. Swings, slides and basketball hoops can be found here.
City Hall & Nathan Phillips Area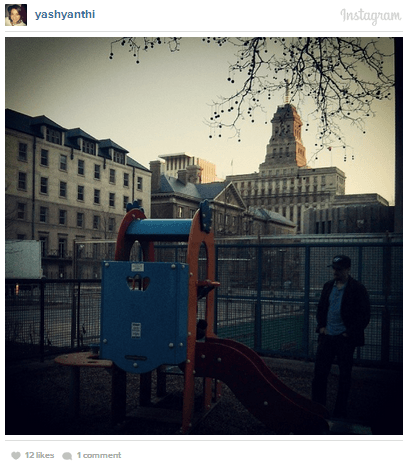 This is a very hidden spot and our go to spot most days. Located behind City Hall and Nathan Philips Square this playground is for the City Hall daycare but like I said.. it's open for public use during off hours and also between noon and 3 p.m. We frequently pass this spot so it's not odd for us to pop in for a quick visit to burn off some energy. There's swings, slides, fake rocks and some old school contraptions for which I know not the names of. Definitely very central for tourists visiting our fair city.
Ryerson University & Dundas Square Area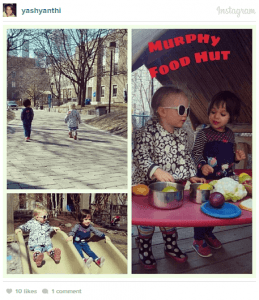 This is our local drop in centre and so we're here quite often and the Little Monkey loves this spot because there's plenty to do. The centre has a toy hut which has fake veggies, pots, pans, balls and anything else you can think of. This is in addition to the infant and toddler slides and bicycles. It can be a bit hard to find but if you walk into the Ryerson Campus' Theatre School and ask someone they'll direct you to the Early Learning Centre at the West Kerr Hall.
AGO /OCAD & Chinatown Area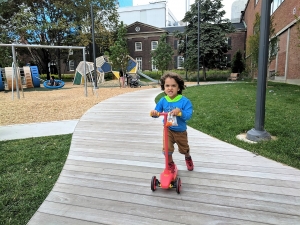 Another hidden park this one is situated behind the famous OCAD building. This spot has been recently renovated and reminds us of the ones we saw in Europe. There's some wonderful play structures, a small splash pad and a huge garden with a bike/scooter path. Definitely our current favourite. Great if you're exploring the AGO, OCAD or Chinatown area.
I know there's plenty more to add to this list so we'll continue our hunt…there must be one by the CN tower I bet (well there is an indoor one as soon as you enter the CN Tower building but you have to go through security to access it)! Do you have a favourite downtown playground? If you're looking for a list of other playgrounds in Toronto, beyond the downtown core, check out Danforth Dad's reviews about Toronto playgrounds.