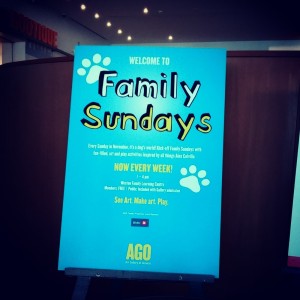 When we travel we hunt down Children's Museums and look for new art galleries and museums to explore with the kids and yet when we're at home we tend  to get lazy. I've been a huge fan of the Art Gallery of Ontario when I first discovered the kids play options when Little Monkey was born but hadn't visited them in a while. When we heard about the Family Sundays at the AGO we decided to swing by and check it out.
From November 2nd 2014 to May 31st 2015 the AGO will host fun filled Sundays for families with kids of all ages. All programs run from 1 to 4 pm in the Weston Family Learning Centre and access to the activities is included with regular Gallery Admission. The interactive activities change on a monthly basis and are inspired by their rotating exhibitions and collections. This month's theme was Crazy about Dogs and was inspired by the Alex Colville exhibition. December is influenced by Michelangelo and will offer many building opportunities. I'm counting down to May when it's Emily Carr's theme that revolves around Forest and Sea. Not only does that sound fun, she's also one of my favourite artists.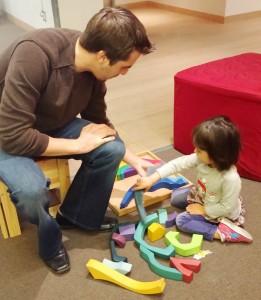 So what can you expect on a Family Sunday? The stroller friendly AGO is filled with kids and yet it isn't overly rambunctious, you can still enjoy the fine art without chaos. Kids have designated play areas where most of the noisy activities happen so the grown ups without kids can still enjoy their day. That said, kids are welcomed at all areas of the AGO.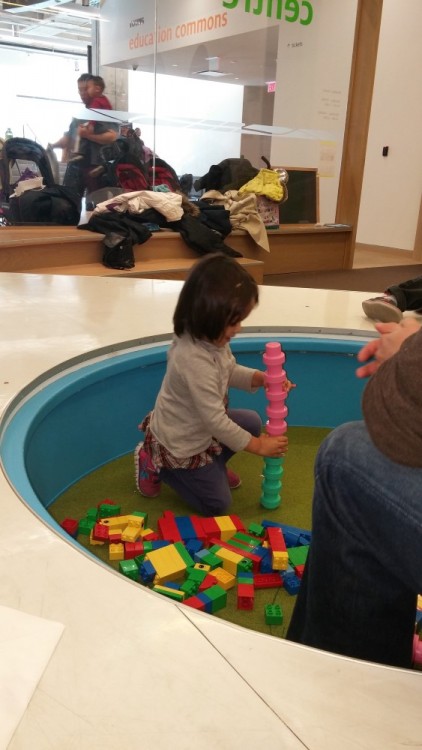 We started off at the Dr. Mariano Elia Hands-On Centre, where Baby Boy played with toys and Little Monkey did some arts and crafts and then they both played dress up and built a 'taaaaaaaaaaaall tower' with building blocks. Easily an hour was spent here and some kids were reading in corners whilst others were playing with the many educational toys on offer. Parents do have to supervise their kids so you can't just drop them off.
In addition there were a couple other play areas set up. A book reading, a play area where kids could interact with therapy dogs and another area where there was face painting, a giant canvas for tots to splash paint on and they could even make their own doggy hats and tails. Everything was in keeping with the theme and got kids playing and interacting.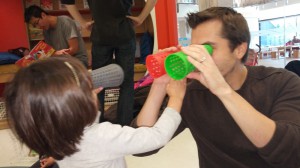 What I enjoyed about the visit was that the hubs and I who aren't the best when it comes to the world of arts and crafts, was able to engage with Little Monkey and get her talking and playing with new toys and books. Baby Boy is still a bit young so most of the focus was on Little Monkey. That said, Baby Boy enjoyed our visit and was very curious about it all.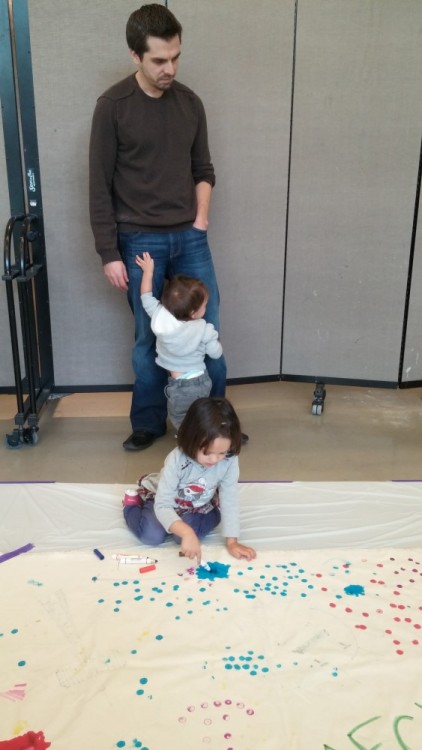 If you have a young one, bring a stroller but if it were just Little Monkey I wouldn't have brought it. The space is stroller friendly but much easier to navigate without one. We ended up parking ours in the stroller parking area and just left it there for the afternoon and wore Baby Boy in the Bjorn.
Click here to see our other posts on the AGO and definitely take a peek at the Family Sunday program if you're looking for some SundayFunday activities with your kids.