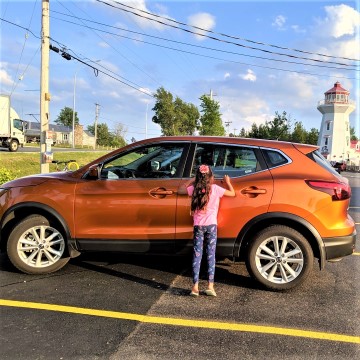 Last week we returned back to Toronto after our second Prince Edward Island family vacation. During our first visit about five years ago, we took the ferry from Carribou to Woods Island and while we did debate about taking the ferry from Halifax to Charlottetown, in the end we decided to drive across the bridge from Halifax to PEI. Yup we also did PEI to Halifax by car on our return. One day I hope to drive from Toronto to PEI and what an adventure that would be! For now, a quick flight from Toronto to Halifax enabled us to reconnect with friends and check out a couple new Halifax breweries before we started our Halifax to PEI drive. Our home base this year was Cavendish and if we drove straight from Halifax to Cavendish, it would have been 3 and a half hours. Quite an easy east coast road trip now that the kids are a bit older, but I was told that there were a few pit stops between Halifax to Cavendish that I would enjoy. If you're planning on doing this easy Nova Scotia to PEI drive with kids, there are a couple delicious stops along the way and so I thought we'd share some of those so you may enjoy a leisurely road trip from PEI to Nova Scotia or the other way around!
Tips to Keep in Mind for Your PEI Road Trip
Keep a few quarters and loonies as you will hit a couple small tolls on the way in from Nova Scotia to PEI. Update : I have been informed that one of the positive changes brought on by the pandemic is that the toll plazas now accept credit cards too!
Bridge tolls are collected when leaving Prince Edward Island at the toll plaza in Borden-Carleton. You only pay once on the way out where you will incur a $47.75 'bridge toll' for a standard car and they accept credit cards for this one in addition to cash and interac
Technically speaking you could drive around PEI in 4 hours but there are so many places you'll want to stop at and check out the family friendly PEI attractions, so give yourself at least 4 days to explore the island. We spent 4 days and didn't see even half of what I had planned on exploring on PEI with kids (mainly because we were there with 40 family members and we wanted to chill at our cottage with them)
If you're planning to rent a car, shop around. We lucked out in finding a Budget car rental pick up in downtown Halifax with a return to the Halifax airport for the same cost as returning it to same pick up spot through Enterprise (our usual go-to rent a car company). This helped us avoid having to go back to downtown Halifax
4 Delicious Stops as You're Getting to PEI from Halifax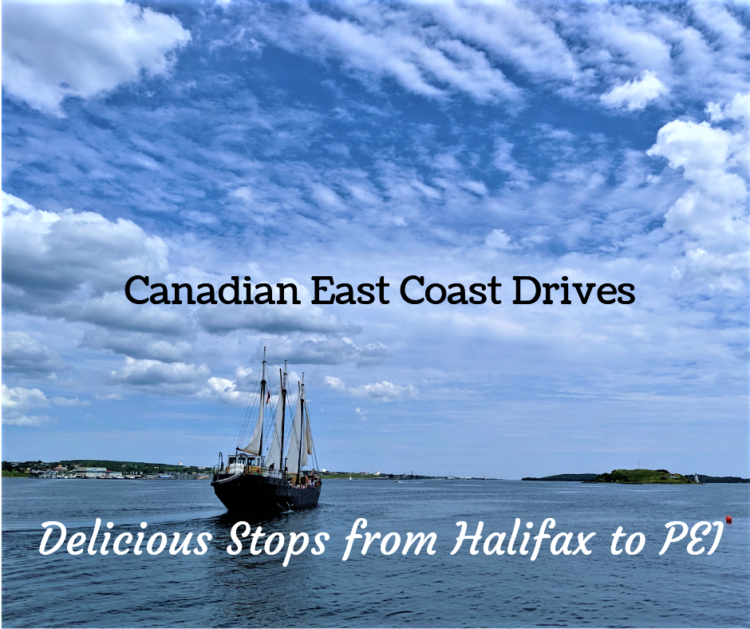 Now Chris will tell you that we could have saved 3 hours from all the lollygagging the kids and I did but, you know that deep down, he enjoyed the stops as much as we did. The beauty of this Halifax to PEI drive is that most of the stops were directly enroute. My advice would be to start out in Halifax and head to Sugar Moon Farm for brunch and then drive to PEI. On your return drive from PEI to Halifax, enjoy lunch or high tea at Birkinshaw's Tea Room and pick up dinner at Masstown market. You could flip it and save Sugar Moon for your return but the farm closes at 4 p.m. while Masstown Market is open late (Birkinshaw's closes around 4 p.m. too).
Sugar Moon Farm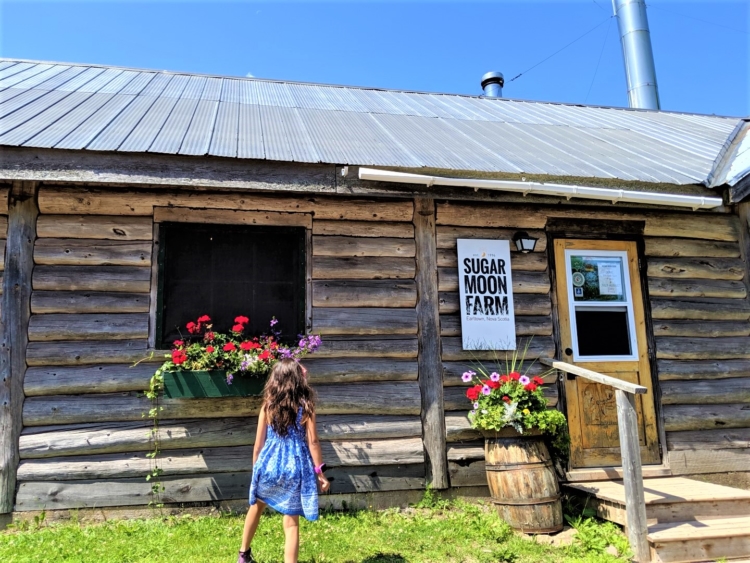 What a fabulous spot for breakfast in Nova Scotia! Sugar Moon Farm is located about an hour and a half from downtown Halifax and worth the drive for sure! While this spot will add 30 minutes to your Halifax to Prince Edward Island drive, we all found this sugar shack to be quite charming and the dishes we had were fabulous! I'm still dreaming of Chris' breakfast bowl and wish I could wake up to a healthy breakfast like that on a daily basis. There are tours you can take here but since we were on a mission to arrive in Cavendish at the same time as family from Cape Breton, we only spent the hour eating here. Please remember that the maple butter that comes with the free bread rolls ARE SO GOOD!!! I will also mention that if you want a break and fancy a hike, the area nearby has quite a few scenic trails. Sugar Moon Farm has a list of the Nova Scotia hiking trails in the area if you'd like to learn more! Great idea if you want the kids to run around and get tired!
Birkinshaw's Tea Room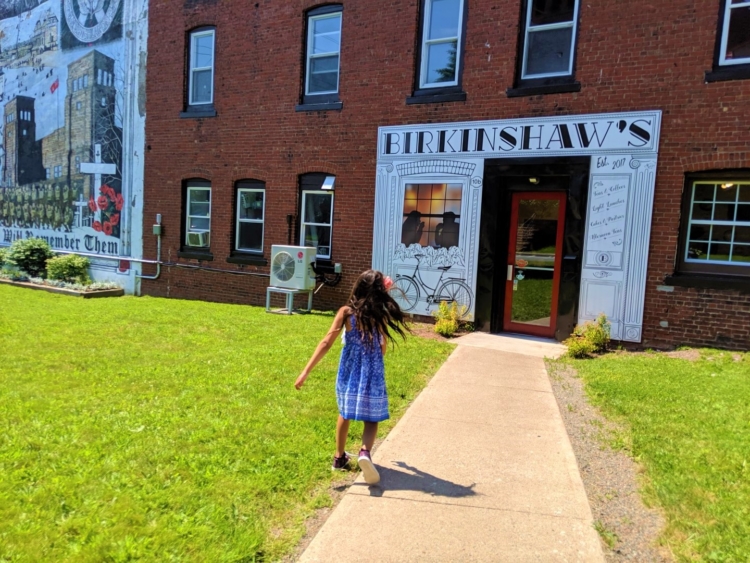 I wish we were hungry when we arrived here because the menu looked awesome! I went here specifically for the freakshakes I had heard about but I should have done some further investigating and saved our appetite for their high tea menu items. The British couple who owns the spot are charming and not only did we have a pleasant chat with them, but they also made it a point to add extra gummies to the shake so that dairy-free baby boy would have a few extra pieces while Little Monkey did her best to polish off that crazy milkshake! This Nova Scotia tea room is in Amherst, Nova Scotia and the town looked charming. Taking an hour to walk around isn't a bad idea. There was also a lawn area in front of the tearoom where the kids were able to run around and stretch their legs.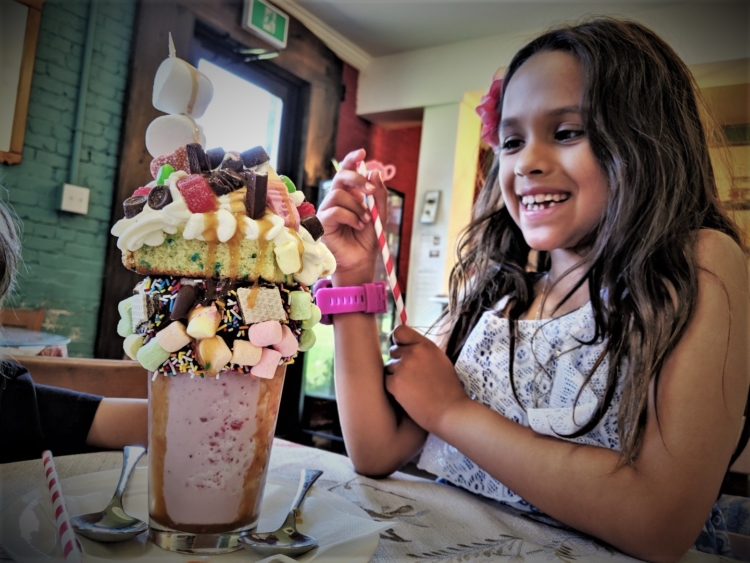 Masstown Market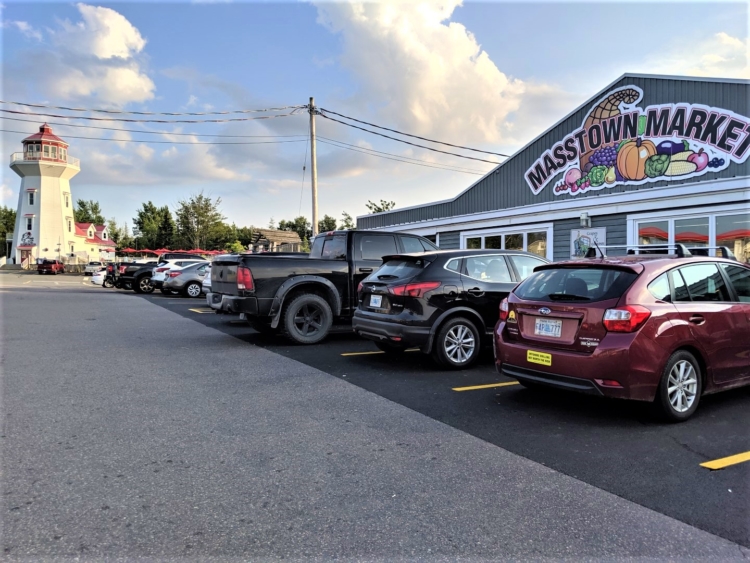 This is the perfect stop to wind down your day because you can not only pick up fresh produce and baked goods, but there's ready to eat offerings as well. Masstown Market celebrated their 50th anniversary this summer and locals seem to love it. It's located near Truro and we popped by to enjoy the seafood chowder (which was very hearty and filled with seafood including lobster) and the kids had a bowl of chili. Luckily they didn't ask for any treats but there's a creamery and butcher onsite as well. If you're a fish and chips lover, you MUST enjoy the gluten free offerings at the lighthouse nearby. On each level of the lighthouse are interpretive displays highlighting attractions along the Fundy shores and the kids will get a kick out of the fish market and live lobster tank here. All the spots at the Masstown Market are open from 9 a.m. to 9 p.m. so it's easy to swing by here and take a break as you drive from PEI to Halifax.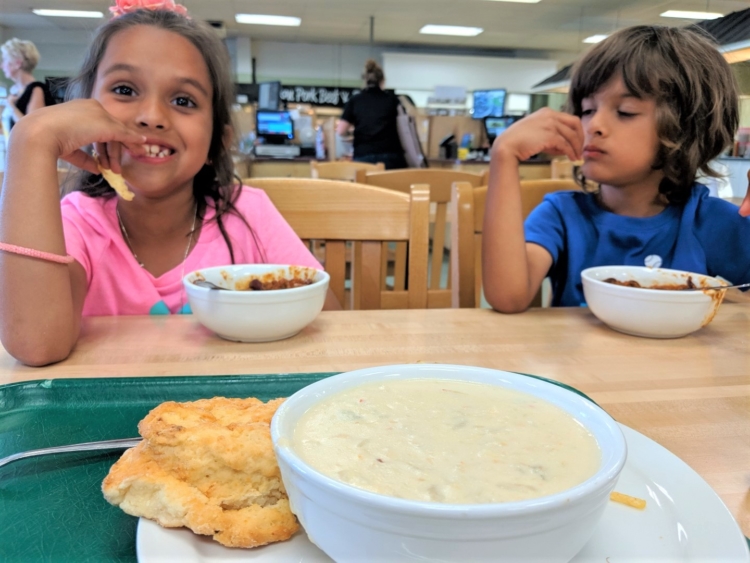 Those are the three pit stops we made during our drives to and from Prince Edward Island. Now, I"m sure there are a couple more spots we should have explored, so if you have a favourite, please comment below and we PROMISE to check them out on our next trip out that way.