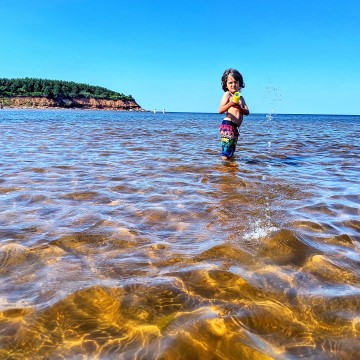 This summer we enjoyed another family vacation in Prince Edward Island and as with the last PEI trip, I left yearning for a return trip. It's funny how there are so many things to do in PEI, an island that one can drive around in under 5 hours! Our last visit was a quick 2 day trip back in 2012 with Chris' parents and this time we opted to spend 4 days during our multi-generational Prince Edward Island vacation. We had over 40 family members fly, drive and ferry over to help celebrate Chris' dad's 70th birthday and that meant that while we didn't have much time to explore the culinary trails I wanted to, we did experience the many kid friendly PEI attractions. If you're planning a family vacation in Canada, be sure to add Prince Edward Island to your Canadian road trip because this island is the perfect summer getaway for those craving fresh seafood and swimmable beaches.
Disclosure : This post is in partnership with Tourism PEI but, as always, opinions are TOTALLY ours! 
Things to do in PEI : Best Places to Stay in PEI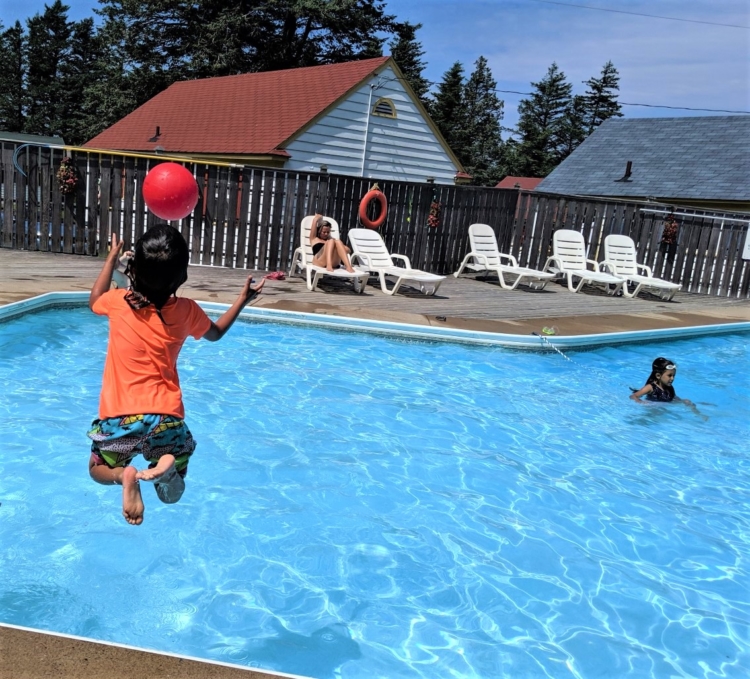 There are many accommodation options in PEI for families and it all boils down to what you want to do. If you're looking for a city vibe and a hotel, then I'd recommend staying in Charlottetown and doing a couple day trips as there are many things to do in Charlottetown. If you want to dine at great restaurants and mostly walk around, Charlottetown is a great option.
If you're looking for a summer town vibe, then Cavendish is your best bet. There are quite a few resorts in Cavendish and many PEI attractions that the kids will love. On our recent trip we stayed at the Green Gables Cottages and Bunglow Court which were a bit rustic but had a playground and pool for all the kids (there were more than 10 of them!) to enjoy so that the parents could relax. We hosted a party at The Gables and it was another lovely resort with fancier cottages but things were spread out and you had to drive to the pool, so it wasn't as convenient as the Green Gables (yes, EVERYTHING has the name Gables in it so you really need to double check the names of places you explore!). Green Gables Cottages and Bunglow Court even had plastic plates and cups for the kids and there was an a.c in the living room which also had a pull out couch for our one bedroom cottage (yes, you guessed right. I opted to sleep with Little Monkey in the living room because of the a.c – I'm such a diva).
You know, you could just leave it up to the kids and check out the Vacation the Kids Took Over packages. This offer makes it easy for families to plan a trip as you can choose between 3 and 5 day packages that provides a family of four with unlimited four or six-day bracelet access to the best Cavendish Beach family attractions and a three or five night stay in a cottage, motel, or campground.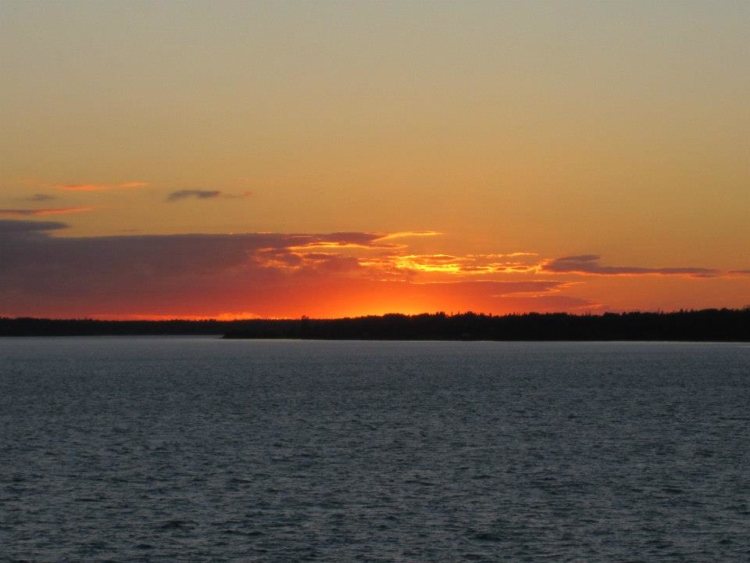 If you want to rent a cottage right by the beach, then North Rustico or Stanhope are great options for you. During our first PEI family vacation we stayed in Stanhope and found a cottage called By the Bay Cottages and it was across the street from the beach, making it easy for us with a baby in PEI.
The best time to visit PEI is July and August and from what I have heard, most PEI attractions shut down after the first week of September. What this means is that you really need to book your accommodations as far in advance as you can. For our 40+ person family trip, my sister in law booked our cottages in November (the previous year). I'll also tell you that there's a country festival that takes place in early July and if you're not a country fan, then I'd plan a trip around the festival as the island gets very busy and prices go up significantly during that week.
If you're looking for advice on driving from PEI to Halifax  we've written about that as well!

Things to do in PEI : Attractions and Experiences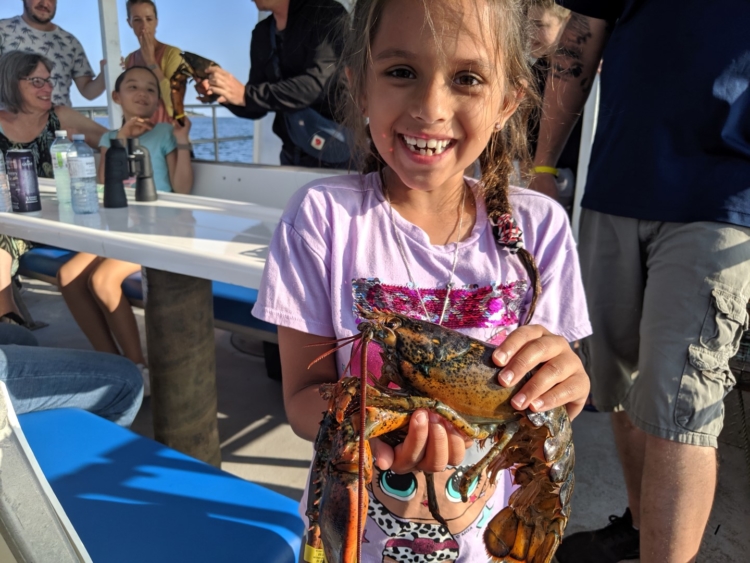 I love the relaxing vibes on this Canadian island and if you're looking for a summer spot that will have you relaxed and enjoying the outdoors, Prince Edward Island needs to be on your radar! For families visiting PEI, you can take it easy roaming around the National Park and beaches or you can step it up a beat by visiting the amusement parks and partaking in culinary experiences. Over the years we've been able to enjoy some memorable family friendly experiences and below is a list of things to do in PEI with kids.
Lobster Fishing : There are a couple different lobster fishing excursions in Prince Edward Island and the one we experienced was with Island Boat Adventures. The 2.5 hour experience was fantastic as not only did we enjoy a lobster dinner (you also had the option of chicken which one of the kids opted for) and a beautiful sunset, but we also learned about the tips and rules for ethical lobster fishing. The owner of Island Boat Adventures had his kids onboard and the two tweens were great at chatting up the guest and telling us about their summer of helping their dad out. As Captain Chancey is also a dad, he knew exactly how to get Little Monkey and Baby Boy engaged by offering them to pull the lobster traps out of the water, watch the water boil for lobster pot, measure and hold the lobsters. A truly fantastic voyage! While it was a group tour, we all had a fair chance at asking questions and partaking in the activities. I highly recommend Island Boat Adventures for your family's lobster fishing trip in PEI! Pack a jacket as it can get windy and while we did bring our own life jackets for the kids, they did have some on board for emergencies (we OBVIOUSLY did not end up using the life jackets).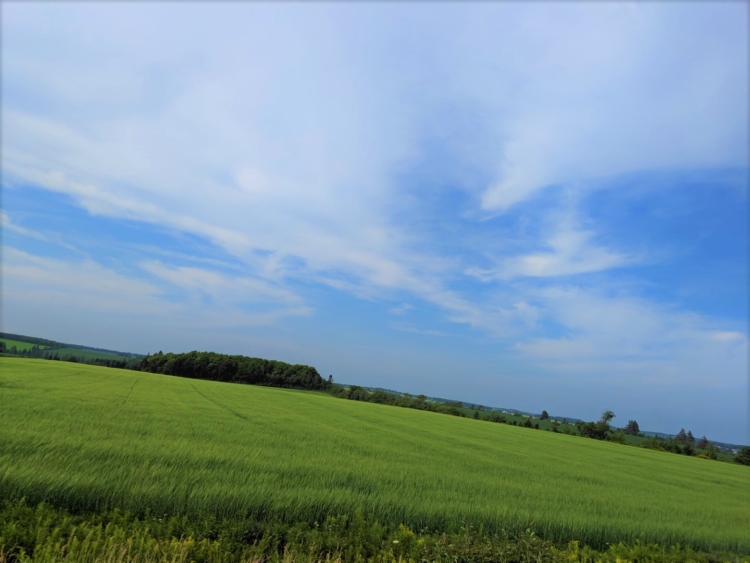 PEI National Park : Prince Edward Island National Park is a 60-kilometre stretch of the Island's north shore and a Parks Canada Discovery pass will get you entry into the park (or you can buy a day pass on arrival). At this national park you can definitely enjoy the many sandy beaches (Greenwich Beach has the largest sand dunes on the island) and the hiking trails but did you know that the Green Gables Heritage Place is also at this National Park? You could easily spend a couple days roaming around (and camping) as you partake in the hands-on interpretive activities, sandcastle demos and campfire sing-alongs.
PEI Beach : PEI is home to 23 Provincial parks and 8 of those have surfguards on duty. Over the years our favourite PEI beaches include North Rustico (has a lovely shallow brook if you want the kids to splash at safely while you sit near by), Stanhope and Cavendish beach. Actually, Brackley Beach is also a fab one and Singing sands beach, officially known as Basin Head Provincial Park, is another one on my list and which I hope to visit on our next trip. Oh and Thunder Cove is another great beach and if you kayak a bit you can see the beautiful teacup sandstone formation. Pack a bag for the sea glass and shells your kids will want to bring back home!
If you're looking for PEI beach suggestions, my friend Gemma has a fabulous round up of the best PEI beach spots!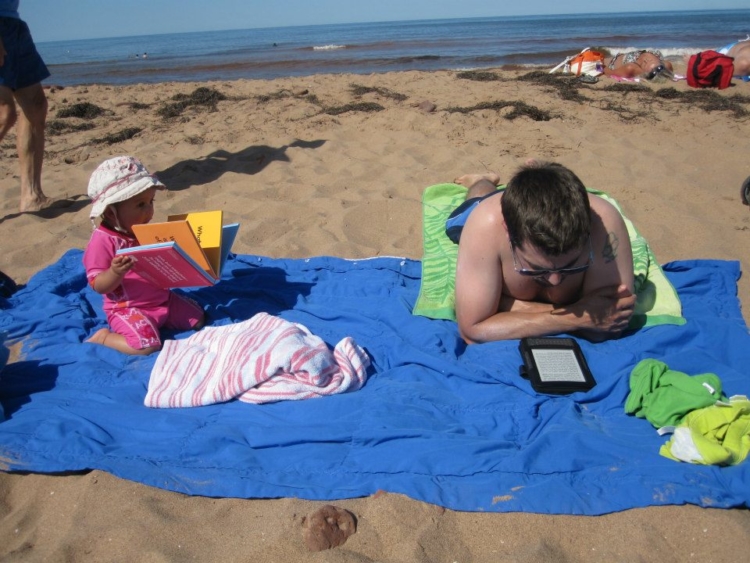 Shining Waters Park : There's no better way to put a smile on Little Monkey's face than by visiting a water park with slides and old school rides (especially those roller coasters). There are over 40 wet and dry attractions and despite not having the full height requirement (kids were in the 42-48″ range when we visited), they were able to go on most  of the rides (there were perhaps six rides they couldn't do). Be sure to check the height requirements prior to your visit, but I am quite certain that your little ones will enjoy this PEI waterpark! This is one the cousins and aunts enjoyed as well, and so you know it's a great spot for a multi-generational PEI visit. We spent four hours here but could have spent the entire day keeping cool in the pool on a hot day.
Sandspit Amusement Park : What I loved about Cavendish was that there were so many family friendly PEI attractions nearby. While we didn't get to the Dinosaur museum, we did manage to sneak in a few hours at the Sandspit Amusement Park where the kids enjoyed living dangerously as they jumped on the thrilling rides. We spent 3 hours here and the kids went on nearly every ride they met the height requirement for. Some of the cousins even went back at night to enjoy the park lit up (your bracelet gives you full day access with in and out privileges).
Anne of Green Gables : On our first visit to the island we made a quick stop to explore all things Anne of Green Gables. The trek from the library to the grandparents' house, through the many lanes, took us only about fifteen minutes. Including a visit to the house, we spent about an hour. The place is relatively stroller friendly with the exception of the house itself. The guides were very friendly and watched the stroller for us while we went to explore the various rooms with the baby on our hip back in 2012.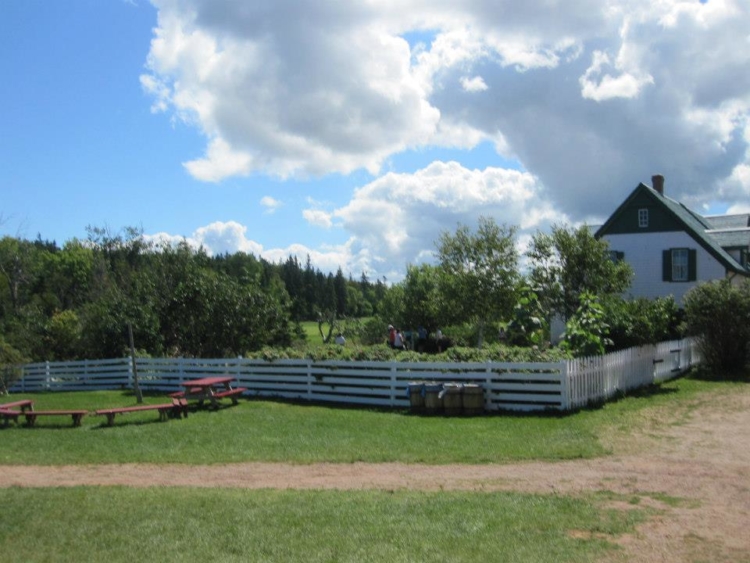 Drive around the island : I've been told that I could drive all around the island in five hours and it's something that I REALLY want to do one day because the drives are scenic, calming and filled with many family photo opportunities. I think the main challenge will be ensuring not to make pit stops and get distracted along the way….but then again, isn't that the best part of road trips?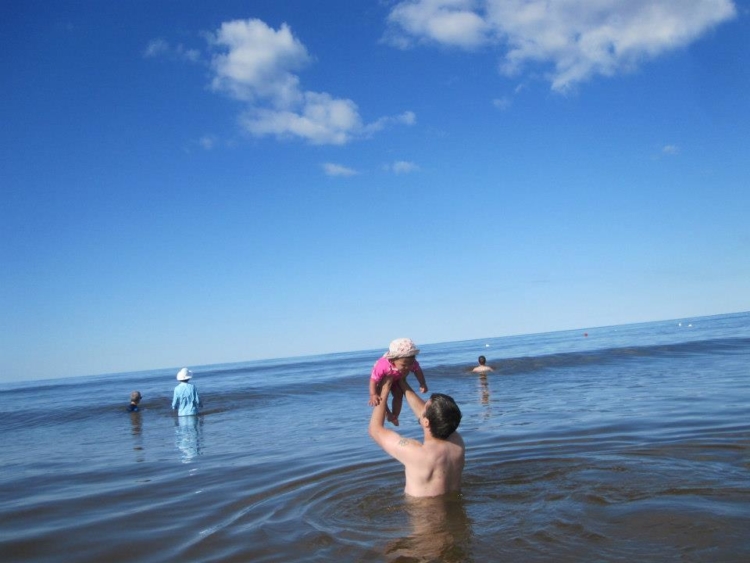 Some things I hope to experience in the future include the Canadian Potato Museum, a hot air balloon ride in PEI, Starfish hunting or Clam digging and a culinary tour through the island. For more ideas check out this list of 150 things to do in PEI  and this one for authentic PEI experiences. 
Things to do in PEI : Where to Dine in PEI
If you love fresh seafood, PEI is going to be your favourite province I bet! Okay and if you love potatoes, then you're going to love PEI too! While I'm yet to dine at Chef Michael Smith's restaurants, I have enjoyed quite a few amazing meals on the island and thought I'd share some options if you're wondering about where to eat in PEI with kids.
Pearl Eatery : For our 10th wedding anniversary Chris had made a reservation here for a surprise date and what a lovely evening it was. This cute spot offers attentive service and they even had a handwritten note and box of chocolates waiting for us at our table. It is a 3 course meal here so come hungry and because they offer a variety of dishes, you will find something you'll enjoy. The seafood was absolutely fantastic here! I will note that they do have high chairs and we spotted a couple kids at the restaurant but I believe they have to order the kids' set menu. Below are a few of the dishes we enjoyed on our kid free date.
New Glasgow Lobster Supper : If you've spoken to me about PEI, you've heard me raving about this charming little place. It's laid back, checkered paper cloths and all but I LOVE IT. Where else can you eat your weight in mussels (buckets and buckets of it!!), enjoy a pound of lobster and then have unlimited dessert, for only $40? I was in foodie heaven. Don't expect anything fancy, but do expect fresh seafood. It can get busy during the rush hour (it's honestly always busy here) and service can be a bit off but the lines move fast (you pay for your meal before you sit down) and they have high chairs…and UNLIMITED mussels, salad and dessert! On our recent trip we went back to the same  New Glasgow Lobster Supper we discovered during our 2012 trip and between Chris and I we finished a bucket and a half of blue island mussels. If you're not a lobster lover they do have chicken and steak options but you want to come here for the seafood because it's insanely fresh.
Richard's Fresh Seafood : As you may know, I make it my mission to eat lobster EVERY single day when I'm on the East Coast and so a lobster roll from Richard's Seafood in PEI was on my list. The line ups are worth it I've been told and my plan was to grab it and head to Brackley beach which is exactly what some of our family members did! I also want to try their Lobster Burger and the Scallop Burger… I'm licking my lips as I type this out!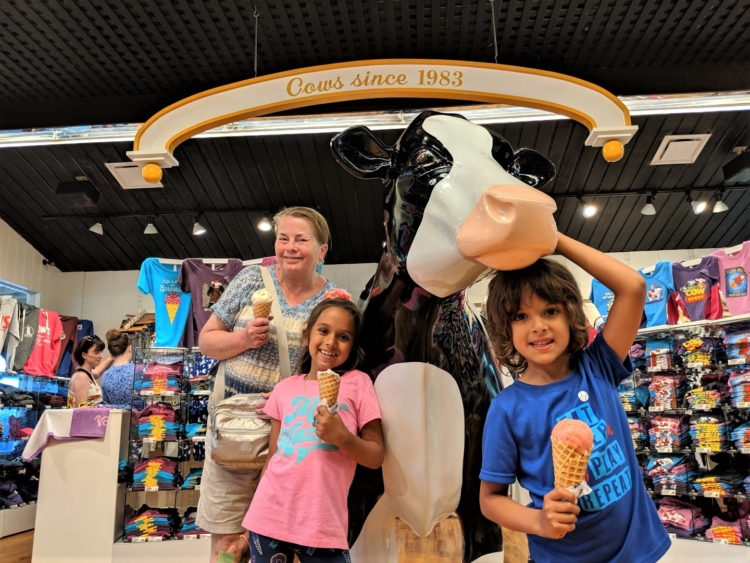 Cow's Creamery : You can't step foot on PEI and not enjoy Cow's ice cream on a daily basis. It would be blasphemous! The cones are freshly made (and you can watch the process) and there are so many amazing flavours to choose from. Baby Boy even found dairy free options during his visit. Also, it's a great spot to buy a souvenir T-Shirt from!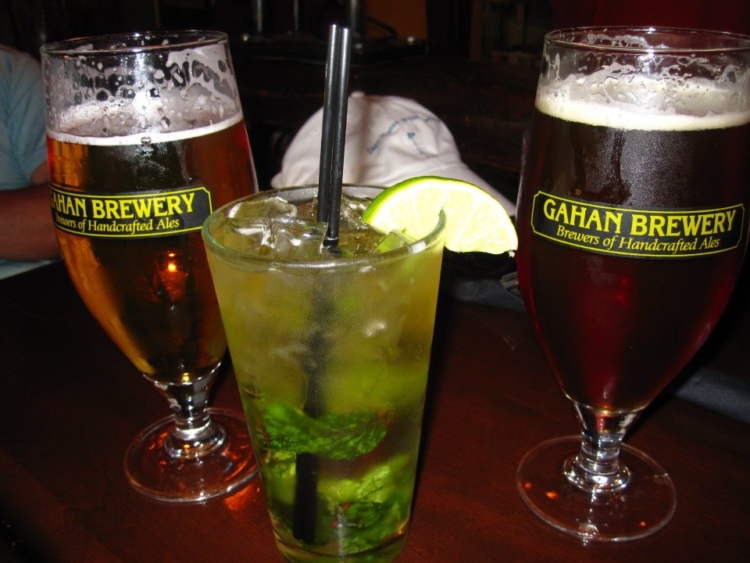 Gahan House : Being the beer fanatic that Chris is we had to stop in here for some pints and appetizers during our first visit to the island in 2012. Great appys3 and really good brews made this the perfect place to grab a bite and spend an afternoon before we hit the road (and ferry) back to Nova Scotia on that trip. They also sell their ales here so remember to stock up! Since the Gahan House is in the heart of Charlottetown we had the chance to roam around exploring the Sunday markets and stalls before catching the evening ferry from PEI to Cape Breton.
You can definitely spend a weekend in PEI but for a truly relaxing family holiday in Canada, I think taking a week to explore the island, taste the local delights and experience the true hospitality of the locals, is the best way to experience the island. This was our second visit to the island and despite Prince Edward Island being the smallest Canadian province, my heart yearns to explore more. Perhaps on our next visit Chris and I should drop the kids off with the grandparents in Cape Breton and enjoy a kid free jaunt over in PEI…now there's an idea!
I was recently chatting about PEI on The Parenting Show … take a listen!