I'm always trying to come up with recipes that can be whipped up quickly with a few key ingredients for when company pops up. Given that we love to entertain and live in the downtown core…impromptu gatherings are quite the norm. We have a well stocked liquor and wine cabinet so food is usually the main concern. OKAY NOW…you know I never clean. Our guests are used to clutter and dust..let's just ignore those okay? Perfect. Thanks.
Ground beef (Canadian!) is one of my favest things to have on hand, it's so versatile and absorbs flavours easily. I know it isn't the healthiest.. I never claimed I was healthy.  The recipes below all used ground beef, but you can easily substitute ground turkey, chicken or even soy.
Phyllo Pie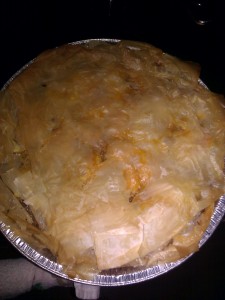 Sauté  four gloves of garlic and an onion  (finely chopped) in a lightly oiled skillet.  Toss ground meat, two spoons  of chilli and two tablespoons of salad dressing (oil based salad dressings work best here).  Feel free to add spices like oregano, thyme or marjoram depending on your mood. Once the meat is well cooked stir in some frozen  peas or corn. Layer the phyllo papers in a lightly greased pan, pile in the cooked meaty and veggie goodness. Layer more phylo papers on the top. A  layer of cheese on top of  the meat would work well in this dish, unfortunately not  everyone in my household likes cheese.  GRR! The trick to having a crisp top is  to wet the phyllo ever so lightly. I brush the top with water right before popping it in the oven. It should only take about 15 -20 mins in a preheated oven.
Shepherd's Pie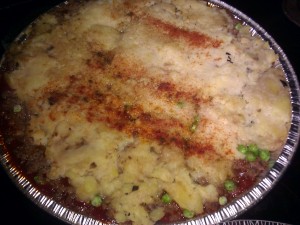 This is very similar to the dish above. Prepare the meat the same way but this time around I like to add some ketchup, Worcestershire sauce and a dollop of BBQ sauce. For the veggies I  like carrots and corn. Pile the meat into a pan and top with mashed  potatoes. I like making garlic mashed potatoes (using an electric mixer to whip the spud). Bake in oven for about 20 mins and sprinkle chilli powder on the top. For parties I like making mini versions, individual sized portions make for cute presentation!
Meat Cakes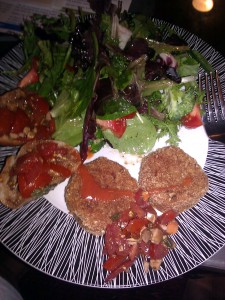 We've all heard of the fish and crab cakes. Pakistani's have  shami kebabs which are absolutely devine, they are basically meat cakes and this is my spin on them. If you want an authentic shami kebab, please look elsewhere. Remember my disclaimer? In a hot pan sauté a chopped onion, 4 gloves of garlic (chopped), a teaspoon of grated ginger, 4 cloves, 4 cardamoms, a stick of cinnamon, a tablespoon of chilli powder and about a pound of of ground meat. If you have garam masala on hand you can use that instead of the individual spices mentioned. Once it's cooked add in a handful of fresh coriander (or mint..or whatever leafy herb you want). Sprinkle in some salt and pepper for taste. Let the meat cool and stir in two tablespoons of yoghurt (plain preferred though I have used vanilla in a bind.. tastes a bit sweet in those cases). Form small "pattys" and quickly toss them individually into a  bowl with some bread crumbs. I then bake these till the outsides are a golden brown. Serve with hot sauce, ketchup or mint sauce. Occasionally I  make large sized ones (think hamburger sized) to serve as a  main dish. They freeze well so you can have them on hand  for desperate times!
Teriyaki Ground Meat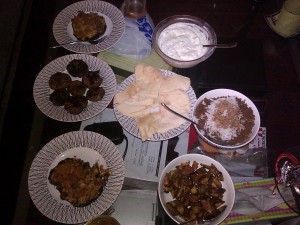 I love the taste of Teriyaki sauce and Korean BBQ sauce. I'm lazy and I buy the ready made sauces to have on hand for emergencies. Emergencies such as… I'm lazy and Gossip Girl starts in thirty minutes and I need to bathe the  Little Monkey, put her to bed and have dinner ready STAT. That said on occasion I  will make the sauce from scratch  – just boil a cup of water, half a cup of soy sauce, a tablespoon of ground ginger, a tablespoon of ground garlic and a couple tablespoons of  honey and brown sugar. Stir till it all blends in. Now take the ground meat and heat in a pan, toss in some salt, pepper and a cup of teriyaki sauce. Add some spring onions once the meat is cooked and cook till the onions are only  slightly crispy. Serve with rice. I love making this for tapas nights or for nights when I'm just plain lazy and want a dish that can be made without much watching over.