Kiribath, or Milk Rice, is one of my favourite Sri Lankan dishes. Each household has slightly different ways of making milkrice with some adding coconut milk later in the process and some adding it first so each one tastes slightly different, and one of my aunts make it best! Unfortunately I only see this aunt in Sri Lanka every four or five years but luckily my mom now makes it often for us. This is an easy milk rice recipe and since Apollo loves this Sri Lankan menu item as much as I do, I figured it's time for me to learn and share with you how to make Kiribath at home with this simple Sri Lankan milk rice recipe. It's definitely no where as complicated as the mani pittu recipe!
Vegan Milk Rice Recipe for Sri Lankan Kiribath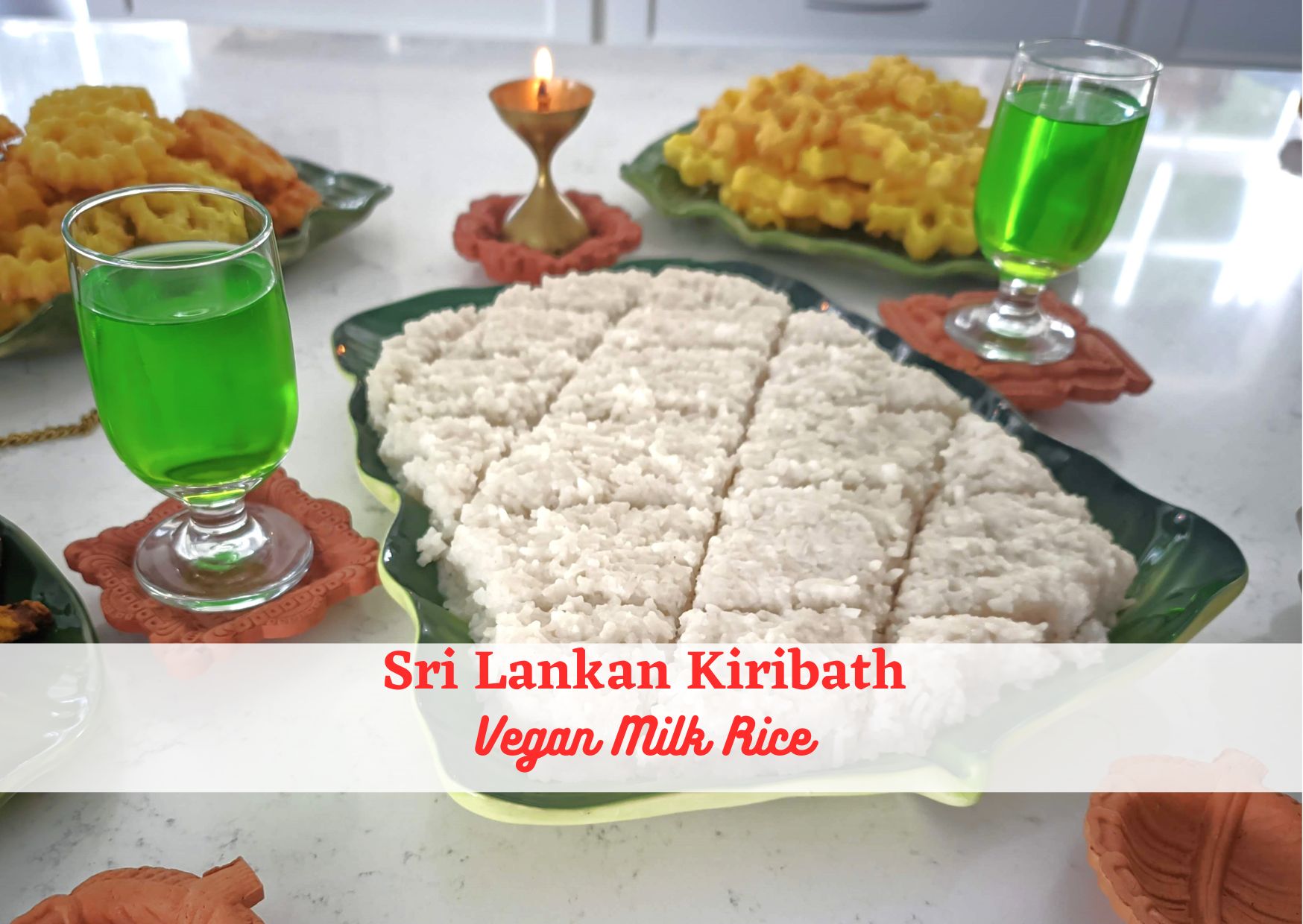 What is Sri Lankan Kiribath?
This dish holds a special place in the hearts of Sri Lankans because it's made for nearly every celebratory occasion. New Year (the 1st of January as well as the Sinhalese and Tamil New Year in April) recipes start with Kiribath for us and you'll see this milk rice on the dining table every first of the month and for every full moon celebration as well. There's really no occasion or auspicious celebration that doesn't call for some Kiribath! In fact, we served it at our wedding's breakfast ceremony and it's often served as a baby's first food (just a small bit of course – it's basically like rice cereal after all)
I know there are many milk rice dishes around the world but I'm yet to find one like the Sri Lankan version. The history of this Sri Lankan recipe is still unknown and the only known mention of Kiribath in any stories is when the Lord Buddha was offered a bowl as his last meal before gaining enlightenment. This dish is said to represent good luck and prosperity which is why it is served so frequently. Helps that it's so versatile and easy to make!
As with many Sri Lankan recipes, this too is originally gluten free and vegan, making it an easy option for many dietary needs.
What does Sri Lankan Milk Rice Taste Like?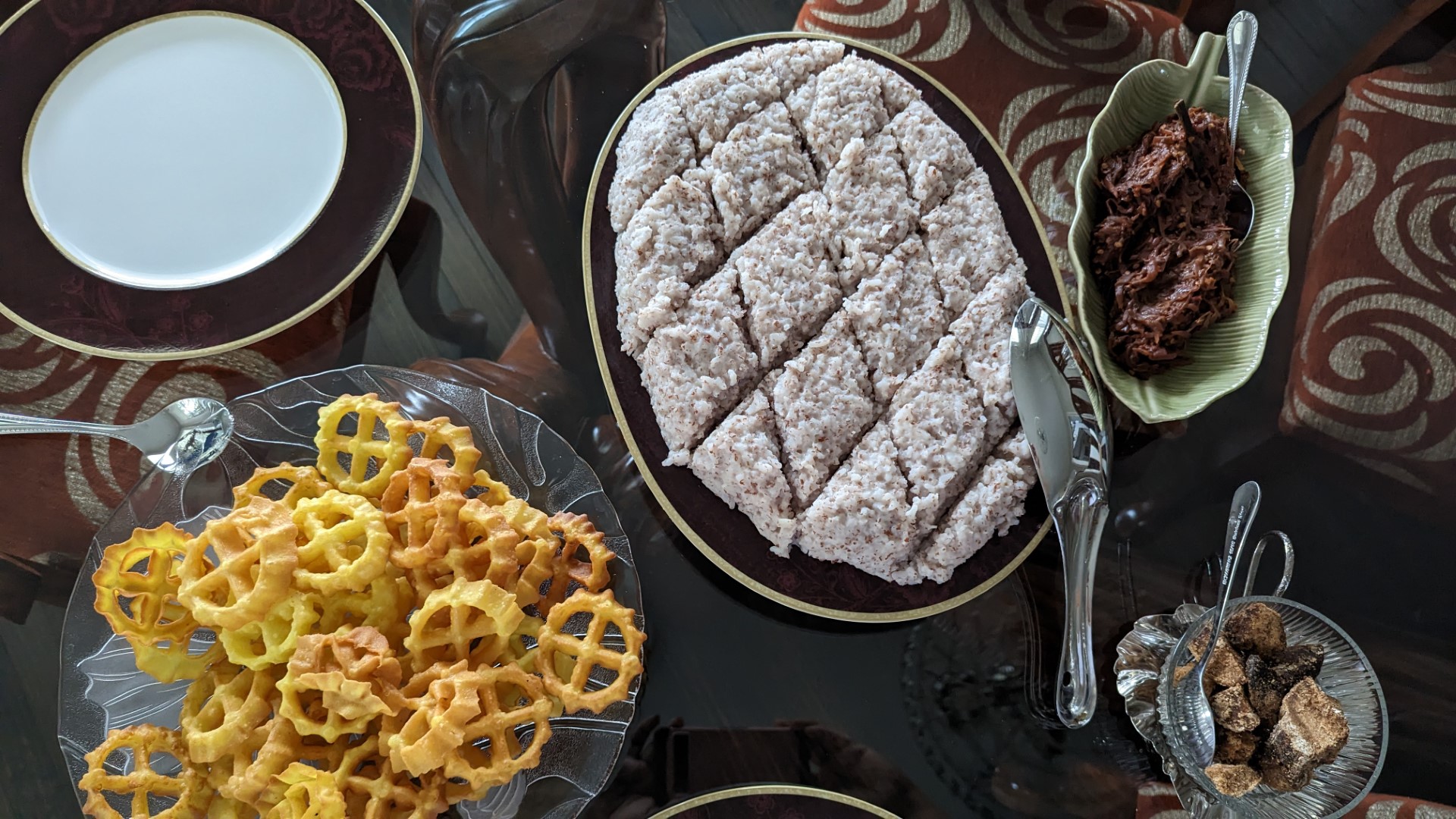 Kiribath translates directly to milk rice in Sinhala but unlike the rice puddings you may be familiar with, this dish is firm. Think of large blocks of rice. It is a savoury dish though the accompaniments can be sweet or savoury. Traditionally this Sri Lankan recipe calls for rice, water and coconut milk. The combination yields slightly mushy yet firm blocks of rice. Why do I keep saying blocks of rice? Because the cooked rice is usually plated on top of a banana leaf and then the flattened rice is cut into diamond shapes. I think it's fair to say that the majority who grew up eating this, had diamond shaped blocks of Kiribath plated for breakfast. It has a creamy mouthfeel and though you can't feel the texture of each grain of rice, you certainly get the rice flavour.
What do you Eat Kiribath With?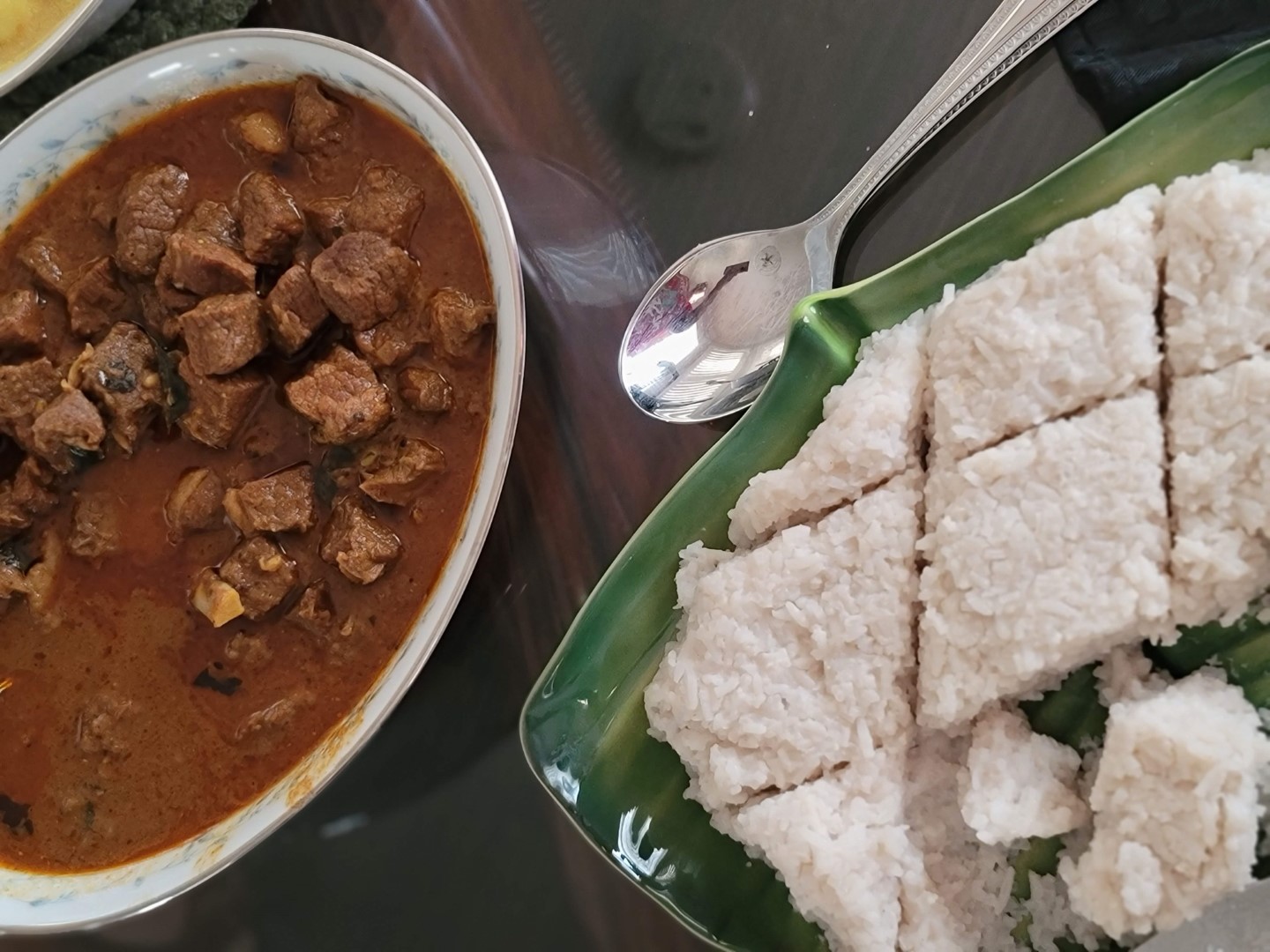 As previously mentioned, we mostly have this for breakfast but it's not overly bizarre to have it for lunch or dinner, especially with leftovers. A traditional Sri Lankan breakfast involves curry so obviously Kiribath and chicken curry is my go to but you can enjoy it with pretty much any curry. For those with a sweet tooth, sprinkling some sugar and enjoying it with banana is a classic method of consumption. Yes banana! Did you know that there are nearly 30 varieties of banana in Sri Lanka? The ripe ambul (sour) bananas are my favourite- I am not a fan of the varieties we find in North America! You can also have it with jaggary/Palm Sugar.
In addition to the curries and the sugar-banana combo, Kiribath is also paired with a chili sambol called lunumiris. Lunumiris is a spicy Sri Lankan sambal paste served as a condiment and often served with kiribath. I also enjoy milk rice with seeni sambol (a sweet onion sambol of sorts). I told you, Kiribath is so versatile!!
What do you Need to Make Kiribath?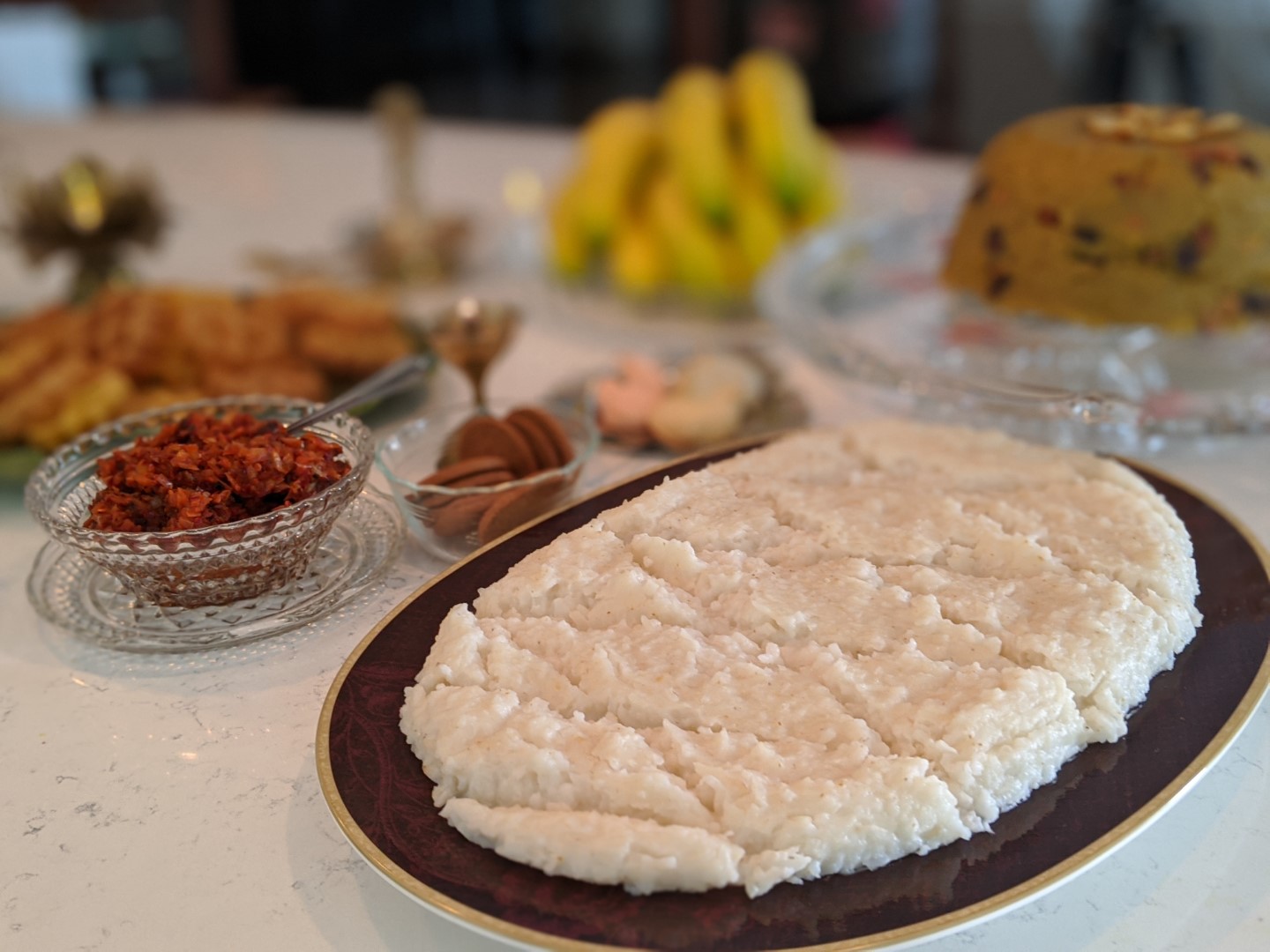 As far as ingredients go, you need rice., water and coconut milk. Traditionally Kekulu rice is used but living in North America we use Samba and Basmati as well. My mom loves cooking with red rice even though I prefer white rice. You also need coconut milk and since we're too lazy to make fresh coconut milk (from grated coconuts) we opt for the cans. In an ideal world you'd be cooking the rice in a clay pot for additional flavour but we mostly make it in a regular pan and some cousins even make it in an instant pot! Rice cooker is also an option.
When it comes to serving the Kiribath you can certainly use a regular flat plate but if resources are available, a banana leaf adds extra flavour. You'll need a knife to cut the diamond shapes as well.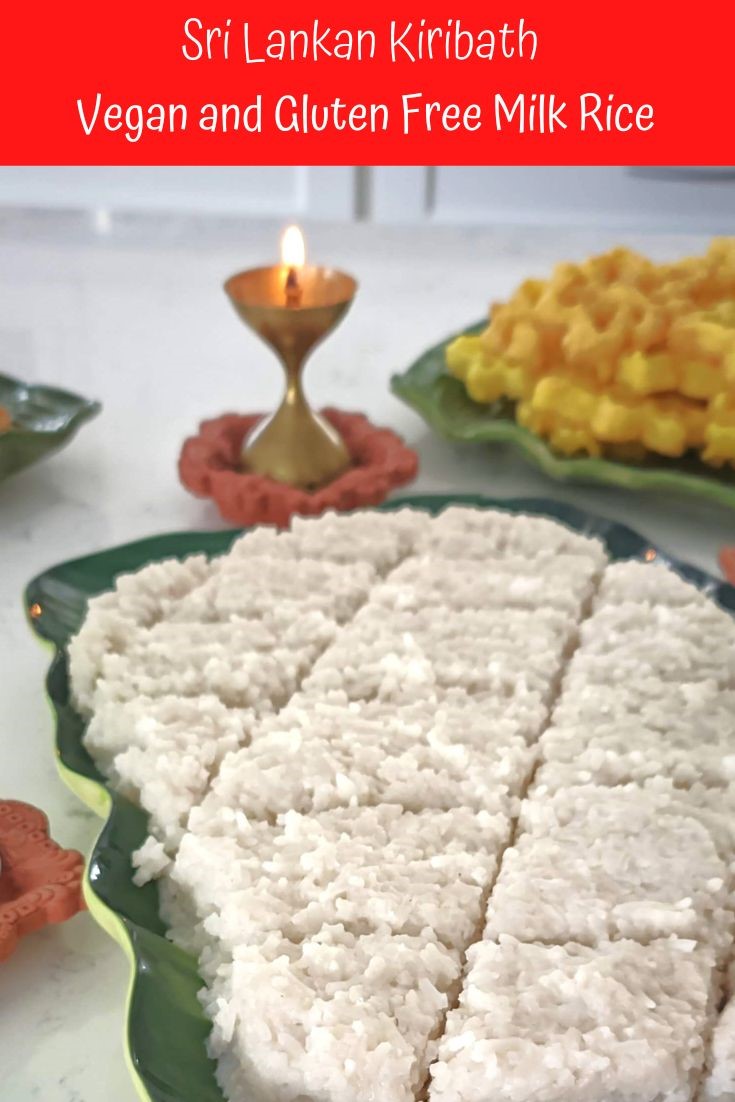 Sri Lankan Kiribath Recipe
If you're looking for an easy Kiribath recipe (to be honest, they're all quite similar and easy) the one below is a tried and tested one!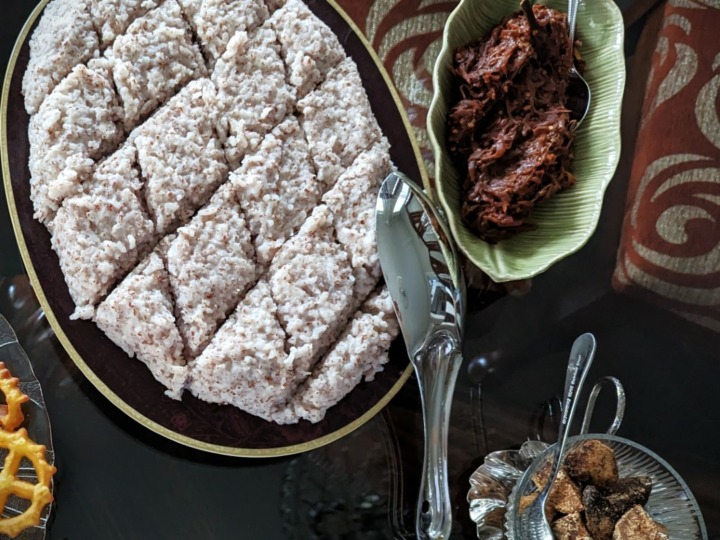 Yield:

4
Vegan Sri Lankan Milk Rice Recipe | Kiribath
Additional Time:
10 minutes
Total Time:
1 hour
15 minutes
Sri Lankan Kiribath is dairy free and vegan friendly. If you're looking for a traditional Sri Lankan breakfast recipe, this milk rice dish will certainly hit the spot.
Ingredients
Rice 2 cups
Water 3 cups (or more as needed)
Coconut Milk 1 can (1.5 cups)
Salt to taste or 1 teaspoon
Instructions
Rinse rice in water and drain
Add rice to pan/instant pot/ clap pot
Add water and salt
Cook the rice as you normally would for about 18 minutes. On high until water boils and then place lid and let it simmer on low heat for 15 minutes with lid closed.
Open lid and pour coconut milk into cooked rice and stir. Let it cook for 5 more minutes.
Spoon cooked coconut milk rice onto plate (or banana leaf) and then use a spatula to shape it into a flat brick. You can also use a banana leaf to shape it. Do this while the rice is still warm.
Once shaped, let it sit for 8 minutes and then cut the rice into diamonds.
Notes
Traditionally you will pour the rice and then add water until it comes up to the second joint of your index finger but you could just add 2 cups and see if more is needed later.
You want the consistency of the rice to be very mushy.
Once you've added the coconut milk, if you still get the raw coconut milk smell, turn heat back on medium and cook for about 2 more minutes. If you're using an instant pot use the "Keep warm" option and leave it covered for about 5 mins.
Cut the diamond shapes 8 minutes after you have let it sit. Waiting any longer will harden the rice. Any sooner and it will be very messy!
Feel free to sprinkle more coconut cream on on the top of your rice if you want more coconut flavour.
This dish can be eaten as leftovers so make more if you'd like!
Nutrition Information
Yield
4
Serving Size
1
Amount Per Serving
Calories

297
Total Fat

21g
Saturated Fat

19g
Trans Fat

0g
Unsaturated Fat

1g
Cholesterol

0mg
Sodium

549mg
Carbohydrates

25g
Fiber

0g
Sugar

0g
Protein

4g