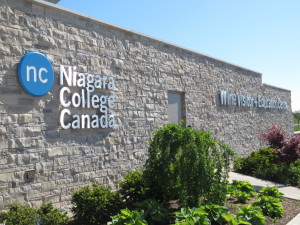 We've been participating the Wine and Herb Festival for a couple years now and this year my pregnancy did not keep me away. We had such a lovely day exploring all things wine in Niagara on the lake and found the perfect stop to end our day at. I'd always struggled getting a reservation at Benchmark so I was thrilled when they were able to squeeze our group of 9 adults and a baby for dinner.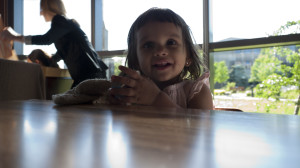 Lovely open set up with windows showcasing their fields warmly welcomed us on arrival. It is a learning college so we were expecting a few hiccups but was pleasantly surprised by the quality of the food. The Little Monkey had taken no (ZILCH! NADA!) naps during the day so I wasn't really sure what to expect. I was expecting THE WORST but since there were so many of us  I figured we could take turns walking outdoors and amusing her. The goal was to keep her awake till we got back in the limo for our drive back to Toronto.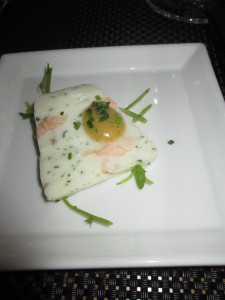 Caesars and Niagara College beers were enjoyed by most (guess they were all wined out by then) as we watched the chef prep a complementary halibut Amouse-Bouche for all of us.  The Little Monkey enjoyed the fresh bread at the table, a herby pizzaesque batch was her favourite. Mine as well! Service was a bit slow but we were a large group so it was expected. We were just itching to head back to Toronto within our 12 hour limo service limit so were hoping to be in and out in 2 hours.
It did takes us a bit of time to hunt down our server for drink refills but when we did find her she was very courteous and got us the drinks fairly quickly. The manager came by to check on us and ensured that our needs were met. The menu is a prix fixe of sorts. You had the option of choosing from a variety of  mains and a dessert or appetizer for $30 or having all three courses for $35. In addition there was a special chef's selection menu for $45. Given the time crunch we all chose the prix fixe.
I started with the PEI Mussels in NCT Stout and Chipotle Cream and let me tell you that cream was delicious! I was swabbing my bread in the cream long after the mussels disappeared. Finger licking at its best for anyone watching me.
Most of us ordered the steak as our mains and the staff had a great time making them from rare to medium well. Everyone's was made to perfection with the exception of the rare steak which the server gladly re-did. I heard the rare was done to my friend's bloody liking!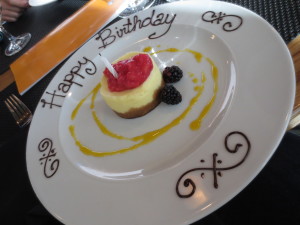 I had no space for dessert but did sample the goat's cheese cheesecake which had a surprising rhubarb topping! Inspired us to bake a strawberry rhubarb pie the next day! The staff were nice enough to decorate my friend's dessert as it was her birthday weekend. Great attention to detail.
All in all, I can't wait to be back! It was definitely a great meal and a fabulous deal for a group our size. They even have a highchair and a booster seat for kids and get this, a changing station in the bathroom as well. Both mens and womens! Score! The Little Monkey was a bit fussy but no one minded her walking around away from the servers and the hubs was able to take her for a quick walk outside when she got super cranky. Next time anyone asks me for a reco in Niagara on the Lake Benchmark will definitely be at the top of my list!