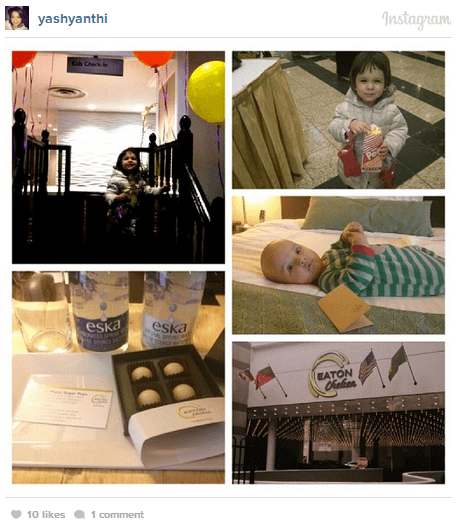 Over March Break we took a staycation in our own backyard and checked into the Eaton Chelsea hotel in Toronto for a some family fun with the toddler and baby. Eaton Chelsea, located in the heart of downtown Toronto is very centrally located, making it the perfect spot for families visiting (or staycationing!) in Toronto. I was surprised to learn that the Eaton Chelsea is Canada and the British Commonwealth's LARGEST hotel! That explains the 1500 plus rooms, 5 basements and 18 lifts!
Being quite large the hotel has many entrances off of some of Toronto's major streets and as we walked in we were greeted with a gorgeous living wall (the Little Monkey was quite fascinated by it!) and we proceeded to make our way to the check-in desk. Given that it was March Break the place was bustling with many families and we were welcomed with plenty of surprises. Our favourite was DC the robot who can pretty much answer any question you may have! Very engaging and an absolute hoot! Having walked by the hotel's lobby numerous times I was always curious about the kids  check-in…yes a special check-in just for the little ones (aged 7 and under)! After we checked-in and handled all the paperwork we were whisked away to the kids section where the Little Monkey got a welcome package. The boats she chose are still a prized procession a month later. They also rent out strollers if needed which is great for those not looking to lug their gear when travelling.
Disclosure : We were invited for a complimentary stay but as always, opinions are totally mine!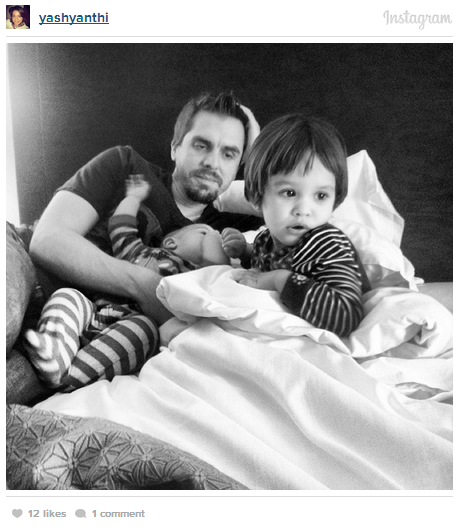 Our room was comfy and despite having double beds we asked for two cribs and got them without hesitation. Even during a busy period they have plenty of cribs. As always I was thrilled to have a balcony from where we got some lovely views of the city lights. I hear that their suites are quite spacious and offer kitchenettes which is great for extended stays. By the time I remembered to request a fridge for the room they were all booked up so be sure to put the request in early! I forgot that I had a frozen bottle of  pumped milk for Baby Boy and only after dinner did I remember that the milk was still sitting in an empty ice bucket! Uh-oh… when I came back to the room I was pleasantly surprised to see that with our evening turn down service they had ensured to put some ice so the milk stayed cold! Talk about a save! There were so many little things that made the Little Monkey extremely happy that during our visit I couldn't help but incorporate her happiness in every Instagram I shared! As I sat editing the video below she asked me "Mom…can we go there again?" … I think she's kinda hooked!
Free WI-Fi meant that the hubs was able to work whilst the kids and I explored the many activities and services on offer. On a permanent basis the hotel not only has a dedicated kids pool (housing Toronto's ONLY indoor waterslide), but also a gaming lounge for teens and a most fabulous Kid Centre. We spent a good chunk of our time at the Kid Centre fascinated by the bunnies (who apparently told the Little Monkey that they love her!), the various art stations, mini slide and toys. Seriously…just sit on the bench and catch up on your reading while the little ones run around. They also offer babysitting services for older kids if required.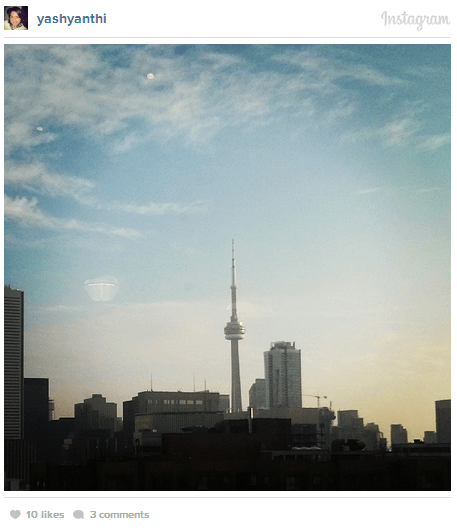 For March Break there were additional services including an indoor bouncing castle (yes Dora and Diego themed!), movies with popcorn and day camp activities. I am awaiting impatiently for the Little Monkey to be toilet trained so I can enlist her in their summer camp programs! While the kids are running about supervised you can relax in the ADULTS ONLY rooftop pool. Sounds just right doesn't it? I scored another picture of the CN tower for my collection from their rooftop.
I found the entire property to be very stroller friendly and even during a busy period we received friendly service from everyone we encountered. When it came to food there were plenty of choices. For dinner we enjoyed an a la carte meal at Bb33 where the chef offers some traditional items along with a few unique dishes sprinkled throughout the menu. Booster chair, high chair and even space for strollers – all check! We lazed around next morning and completely missed out on a fantastic breakfast buffet but we did pop by the Market Garden for a quick lunch. Hot food was made on order but I enjoyed seeing some healthy grab and go options which are great if you're rushing to start your day. As you can tell from the video the Little Monkey is a huge fan of all the pasta dishes on offer at the hotel! Her meal was also free because those 6 and under get a free meal with every adult meal purchased. Quite the deal and I rarely hear a "more" when it comes to a nutritious meal! Be sure to enjoy a Ceasar at Monarch's Pub if you have the chance … they've been voted one of the best!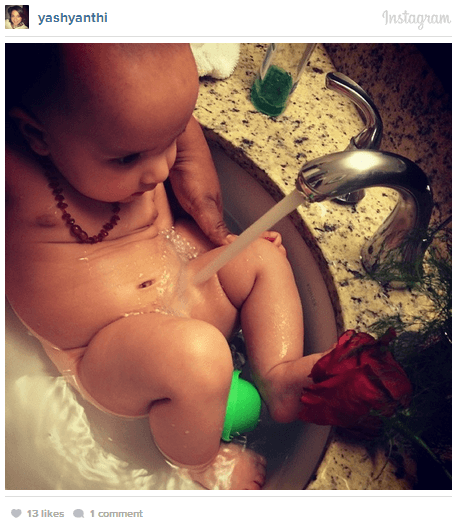 Based on what I've seen I can without a doubt say that the Eaton Chelsea is one of the best places to stay at in Toronto if you're looking for kid friendly entertainment and lodging under one roof. Only challenge is that with so many activities you may not be able to explore the rest of Toronto! Your Eaton Chelsea key will give you access to discounts at various attractions and if you visit in the summer you'll be able to explore a private beach on the Toronto Islands! Talk about a sweet deal. I highly recommend signing up for their 1865 privilege club which is free to join and provides plenty of perks, including a special check-in area and late check-out options.
While Eaton Chelsea is very active on Twitter they aren't on Instagram (yet!) but as part of this week's #IGTravelThursday I've shared some of my favourite pictures from our stay. Have you stayed here? What was your favourite part? Clearly Baby Boy's was enjoying a romantic sink bath!