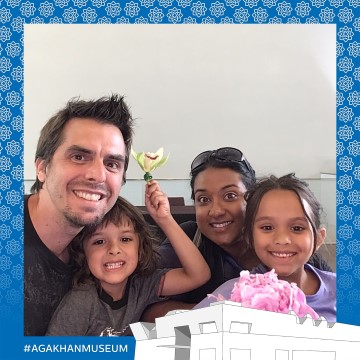 Last weekend we visited the Aga Khan Museum in Toronto with our kids. This was our second visit with the kids and this time around we managed to spend six hours at the museum with minimal complaints from the kids. Yup, I was as shocked as you are! We visited the Aga Khan Museum last year and it was reassuring to see them still enjoying a space that can easily be seen as "adults only". Read on and you'll see how we kept the kids amused at the Aga Khan Museum.  
Disclosure : We were guests of the Aga Khan Museum but, as always, opinions are TOTALLY ours! 
Exploring the Museum
We spent the first hour going through the various collections and both kids had many questions for us. I had seen the World of the Fatmids during a previous visit so I was more than happy to take the kids through it quickly (minus the stops at all the jewels) because based on our last visit I knew that they would be most interested in the permanent collection. Sure enough, this is where they wanted to sit and look at things and where all the questions came one after another. I'm grateful for the various seating areas throughout the museum because I was able to rest and chat with them versus being in everyone's way. Here's a picture of Baby Boy taking a quick rest after the World of Fatmids!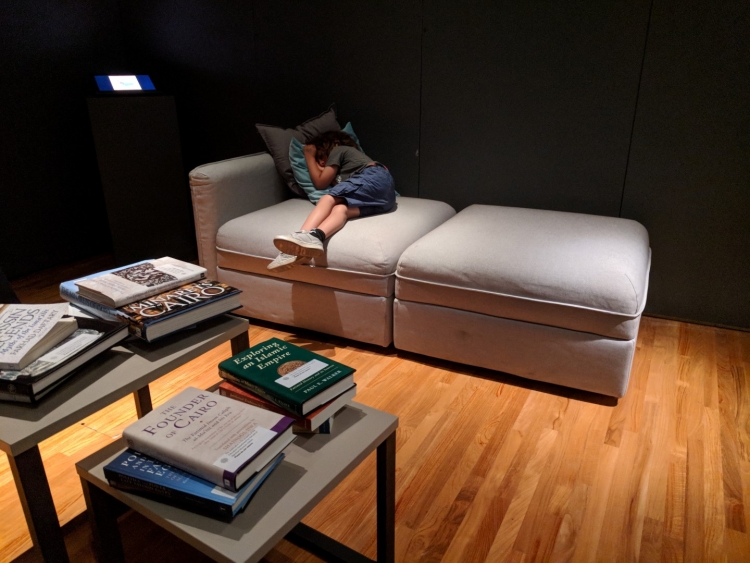 Lunch at Diwan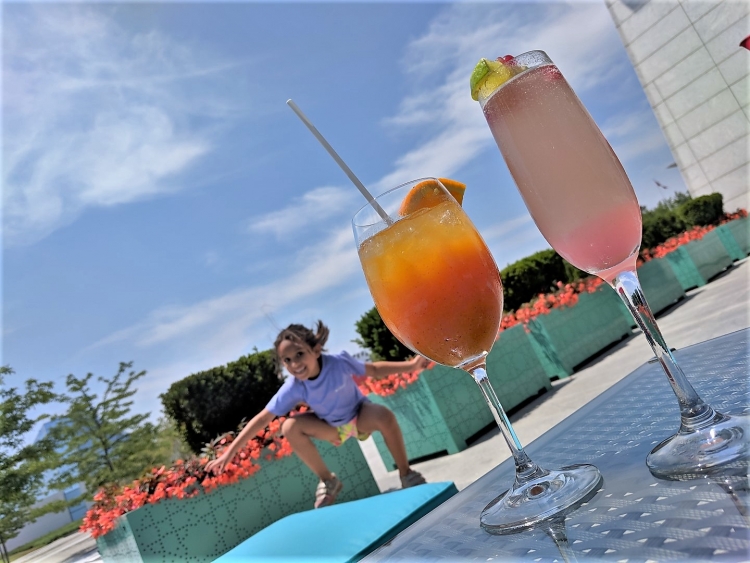 During our last visit I had spotted the Mark McEwan restaurant in the museum and I promised myself I would dine there the next time we visited. So we made it happen! Chris promises to share a detailed post with you about all that we ate but I wanted to mention a few things here. The restaurant welcomed the kids with smiles (we noticed quite a few families there actually) and our kids found dishes they enjoyed. There is also a gorgeous patio if you decide to hang outdoors and, if you get a table facing the front courtyard your kids could technically go play with the chess board outside if they need a break (yes, Baby Boy totally did that). Diwan offers a menu comprising Middle Eastern, North African, and South Asian cuisine. From the decor reflecting the luxury of a private 19th-century Syrian home to its attentive staff, there are so many little attentive details that blew me away and I will gladly say that it was one of my favourite food experiences in Toronto (and you know I'm not easy to please!). One tip is to plan for a 2 hour meal as it is a leisurely experience. Also get the Lamb Shank. Oh and the Biriyani. Okay, and the Bhaji! I'll stop.
Arts & Crafts in the Education Centre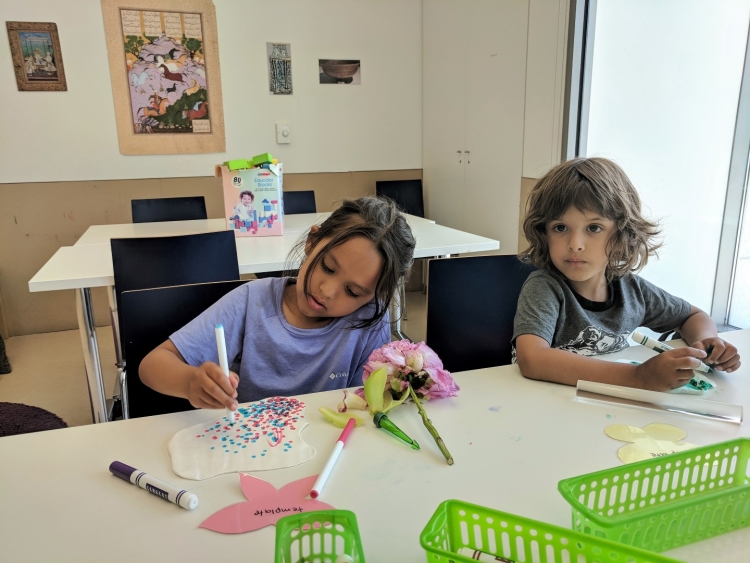 After lunch we headed to the Education Centre as each Sunday the Aga Khan Museum hosts a family Sunday session and in fact, our last family visit was also on a Sunday! Little Monkey was actually a bit peeved that we didn't allow her to stay here longer as she wanted to finish the foam butterfly she was making (vs. bringing it home to complete). Every Sunday from noon until 4 p.m. parents are encouraged to bring their kids aged 5 to 12 to the Education Centre for hands on activities (you do have to stay with your kids). The activities are included in the museum's admission price and the crafts change regularly to reflect the special exhibitions. The kids would have liked to spend 4 hours here alone!
Musical Performance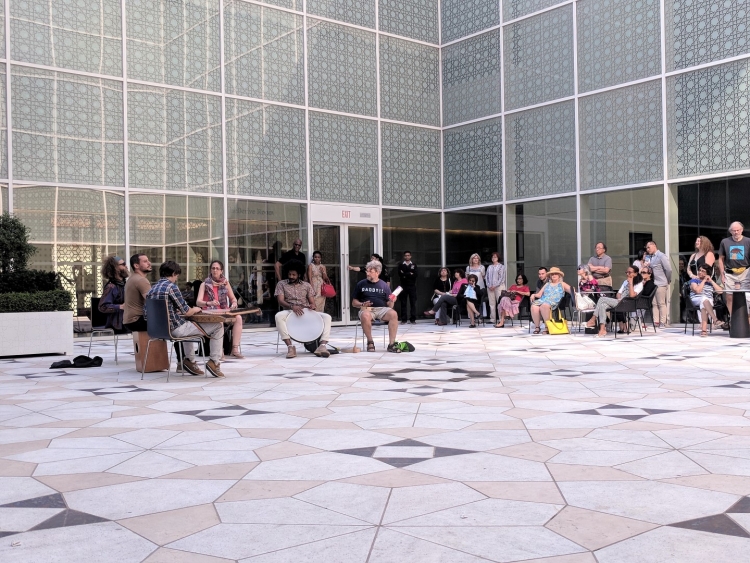 The day we visited there was a special musical performance titled "Home". You did have to purchase separate tickets for this portion and truth be told, the 2 hour performance was a tad too long for our kids at the end of the day but they were mostly good during this portion. For hundreds of years many people have called the place we now know as Toronto, "home." Whether the result of opportunity or tragedy, the movement of people into our city has made it one of the most diverse on the planet, and as a result, the concept of "home" in the Torontonian context is a complicated one.
I was glad when Frazer Garison Sundown and the Ukwehuwe Connection, a group dedicated to highlighting Haudenosaunee culture through song and dance, came on stage first as their costumes and dances were sure to entertain the kids as well as the adults. It was educational in showcasing First Nations, Inuit, and Métis arts and artists and Little Monkey seemed eager to know what they were doing  (luckily everything was clearly explained so I didn't have to talk during the performance). Next up the Toronto-based AraBest group provides a connection point for the Arabic communities from which its members are drawn, and introduced us to their traditions. Baby Boy decided to close his eyes during this performance and Little Monkey pulled out her colouring book – they were both quiet so I didn't mind at all. That said, Arabest kept me swaying to the tunes of traditional Arabic music in a modern style through their use of a variety of instruments, such as the oud, qanun, nay, accordion, violin, bass and more.  The last performance was one I was waiting for, Moskitto Bar. I had actually seen Moskitto Bar at the Aga Khan Museum a couple months back and was eager to have Chris listen to them but I was surprised that Little Monkey found them to be her favourite as well! She totally perked up when they started playing. What I love about Moskitto Bar is the group comprises of an Iraqi, Algerian, French and Ukrainian who come together and create a unique form of expression that reminds them of each of their "homes". While this was a ticketed performance, there was a free pop up session in the courtyard and one that families can easily walk in and out of.
Outdoor Fun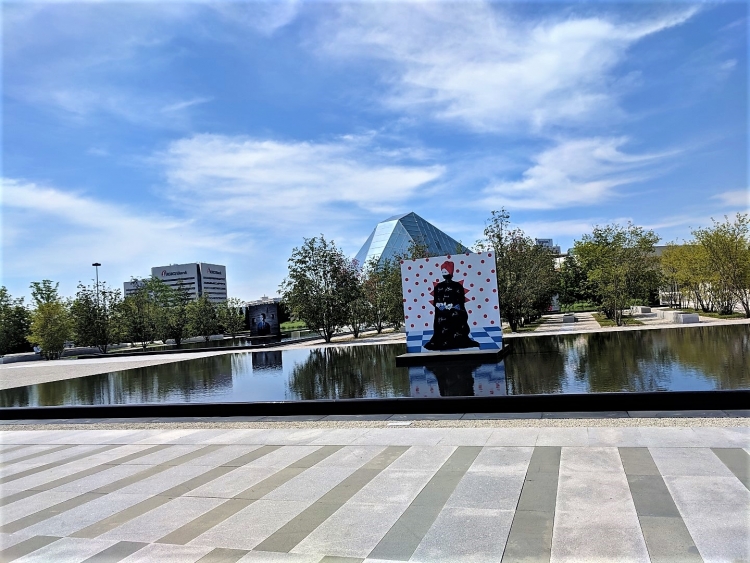 After the musical performance we knew that the kids were eager to run loose (and sneak into the education centre if they were allowed – it was closed of course!). Even without tickets you can enjoy the space surrounding the gorgeous Aga Khan Museum building as there is ample space for kids to run around at, a large chess board and the Aga Khan Park also has a free outdoor art installation. During our visit it was the Scotiabank CONTACT Photography Festival's portraits by photographer Aida Muluneh titled Reflections of Hope.
After that we caught the bus back towards Eglinton Station and was ready to crawl into bed! As you can see, there's plenty to do at the museum with young kids. As much as I did enjoy the musical performance I think it might be safer to experience the pop up ones with young kids as you definitely don't want to disturb others in attendance. We TOTALLY lucked out as our kids were mostly well behaved! We should also point out that there are summer camps taking place at the Aga Khan Museum this summer for kids aged 6 to 12 and while it's a bit too far for us, I hope some of you might be able to enjoy the various program on offer.