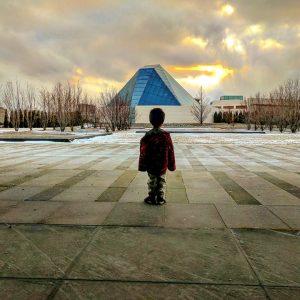 Toronto's Aga Khan Museum opened in September 2014 and it took us over two years to get there! I kept seeing amazing pictures of the architecture and design of the building and knew I wanted to take the kids there but didn't have the chance until recently. Yes, it's a museum of Islamic art, Iranian art and Muslim culture but it's also a great spot to take young kids to as well. We visited on a Sunday and as you know, we're huge fans of Family Sundays which take place at many of Toronto's top museums.
With artifacts dating from the 8th century through to the 21st century and covering a broad geography from Spain to Southeast Asia, the Aga Khan Museum's collection encompasses many renowned works of art. I noticed with great pleasure that Little Monkey was genuinely interested in exploring the colourful displays. Mind you, she was more into the colours and jewels than the actual history but it's a small win that I will celebrate!
You could check-in your stroller but the space is relatively stroller friendly. We didn't have ours with us on the day we visited so the kids walked around for the most. There is a free coat check service and I'm sure they would stash your stroller away if you needed to do so. We spent about two and a half hours at the museum and about an hour was spent at the kids education centre. Every Sunday from noon to 4 pm parents can spend some time engaging in art games, puzzles and creative play. It's designed for families with children between the ages of 5 and 12 and adults must accompany the kids. During our visit the kids played with clay, made cutout snow flakes and played with a puzzle. Yes, three year old Baby Boy enjoyed it as well. I was especially impressed by the two supervisors who were very hands-on and helped the kids with the tasks at hand ( I was failing miserably at it!).
Kids under the age of 6 are free and no tickets are required for them. Little Monkey and Baby Boy gravitated towards a display featuring homes from around the world, which were constructed by local Toronto area students. We spotted Sri Lankan, Pakistani and Middle Eastern homes which was a great way for me to show them the spots I grew up as a kid.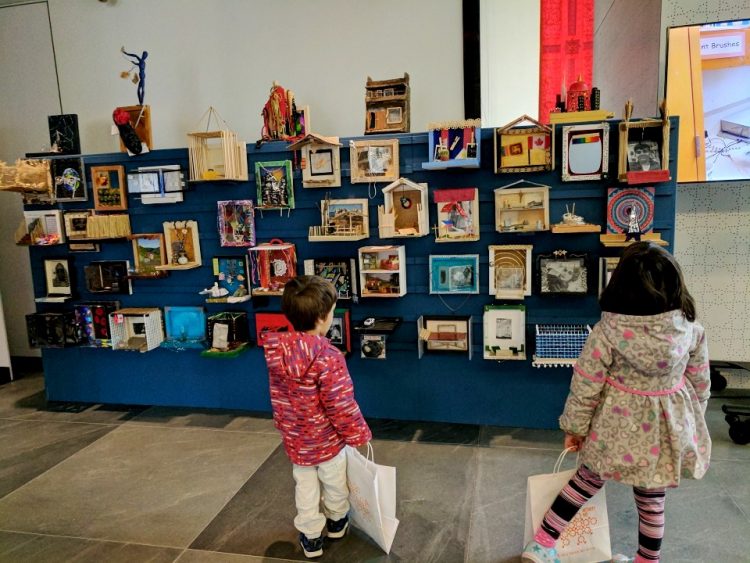 Taking one of the tours when with young kids might be a bit tough (though you could plan it perfectly with nap time!) but if you have the chance, the architecture tour definitely fascinates me! There is an extra fee for these tours and they can be booked at the ticket desk on arrival. You can also grab a free family exploration kit that will offer some interactive games to be played as  you explore the museum.
The museum has an amazing Mark McEwan restaurant called Diwan that is only open for lunch and sadly was closed by the time we wanted a snack. That said, there is a cafe inside the museum that is open throughout the day and carries a good mix of healthy items and drinks.
In addition to the Family Sunday program, the Aga Khan Museum is also part of the Free Wednesday program that runs at most Toronto museums. Visit the Aga Khan Museum each Wednesday between 4 and 8 pm and receive free entry to the Museum and all special exhibitions! We missed the Contemporary Persians exhibit by a week and I definitely hope to swing by soon to check it out. I also plan to visit when the Ismaili Centre near the Aga Khan Museum is open to visitors and hope to book a tour there in advance.