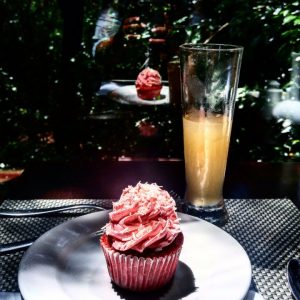 The first major trip Yashy and I took together, during our final year of studies at the Schulich School of Business, was to an all-inclusive resort near Holguin, Cuba. My birthday happened to take place during our reading week and, for the first time, I learned how seriously Yashy took her adventures. The trip was a surprise gift to me, but I had already purchased Raptors tickets and was due to witness Lebron James in action for the first time in my life. So, for an instant, I was a little disappointed, but that faded very quickly. The prospect of spending a week at a resort with Yashy was perfect. And we had a blast, sitting by the pool drinking margaritas, taking walks to nearby shopping districts, and joining tours into the city and to a cigar factory. It would be the first of many great vacations we shared, but the destination had one major flaw – the food. We both love to eat; it's the main focus of most trips we make. In Cuba, after too many mornings of runny eggs, afternoons of tasteless snack plates, and bland nightly hamburgers from the snack bar, we both decided that all-inclusives were not for us. Until we discovered Azul Fives- a Gourmet Inclusive property.  Luckily for us Air Transat has great packages on offer to many Karisma properties and that is how we landed at the kid and wedding friendly Azul Fives Resort. Karisma definitely focuses on the food and drinks at their properties and I couldn't be more thrilled!
On a tip from a friend, we decided to lift our ban on all-inclusive trips – destination weddings being the only exception, during which we usually spend half the trip off the resort. Azul Fives promises eateries that "satiate even the heartiest appetite". They should promise more. From the first night we arrived and decided to stuff ourselves at the Oka Sushi Bar, we enjoyed one of finest weeks of dining that I can remember. Famished and a little tired, we didn't even need a full night's sleep before we were able to relax. After a few delicious cocktails and a range of Japanese dishes, we had arrived at our happy place.
Disclosure : This trip was in partnership with Air Transat but, as always, opinions are TOTALLY ours! 
Over the next three days, we made our way to almost every restaurant on the resort, missing only the Italian eatery, which we were usually too stuffed to tackle. We were surprised by the fact that we COULD have eaten healthy if we wished to do so as there were plenty of healthy fruit and veggie dishes. They even serve Canadian Beef on the resort! Here is a sample of some of our favorite dishes:
Coq au Vin from La Brasserie Bistro Cuisine: We were excited to visit this French themed restaurant. Fine French cooking is something both Yashy and I love but rarely eat. After I devoured the delicious Beef Tartar with Lemon appetizer, I greatly enjoyed the Coq au Vin, a famous French dish I had never before tried. The dish consisted of Buourgogne roasted chicken with red wine, mushroom, and carrots and was one of the finest meals I had at the resort. I was also pleasantly surprised with the house wine, a Cabernet Sauvignon, that I paired with the dish.
Tacos from the stand outside of Flavours World Cuisine: On our way to a late breakfast on our first morning at the resort, we came across a sight that made our mouths water, a taco stand just outside of Flavours, offering freshly made build-it-yourself beef or pork tacos, replete with a dozen topping options. I could not have enjoyed this dish more and Mary's Taco stand is something every visitor looks forward to. It was like discovering an all you can eat sausage stand on a street corner, only instead of sausages, the vendor served tacos, which are far more delectable.
Tierra Caliente Ceviche from Oriola Beach Club Grill: Situated overlooking both the beach and the pool, Oriola was the perfect afternoon stop. With the kids at the Azulitos Playhouse for the afternoon, Yashy and I sat down, ordered a craft beer and dined on two of my favourite foods, ceviche and tacos, and I was not disappointed. I ordered the Tierra Calienta, with fish strips, red onion, coriander, and lime, while Yashy had the De Las Islas, with Shrimp, coconut milk, coriander, onion, like and mango. Both were excellent, and the tacos we had afterwards were damn good too.
Been Nua Pad Num from Koh Thai Wok Cuisine: We saved the Thai meal for our last night at the resort. A cuisine we often eat in Toronto, we were excited to see a number of options that were prepared differently than we are used to seeing. I greatly enjoyed the Beef Nua Pad Nam as my main, a richly flavored dish served in a broth with stir fried beef, onions, mushrooms, shallots and oyster sauce. This last meal was the icing on the cake of a great dining experience at Azul Fives.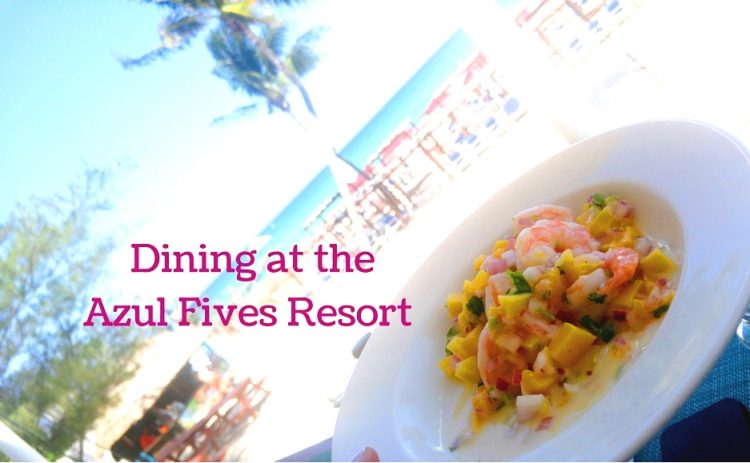 I could go on and on. The previously mentioned Oka Sushi Bar had a number of great dishes (and a fabulous kids menu) as did Flavours, which is a buffet style eatery commonly seen at all-inclusive resorts – the difference being that the food at Flavours met the high standards we found at every other eatery on the resort. I mean they had a cupcake bar at breakfast!! We spotted high chairs and change tables at most restaurants and all the servers we encountered were extremely kid friendly. The Poolside Grill near the beach offers great hamburgers which you can eat whilst relaxing at a beach side cabana, and at Sea Olive Cuisine de Soleil, the Mediterranean restaurant, we had a great afternoon lunch on our last day. We quickly realized that everything we tasted would be well prepared and flavourful. What a great dining experience!
"We should also mention the little surprises like Empanadas at the Pool Side Grill, the FRESH JUICES & Smoothies at the Natural Bar, the ice pop cart by the pool, the random dinner parties by the beach and best of all, the staff that serve you all the deliciousness"
One more thing…the drinks
If you have been to an all-inlcusive where the wine tasted like sugary grape juice and the cocktails like melted popsicles, then you know what it feels like to crave a fine beverage. Azul Fives has you covered. On our first night, we stopped in for a nightcap at Nineteen ten, which offered a number of intriguing tequila and mezcal options, all good quality options. After having a fine mezcal that night, I made it a point to splurge on a good bottle at Duty Free on the way home. On our second night, we enjoyed a number of great cocktails at The Gin Bar, which has dozens of different gin options available. We should note that both these bars are adults only inside the air conditioned space but you can hang with the kids on the outdoor patio and they will serve your drinks there! It's a beautiful sight when you can swim up to the bar and the kids get mocktails and parents are greeted by a fabulous back bar featuring premium brands. Yashy, working in the beverage alcohol industry, was able to call out her favourite brands and most were there (outside of Canadian Whisky of course!). We also discovered that the house wines offered at the restaurants were of very good quality. La Brasserie also had a number of high end wines available at a cost and something we would have dabbled in had we stayed longer.
My only complaint was with the beer. Only big name options like Corona, Sol, Dos Equis, and Heineken were available as part of the all-inclusive package. However, we did find a few Mexican produced craft beer for sale at Nineteen Ten and at Oriola. During the trip, I tried the Snake Head Vienna Lager and the Warrior American IPA  from Mundo Maya Brewery. Both were good, much better than the free choices, and so I didn't mind paying $12 CAD for the 1 liter bottles on sale. Hopefully, these brews will be added to the included beer list in the future. For the most part though, I didn't mind reducing my beer consumption for a few days. The margaritas were a delicious alternative!
Hungry or thirsty now?