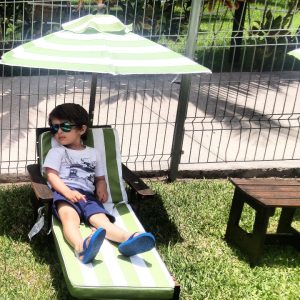 During our visit to Mexico with Air Transat we stayed at the most awesome Azul Fives Gourmet Inclusive property and one of the main reasons I chose this particular property was because it has a great balance between catering to the kids and the adults. The Kids Club, Azulitos, was definitely what sealed the deal after hearing about the gourmet food experiences at this Karisma property.
I wasn't sure what to expect at Azulitos but I'm here to report back that if you have kids aged 4 and older, you'll be smitten by this spot. Don't get me wrong, 2 year old Baby Boy was all over it too, but parents can't drop the kids off at no additional cost and sneak out to the spa, like you can with a 4+ year old. Now mind you, we did JUST that , but we paid out of pocket for that as it wasn't part of the "all inclusive" package. That said, at $20 per hour for those under 4, I was totally okay with it. Parents alone time is worth every penny!
So why did I like Azulitos so much?
Because I saw happy smiling kids who were refusing to leave the play centre when the parents came to pick them up.
Because I saw how caring and nurturing the staff were with kids and how they themselves were having fun.
Because I saw the friendships blossoming between kids from across the globe.
Because Little Monkey was more than happy spending an entire afternoon there without me!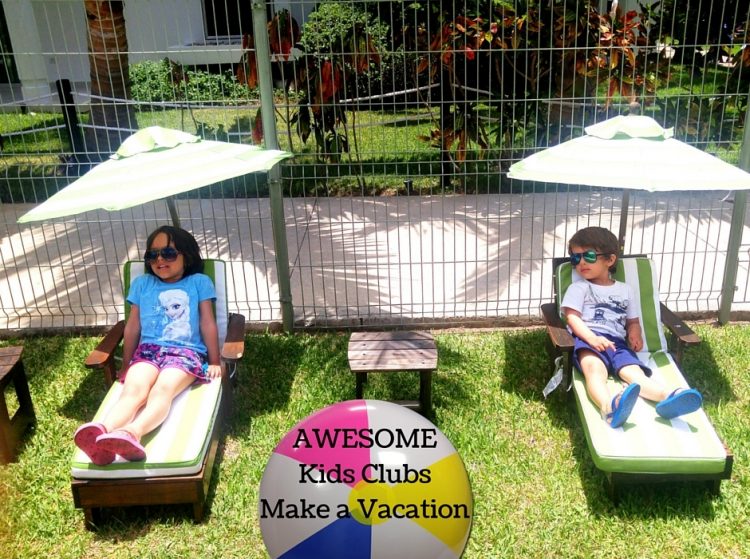 Azulitos has plenty of toys and activities for all ages from newborn to 12 years and a wonderful group of caregivers. I spotted quite a few of our favourite Fisher Price toys in the toddler room and the nursery was not only exceptionally clean, it also had cribs and toddler sized beds for kids to take naps at. They even have a very shallow pool and kiddy recliners outside by the play structure for outdoor activities and yes, it's all nicely gated.
Each day there were numerous organized activities – Make a piñata. Break a piñata. Paint masks. Thread a key chain. Face painting.. the list goes on and on. There were numerous bulletin boards listing the times for each activity and Litte Monkey ensured we swung by for her favourites. When the sun goes down, the curtain goes up, with live shows and movie nights so parents could technically enjoy a kid free dinner. Also remember that you can borrow sand toys, life jackets, toys, books and any baby gear you need from Azulitos (at no additional cost!!).
One thing I should note is that the day we dropped the kids off at Azulitos, we were asked to have room service deliver whatever we wanted for them to eat. That was genius! Shortly after our breakfast, I called room service and had them deliver lunch to the kids for noon and sure enough.. that happened! How awesome-right?
I wasn't sure what to expect when we dropped the kids off because this was Baby Boy's second time in  daycare situation (first was in Vermont) but he was THRILLED to say bye to us! Me going 20 minutes early to deal with tantrums was of no use!! I think this was mainly because we had brought him in to play there a couple times during the previous day so he was comfortable enough with his sister around. Booking him in was super easy, I came in 24 hours prior and filled out a form including notifications of any allergies, nap routine and some of his behaviours and that was that!
Designed for children 4 and older, the My Gym at Azulitos Playhouse offers daily classes, programs and facilities designed to help children channel all their energy. There are ropes, parallel bars, trampolines, springboards plus big floor pads.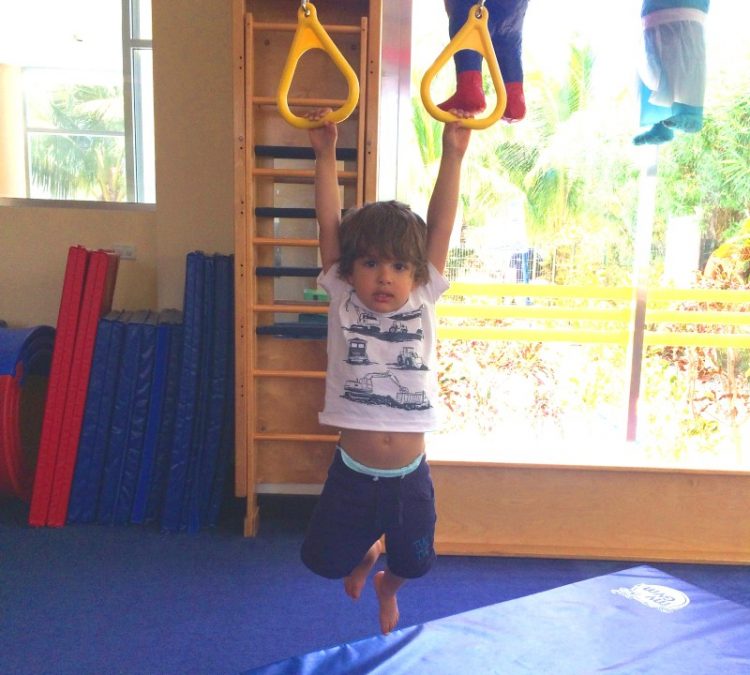 The Playhouse is open from 9 a.m. to 9:30 p.m. with only a 2 hour closure from 5 to 7 p.m. so that the staff can refresh. I thought that was a great time slot because it catches the early risers post breakfast as well as the late sleepers. Everyone is on vacation mode the moment they step onboard their Air Transat flight, even the kids were on Mexico time! Little Monkey was very sad that she wasn't able to join in for one of the movie nights, but it was her fault really-she wanted to attend a beach party with us one night and the other 2 nights, she insisted on joining us for dinner and so you see…we simply MUST keep exploring the fabulous packages on offer through Air Transat to other kid-friendly vacation destinations!