During our travels in Vietnam during March 2023 we spent a day in the Mekong Delta with kids and I was shocked to learn that it was one of Akira's favourite memories from the trip! That's saying a lot coming from a tween! When I was planning our Vietnam itinerary I knew we had to sneak in a visit to the Mekong Delta but I did not expect it to be one of the most delightful and culturally enriching experience for our family. If you're planning a Vietnam family vacation and looking for day trips from Ho Chi Minh City, this should certainly be at the top of your list.
Spend a Day in the Mekong Delta with Kids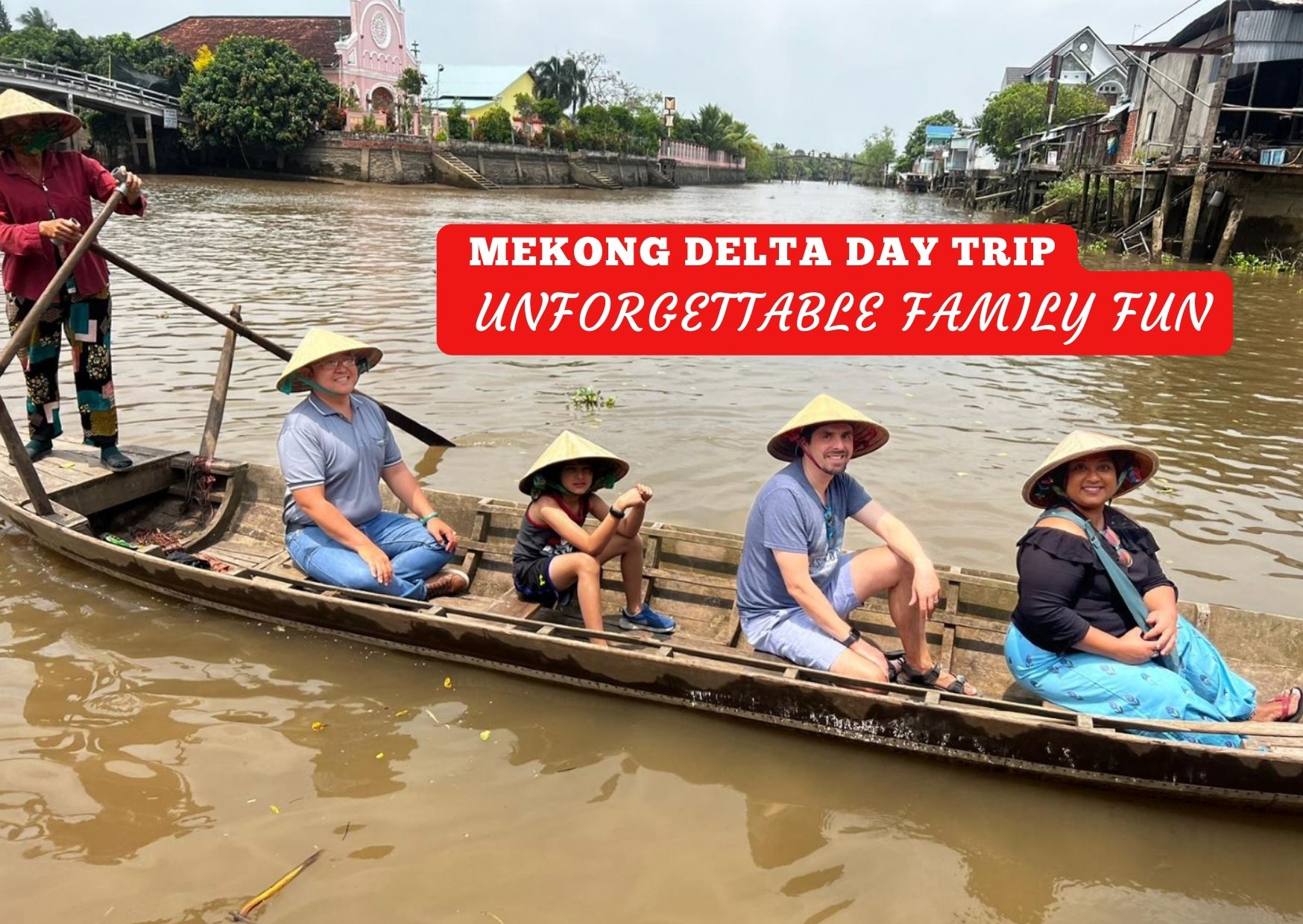 My brother and his partner, who live in Ho Chi Minh City, said they'd join us and so we were four adults and two kids (ages 9 and 11) on this day trip from Saigon. We researched many tour options and settled on a private tour through the same company we used for our Halong Bay Cruise (Ecolux DMC). We had spent our first day in Vietnam roaming around Saigon, visiting the various markets and eating from the streetside vendors so I wasn't surprised when we woke up on day two to Akira complaining about a belly ache. I was a bit anxious as we had a full day in the Mekong Delta ahead of us and I wasn't sure what the bathroom situation would be. Needless to say, I started getting ready for our 8 a.m pick up with many reservations and extra puke bags in my travel backpack! Funny how this day turned out to be her favourite one – huh?
Did you know that the Mekong River spans through six countries? Viet Nam being one of them. Mekong Delta is situated in the Southern region of Vietnam and comprises 12 provinces: Long An, Đồng Tháp, Tiền Giang, An Giang, Bến Tre, Vĩnh Long, Trà Vinh, Hậu Giang, Kiên Giang, Sóc Trăng, Bạc Liêu and Cà Mau, along with the province-level municipality of Cần Thơ.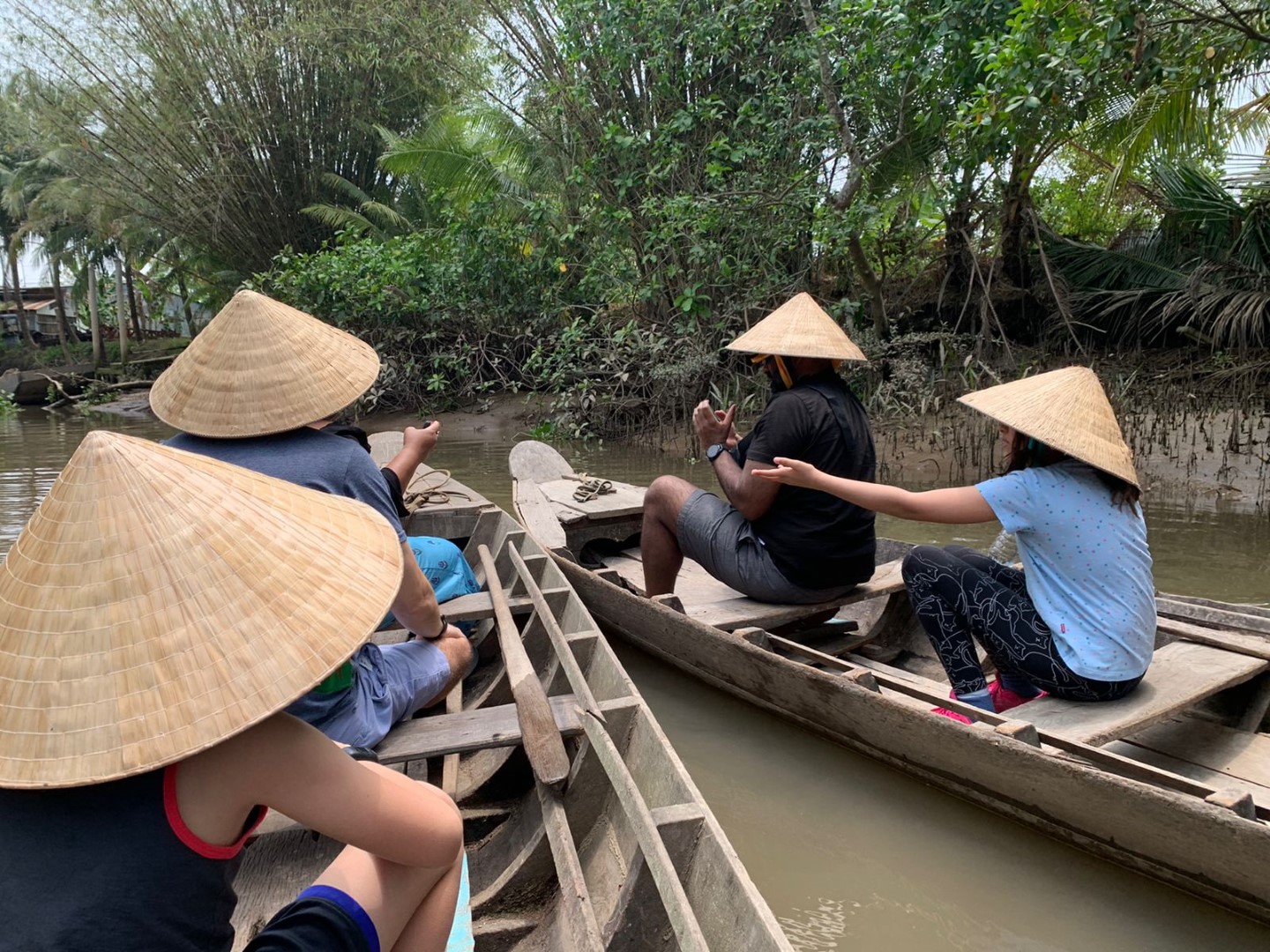 The Mekong Delta region in Vietnam is known for its lush landscapes, vibrant markets, traditional villages, and waterways. I was surprised to learn that to this day, the river Delta plays a vital role in supporting the livelihoods of millions of people through its agricultural productivity, fishery industry, cultural heritage and natural resources. To this day!! It was fascinating to see life on the Mekong Delta unfold as we chatted with the various people we met during our day trip with Saigon.
Getting to the Mekong Delta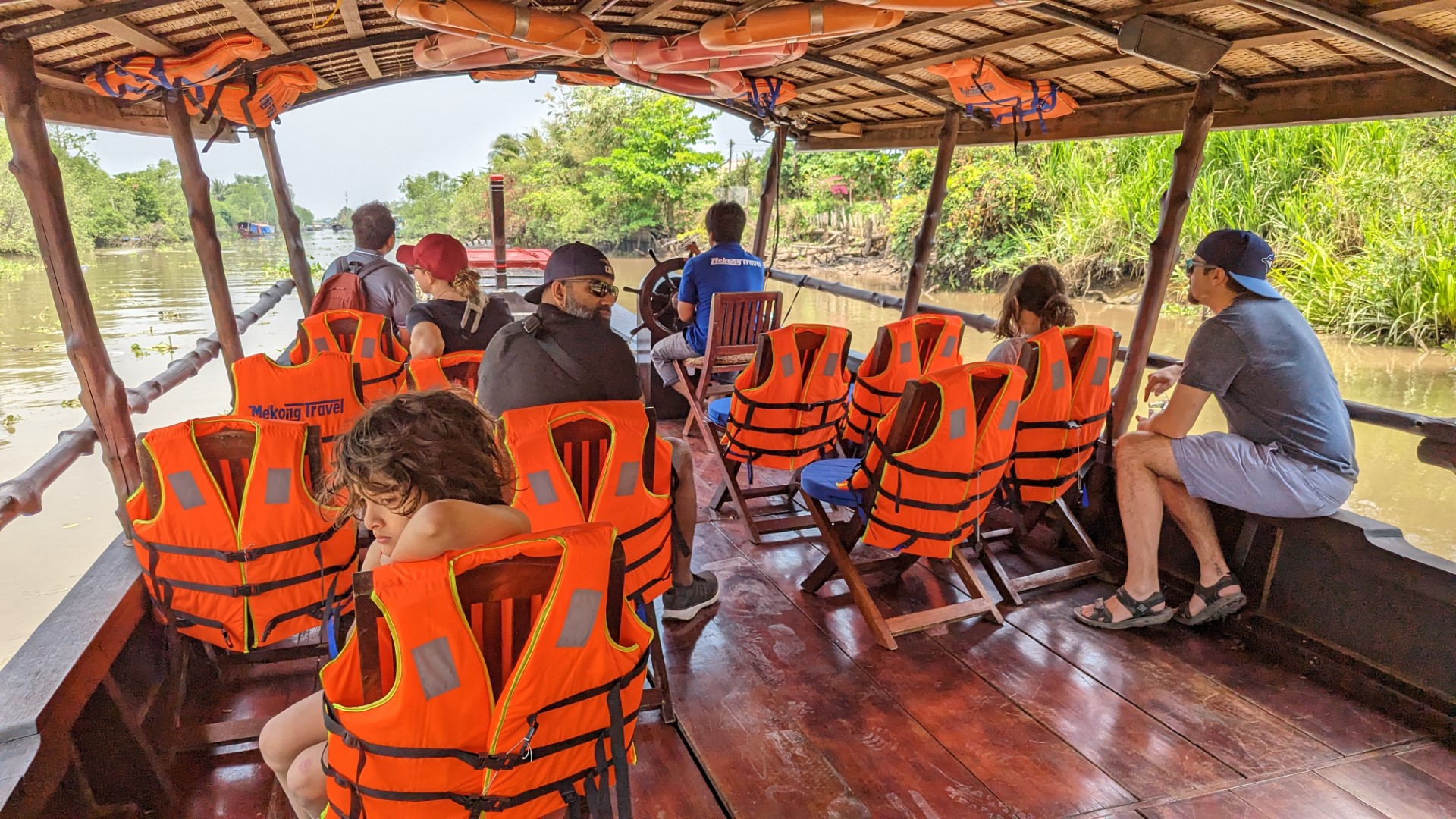 There's a reason many opt to do an overnight trip to the Mekong Delta and the main one is that it takes 3 to 4 hours to get to the Mekong Delta area. Of course, many like us try to squeeze in a day trip and it's absolutely do-able. In fact, there are combined tours where you can do the Mekong Delta and the Cu Chi Tunnels. We opted for a private van with guide and driver but there are speed boat tours which will eradicate getting stuck in traffic like we did.
There are a few main areas you can visit in the Mekong Delta. Can Tho is a major city in the Mekong Delta and is known for its vibrant floating markets. It's approximately 169 kilometers southwest of Ho Chi Minh City and travel time is usually 3 to 4 hours. My Tho is located closer to Ho Chi Minh City and takes about 1.5 to 2 hours to travel from Saigon. Ben Tre known for its coconut groves and tranquil countryside is 85 kilometers southwest of Ho Chi Minh City and has a travel time of about 2 hours by road. Long Xuyen is approximately 175 kilometers southwest of Ho Chi Minh City, and about 3.5 to 4.5 hours drive away. Vinh Long, where we explored, is a river port on the right bank of the Tien River and it took us about 3 hours each way. Yes… that's 6 hours of travel time alone.. but don't worry. This was one of the best Vietnam tours we did with our kids.
I had hired EcoLux Vietnam for our tours and they in turn hired Vietnam Shore Excursions for this local tour. Our guide Gia was a jovial guy who picked us up at 8:00 a.m. in a van. We made a pit stop at a rather touristy station that had a mix of food stalls, clean bathrooms and shopping. I figure it was time to have a Banh Mi for breakfast around 10 a.m. and so that's just what we did before making our way to the Vinh Long ferry terminal to take us to An Binh Island. This is certainly a spot where many tourist buses stop because it provides a sanitary and easy stop to purchase some snacks and trinkets at. We soon made our way to the main attraction and below are the Mekong Delta activities we participated in.
Things to do in the Mekong Delta with Kids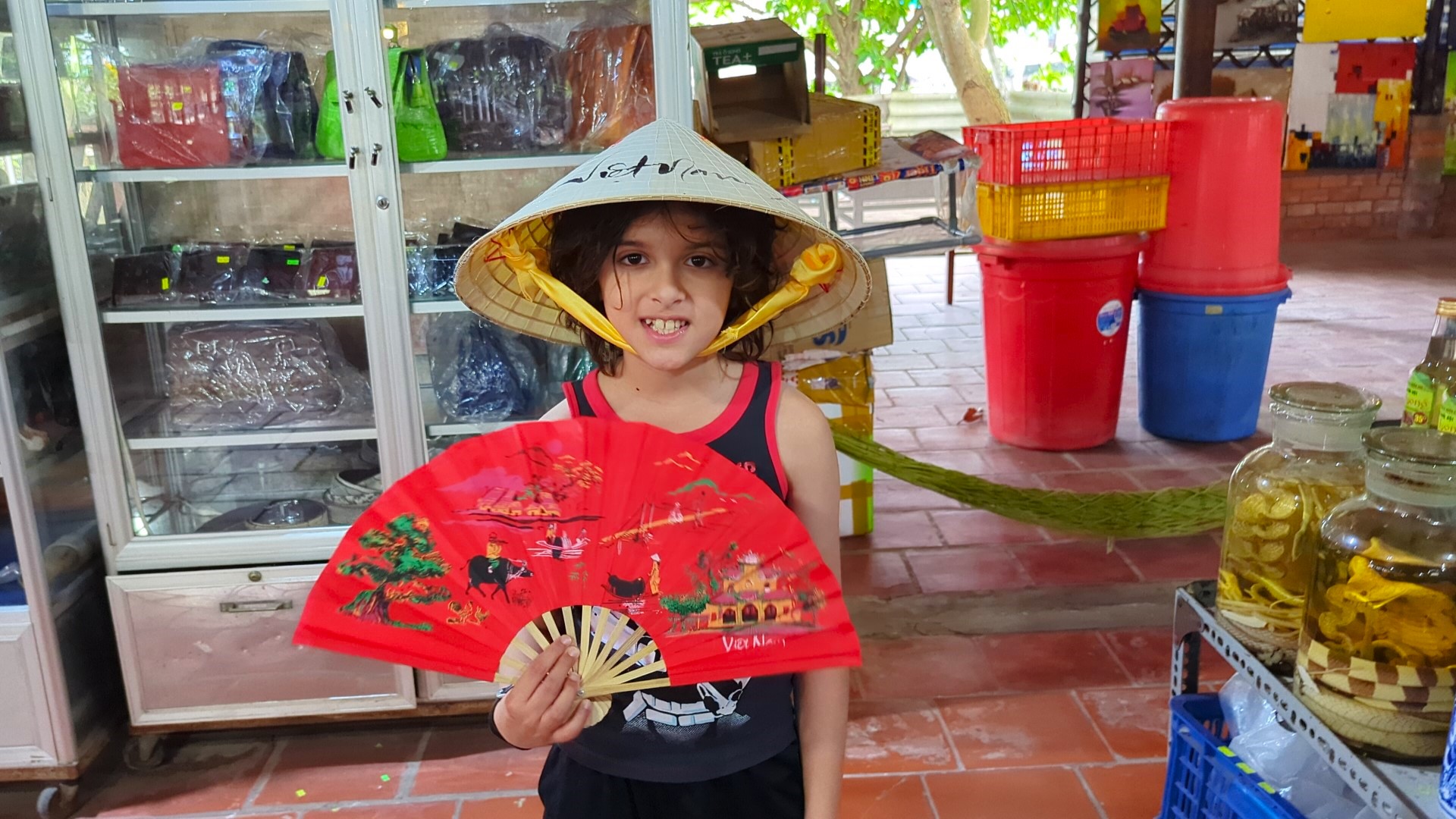 Our driver brought us to the Vinh Long ferry terminal where our group and guide disembarked and made our way to a boat which transported us for the rest of the afternoon. Once we got on the boat we made our way to various spots where we'd get off to explore and learn about an activity before getting back on the boat and moving to the next stop.
Make Your Own Rice Paper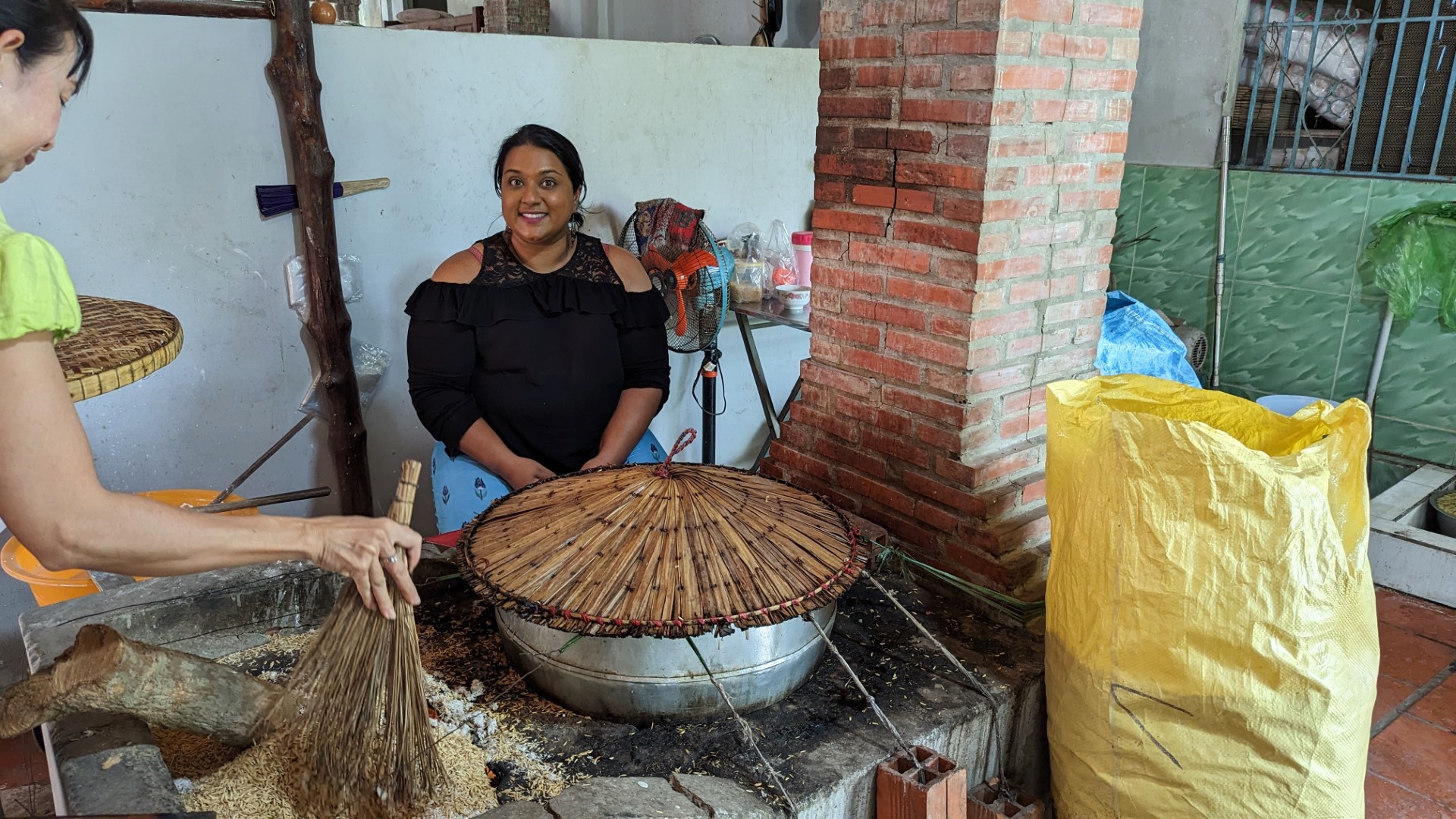 This is certainly a cool experience and one none of us will forget, especially since we enjoy making and eating Vietnamese spring rolls! The local workshop showed us the entire production from start to finish. Soaked raw rice is ground with water into a slurry and the batter is spread onto a cloth that's stretched over a wide pot of boiling water. I found it truly fascinating that they really focus on reducing waste here and the rice husks were burned to fuel the fire. After the batter has been thinly spread (we were allowed to take turns doing this!!), a bamboo lid was put over the rice sheet.
View this post on Instagram
After it steamed for about a minute, we used a bamboo stick to pull the rice paper off. It was then placed on a rotating rack to cool down. Cooled rice sheets are then placed on bamboo drying racks and the racks are brought outside and placed under the hot sun for a day. The woven pattern of the racks gives the rice papers their distinctive appearance!! Cool huh? It was interactive and educational so that's a total win.
See How Pop Candy and Coconut Candy is Made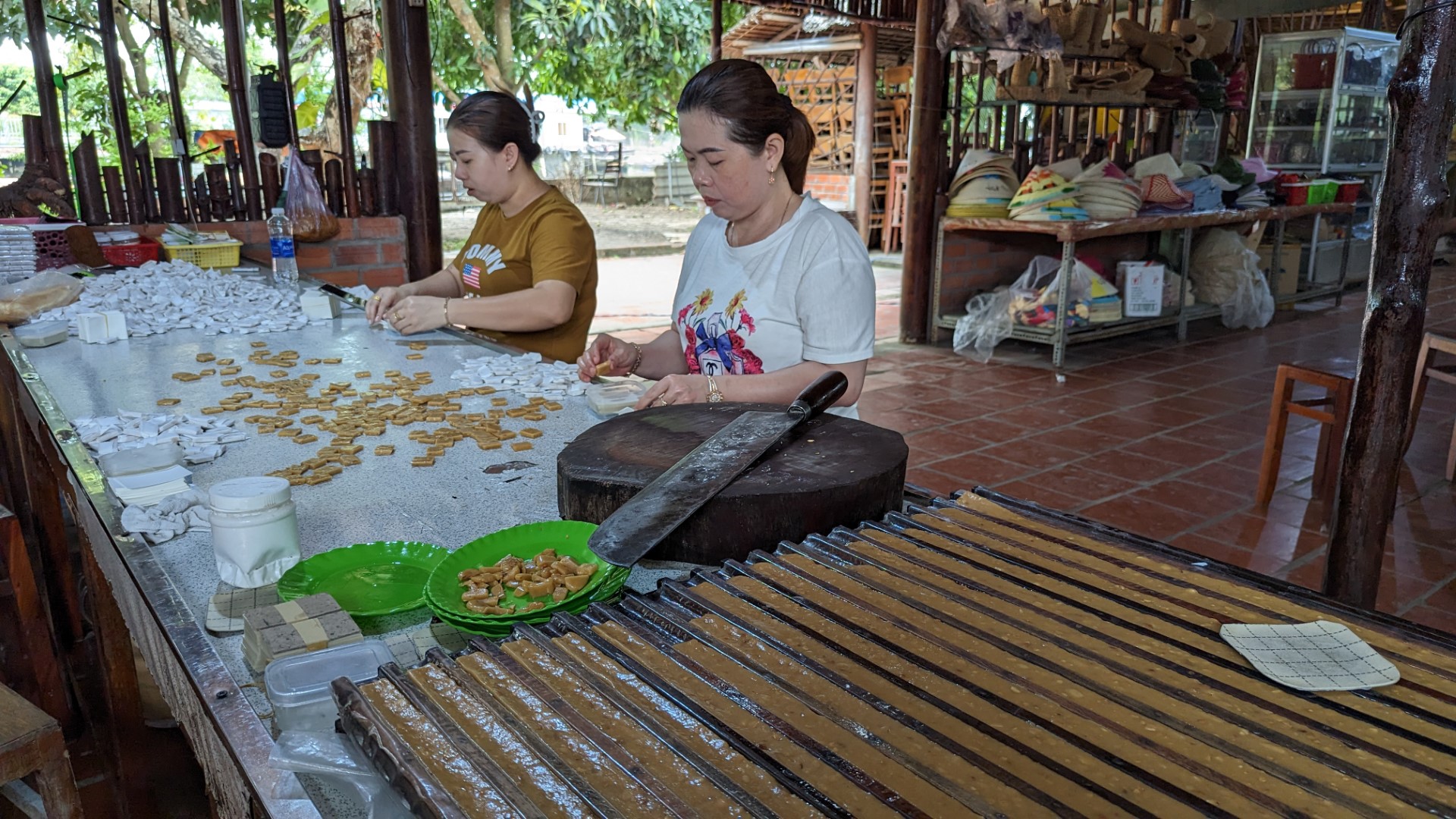 You know Akira and Apollo were totally into this. Seeing how the coconut candy caramels were made, cut and packaged (all by hand) was fascinating for kids and the adults. We also obviously got to taste them along the way.
What initially looked like rice krispy treats were puffed rice (often referred to as Pop Candy) and we not only saw the rice puff in front of us but we now greatly appreciate the process because the kids got to shake the sand off the kernels and then watch as two people worked hard at rolling the puffed rice and flavour mixture into a slab before cutting them into precise pieces. Seriously, that was way more work than I had imagined!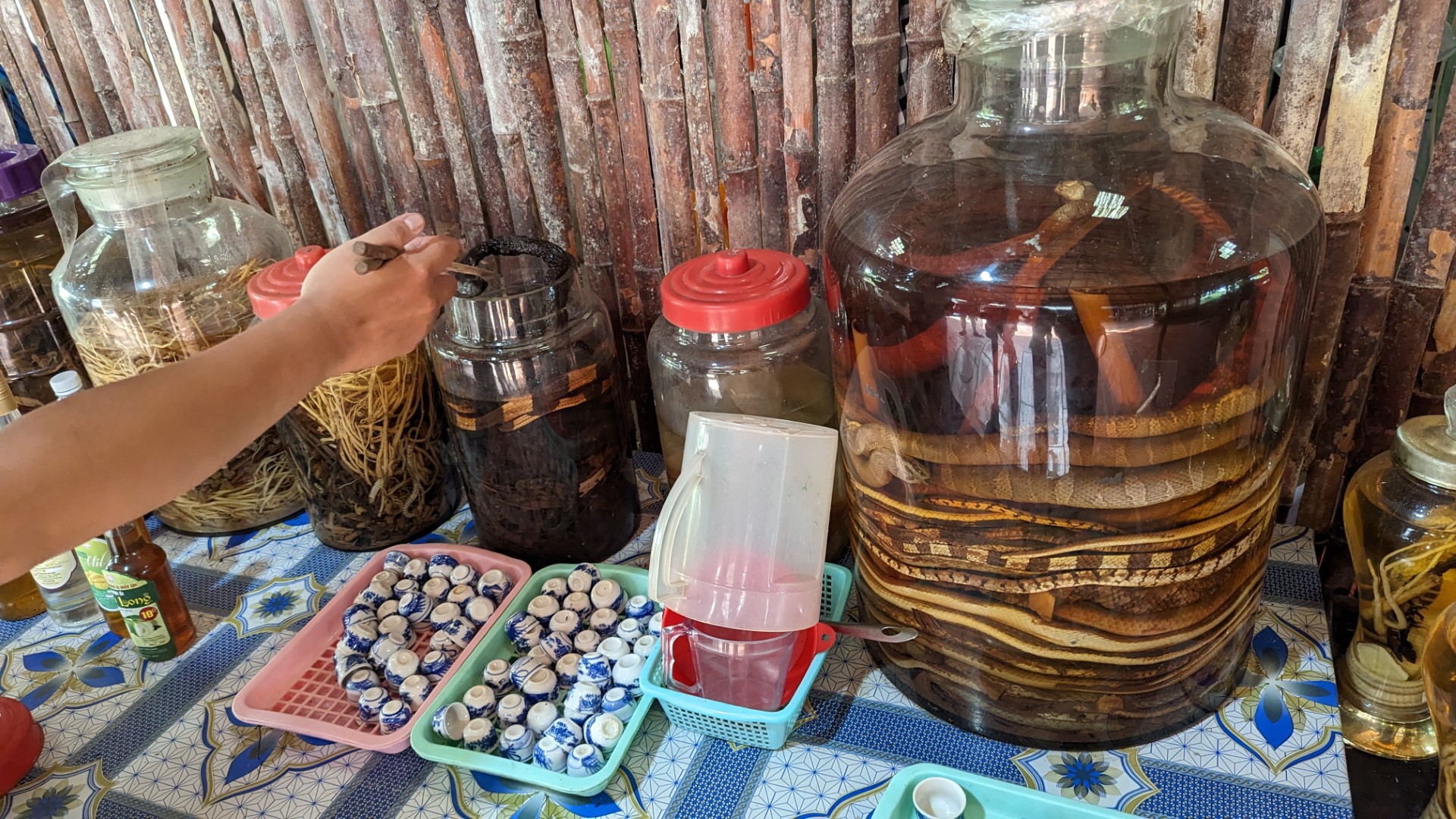 At the end of this hands-on tour we had a chance to buy some of the treats they make here along with some other trinkets. We also got to taste some items including snake wine! I think we were only supposed to spend half an hour here but we had so many questions that we spent a whole hour at this spot!! This is the beauty of having a private tour-we get to slow down and spend more time at the places we want to.
Learn About Local Bees and Sample Honey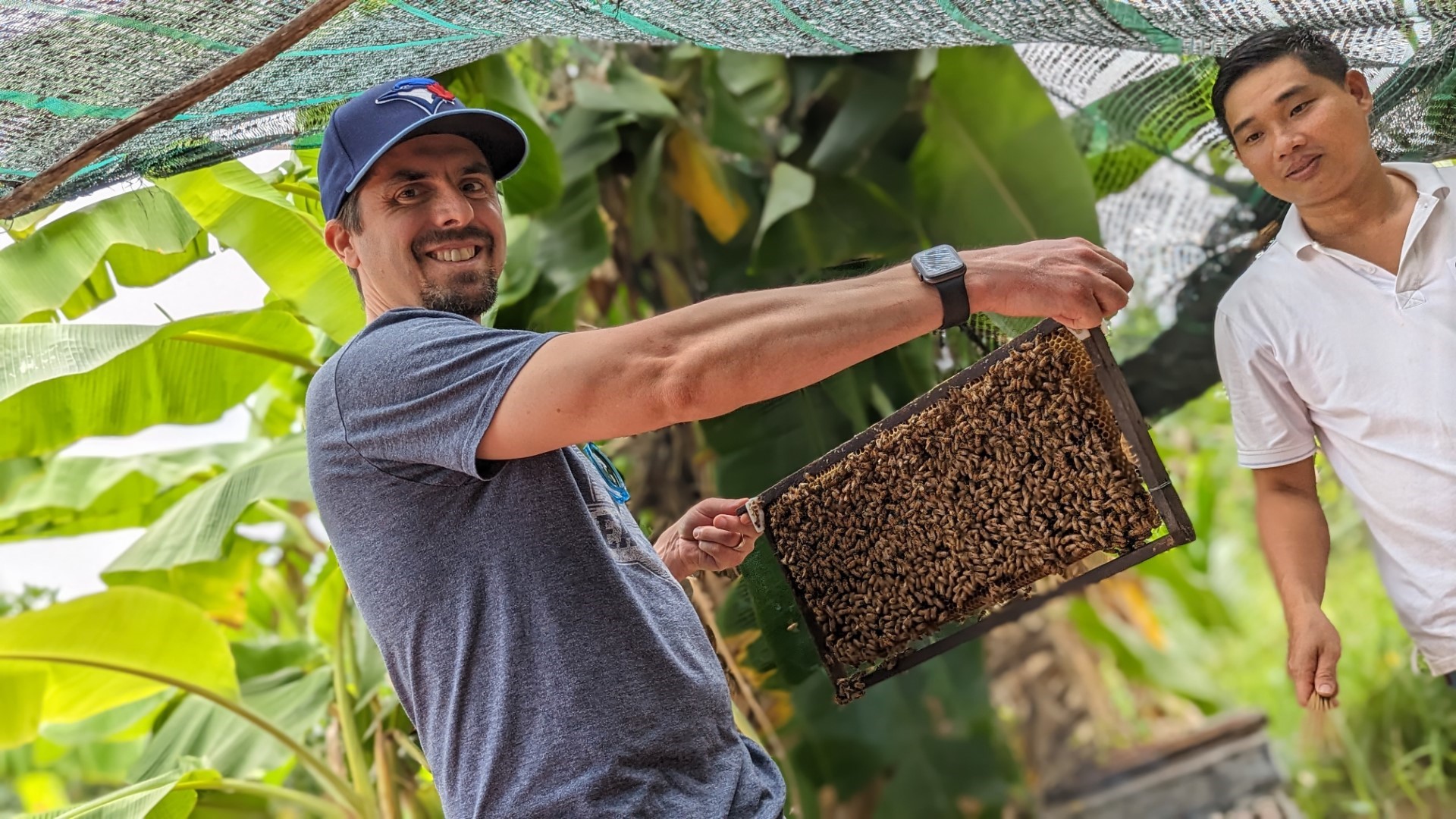 This was a leisurely stop where Apollo and Chris got to actually poke their fingers into the hive frames and taste honey right from the honeycomb. The rest of us were also invited to try it out but only I obliged – the others waited until we were indoors and then sampled the various honey offerings.
We sipped on honey tea and even had bee larvae wine – yes you read that right. They were soft, not crunchy – in case you were wondering! We also tried various serpent wines and were quite adventurous here. Of course we had a chance to purchase honey from the Mekong Delta but I actually opted to buy Jasmine tea and I'm sipping my last cup of this tea as I write this article for you. I need more of those leaves because it's the most flavourful Jasmine tea I've had.
Get Rowed into the Mangroves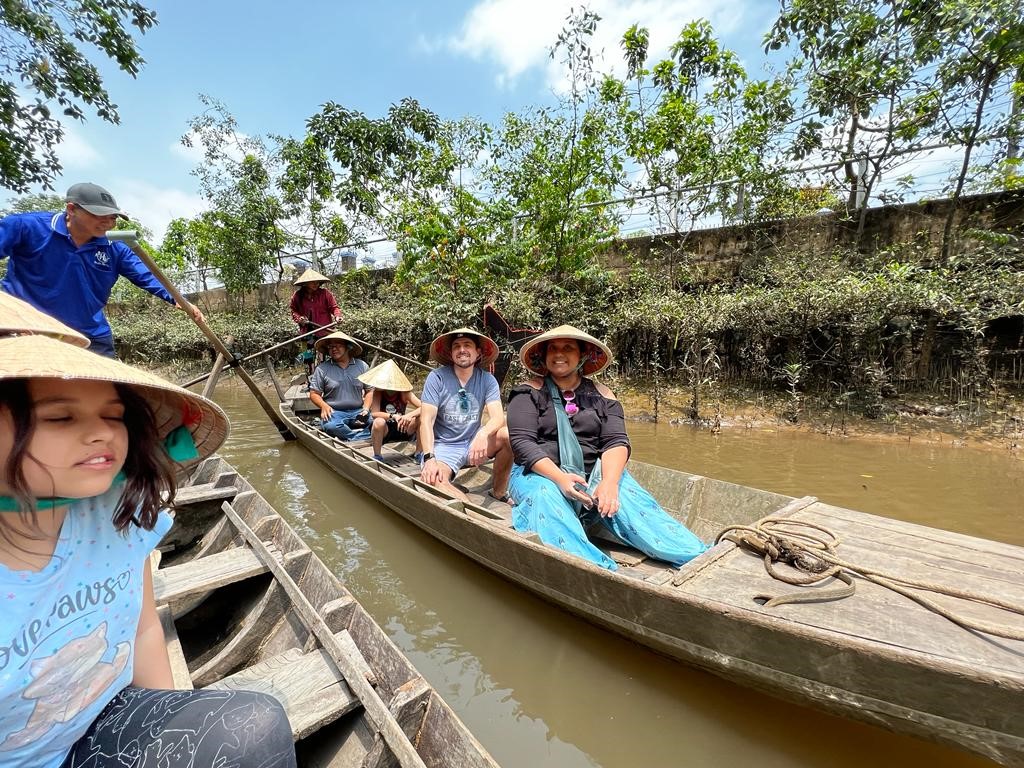 At one point we transferred from the big boat into two small row boats which enabled us to get closer to the murky waters and into the smaller canals of the Mekong Delta. Switching from the bigger boat to the canoe-like row boats were no easy task but I managed to do it without falling into the water, so that was a win! Our group split into two row boats and were taken around by two local rowers who had magically turned up with their row boats and hats for us to wear.
They took us along the smaller canals across murky waters for about half an hour which enabled us to see some of the local homes and market boats which weren't visible from the main Cổ Chiên River. We were even invited to try our hand at rowing-it isn't an easy task!
Visit a Kiln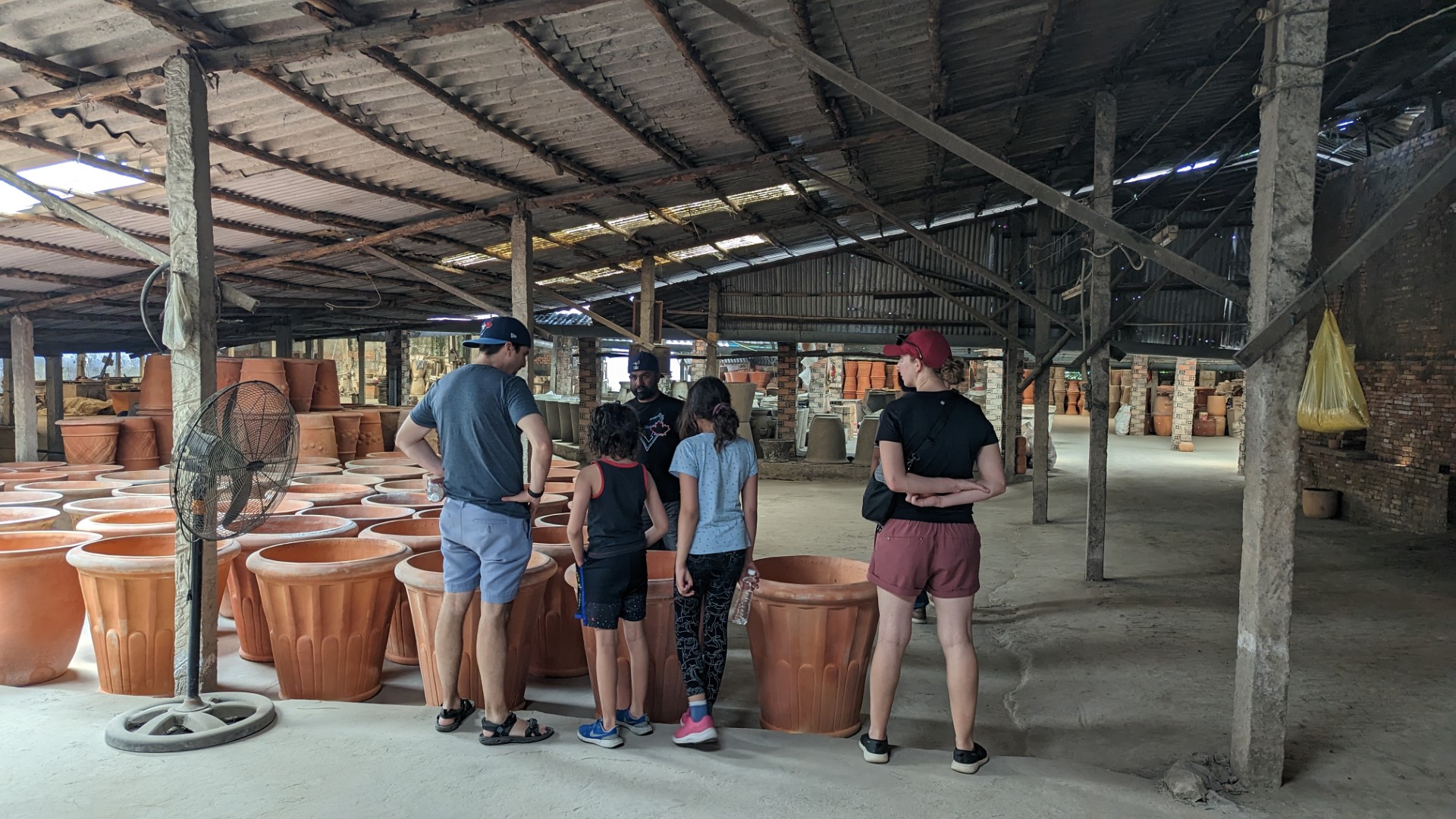 I hadn't really thought about how bricks are made but we now know all about the traditional process and have seen how clay bricks are fired up. Sustainability and recycling of products were a key factor here as well – not only did they use rice hulls to fire up the kilns, they also relied on nature for the drying out process.
We saw how the gray clay from the river was transformed into bright orange bricks and pots-touching many of the byproducts along the way.
Enjoy a Traditional Lunch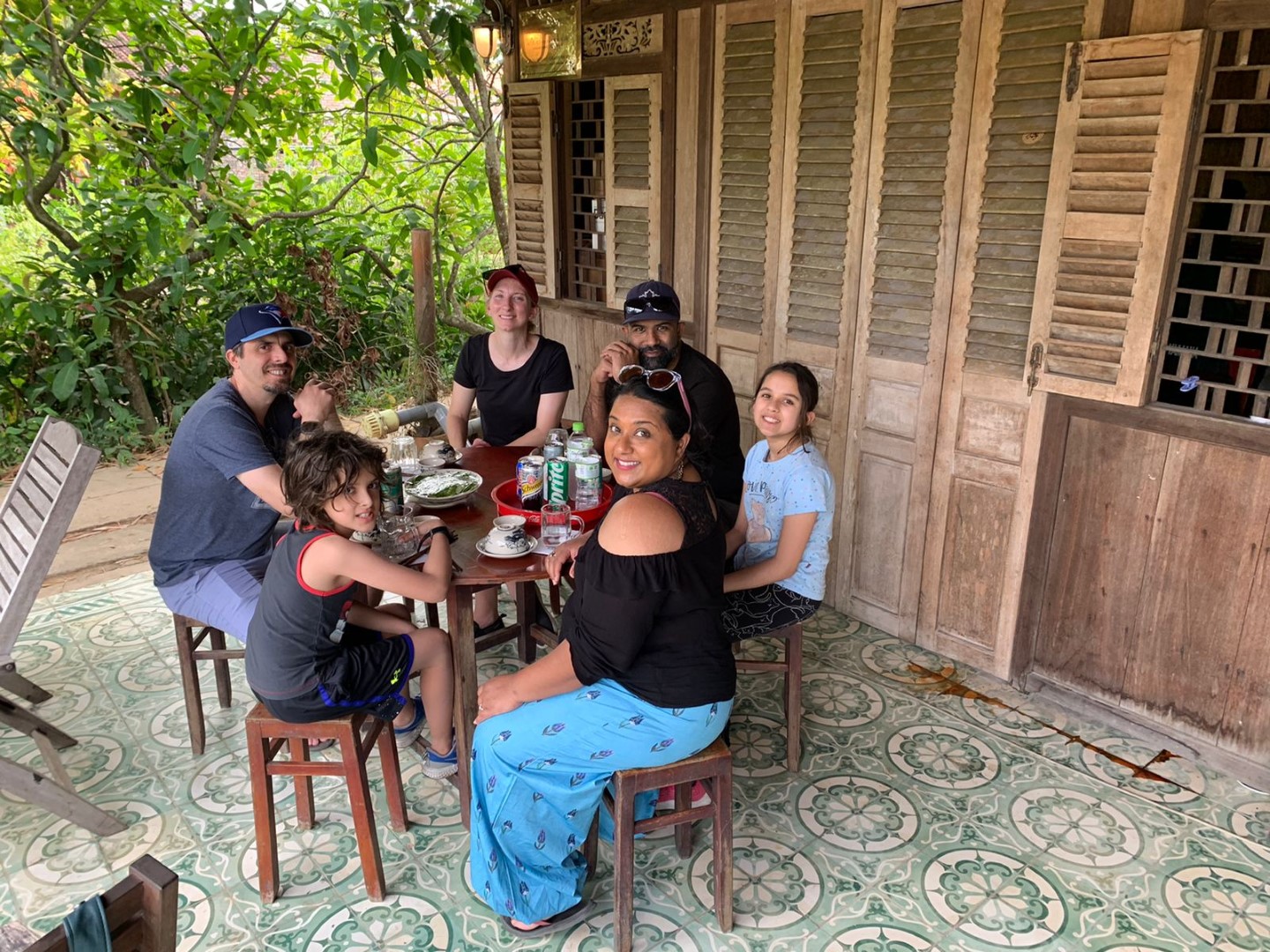 We certainly didn't know what to expect at this stop but we left with full bellies. Our boat dropped our guide and us at the Ut Trinh family house which was a restaurant and a homestay facility. We walked through their orchards whilst our meal was being prepared and when dish after dish kept turning up, it was hard to say no to them. Some of these dishes were new to me and while I didn't love them all (the flower soup was probably my least favourite as it barely had any flavour), we ensured that each of us tried at least a bit. The seafood was fresh and delicious and the kids enjoyed the spring rolls and the "Vietnamese pancakes".
By this time point we started getting tired and while we were supposed to bike around the village we decided not to-especially after seeing the conditions of the bicycles. It was time to head back because we had a long drive ahead of us.
Swing by a Wet Market or a Floating Market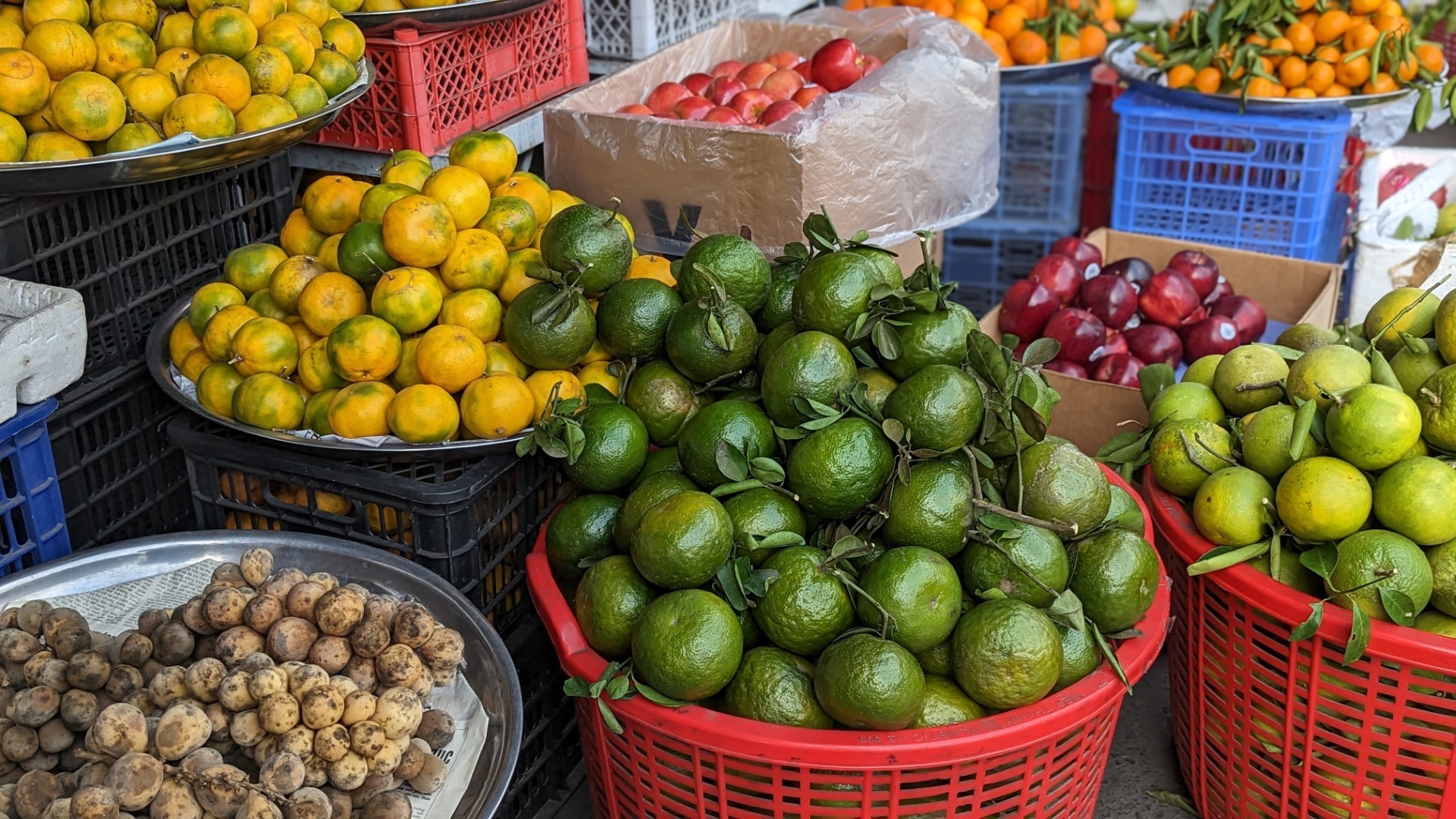 We're not fans of wet markets, especially with kids wanting to touch everything so we gave this a miss. Of course the rat our guide promised we'd taste at the Vinhlong market was also taken off the list as a result-I think I'm grateful for that. While I can't tell you what to expect during this visit, know that it's an option if this is something on your family's list of things to do in the Mekong Delta with kids. That said, our guide did bring us to the Vinh Long market where we stopped in to try some local fruits but we didn't venture into the wet market.
I would have loved to experience the famous Mekong Delta floating market but for that to happen, we would have either had to spend a night in the Mekong Delta or started our day trip before the crack of dawn. If you're looking to learn more about visiting the floating markets, this article has some solid tips for you.
The best time to visit the Mekong Delta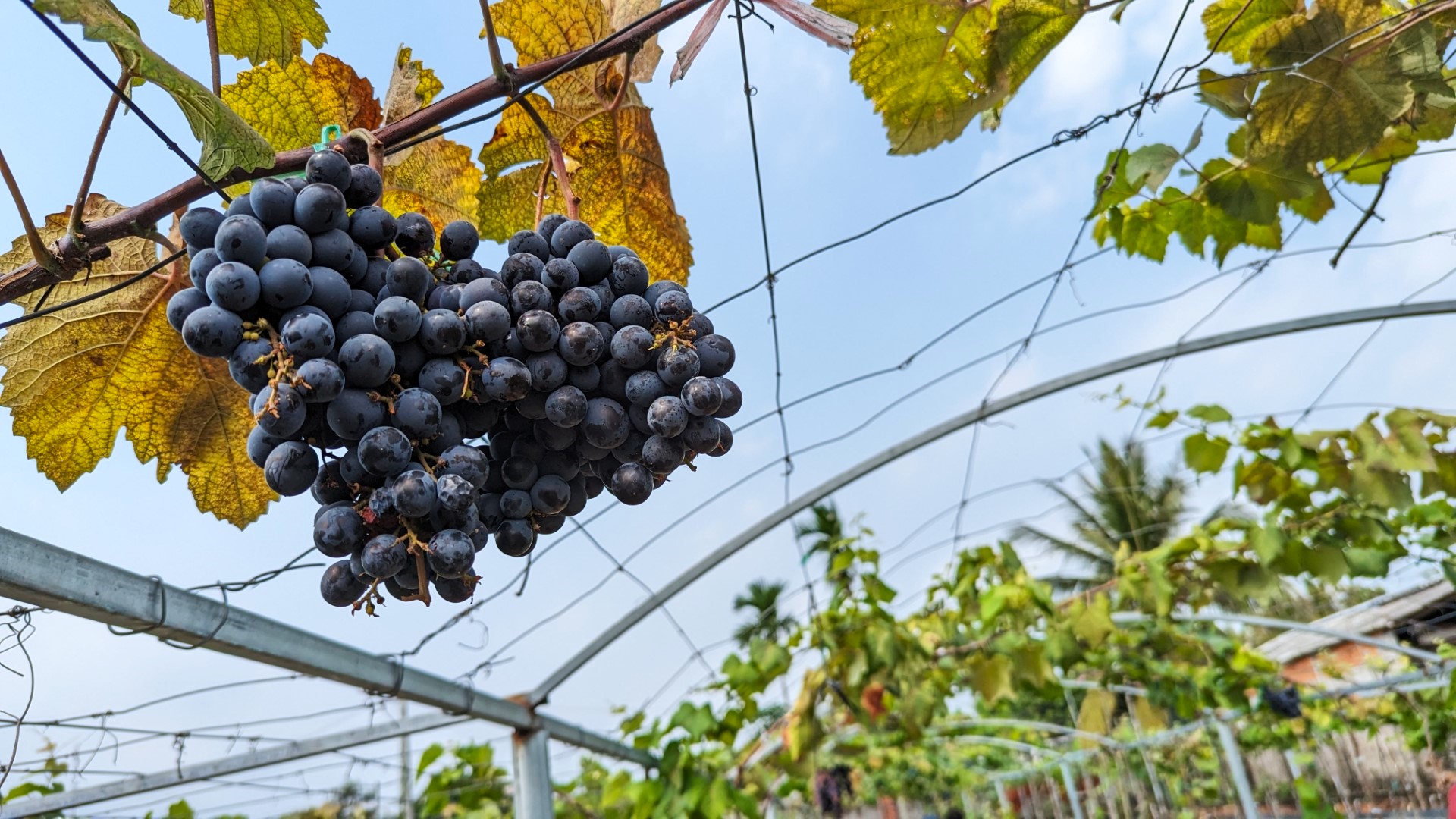 Given the activities we participated in, I think there's no bad time to visit the Mekong Delta. I've been told that the dry season, from December to May, is best because the days are mostly sunny and dry with lower water levels making it easy to navigate the waterways. However, I've also learned that the wet season, from June to November, is a great time to witness the vibrant greenery and lush landscapes of the delta, as well as experience the annual floating markets that take place during this time. So there's something unique happening in the Mekong Delta, all year long!
One Day Mekong Delta Itinerary
Everything we listed above was experienced during our day trip to the Mekong Delta from Saigon. Was it a busy day? Absolutely! We were picked up at 8 a.m and didn't return until 8 p.m. We were told we'd be back by 6 p.m. but there was a lot of traffic and so our evening plans were cancelled due to the delayed return. That said, this day trip was one of the most memorable days during our week long Vietnam travels with kids so I am so glad we snuck this into our busy schedule.
What is best? Mekong Delta Day Trip or Overnight Visit?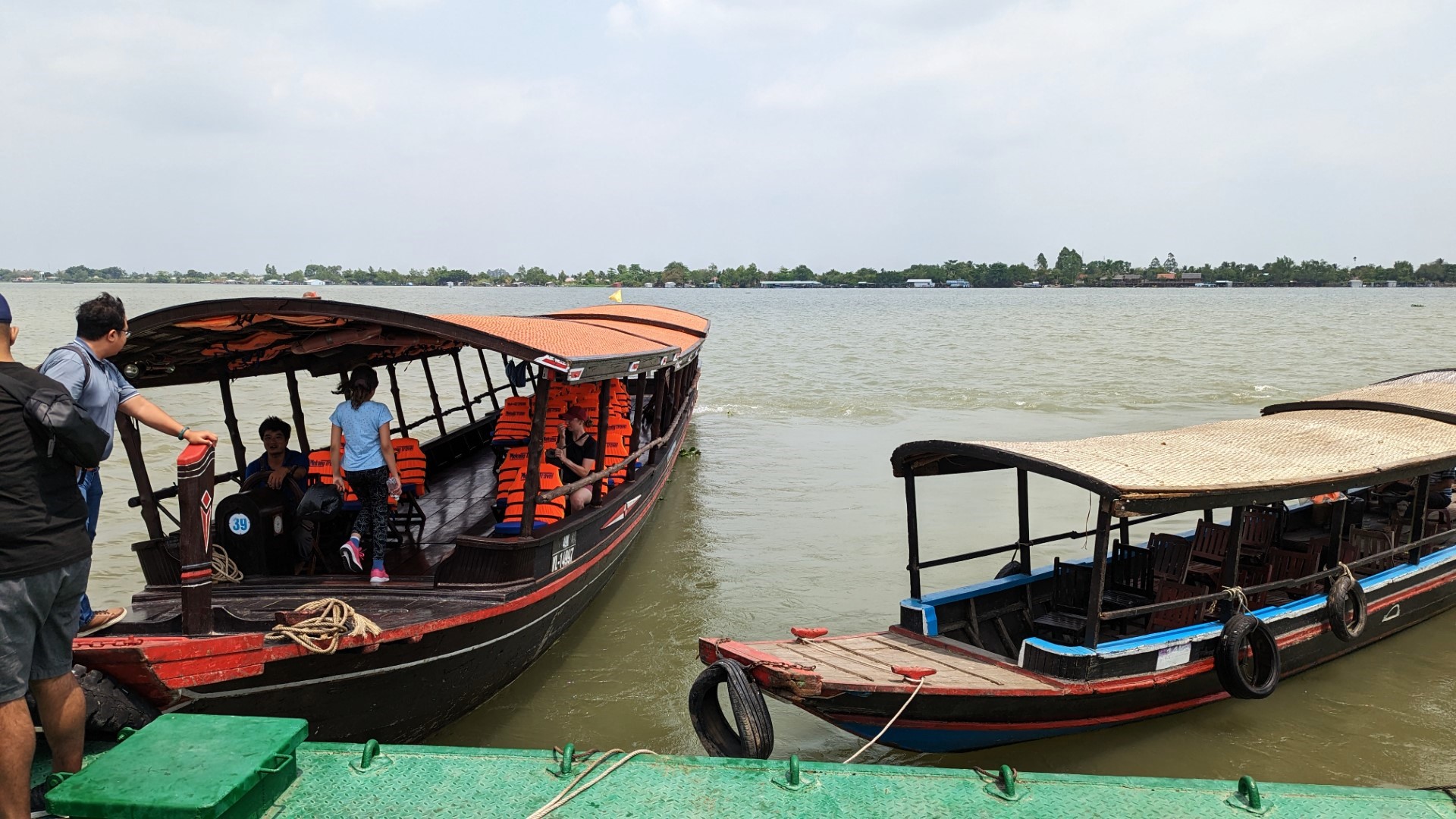 Any visit is better than no visit to this area so let's start with that. If we had time, I would have loved to spend a night or two here, enabling us to see the floating markets and take a couple cooking lessons. However, most of the accommodation options I saw were homestays that did not really meet my minimum needs. Most of them looked a bit too rustic for me so that's something to keep in mind when deciding to spend a night in the Mekong Delta with kids.