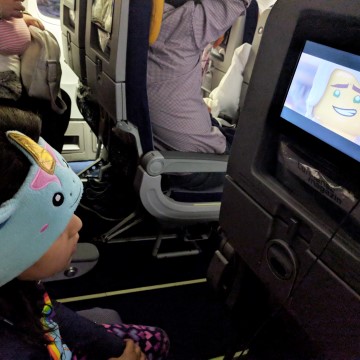 We had booked our tickets to Dubai on Air Canada and while we had a direct flight from Toronto to Dubai, our return would see us fly on Lufthansa from Dubai to Frankfurt and then Air Canada from Frankfurt to Dubai. Since I had never flown Lufthansa before, I was eager to experience Lufthansa with kids on board. We had a red-eye flight that departed from Dubai at 1:50 a.m. and I was a bit anxious as to how the kids would do on this long journey back home to Toronto.
As we checked into our flight we were informed that our seats weren't together but the check in agent was absolutely lovely and put a few calls in to ensure we were seated together. It was a bit odd as the night before when I signed in online I had seen that we were given 4 seats in a row. None of us could figure out why the seats were re-assigned and why we had been placed in 4 single seats but all was well soon enough. The four us were seated together for the 7 hour flight. As you know, we prefer to divide and conquer with a one child to adult ratio and rarely sit together but it had been a while since we had sat together and I was up for the challenge. As it worked out, we had no issues except for me not getting a wingshots from the window seat!
Those with kids were allowed to pre-board the flight and so we were settled in rather quickly. The one thing I noticed as soon as I stepped on board was how friendly and chatty the staff on board were. It's not often we observe flight attendants having in depth conversations and it was rather nice.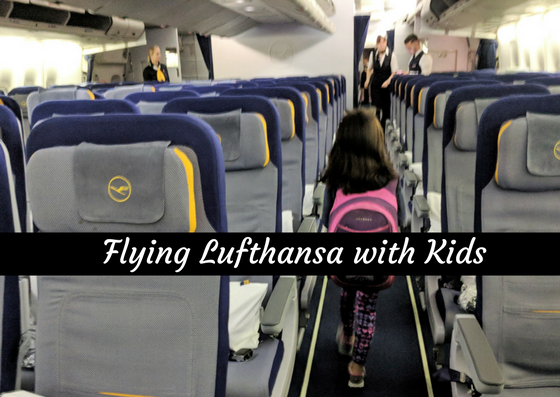 Our seats were comfortable and our entertainment system was well stocked. The flight was pleasant but the one thing that was disappointing was that our food requests weren't passed on. I think this was my fault as I had assumed the requests we made when booking through AirCanada.com would transfer through with the flight booking but it seems that when we book these code share flights, I should have signed in on Lufthansa.com and made the requests again. Of course I didn't know this was the case and asked about my gluten free meal and the flight attendant did some research and followed up that no requests were made. He did however manage to find a tray of fruit that would work instead of the warm omelette Chris was chowing down on. You know me, I should have been happy with the healthy fruit choice but I wasn't too enthusiastic. Despite the lack of a kids' meal, Little Monkey enjoyed the waffle option on offer and Chris had ordered Baby Boy an omelette as well. Since Baby Boy had fallen asleep by this time, I took the liberty of eating his meal (avoiding the bread rolls) and saved the fruit for him. He never did wake up and so I tossed some of the fruit into the empty tupperware I tend to travel with. I was eager to see the amazing children's menu that I had heard about but it'll have to be on a future flight because we didn't see any kids around us receive one. No one received a welcome bag or toy either.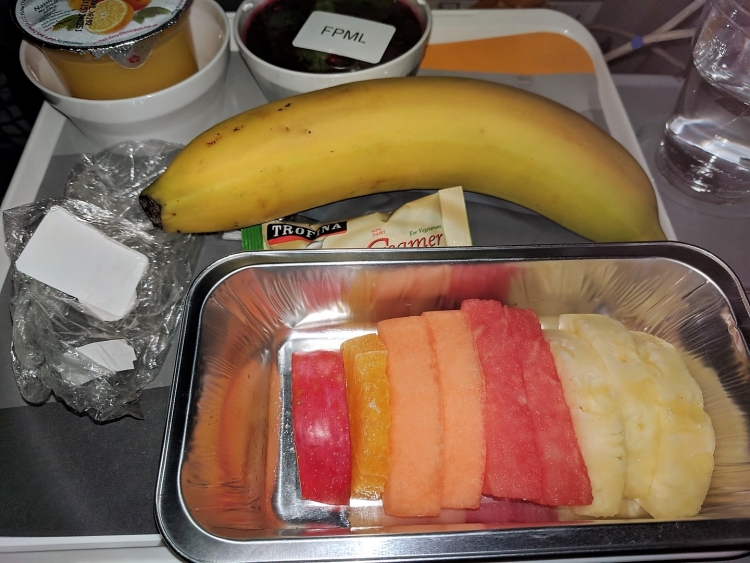 We had kept the kids apart and while Baby Boy fell asleep as soon as we took off, Little Monkey took a while to get comfortable and spent most of the flight watching movies. She did manage to sleep for 2 hours and was a bit cranky on our arrival into Frankfurt but I must admit that she was doing okay given the time difference and the lack of sleep. Chris too slept for most of the Lufthansa flight and we must say that this was impressive as he usually finds it hard to sleep on board.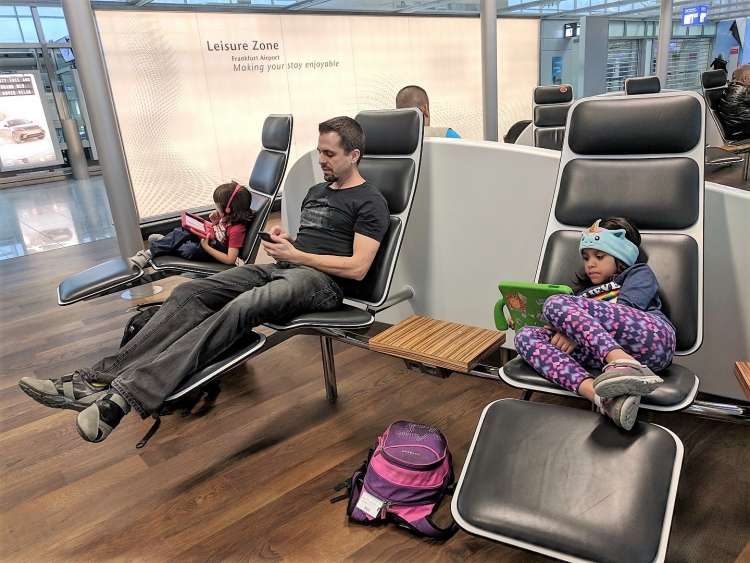 We had four hours in Frankfurt and roamed around from terminal to terminal until we found some loungers and relaxed. The kids were starving and since I had saved all the fruits and bread rolls we received on board, they noshed on those. I was informed that the Frankfurt International Airport had a couple play areas for kids, a movie theatre and yoga room but we just rode the train between terminals and rested while waiting for our 8 hour flight back home to Toronto.
I will admit that I was looking forward to our Air Canada flight from Frankfurt to Toronto! After 2 weeks of cheating on my diet I was looking forward to eating properly and I knew the kids could use the distraction of new toys on board. Overall, our 16 hour journey from Dubai to Toronto was a relatively pain free one and generally speaking, one of our best overnight flights.