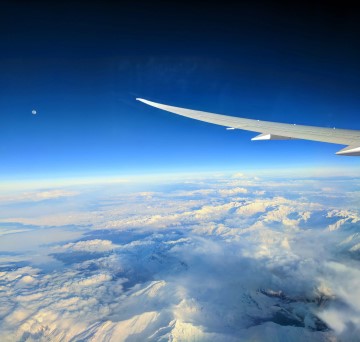 We've finally left North America and are now in Dubai with our kids. First of all, we should apologize for being so quiet on the blog but once we landed we realized that family time was going to be the focus as we had family we hadn't seen in YEARS as well as my brother and parents with us. The main reason we brought the kids to Dubai was to celebrate my cousin's wedding and with that came the many events and gatherings leading up to the big day. However, here I am now! Ready to share the details of things that have transpired since we left Toronto nearly a week ago. It all started with a visit to the Premium Plaza Lounge and our Air Canada flight from Toronto to Dubai so we'll start there today. I was a bit anxious that this would be a pretty long direct flight from Toronto to Dubai but then quickly remembered our flight from Toronto to Shanghai a year ago. It was longer and the kids did okay on a budget carrier. Surely they'll be angels on this slightly shorter one with all the bells and whistles, right? Thankfully, I was right!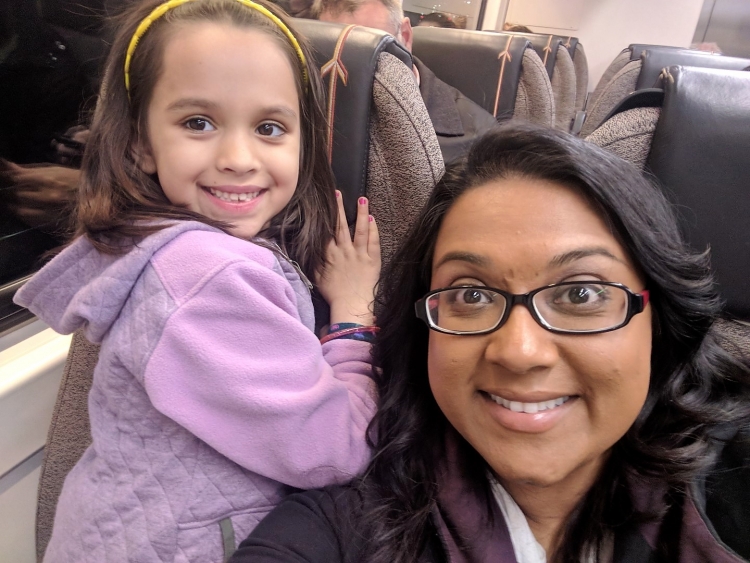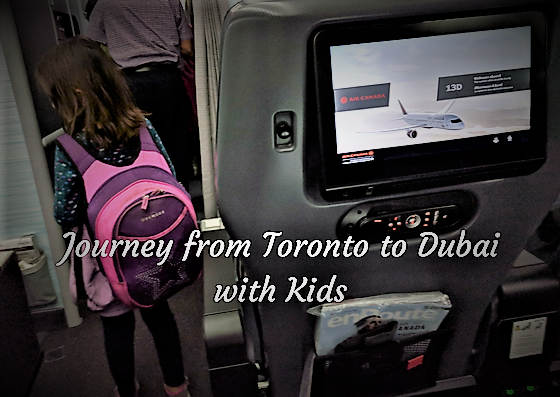 We took the UP Express from downtown Toronto to Pearson Airport and experienced a smooth check-ed in on arrival. This time all we had was our luggage and no strollers or big bulky car seats. Having grown up in Dubai, many years ago, I knew that we wouldn't need a stroller as we'd be in and out of the car and the new subway. We also had our mifold booster seat and our ride vest, which has irradiated the need to travel with car seats. PHEW! The kids were very excited for this trip and because we only purchased our tickets 2 weeks prior to our departure date (it totally paid  off to wait it out as I found a stellar deal through a Kayak alert) things moved quickly. Initially the plan was for me to travel alone but by finding tickets for just under $4,000, I was able to convince Chris that this trip should happen as my grandmother is not getting younger and my aunt is still battling cancer. The wedding was our reason to celebrate life and I wanted everyone together.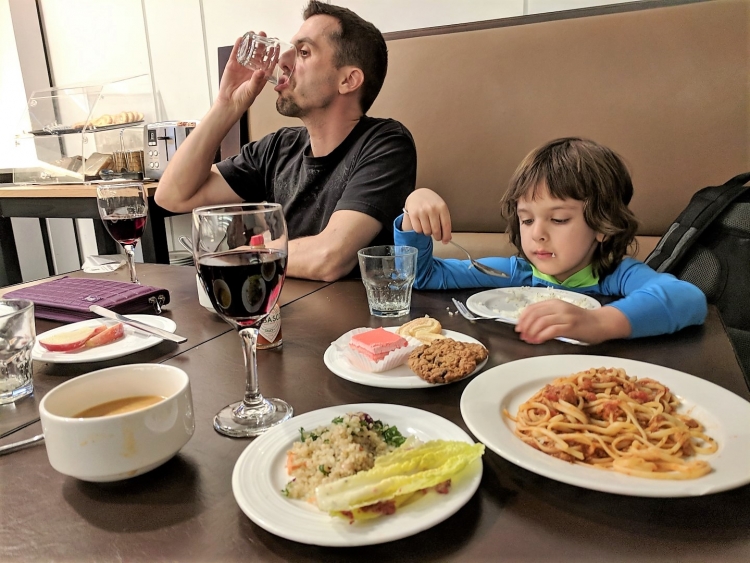 As with most of our trips, we made a visit to the Plaza Premium Lounge to stock up on a few things and enjoyed some dinner before our flight. This was our first time visiting this particular one in Terminal 1 and I will admit that the one in Terminal 3 is still my favourite one. Toronto Pearson airport had THREE Plaza Premium lounges in terminal 1 and this one near gate E 77 was smaller than the others we had visited but still had the delicious soup and Thai curry options (no Laksa this time around). Kids also stocked up on pretzel snacks and I absolutely loved the latte on offer here. Little Monkey was getting very hangry by the time we got to the lounge and I was happy to have her satisfied as the whines were coming on HARD as we walked into the lounge.
Relaxed and with full bellies we boarded our Air Canada flight which happened to board from the gate right by the Plaza Premium lounge! Kids have priority boarding with Air Canada so we stepped right up and were in our seats shortly after.The kids received activity kits as soon as they boarded and as per usual, I sat with Little Monkey while Chris sat with Baby Boy. The activity kid had a pair of headsets, some crayons, a colouring book and a small puzzle that looked very similar to the one I used to get on board when I traveled as a kid! Ah! Nostalgia!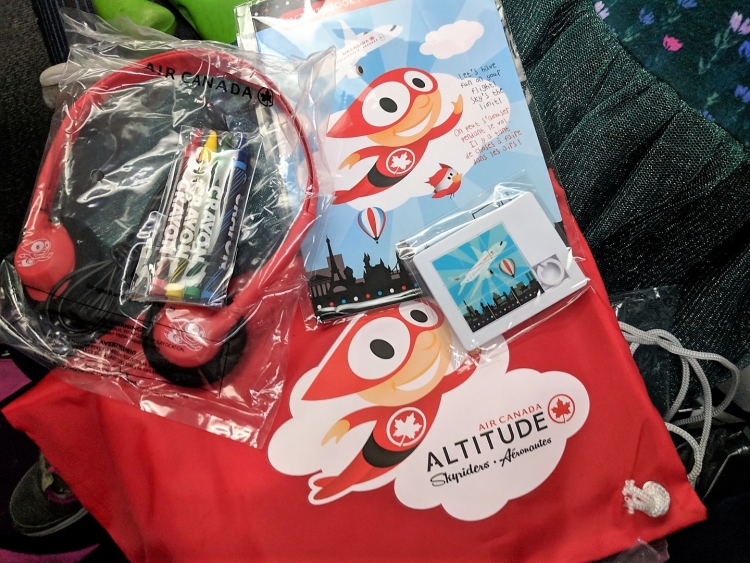 For the most part our flight was rather uneventful minus a bit of a delay that saw our 13 hour flight end up being 14.5 hours as we had a passenger walk off right before take off as he wasn't feeling well. Baby Boy slept though most of the flight while it took Little Monkey a fair bit of time to get comfortable. The entertainment system was well stocked and so she watched movies and cartoons while I watched some sitcoms and a movie. Four hours into the flight she got very cranky and started fidgeting but before she could annoy the guy seated next to us she finally fell asleep but placing her feet on my lap. She was out for about 8 hours which helped us avoid any jetlag on arrival but I think I may look into one of those travel beds for our next long haul flight. She's getting taller and no longer able to curl up the way she used to and we all know how important sleep is. Oh and if you're wondering, yes she did ask why we didn't have the "sleepy bed seats" for this flight and my reply was " can't always travel in business class child".
One of the highlights on our Air Canada flight to Dubai from Toronto was the food. I was absolutely shocked when I saw the list of dietary options available when I booked our flights. I seriously haven't seen an airline offer as many options as Air Canada does on their International routes (though my mom did mention that Emirates offers quite a few as well). From gluten free to vegan and everything in between, they take good care of your in-flight meals. We had about 3 meals during our flight and while the omelette was near inedible, everything else was good. The Thyme chicken in mustard sauce was my favourite but seeing gluten free bread rolls and cookies on board really put me in a great mood as they paired very well with my red wine! Little Monkey's kids meal also looked great and she ate most of two meals but slept through the snack option (yup, Baby Boy missed all 3 but we did keep a few snacks for him).
Totally impressed by the food options on @AirCanada's International flights !! #MurphyDoDubai #glutenfree #FoodInsensitivity #menuOptions #inflightmenu #kidsmeal pic.twitter.com/p5yT0qloEg

— Yashy Murphy (@YashYanthi) February 18, 2018
Overall, I really enjoyed flying Air Canada and can see us seeking them out for long haul flights because the journey was so comfortable. I mean, I even had an outlet to charge my phone right by my seat! As you know, we fly Air Canada a fair bit within Canada but it has been quite some time since we took an International flight with them (last may have been Belgium) and we're impressed! On arrival in Dubai things went smoothly and we caught a train from the arrival gate to the immigration and baggage claim terminal. Canadians can now enter the U.A.E with a free on-arrival visa which is good for a month (much better than that crazy visa fee they implemented a few years ago) and yes, you can stock up on alcoholic beverages on arrival at the Duty Free but we totally regretted not buying it on board because some of our go to brands were cheaper on board vs.at  Duty Free!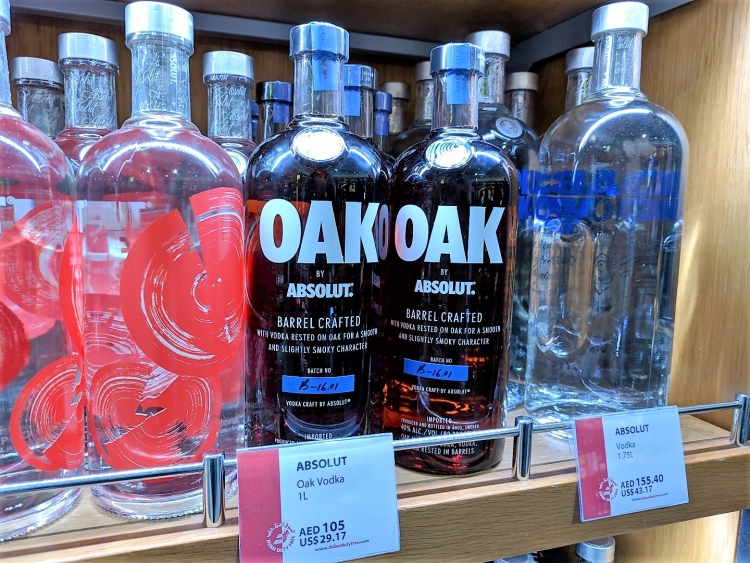 Stay tuned for more updates and check out our Instastories if you want to see what we've been up to!