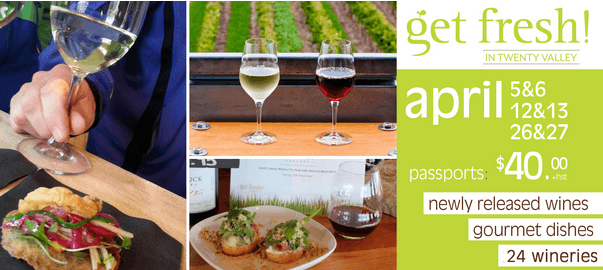 If you haven't heard about Get Fresh in the Valley or Twenty Valley it's with reason. Twenty Valley, located an hour from Toronto, is one of Ontario's wine regions that many may not have heard about. Yes it is in the Niagara area but it isn't Niagara on the Lake. Get Fresh in the Valley takes place on select weekends in April and is a $40 passport program that will take you on a wine and food journey through 24 wineries.
It is very similar to Niagara on the Lake's Wine & Herb which we have written about numerous times and infact last year I wrote that we are eager to try out Get Fresh in Valley this year. So here we are! I'm going to leave the family and head out to explore the 20 Valley wines with some of my favourite girl friends. Nopes.. no baby this time, though I bet you that the wineries are just as friendly as those at Wine & Herb where we've taken the Little Monkey to on numerous occasions- so by all means take the little ones with you if you wish to do so! This time around it's JUST me… my gals and 24 wineries each sampling a new vintage paired with fresh spring inspired dishes! Sounds pretty fantastic doesn't it? Best of all we'll be chauffeured around by Atlantic Luxury Limo.  Well we've got TWO tickets for one lucky winner!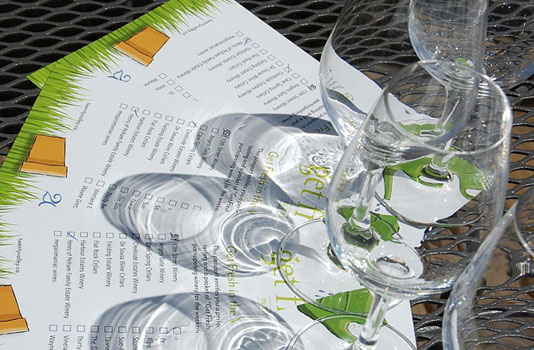 Get Fresh in the Valley passports are good for ONE weekend – April 5th and 6th OR April 12th & 13th OR April 26th & 27th. Unless you plan to ONLY go on Sundays in which case they're good for all three weekends. Confused? I don't blame you.. but it adds up to one entire weekend or nearly a month of Sundays. No matter how you count your grapes you'll end up with a weekend of wine exploration, learning, sipping and bonding with old friends and new. Oh and by the way, they have passports for drivers which are slightly cheaper ($30) and offer a mocktail paired with the food. Click here to learn more about the event.
As you may very well have guessed I have my top spots I want to hit and since we usually only end up visiting 16 wineries on average I have to choose wisely which 8 we'll be missing out on. I'm hoping one of you can report back on the awesomeness I may miss out on! Based on the pairings I've seen my top 10 are as follows :
The Good Earth Food and Wine Co.-2012 Rosé-Mocktail: Pinkberry Mojito-Chilean Empanadas & Aji Sauce
Kacaba Vineyards and Winery

-2013 Pinot Gris-

Mocktail: Ginger-Orange Freshtail-

Bistro,Tiger Shrimp & Mango-Lime Salad with Glass Noodles

Malivoire Wine Company-2012 Lady Bug Rosé -Mocktail: TBA-Monk's & Malivoire's Marvelous Gelato
Peninsula Ridge Estates Winery – 2011 McNally Vineyards Proprietor's Reserve Pinot Noir-Mocktail: Vienna Soother-Duck Confit Cassoulet Soup with Pumpkin Seed Pesto
Rosewood Estates Winery & Meadery-2011 Estate Riesling-Mocktail: Cherry Coloda -Asparagus Chevre Tart with Olive Oil Crust
Tawse Winery -2012 Tawse Rosé -Mocktail: Sparkling Cherry Sunrise-Pork Rillette with Herbed Crostini (veg. option available)
Vineland Estates Winery-2012 Cabernet Franc-Mocktail: Dave's Special Recipe-VEW BLT – Slow Roasted Pork Belly, Guacamole, Upper Canada Cream, Smoked Tomato Jam & Pullmans Loaf
Calamus Estate Winery

-2013 Pinot Gris –

Mocktail: Pat's Scratch Ice Tea-

Pasta Pescatore 

Creekside Estate Winery-2012 Estate Sauvignon Blanc- Mocktail: Sparkling Lemonade-Sauvignon Blanc steamed Blue Point Mussels tossed with Fennel, Tomatoes & Spring Herbs
Hernder Estate Wines-Caluroso-

Mocktail: Pom Pom Peach-

Mushroom & Gorgonzola Soup 
One thing I have noticed is that reds aren't as well represented as the whites (this also happened at Wine & Herb last year) but luckily there's a couple new varietals featured that I'm excited to learn more about! What do you think about my top 10? Are you familiar with the area? Have I missed a REALLY REALLLY REAAAAAAAAAAALLY good one?
Enter below for your chance to win a pair of tickets to Get Fresh in Twenty Valley! Winner picked on April 4th!