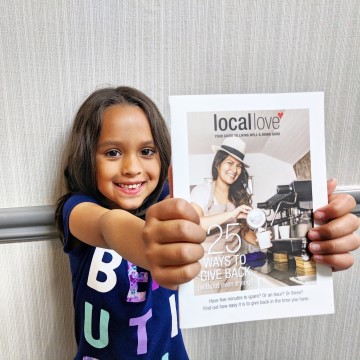 Couple months ago we shared some stories of local Toronto change makers who are making it easy for us to give back to our communities. When I wrote that post I signed up for the Local Love  Good News Letter and each week I have received some inspirational ideas on how we could give back by doing simple things such as buying coffee from shops that help train at risk youth or sending kids to summer camps that will encourage our kids to make a difference. These newsletters encourage me to look at ways we could make small changes and to explore how we could give back easily by doing things we already do.
Disclosure: I have partnered with YMC and Local Love and have received compensation for this post. All opinions, as always, are TOTTALY my own.
As many of you may know, we love to dine out. It's what we spend a fair share of our disposable income on and definitely what we look forward to every weekend. Our summer days can often be spent between parks and patios during our city adventures. A few weeks ago Chris' parents were in town and we all swung by CRAFT Toronto for a quick drink and dinner before Little Monkey's soccer class. That was when Mealshare tweeted at me to inform us that the restaurant we were dining at was helping Mealshare with its mission to end hunger.
Too good ? did you know CRAFT also helps us feed #Toronto's at risk youth at @evasinitiatives?

— Mealshare Toronto (@MealshareYYZ) May 11, 2018
The not for profit's goal is to one day (in the near future) explain to their grandkids that hunger used to be a problem in the world. They realize this is an audacious goal, which will require massive systemic change but they also know that the global percentage of malnourished children has dropped from 33% to 25% over the past 15 years! Mealshare was launched in July 2013 and then quickly expanded across Canada. Currently, Mealshare is partnered with over 300 restaurants in 8 cities and 43 smaller communities. They have been able to provide over 1,400,000 meals to those in need.
Mealshare partners with restaurants, and places their logo next to a few menu items. When a customer orders a 'Mealshare Item', they get their meal, just like normal but customers also help provide one simple, healthy meal to a youth in need! Buy one, give one – it's that simple! For each meal sold, restaurants contribute $1.00 to Mealshare, who then forwards along those funds to one of their partner charities. They then go out and purchase the groceries and ingredients needed for a meal.  In Toronto Mealshare supports Eva's Initiative, which has been a social enterprise I have been following since my first Canadian job at CCEDNet back in 2007. Eva's supports homeless and at-risk youth aged 16 to 24 to get them off the streets permanently and the Mealshare program helps keep the kids' bellies full.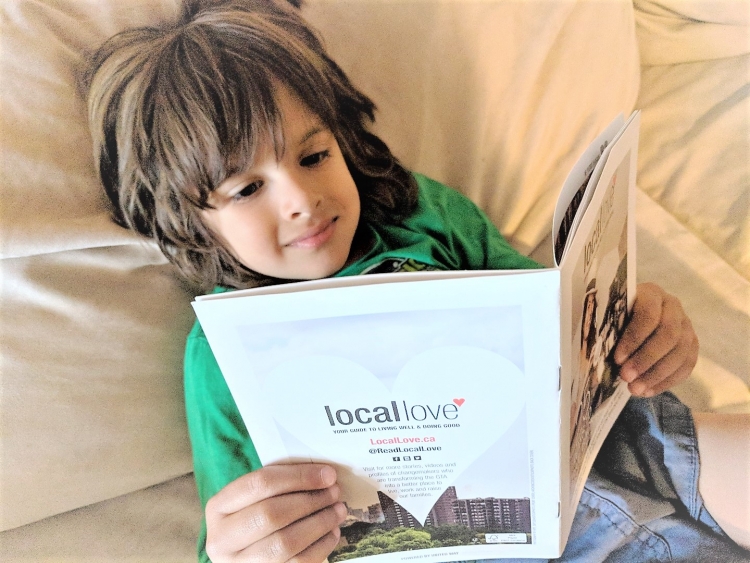 What this means for us is that we can now use our restaurant choices to support ones that care deeply about our community and the well-being of those less fortunate than ourselves. This is such a simple way for our family to give back and support restaurants making an impact and giving back, in a way that fits their business – sharing wholesome meals with people! This link will help you discover Mealshare restaurants near you! What Local Love has shown me is that I can give back in meaningful ways doing what we already do. I now know what to look for and which local spots to support thanks to the encouragement and inspiration I have received from those Good News Letters!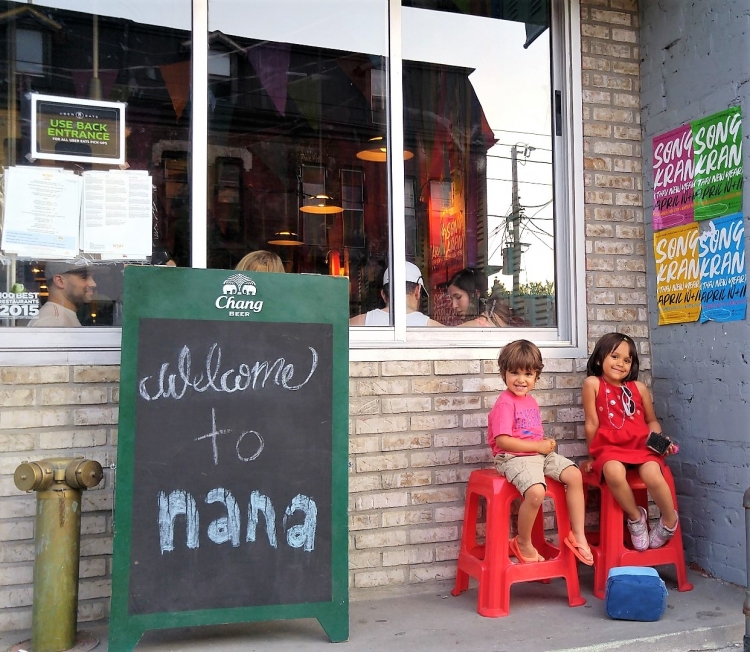 If you're wondering, below is a list of restaurants we hope to dine at this summer. Just to note, restaurants will change their Mealshare items up and what you see as a Mealshare item today may not be the same when they print their menus next.
Bang Sue: Sriracha Fried Chicken, Chocolate Dessert Roti

Cafe Belong: St. Lawrence Salad

CRAFT: Harvest Garden Sandwich, Smoked Baby Back

Earth and City: Kale Rosemary Crackers

Fabarnak: breakfast & brunch – Yogurt & Granola; lunch – Chicken Kale Caesar

Khao San Road: Daily Special

Milagro: Cochinita Pibil, Cantina Platter

Nana: Daily Special

Paintbox Bistro: Tofu Green Curry

Parts & Labour: Nashville Hot Chicken, Roasted Cauliflower

Pure Spirits Oyster House: the entire dessert menu (!!)

Sud Forno: Daily Special

Sotto Sotto (brand new partner!): Antipasto Gordonia, Papperdelle Dei Castelli

Souk Tabule:

Halloumi on a Brioche Bun

Terroni: Daily Special (Lunch, Dinner & Dessert)
As you can see, there's a tasty line up and I'm so happy to see some of our faves on this list. If you're looking for more inspiration on how to give back by doing every day errands, check out LocalLove.ca because it is a community resource where we Torontonians can find ways to not only live well but also do social good in our community. Be sure to sign up for the Good News Letters because they really are weekly dose of encouragement!