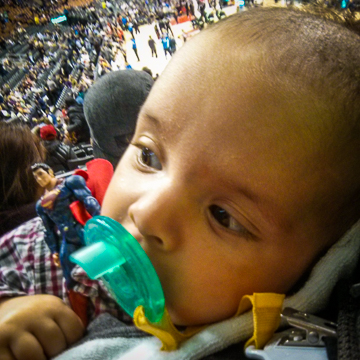 At last month's Gentlemen's Expo, the hubs bought a pair of tickets to an upcoming Raptors game. So that's where we spent our Friday evening with a baby and toddler! We took the TTC down to the ACC so that we would not have bring our stroller. Given the crowds, I'd definitely recommend NOT bringing a stroller if you have the choice.
We were a little hesitant to take our little guy to the game. He was just under 3 months old at the time and we were not sure if he would stay still during the whole game. The noise factor was a concern as well, but I figured I could cover his ears if things got really loud.
The place was quite busy when we got there at 6:30 for the 7 p.m. tipoff, but luckily we spotted the BMO express line and there wasn't a soul in line. I was completely baffled that not one person waiting in one of the other four lines had a BMO card. But we quickly took advantage, and made our way over to the the lovely gents who welcomed us, checked our bags and even advised that we could get free ear plugs at the customer service desk.
Finding our Seats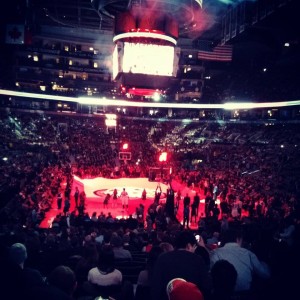 I dismissed the advice, like a fool, and will be getting the ear plugs next time we attend a Raptors game. We found our seats and settled down for the game. I had Baby Boy in the Bjorn and that's where he comfortably stayed for the entire evening. The Little Monkey sat on the hub's lap for the entire game, though we did take a walk to get some food during the third quarter.
Technically speaking kids, aged two and older need their own ticket but I did see a kid who was at least 4 sitting on a parent's lap. I don't know if they have booster seats but I would assume so given that two year olds are supposed to have their own seats.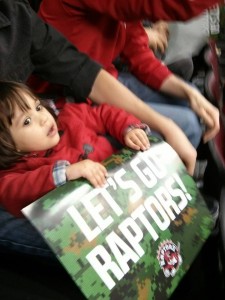 If you've been to a Raptor's game before, you know how loud it gets. I love the energy at the Raptors games – loud tunes, action packed with energetic and a very vocal fan base. The Raptors have become the darlings of the Toronto sports scene. No sooner did I hear the rumblings of the games beginning…Baby Boy let out  a scream. UH OH? Is it too loud for him? Crap… should have got those ear plugs.
The Little Monkey started to cover her ears as well. Hmmm…we should go get them ear plugs. Right? Well neither  the hubs nor I made a move and sure enough it was just one small squeal from Baby Boy and the Little Monkey forgot all about it once the cheerleaders started swaying and the fireworks made an appearance. My advice for you – grab those ear plus as you enter. Better to be safe that sorry. Since Baby Boy was in the Bjorn he had a couple layers I could use to block the sound so I had my palm against his right ear whilst his left ear was on my chest. Problem solved. He slept for most of the game and woke up for the last quarter. Next time perhaps I should bring along our Baby Banz headsets!
One thing I didn't anticipate were some potty mouthed fans behind us. Oh well…that's bound to happen no matter where we go right? Luckily, The Little Monkey didn't pay any attention to them so thankfully we didn't have to explain that they were saying DUCK DUCK DUCK. Right.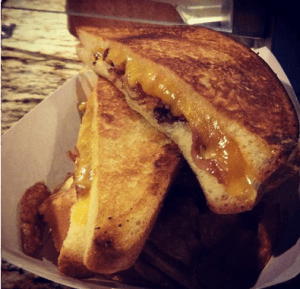 We sat in our seats during most of halftime and ventured out at the very end. That way, we avoided the rush and I was able to properly scope the food options. I was pleasantly surprised to see a decent mix of options from sushi and tacos to mac n cheese and even a Tim Hortons! Of course the Little Monkey and hubs got Pizza Pizza (boring!!). I went for a bacon grilled cheese and it was really good! Not to mention that they have Sriracha sauce in the condiment carts! Hats off to the ACC for providing better food options to sports fans!
We took the third quarter to run behind the toddler as she raced around the concourse and we only allowed her to do so because the place was fairly empty. We were back in our seats for the final quarter. Oh yes, and there are change tables in both the men's and women's washrooms!
One of the highlights of a Raptors game is THE RAPTOR. I mean that guy is so friggin awesome. His interactions with the audience, especially the kids, are great, and his dance moves and crazy acrobatics are just unreal. And let's be honest. Probably my main reason for going to the games. AHEM. Yes  I said it. Sadly, Mr. RAPTOR dude got injured recently and his current replacement, Stripes the dinosaur, just doesn't cut it. Not for me anyway. The Little Monkey loves dinosaurs so she was entertained for the two or three minutes she spotted him that evening. If the Raptor comes back this season, we plan to totally attend the welcome back Raptor game! Yeah!!!
So how did the kids like the game? Baby Boy was totally into it as you can see… he doesn't have time to even pose for a photo. Eyes peeled on the court, the Little Monkey was more into the snacks we brought for her. She went through Cheerios, chocolate bunnies and cheese crackers. Not to mention half a slice of pizza. She did get bored a couple times and tried to swipe at the sleeping Baby Boy but I blame the hubs for this. He wasn't very good at explaining what was happening to keep her captivated. This boredom only struck about three times and each session was about two minutes long. She was golden with snackertainment for the duration of the game.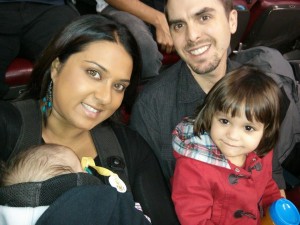 I was uneasy about the sound levels for the first quarter but then soon relaxed as I realized that neither of them seemed to mind the noise after that initial surprise. We don't get to the Raptors games nearly as much as we'd like to, mainly due to the cost of the tickets, but hopefully we'll catch another game before the season ends. Let's GO Raptors!! Yes, we won!