For familyday/President's day weekend the three of us decided to take a last minute road trip to Lake Placid. Unlike our other trips, this one was unplanned and totally on the fly. Great trips start this way …atleast it did before the Little Monkey joined, since then our many trips have been better planned, until this one!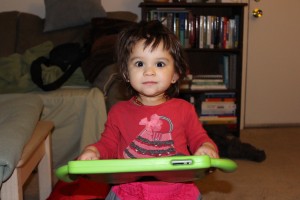 Taking a road trip with a toddler can be daunting  but we decided to break our journey with a stop over in Syracuse (4 hour drive from Toronto) where we would link up with some friends and then we'd all head to Lake Placid the following day (a 3.5 hour journey). Despite the first leg turning into a 7 hour drive and the second one a 4 hour drive… we had no major meltdowns. A timely pee break/walk , tons of snacks and a well fueled iPad ensured that we only had 30 minutes of screaming each way! Not bad we figured. Staying buckled in a car seat is no fun for adults, and I can only imagine how the Little Monkey, who's just discovering her new found independence, was feeling! Luckily for us she loves to sleep and that she did for about 3/4 of each drive.. and I hopped from the front seat to the back when those ennui tantrums started.This pic clearly illustrates how wired she was after the 7 hour journey!
Well we didn't do much in Syracuse but we did spend two days in Lake Placid, a very baby and kid friendly city. The place was swarming with families and happy winter sport enthusiasts! Downtown Lake Placid is very walkable so if you have a little one, a stroller comes recommended.
Where to stay, eat drink and play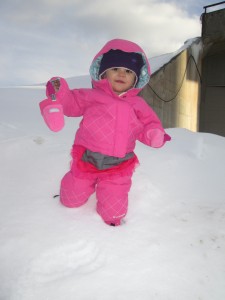 We stayed at the Golden Arrow Lakeside Resort on main street. Since we were late in planning this trip by the time we started calling around to the hotels in the area everyone was sold out (long weekend and all) but luckily for us the crew at Golden Arrow were able to accommodate us (and great via email follow ups). While we got the last available suite and based on the online pictures we were a bit dubious, on arrival we couldn't have been more thrilled! The two bedroom suite was just what we needed for a quick one night stay. The place was clean, had a kitchenette and a fridge (for the cold milk and snacks) and the main lobby area had quite the view. Definitely recommend staying here if you're in the area. They have many options from hotel rooms to family suites (and even Pet friendly and allergen free rooms!). The fact that it was on the main strip made walking around very easy for us!
When it comes to eating, there's no shortage of options and some of the spots looked like they'd be awesome. Unfortunately for us we were late in planning everything and had also decided to keep a beer focused theme in honour of the hub's birthday celebrations. What this meant was that we hit up some great spots as far as beer was concerned but left much to be desired when it came to culinary pursuits.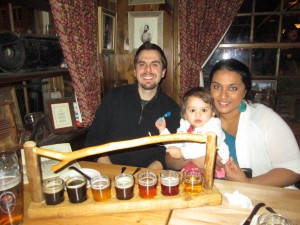 The Great Adirondack Steak and Seafood had the best service and they even had a semi-private room where they put us up. The main area was busy on a Saturday night and the Little Monkey was quite tired given the long car rides and the late nights, so the semi-private eclectically decorated room was just perfect for us (and her mini tantrums!). They seemed to be very family friendly and had plenty of highchairs on hand. Love the fact that for $9 you get to keep a souvenir pint glass (and you get a beer too!). I'd stick to some appetizers and snacks as food wise we found it a bit too salty, crab cakes were fantastic and the seafood dishes definitely have a lot of seafood but I found my Wellington to be overwhelmed by the cream and cheese sauce. We didn't try the steaks so there's always hope there!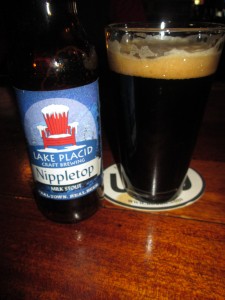 The Lake Placid Pub and Brewery is home to the famous UBU Ale and this three story establishment is definitely always packed! The main bar area is great for having a pint while waiting for your table to be ready. There's plenty of stairs so keep that in mind if you have a heavy duty stroller. The food was your average pub grub, unfortunately I thought I was being adventurous by getting the Franks hot fish and chips, but once again it was doused in sauce … Clearly I'm a snob when it comes to food. Spoiled rotten! Stick with basics and you'll be golden. Definitely stop here for some good drinks, the Lake Placid Nippletop Milk Stout was a favourite, as was the UBU.
We popped by Wyatt's a Tex-Mex joint on the main strip for a quick breakie of tacos and burritos … it was 11 a.m so we opted for some brunchy options and were well satisfied. If you're looking for a quick spot to grab a bite and sample a bunch of hot sauces this is your spot! Friendly service and I love that they use fresh cilantro by the bowlful! Not as good as stuff we enjoyed in Austin but good enough.
Plenty of drinking holes in the area and we chose the Delta Blue on the Saturday night for a few pints and some jazz and blues. Laid back, good tunes and some pool to keep everyone entertained.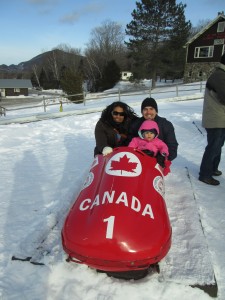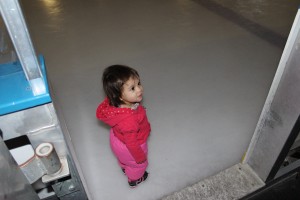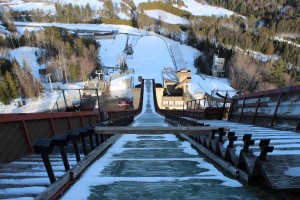 The whole point of going to Lake Placid was to soak in the Olympic activities and that's what we did. Just off of main street is the Herb Brooks hockey arena where the Miracle on Ice happened.. I knew nothing about it till I got there and then the hubs was all about the story and the history. A quick walk around, stroller friendly and free! Don't miss the simulator … we missed it and then the wait was 10 minutes too long for us. A ten minute drive takes you to the Bobsled and Luge Complex. It's a quick in and out so no stroller is required. Not only can you watch a Bobsled whiz by but you can actually book yourself for about $90 into one of the many runs that take place. We were really hoping to get on a Bobsled (not to worry.. it's safe! They've had NO accidents to date) but they were sold out. A five minute drive from main street will bring you to the Olympic Ski Jump Arena. For $15 we got to watch some freestyle skiers, take the ski lift up to the top and then an elevator ride to the very top so you can see exactly how high the Olympic Skiers do their jumps at! Very impressive and some great views of Whiteface.
A lot can be done on a quick weekend getaway as you can see. Lake Placid is the perfect place for a quick relaxing family friendly getaway!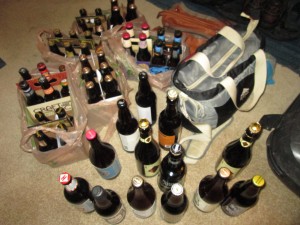 Oh and here's the REAL REAL reason for our trip… beer stock up!