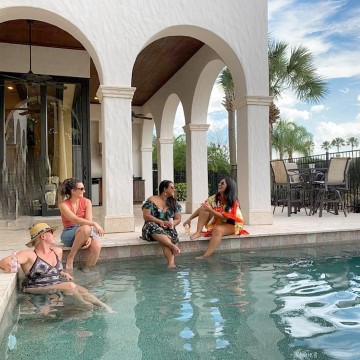 You guys, I FINALLY enjoyed a momcation! As you may recall I did a Toronto girls' trip with my Dubai friends last year and so I decided to take it up a notch this year by spending a few kid-free days with some ladies I know through the blogging world. After 4 glorious days in Kissimmee, while my parents and Chris held the fort down, I came back ready to embrace all parenting (and wifely) duties that were on my plate. If you're dreaming of a girls' trip with fellow moms, make it happen! Read on to see why Kissimmee might be the perfect spot of sunshine for you!
Disclosure : I was hosted by Experience Kissimmee but, as always, opinions are TOTALLY mine! 
Relaxing in Kissimmee on a Momcation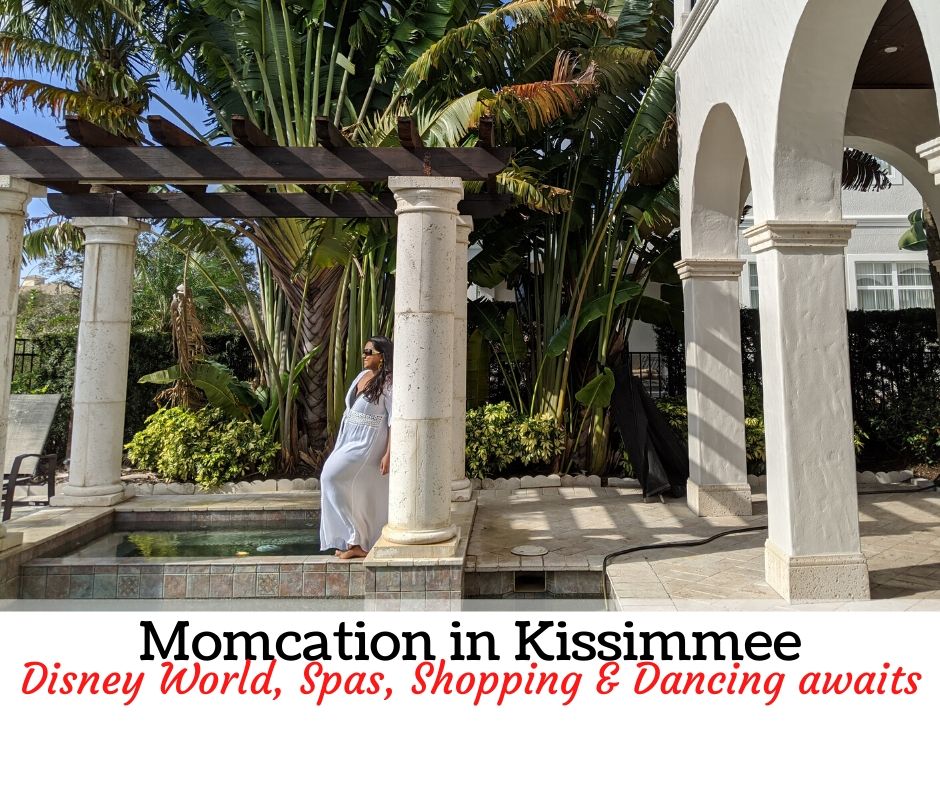 If you've never taken a Momcation, I think it's good to think about what you really want out of this well deserved vacation. Are you looking to sleep in? Relax by the pool all day? Explore museums? Shop all day and night? For me, I was looking to hang out with some friends, relaxing by a pool with a healthy dose of fine dinning, spa time and taking in an attraction or two. Kissimmee had the added benefit of offering guaranteed sunshine no matter when we visit, so it was the perfect destination for a quick getaway for us. My friends and I enjoyed late night swims with glasses of wine in hand, popped by cocktail bars, enjoyed spa services before getting our shopping on, and acted like kids at Disney World! It was the perfect mix of activities that left me re-charged and replenished. Truly WHELMED! You see, Kissimmee doesn't want to overwhelm or underwhelm you….she simply wants to whelm you. Mission accomplished fair lady!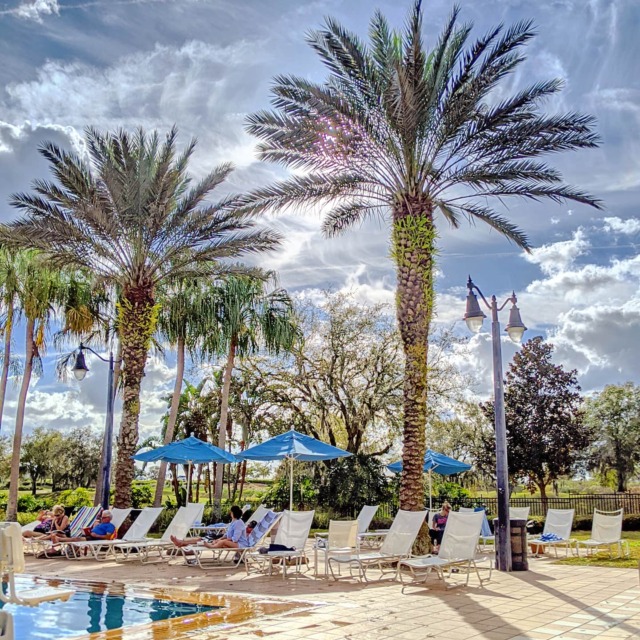 Another thing to think about is how long you can escape for. In my case, my parents were happy to help Chris for the entire week but I was only comfortable being away for four days. Which meant that I wanted a fairly quick flight. Air Canada has multiple flights to Orlando from Toronto and on this trip I had the chance to experience Air Canada Rouge for the very first time. The 3 hour flight was a breeze (I mean, there were no kids to entertain, after all) and I not only binged on a couple Netflix episodes but I also got some work done. If you want to watch some relatively new movies, download their Air Canada entertainment app because it had some good ones! Leaving -15C weather and arriving into 26C was a beauty indeed! I've been to Orlando quite a few times before having kids and my last visit was in 2008 when Chris and I visited my brother. My mom told me that during my very first trip to Disney (and Florida) in the mid 1990s (we were living in Dubai), we actually stayed in Kissimmee! I'm always amazed at how my parents found these awesome spots before the era of the internet. It does help that they both worked in the airline industry but knowing about hidden Florida gems living in the Middle East doesn't come by easily! I guess I'll eventually have to bring the kids to Kissimmee but for this girls' trip, it was my little spot of bliss.
Where to Stay in Kissimee :  Reunion Resort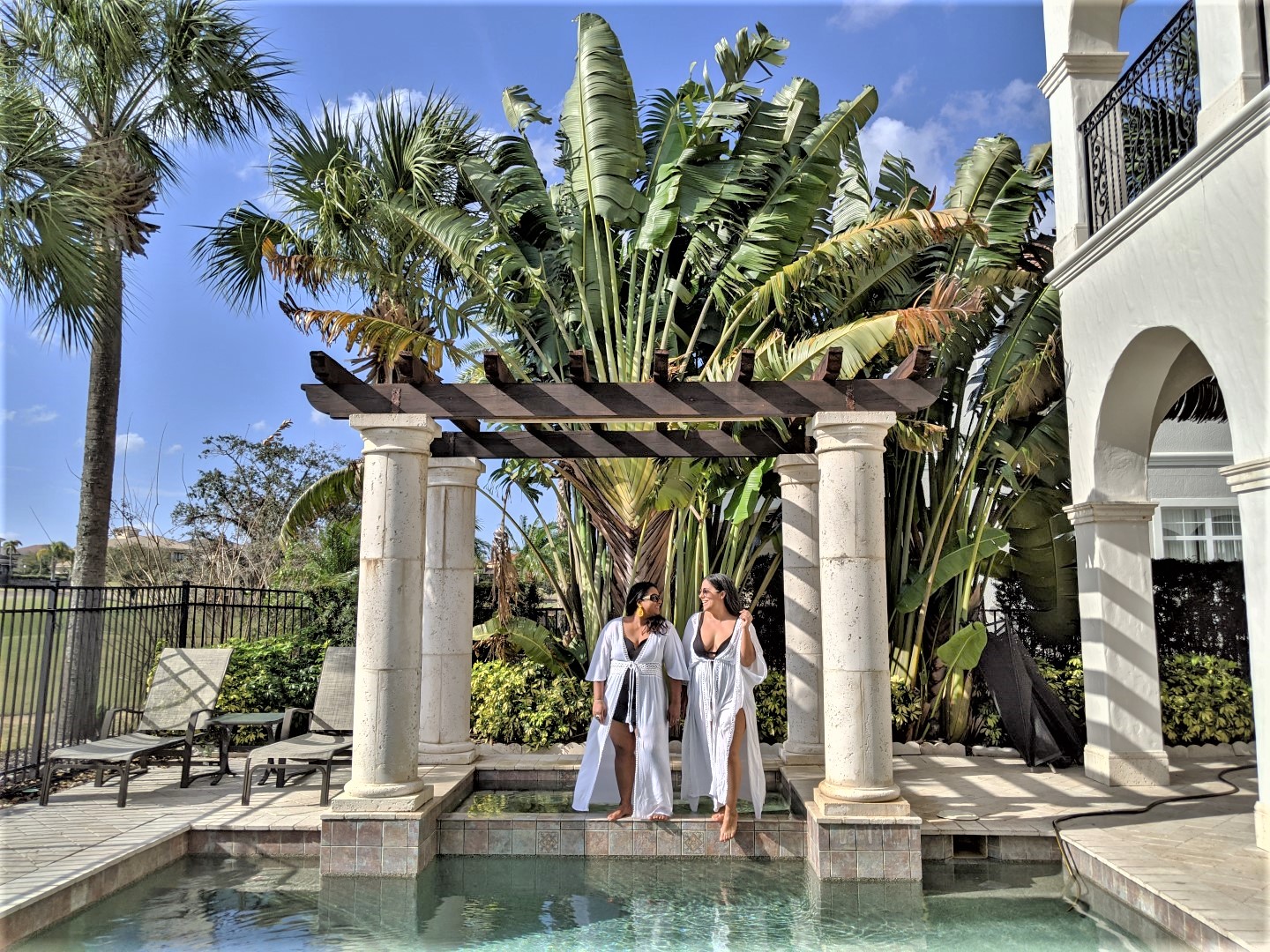 Our home for the 3 nights was the Reunion Resort in Kissimmee. This AAA Four Diamond-rated property has a 96-suite main hotel in addition to luxury private homes. We had a private 5 bedroom Mediterranean inspired villa which was perfect for our Florida girls' trip. When staying at the Reunion Resort you have full access to the water park, 11 pools, golf courses, tennis centre, spa, restaurants and 24-hour guest services. Which was amazing! Even though none of us had kids, we were all thinking about how much fun our little ones would have had at the waterpark and the many themed villas (they have ones decked out with all sorts of toys and game rooms).
Reunion Resort is only six miles from Walt Disney World and approximately 30 minutes from the airport. I'm not a golf lover but many of my friends are and they were impressed when they heard that this is the only place in the world where you can play three signature golf courses by legends Jack Nicklaus, Arnold Palmer and Tom Watson.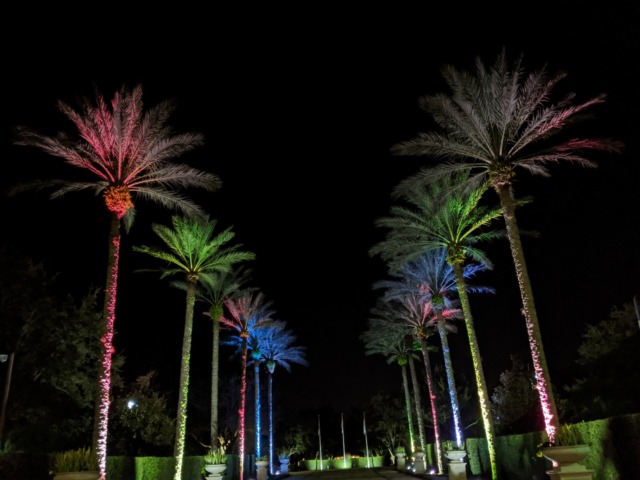 I was more interested in the six restaurants on-site offering a healthy mix between casual snacks to elegant dining.
Our villa was just perfect and MASSIVE! I didn't make use of the laundry, cinema or games room but I did enjoy the gorgeous kitchen and the private pool. Definitely remember to pick up some snacks and drinks at a grocery store so you can have a fully stocked kitchen…especially if you're like me and get hungry late into the night!
We weren't around to watch the nightly Disney fireworks from the roof top at The Grande but the girls and I did drop by around 10:30 p.m on a Thursday night with our dancing shoes. Oh what fun that was! We started a dance floor and attempted to convince the DJ to play songs we wanted and even managed to entice some other restaurant patrons to join us!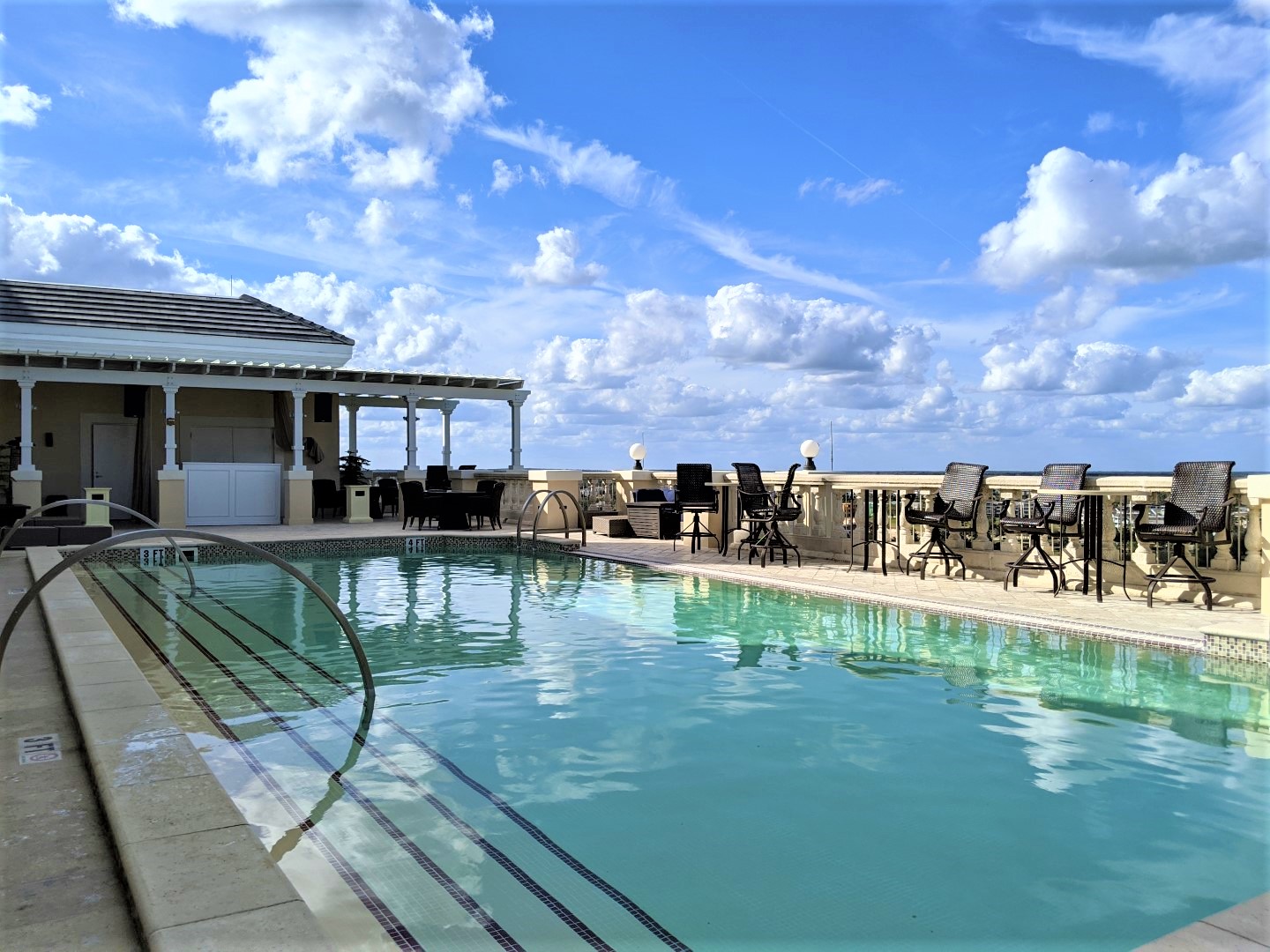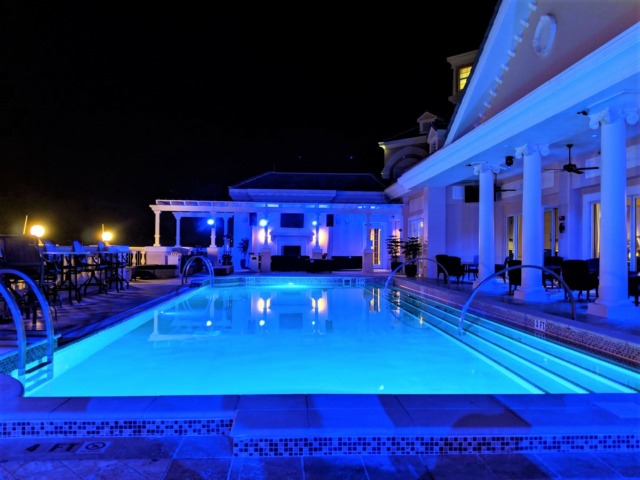 Although the Reunion Resort is quite large and spread out, it's easy to navigate because of the free 24-7 shuttle service. Definitely helps on nights everyone wants to enjoy a couple extra drinks!
I'm always the one taking the pictures when we travel as a family but on this trip with fellow content creators who are also moms, we were all snapping away!! Friends like Solmaz from the Curious Creature pushed me out of my comfort zone and took some magazine-esqe pictures of me. I also picked up quite a few tips from pros like Andrea from Mommy Gearest and Jaime from Je Suis Une Maman!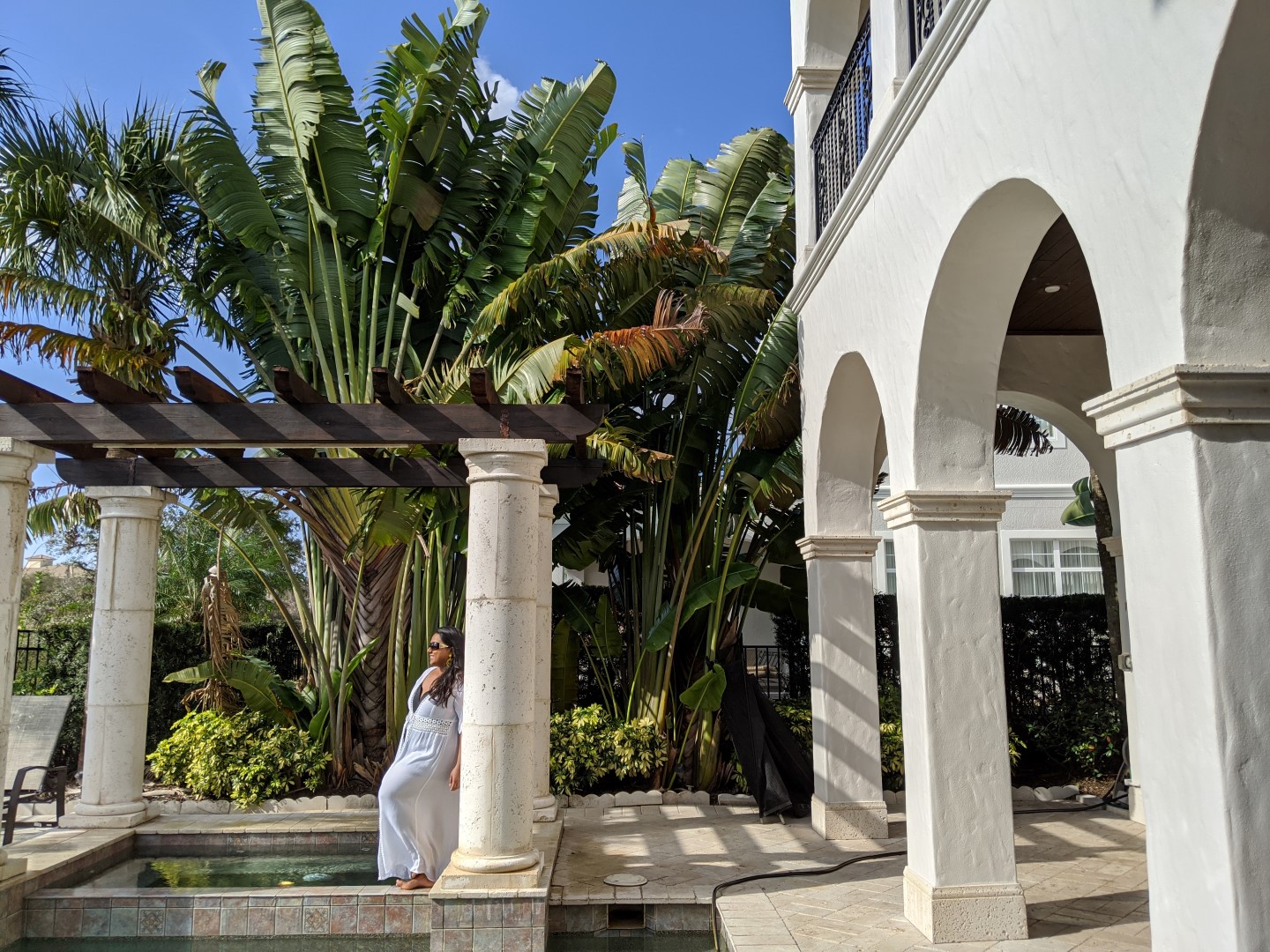 I have already promised my parents, Chris and the kids that I will take them to Reunion Resort, and given the weekly reminders my mom sends me, I'll definitely be back that way soon!
Spa Time and Shopping in Kissimmee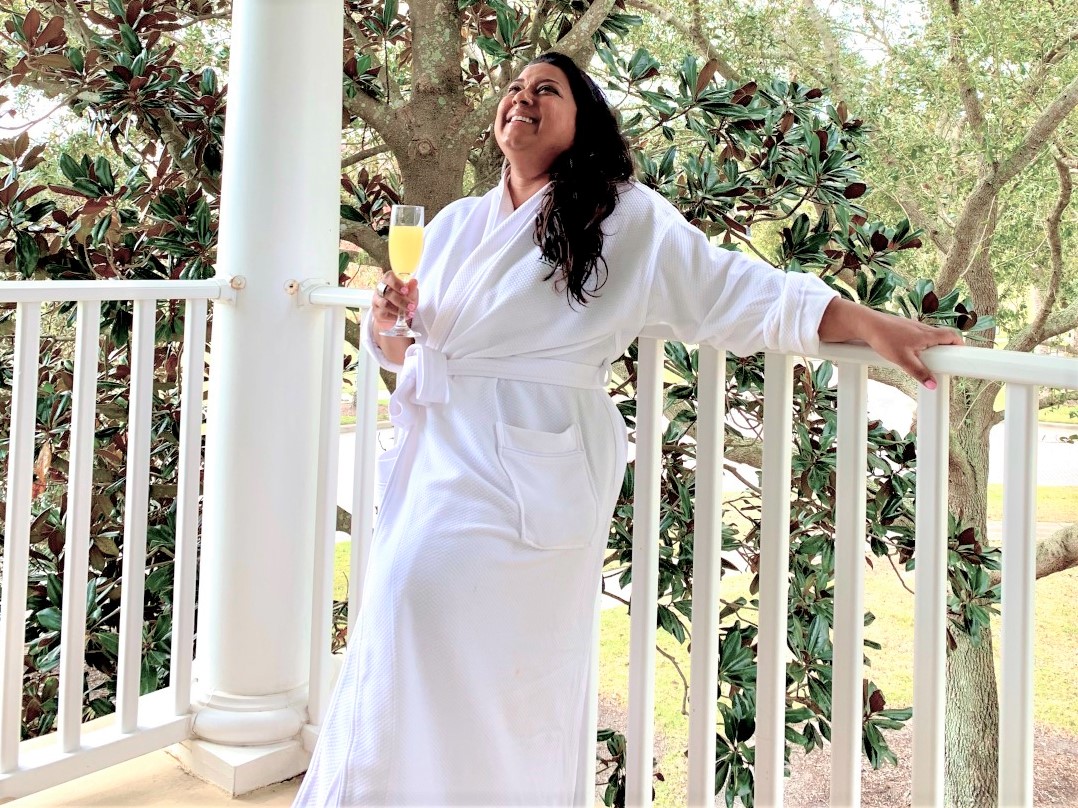 It might sound cliched but when I think of a girls' trip, spa and shopping definitely come to mind. While I'm definitely a culture vulture, I do enjoy a bit of TLC. Reunion Resort's spa is housed in a villa and I had one of the best massages I've ever had at this tranquil home. They have 5 treatment rooms and offer a variety of services ranging from massages and facials to nails and make-up. Friends who had the facial said it was one of the best they've had as well, so even if you're not staying at Reunion Resort, I HIGHLY recommend booking yourself into the spa here!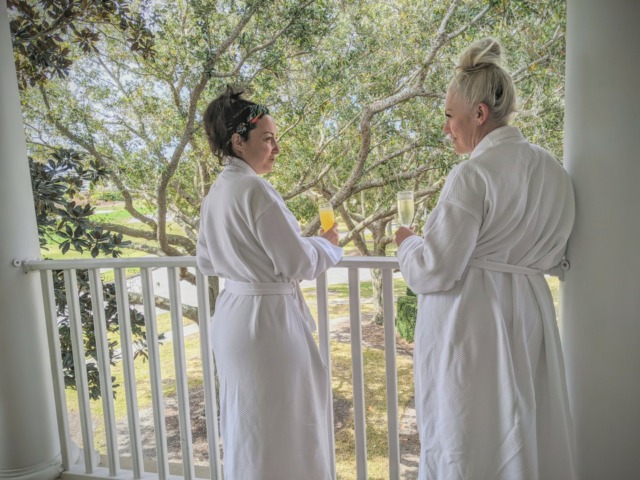 Also, since you're with your gals, taking some cute photos on the Spa's veranda is HIGHLY recommended!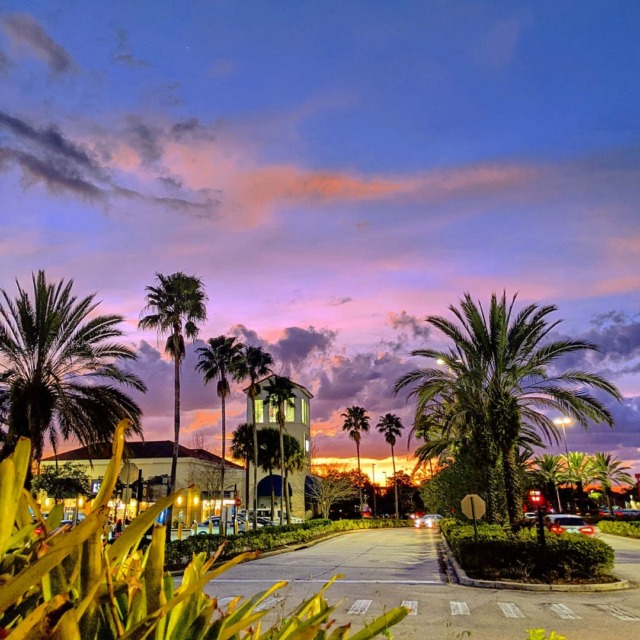 When it came to shopping, the girls were eager to head to the Orlando Vine Premium Outlets because it's home to some of the top brands and is the only luxury outlet in Orlando. The outlet mall is fairly large and you can find everything from a Disney Store to Versace and they all have some awesome deals. Sign up for their VIP program prior to going because you just might score some additional deals!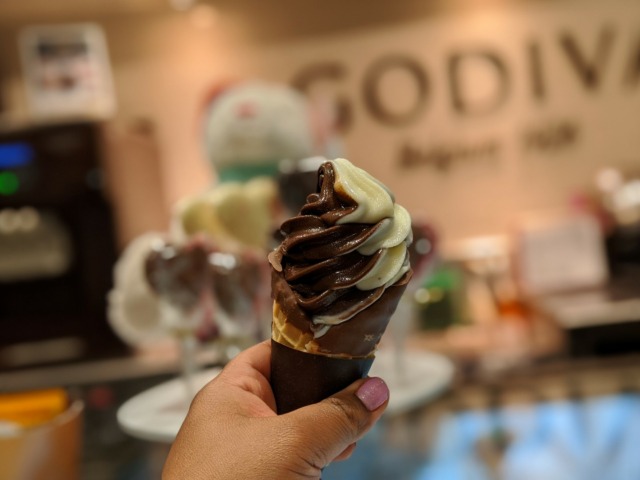 While the girls were shopping, I was the mood for catching the sunset with an ice cream in hand, so that's what I did after buying a couple things. There are quick-service restaurants on-site as well so you can grab a burger at Ford's Garage or hit up the food court.
Ki
d Free at Walt Disney World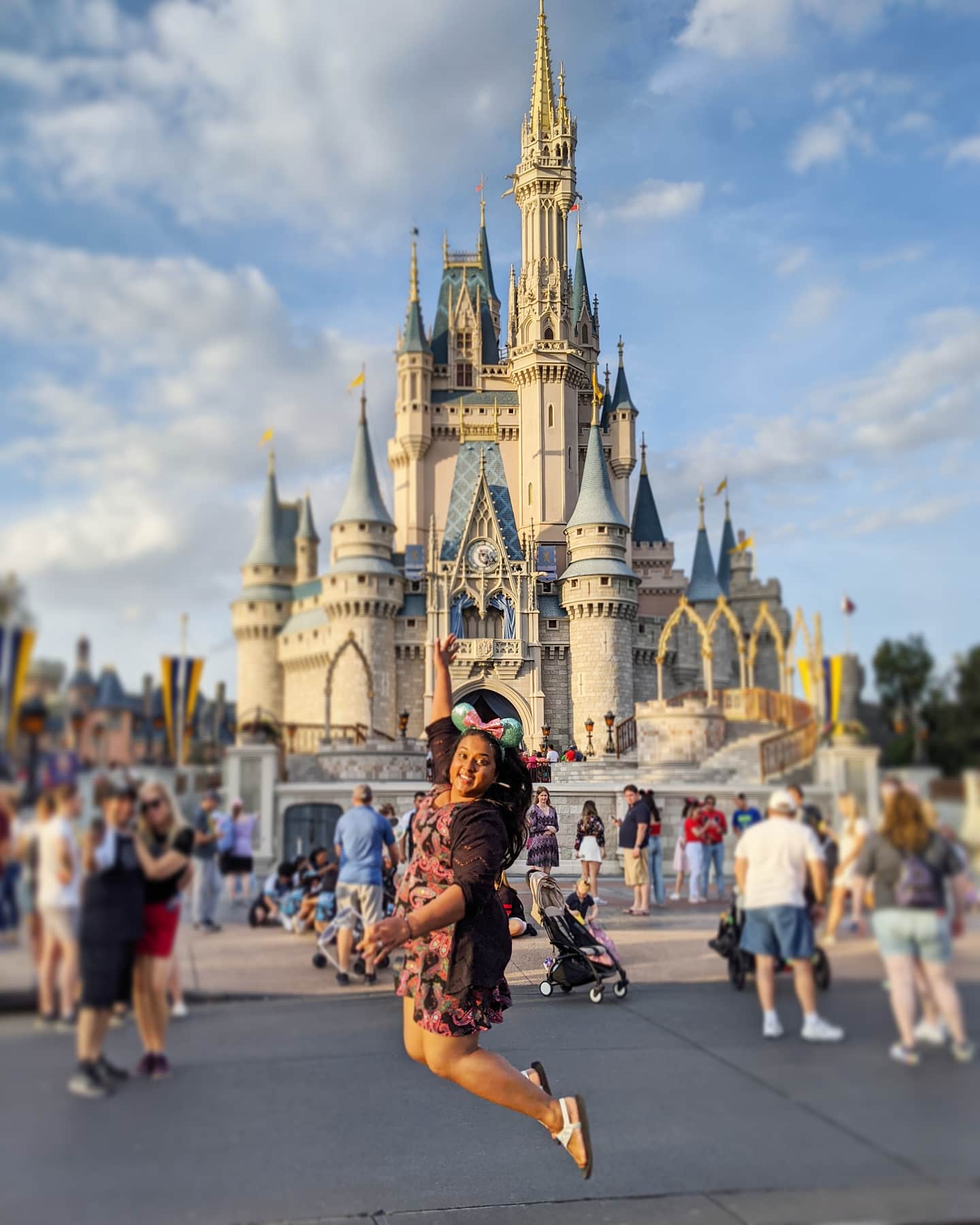 Ah! The happiest place on earth! While our kids have been to Disneyland (albeit when they were very young), they are yet to experience the magic of Walt Disney World. It has been a place I've been visiting since I became a teenager. I think we all remember our first Disney World experience vividly and mine as a teen living in Dubai and visiting the US for the very first time was filled with joy, giant turkey legs and an insane amount of rides. As I grew older I hung out at Epcot more often than not and I think what has kept me away from Disney World has been the crazy organization that's required. I like trips where we plan a bit but mostly go with the flow and all I see on social media is how friends have binders and live on Disney World Facebook groups for months before they even dream of purchasing tickets! That scares me! So this trip was a bit of a reconnaissance mission to see if I could do Disney World the way we did back in the good old days. If you're wondering if you can arrive with a couple rides in mind and then go with the flow. YOU CAN!!!!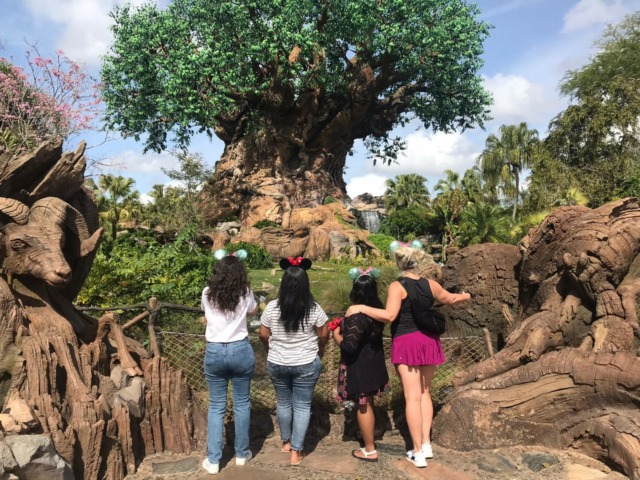 Of course I was really only responsible for myself (and the lovely ladies I suppose), so there was only one bathroom break for me the entire day and we were strategic with the FastPasses. If you're planning a girls' day at Disney World Resort, here are some tips I have for you!
Arrive early and plan to make the most of your day by staying to catch the fireworks at night
Download the Disney Park Experience App because it's an easy way to keep tabs on your FastPasses, ride wait times and restaurant reservations. You can even pre-order food at the quick service spots
If you're planning to park hop, know that there are some trains and shuttles available but to save time, perhaps order a Lyft! If you're luck you may just end up with a Minnie Van (expect to pay double your usual fare though) and your driver may just give you the best Disney tips because they're official employees of Disney World
While Epcot was my favourite, I discovered Animal Kingdom on this visit and I am forever changed. Pandora's (World of Avatar) Flight of Passage was my favourite ride and definitely worth saving your FastPass for! On my next visit I plan to spend an entire day at Animal Kingdom because there's so much to do! My friend MommyGearest shares ALL the details you need to know about the Magic Kingdom FastPass
If you're looking for quick service options when it comes to food, Animal Kingdom's Satu'li Canteen is at the top of my list. You know I came to Disney World partly to eat but I didn't get to even 1/10th of my list (not even Pongu Pongu) so one of my dreams is to return JUST to dine
I highly recommend you making reservations (it's all done via the app) for dinner (time it for just before or after the fireworks) because we ended up eating dinner at a quick service spot and it wasn't the best idea for our girls' trip
Hollywood Studios is definitely a mandatory visit for movie lovers and I while I wasn't enamored by Star Wars : Galaxy's Edge, I made the most of my visit in memory of Chris and Apollo (who would have gone ga-ga there). The highlight for me was discovering Dok-Ondar's Den of Antiquities which has some cool gifts! I did not buy a custom $200+lightsaber at Savi's  Workshop much to the boys' dismay
There are some fab deals for Canadian residents and the 4 day 4 park hopper would be awesome for those planning to really make the most of their Disney trip
I clocked nearly 20,000 steps during our full day at Disney as we hopped through Animal Kingdom, Hollywood Studios and Magic Kingdom. I loved being spontaneous and re-living childhood memories of riding Space Mountain (holy!! Is it ever fast!!!), discovering new experiences like Flight of Passage and treating myself to deliciousness like the Kakamora float.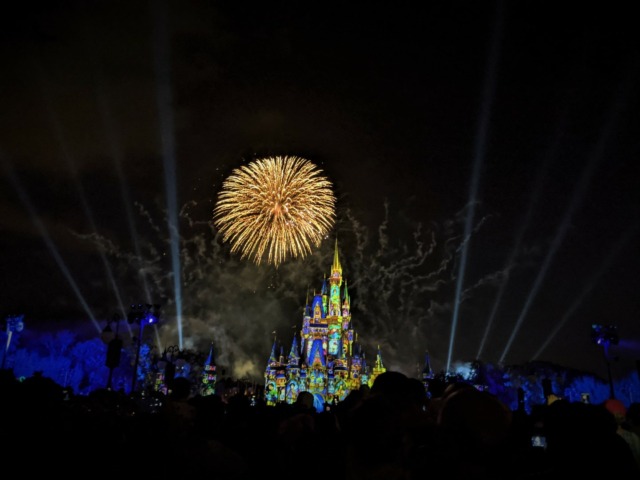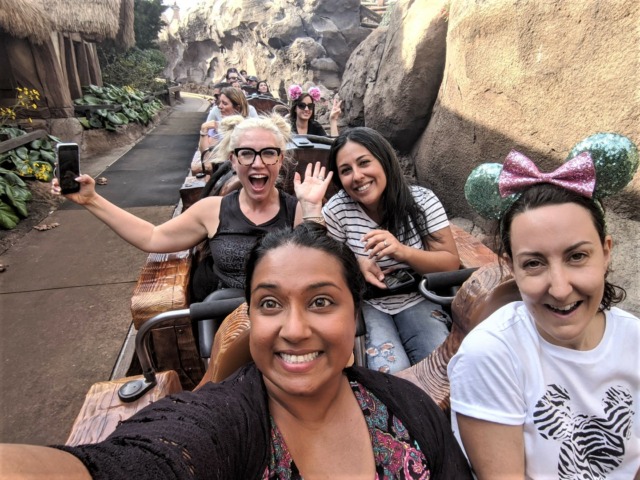 Having truly enjoyed a stress-free day at Disney World gives me the confidence to bring  the kids here and do something similar. We're a low-stress family and there's a lot of charm in being able to go-with-the-flow on our adventures. You truly can be WHELMED even at Walt Disney World!
Dining, Dancing and Drinking at Disney Springs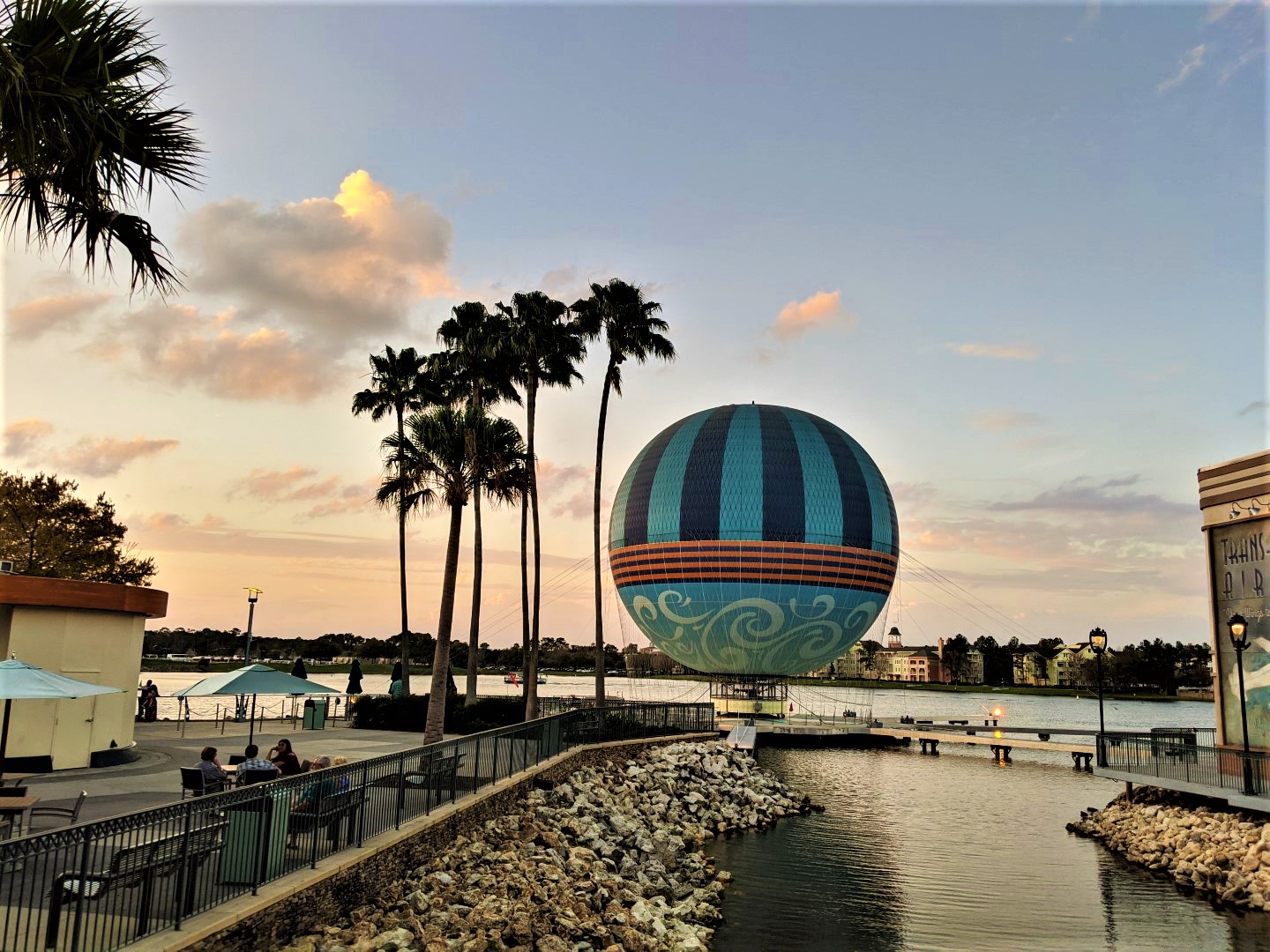 On this trip I enjoyed an evening at Disney Springs (you may recall Downtown Disney but it has received a face lift) and have now discovered another Disney spot that is a favourite. Disney Springs offers a mix of restaurants, bars and shopping. I managed to catch the sunset as I ran for our dinner reservation at STK Orlando with the girls.
While some of the girls went shopping after dinner, Solmaz from The Curious Creature and I swung by some cool bars and took in the live music scene at Disney Springs. The Edison is definitely a fab bar with solid cocktails, dancing and nibbles.
Walking the lively strip at night was a wonderful way to end our girls' vacation in Kissimmee. On my next trip I need to pop by the House of Blues, Amorette's Patisserie, Jaleo by José Andrés and Wine Bar George.
I hope my memories of my momcation in Kissimmee has inspired you to book your own trip. Taking some YOU time before the craziness of summer is definitely encouraged!