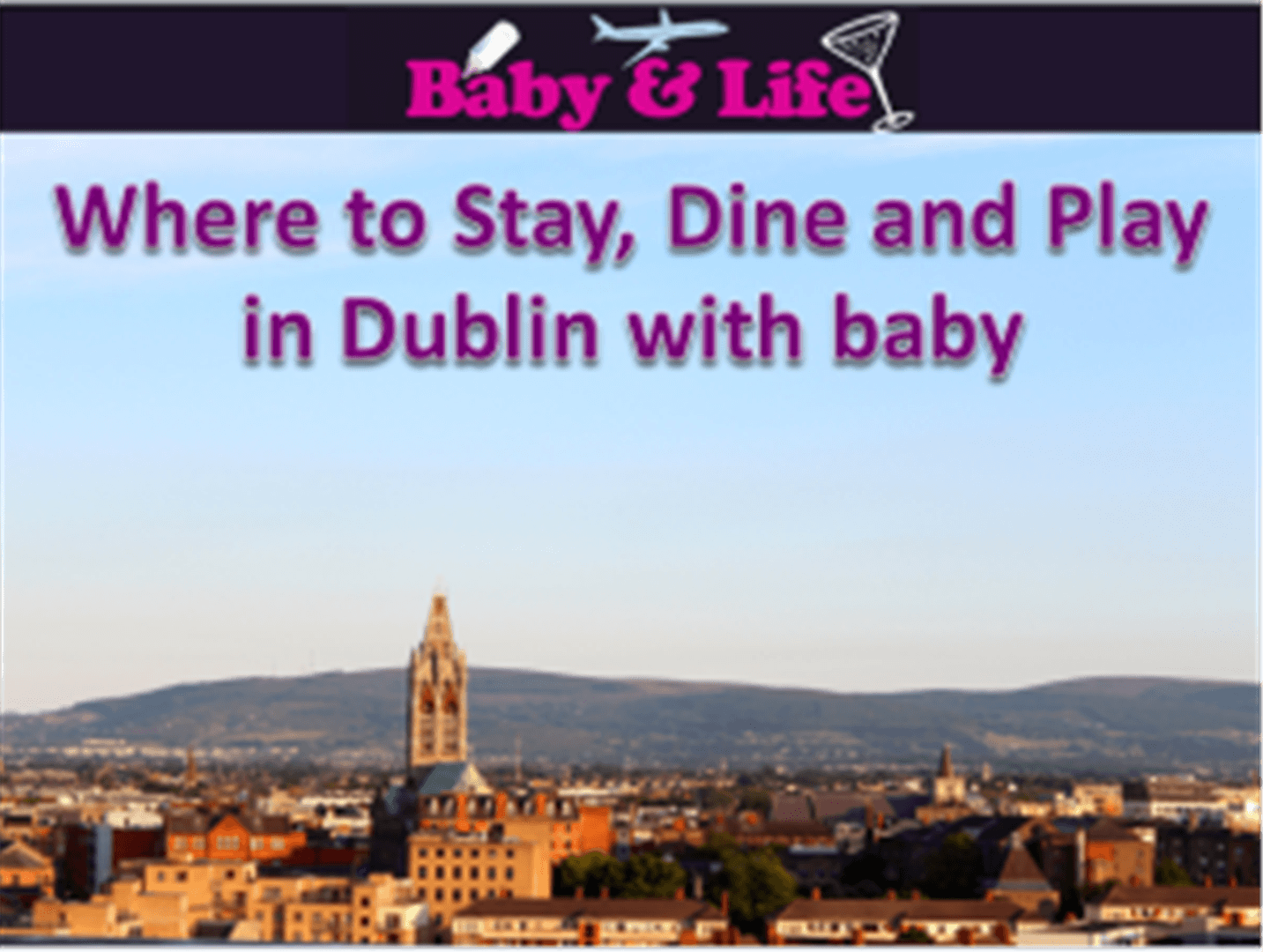 We spent a couple days in Dublin during our visit to the Emerald Isle and flagging a couple city days between our road trip was the best idea we ever had! Ireland is gorgeous and baby friendly but there comes a time (or atleast for us city dwellers it did) when we started craving the city life after a week visiting smaller towns! As with any city there's plenty to see, do and explore with a baby. The only rule to remember is that after 9 – 9:30 p.m. in Dublin you will most likely not be allowed into an establishment that does not serve food (if you have a baby with you). While we were disappointed, we managed to get our late night music fix (click here for examples of Craic!) when we were on the road. So in Dublin, we hit up Temple Bar during the early evening hours for some tunes and then explored the restaurants later into the night. Lining up a babysitter is definitely a great idea if you're looking to hit the town with your partner!
Watch the videos for a quick snapshot if you're too lazy to read the various blurbs!
Where to stay 
We stayed at two apartments in Dublin and can easily recommend them both, though admittedly, one stood out a bit more than the other! Our first stay was through The Dublin City Apartments and while we got off to a rough start with a bed bug sighting (avoid the La Fayette lodging if you're with a family), the staff were extremely concerned and helpful and moved us to a lovely spot in the Spencer Dock area. Highly recommend this area if you're looking to be close by but not in the heart of the city. The train system, called a LUAS got us from place to place easily!
The second place we stayed at was a gorgeous Luxury Penthouse Duplex and the owner was the loveliest hostess ever! This spot was smack dab in the middle of it all and we walked everywhere! Given that this was towards the end of our trip and that we were now craving the hustle and bustle of the city, this was just perfect for us. We didn't even mind the Saturday clubbing crowd as we conked right off. Plus there's a kid's playground right by the building! If I ever go back I'd stay here! 
Where to Dine 
I always say that half the fun in visiting a new city is discovering foodie spots for yourself…we stumbled our way through referrals from locals and TripAdvisor and lucked out at most of them! Here's our list of spots that stood out cuisine wise and were baby friendly!
Church Bar and Restaurant : Ever want grab a pint or have dinner in a Church? Be sure to swing by here and do just that! Click here if you'd like a full review of our visit!
Leo Burdock : This is tiny take out joint where you get a mammoth piece of the freshest fish (you get to choose the type of fish too!) with copious amounts of chips (fries). Take it to the park next door and enjoy your eats! Great fish and chips!
Red Torch Ginger : If the good ole Irish fare is getting to you, this thai spot will provide a good balance to your repertoire! They do have a high chair but no change station (much to a disaster we encountered! A flat spot in the ladies room enabled us to change relatively quickly). Food is Thai fusion and if you get the early bird deal, like we did, it's a great offer! Favourite dishes included the Massaman curry and the Pad Kee Mao (despite the fact that the flat rice noodles were thin and not thick). Locally sourced meats is something they pride themselves in so that was an added bonus! Food definitely wasn't as spicy as expected, but we have a very high chilli expectation!
Buttlers Chocolate : I love my European chocolates and was thrilled when we passed Buttlers Chocolate and was able to pop in for one of the best milkshakes I've had and a sampling of chocolate! Great spot to pick up some gifts for those back home! Yes it's a bit of chain you can find around the world but Dublin is where it all started!
Brewers Dining Hall : If you're at the Guinness Storehouse, be sure to have lunch or a snack here. The canteen style set up was just perfect for our lunch and we were pleasantly surprised that the best pies and stews we had throughout our travels in Ireland, was right here!
Luigi Malones : It was late and we were in the Temple Bar area well past the 9 p.m curfew for young ones at the bars… so we were directed to a restaurant by a local bouncer. Luigi Malones is where we ended. Baby friendly with high chairs and while there were steps leading to the basement, they kept our stroller upstairs for us gladly. Food was good with a mix of cuisines and their kid's menu had options that went beyond the regular chips. Pizza, pasta , fish cakes and tiramisu were all very good.
Temple Bar : No visit to Dublin is complete without a stop in here for a quick pint and a bit of music. We popped in on a Sunday afternoon and enjoyed some live tunes and the boys enjoyed a Jameson and a pint! It was crazy busy but we found a spot to park the umbrella stroller and a seat to rest our tushies on. The Little Monkey ofcourse was dancing a away.
Where to Play
Jameson Distillery : A fantastic tour that really takes you through the process. Tours run often and while they can be busy, it isn't usually more than a 15-20 minute wait till the next tour and you can easily sit by the bar and enjoy a drink whilst waiting. The Little Monkey was napping so we kept her in the stroller (there were a few stairs but she was awake at that point so we folded up our stroller and she walked up). The tour took about an hour and do volunteer if given the chance! The guide was friendly, sassy and funny. There's  a baby change room if necessary.
Guinness storehouse :Definitely buy your tickets online as the line ups are always long. Here's a tip… if you forget to buy it online, know that there's  free wifi and you can buy it off your phone at the Storehouse! Which is what we did. Also note that to the side there's a self check in kiosk where you can use your credit card to buy the tickets (same place as retrieving your online tickets). No one was doing this, which was surprising as the line up was atleast 30 minutes long! Nearly every floor has a bathroom with a baby changer but beware that there's often guys walking out of these after a private dump! Much to our chagrin, we had to air out the bathroom on two occasions! We had our stroller with us and it can get a bit confusing using the lift to get around vs the clearly marked path when on the escalator, so we did have to backtrack a couple times. Lots of fun on the self guided tour, but for that price point it would have been nice to have a guide explaining things as there are some displays which are a lengthy read. Loved the free wifi as we were able to share some pics with family and friends live from the Storehouse. A quick lunch at the Brewers Dining Hall was a good mid afternoon snack. Gravity bar is definitely worth a trek to! Crazy busy but people are nice enough to move over to let you near the window for a quick peak. We found the gift shop to be reasonably priced with a few deals on when we went and the staff were nice to ensure we signed up for a tax free card (free). Overall a very baby friendly spot with lots of spots to slow down and take a breather if needed.
Sandeman's Tour : If you have three hours to kill, take this tour! It's a great way to get a good feel for the history of Ireland and the guides are awesome. We lucked out by getting Chris, the youngest and longest running tour guide. Being a law student and history buff with a sense of humour, we were in great hands! Obviously take the stroller with you as there's plenty of walking. The tour takes you through the downtown core and we were then able to decide which museums and spots we wanted to visit based on our guides stories. This is a free walking tour but ofcourse they appreciate the tips. The three hours can go a bit longer depending on the level of engagement, so bring fluids and snacks for the little one. You do stop for a half an hour break in between but we found it helpful to be well stocked! We even hit a protest during the tour and our guide deftly navigated us safely to our various stops!
Trinity College Library : Home to the famous Book of Kells, this is a spot you'd want to visit if you're a bit of a movie or literature buff. You could spend quite a few hours perusing the various exhibits but we whizzed by them and went to the "Long Room" which was the showstopper. We found stroller parking easily whilst we walked the aisles in the Long Room. For a Euro more you could have got a full tour of the campus, so if time permits and you weren't able to catch the Sandeman's tour, that may be a worthwhile option. We enjoyed taking a break on the lush greens just outside the Library for some play time for the Little Monkey. We sped through and were in and out within the hour. Oh and no one said anything when the Little Monkey was walking around with a bottle of milk in hand!
National Museum of Ireland : This wasn't on our radar until our Sandeman's tour when we found out about the BOG MAN! The need to learn about the bog man drove us to this museum (it was free to enter!) and since the Little Monkey was napping, we managed to soak in a lot of the history and watch the videos about the Bog Man. Very cool! It is quite large and you could spend half a day in here easily but we went with the goal of only seeing the Bog Man and a few of the displays so it took us two hours to scope the place out.
There you have it. It was a long post but I hope you've found a good list of suggestions for when you're visiting Dublin with a baby. Know that Ireland is extremely baby friendly, you just have to know when and where to be and a good time will be had by all!