When the Little Monkey was nearly 2 months old (and we got her vaccines) we decided to visit my parents who were based out of Mumbai. I've shared a little about our experiences in a previous post (click here) but this time around I wanted to highlight some places to visit and some of our foodie finds.
Check out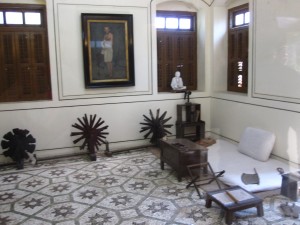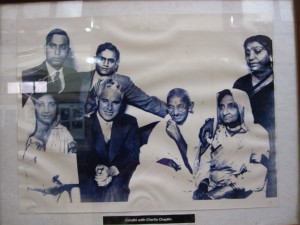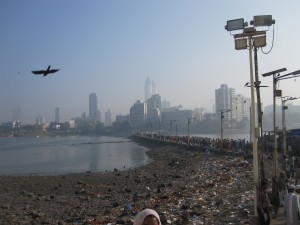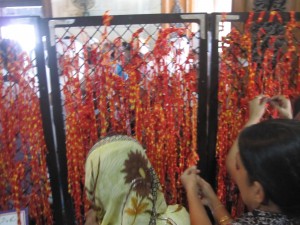 Colaba

– Love getting jewellery from here, the fashion kind, not real gold or anything. Many  a bargain to be had on jewelery, t-shirts, souveniers and even specs. Yes I found an optician here and got some fancy  news shades for crazy cheap.

Mani Bhavan Gandhi Museum

– okay who doesn't want to know more about Gandhi? This is where Gandhi lived for quite some  time and  today it is a museum showcasing his room and his story through photos, letters and his many books. It's a mini library dedicated to Gandhi.

Fashion Street

– If you  love scarfs this is where you want to go. All colours, all prints and all for about $2 each! They have other stuff like dresses, shirts, jeans e.t.c but my main goal here is procuring scarfs. Did I mention I love shawls/scarfs?

Haji Ali Mosque

– This site hosts the tomb of a revered Iranian Muslim Saint Pir Haji Ali Shah Bukhar. Many say that all their wishes are granted if they visit the shrine. Non Muslims are welcomed and while the  

Mosque is not very grand, what I like about it is the fact that no matter what caste,creed,race etc etc everyone is one on the walk over

. There is a causeway leading from the city to the island that houses the shrine and on an average day 10 to 15 thousand people walk through. The causeway is quite dirty and lined with beggars  but there's definitely something to be said about the oneness amongst the thousands.
Eat at
 

Candies

– great for a  quick pit stop for some snacks. I loved the spicy roti rolls and everyone was wolfing down the biriyani (a flavourful rice and meat dish) sadly  I was too full for a heavy lunch.

Badshah

– I know it might look scary but trust me it isn't.  Just walk in, sit down and ask for a Shiraz (no.. it's not alcoholic) falooda (a milky drink with pistachios, vermicelli and all sorts of goodness).  I like to ask for it in  a plastic cup, just to be safe. This is definitely the place to stop if you're shopping at Crawford Market.

Amadeus

– I know you probably want good India food whilst in Bombay but you don't need a recommendation from me for that. Any place you eat at will have that down. I'm going to recommend a Spanish and Mediterranean spot that's very romantic but also great for large groups. The tapas are interesting and hits a foodie's heart at it's core. I'd even recommend passing on the mains and focusing on the appetizer tapas! The cocktail menu is also  quite intense, but in a good way. Check it out, especially  if you're looking for something a bit different.

Haj  Ali Juice

– I kid you not. The drinks at this place is safe for foreigners and sensitive stomachs. Instead of a regular fresh juice I had the custard apple cream. It came nicely packed in dry ice so I was able to take it home and eat it an hour later.  Oh my gooooooodness. Melt in your mouth, make love to your throat deliciousness.

The Taj Mahal  Palace and Tower

– for a desi-fied (brown) high tea this is where you want to go! Attentive service with a breath taking view overlooking the gateway of India during sunset. The high tea  buffet ranges from corn on the cob to kebab rolls to shev puri (it's too hard to explain, just go try it!). Yes ofcourse they have a wide selection of teas and coffees! If you're in the mood for some Dior or LV shopping the concourse has  you covered. Given that this is where the bombings/shootings happened a couple years back, they've taken a grand approach when rebuilding the space. Touch of fancy with a side of class.
Quick tips for travelling with a baby :  If you're looking  for a list of my favourite travel items with a baby, you can find that by clicking here. We were breastfeeding the whole time so it was quite easy as far as feeding time was  considered. That said I did use pumped milk on many an occasion. When booking travel be sure to ask for a bassinet as it's a long flight and the little one sleeps quite a bit at this young age. We took diapers and wipes with us but you can buy them in India, just costs a bit more. Be prepared. Things take much longer than anticipated and you can be stuck in traffic for well over an hour (despite the distance being 15 minutes away!). Most importantly have fun and go with the flow.