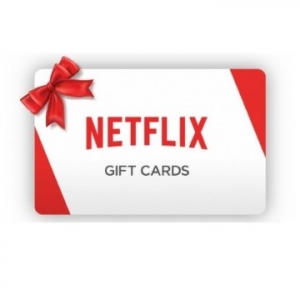 As much as we love travelling and staying in local homes, there are two things I miss dearly. First – friends and family we hang out with regularly. Who knew we were so attached to them? Second – TV watching. Today, in honour of day 74, the halfway point of our #MurphysDo148Days trip, we have a giveaway for you.
All the homes we've stayed at during our trip have had WiFi connections with the exception of the 5 days in Madrid but our challenge has been a data cap or slow speeds.  If we were staying in hotels, we would have had the same issues (plus some others!). We're truly spoiled in Canada with our unlimited Rogers internet package and I dearly miss hanging out on my couch once the kids have gone to bed. Either the hubs and I will be watching Netflix shows or I'll be watching a chick flick with one of my girls during our monthly wine and cheese nights. Now we are either exhausted to do anything or try to catch up on work and blog writing.
Really really really hoping we can get @Netflix_CA working here ?#Streamteam poor WiFi connections struggles are REAL pic.twitter.com/CrkJH198Re

— Yashy Murphy (@YashYanthi) May 17, 2017
Don't get me wrong, we're loving our GuestToGuest experience and the chance to experience local life, but it's also giving us insight into how other countries are more developed in some arenas and less so in other parts. We lucked out with great internet speeds once we left the south of Spain and Morocco and so in Barcelona we tried to watch a couple shows but we were so exhausted because that city had SO much to explore. Zaragoza and San Sebastian were probably our favourite Netflix watching homes because we got to explore in the day time and then chill in the evening. Suits and Kimmy Schmidt have been our go to shows for those relaxing nights.
Another great @GuestToGuest home. This time in @Visit_Zaragoza. Spanish dessert & ? with a side of #Suits #MurphysDo148Days #streamteam pic.twitter.com/O1UliAADIR

— Yashy Murphy (@YashYanthi) May 29, 2017
Not everyone gets us when we tell them we miss watching TV as our top two things we miss…it's hard to explain "down time' to some people! Do you have a parent, sibling or friend who doesn't understand your Netflix obsession because they aren't a user yet? If so, then you'll definitely be on board for this Netflix giveaway!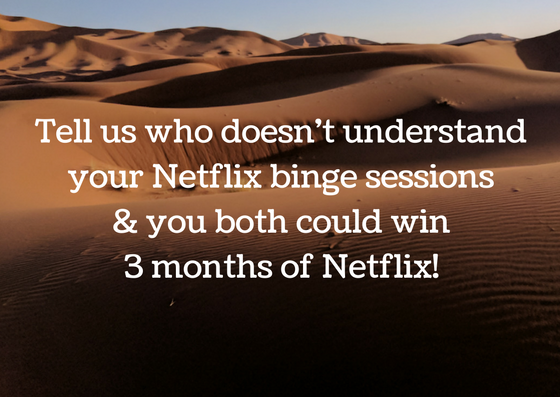 Enter below and tell us about a person in your life who needs Netflix in theirs, and you both could win a 3-month subscription!!!  74 more days until I curl up on my couch with the remote in my hand and my unlimited Rogers home internet package!!
a Rafflecopter giveaway