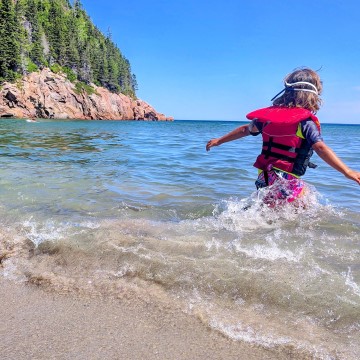 If you're visiting Nova Scotia and planning to drive the Cabot Trail with kids (or without), there are quite a few Cabot Trail highlights to enjoy along the way, but one we always look for is a great Cape Breton beach to relax at. During our many Cape Breton family vacations to hang out with Chris' parents, we have discovered some of the best things to do on the Cabot Trail, and we thought we'd share some of the best beaches on the Cabot Trail that we have relaxed at during our Cape Breton road trips with young kids.
Best Beach to Visit on a Cabot Trail Drive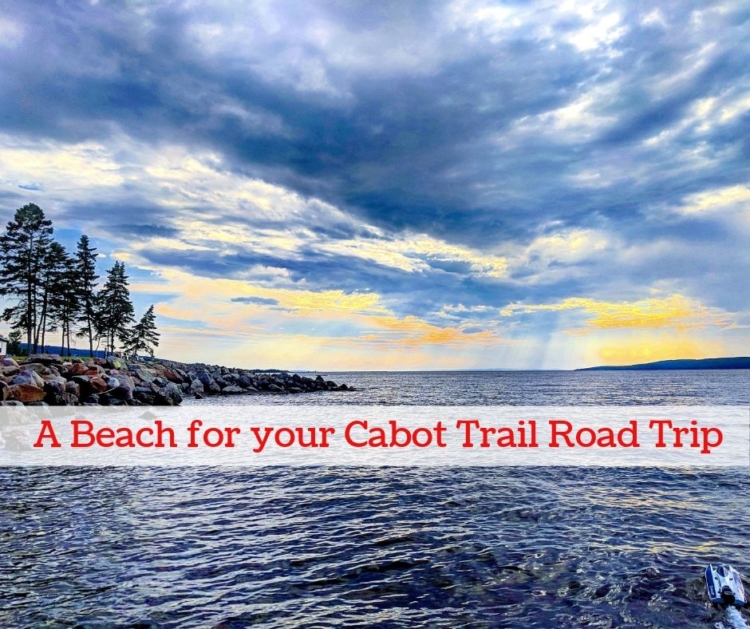 There really is no wrong way to do the Cabot Trail drive – unless you plan to zip through and get it done in 5 hours with no stops! The joy of travelling the Cabot Trail is to enjoy the slow life – take in the scenic vistas, stop in for a bite or a Cabot Trail hike, and then end it with a splash in the ocean. Now, I'll be the first to admit that the Cape Breton waters have been too cold for me in the past. However, last year, it was actually warm enough for me to fully immerse myself in. I know, I was shocked! You can choose between salt or fresh water, or even enjoy both at one location. You can splash in the Atlantic Ocean, or the Gulf of St. Lawrence, but don't forget the many brooks and lakes which can be found throughout the Cabot Trail. Those tend to be more fun for the kids I've noticed.
Quick heads up: Cape Breton Highlands National Park's operating season is from mid-May to mid-October, with full services in July and August. The Cabot Trail is open year round but July to August is definitely the best time to visit. A park pass is required for use of all services and facilities in the national park, including beaches. You will be driving through the national park and will have to purchase a pass for the days you'll be there. Also, please remember to top up your gas before you start driving the Cabot Trail as there aren't many gas stations along the way. I also
found this
to be a helpful map of the beaches in Cape Breton.
Black Brook Beach
Address: 33637 Cabot Trail, Cape Breton Highlands NP, Cabot Trail
I'm starting with this one simply because it's my favourite. We discovered this last year thanks to Chris' younger sister and the water is definitely warmer here. Not only was I able to actually swim, but it wasn't overly busy and there's a waterfall that we were able to climb to. Yes, even young kids can do this one as it's easy. Bring water shoes if you plan to climb the rocks at the falls! Black Brook beach on the Cabot Trail has washrooms, a playground and picnic facilities, in addition to the shallow entry, making it great for young kids.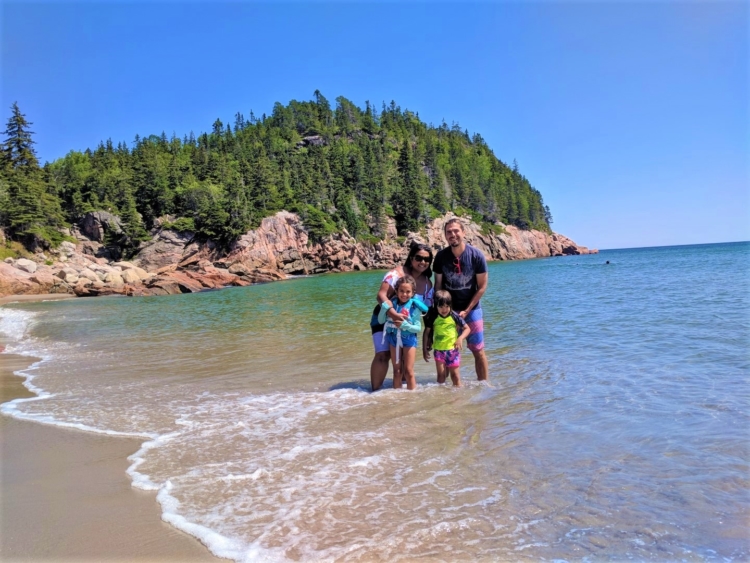 Ingonish Beach
Address: 90 Beach Road, Ingonish Beach, Cabot Trail
This is definitely the most popular beach for locals and visitors. Also located in the National Park, this beautiful sandy beach is probably one of the best beaches in Nova Scotia. The kids had a great time meeting some friends here and they all chased jelly fish that would swim ashore. I was told that they weren't poisonous (gulp). Ingonish Beach in Cape Breton is where you may want to spend an entire afternoon because they also have a playground, tennis courts, soccer field and picnic area if you don't want to just laze around the beach all day.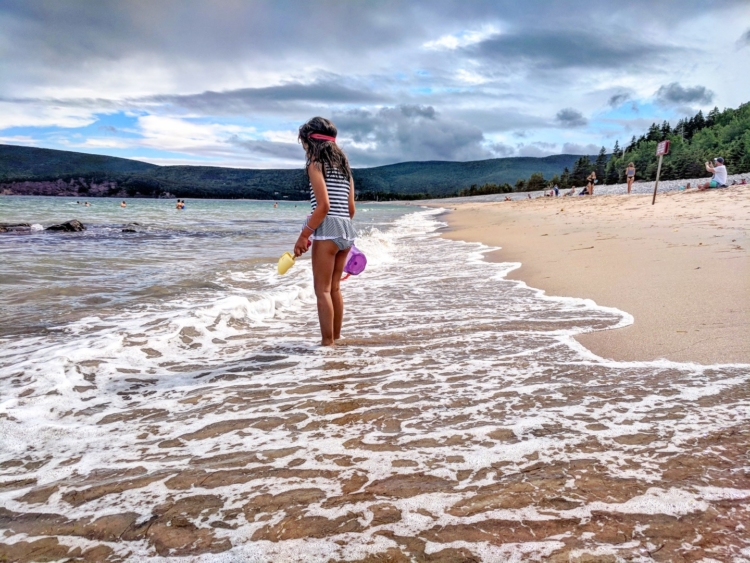 Warren's Lake
Address: 325 Warren Lake Road, Cape Breton Highlands NP, Cabot Trail
If you are looking for fresh water, Warren's Lake offers sandy shores and fresh water with a gorgeous view. It's in the Ingonish area and kids will love looking for bugs and spotting animals here.
Gypsum mine in Cheticamp
Address: Cabot Trail to Cheticamp. Turn on Cheticamp Back Rd and park at trailhead; 46° 37.782'N, 60° 58.864'W
For a truly off-the-beaten-path Cabot Trail swim, you will want to discover this secret swimming spot near the Acadian village of Cheticamp. It is about a 20 minute hike/walk from the parking lot but there are benches on the way if kids need a break. The secret spot is behind the gypsum cliffs. Not only do you get a stunning view of the Gulf of St Lawrence, you also get to swim in gorgeous turquoise water IN a gypsum quarry!
If you're looking for family friendly Cabot Trail accommodations be sure to check out our review of Island Sunset Resort.
Chimney Corner Beach
Address: No real address but ask a local and they'll guide you. Take route 19, the section between Dunvegan and Margaree Harbour. The dirt road that leads to Chimney Corner is unmarked. Look for the Glenora Distillery sign (when coming from Margaree), and it's down the small nook on the left.
Chris' sister also introduced us to this beach on our Cabot Trip itinerary back in 2014. It's not easy to find (you'll also see a blue bungalow in the corner, about 8 km South of Margaree Harbour, just a little south of the Cape Breton Clay shop and pond) but it's a solid option if you're in the Margaree area or staying at Island Sunset Resort. Just look at Baby Boy having all that fun on his first REAL trip to the beach (what's with babies not liking sand anyways?).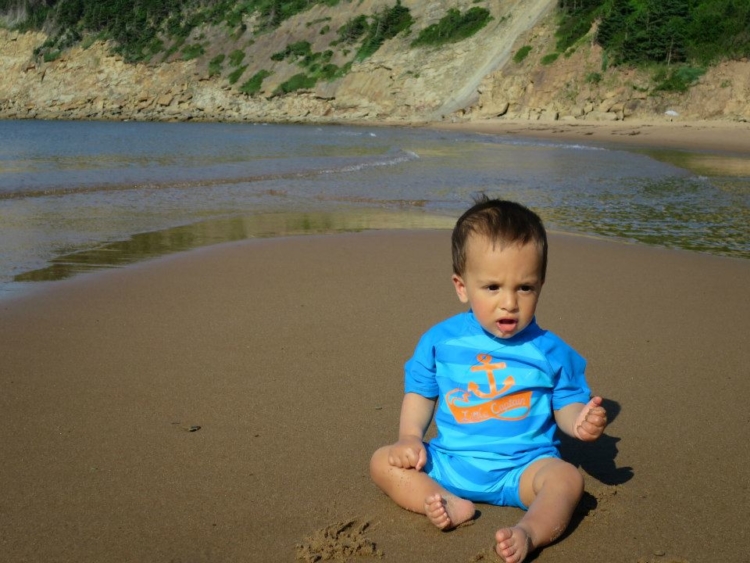 Port Hood Beach
Address: 40 Court Street, Port Hood, Ceilidh Trail
I know this is on the Ceilidh Trail and NOT on the Cabot Trail but many drive through here and Port Hood is known as being home to the warmest waters in Eastern Canada so I'm going to mention it anyways! You can walk from downtown Inverness along the boardwalk and end up at a beach (there are stunning sunsets too). Boardwalk Beach has parking and a sandy shore from where you can take in Port Hood Island and the coastline of Port Hood. At low tide you can take a stroll on its sand bars or dig for clams. It's also a great spot for kite-flying!
Here are some other suggestions for beaches in Cape Breton
Kidston Beach should be on your list of things to do in Baddeck with kids over a weekend
Cabots Landing Beach is a great option if you're looking to get some golfing in during your trip
Point Michaud for soft sand. It also has a surfing section and a swimming one
West Mabou Beach is where we took the kids when they were babies as there's a small stream that enters the beach which is perfect for young children to play in
Those are our suggestions for the best beaches on the Cabot Trail. Which one is your favourite Cape Breton beach (doesn't have to be on the trails!)?