The Highlights of a Cape Breton Drive with Kids Article has been updated in July 2022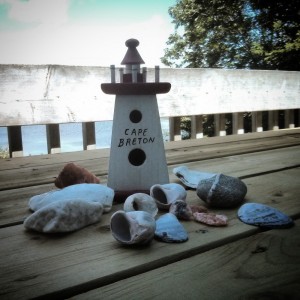 This summer we spent a couple weeks exploring Nova Scotia and one of the highlights was most definitely our Cape Breton drive with the kids. The Cabot Trail, named after John Cabbot who landed in Atlantic Canada in 1479, is a stunning drive with plenty to see, do and marvel at but it's not the only trail in Cape Breton. We also ventured on the Ceilidh Trail and caught some charming views and peoples. The only way to explore Cape Breton is in leisurely fashion and having spent a week meandering around the Cabot and Ceilidh Trail, I can tell you that another week could have easily been spent. It's the perfect way to relax and having young kids along was easy enough as everyone we met and all the places we swung by, welcomed us with wide smiles and left us with warm hugs.
We started our journey in Belle Cote and then made our way to the Cheticamp area, explored Sydney and then finally relaxed by the B'as d'or Lakes. There's so much that we stumbled on during our travels but there's some that stood our more than others and that's what we're sharing today.
2022 Update : I spent a few days roaming Cape Breton without any kids and discovered some new Cape Breton spots that you should add to your list! I was on a Nova Scotia roadtrip during a Momcation on my personal time but I have updated this article to reflect some new discoveries that are kid friendly.
Disclosure : Our 2016 visit to Cape Breton was organized by Visit Nova Scotia, but as always, opinions are totally mine.
Arcadian Hookers
The Arcadian Hookers were not only educational but both, Baby Boy and Little Monkey, took a liking to the hookers. We're talking about those that hook rugs. Don't get too confused now! We popped by to the Museum of Hooked Rugs and Home Life at Trois Pignons and the rugs we saw were truly unique. What skill these hookers have! It's sad to think that there's less than 28 of them left as the trade is no longer seen as being ' cool '.
Cape Breton Beaches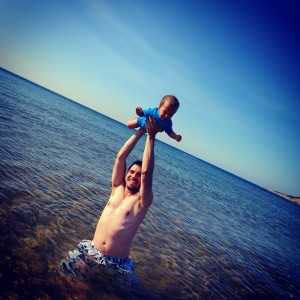 There's many a beach and we've done a couple of them over the years but this time we scoped out Chimney Corner Beach and if you're in the Margaree area, this is one beach you'll have to spend a few minutes trying to find. It's totally worth it and if you're staying at the Island Sunset Resort, the staff are more than happy to guide you over.
Ingonish area has some awesome beaches and I share all about it in my things to do in Ingonish with kids article.
Enjoy Craft Drinks at Breweries, Cideries and Distilleries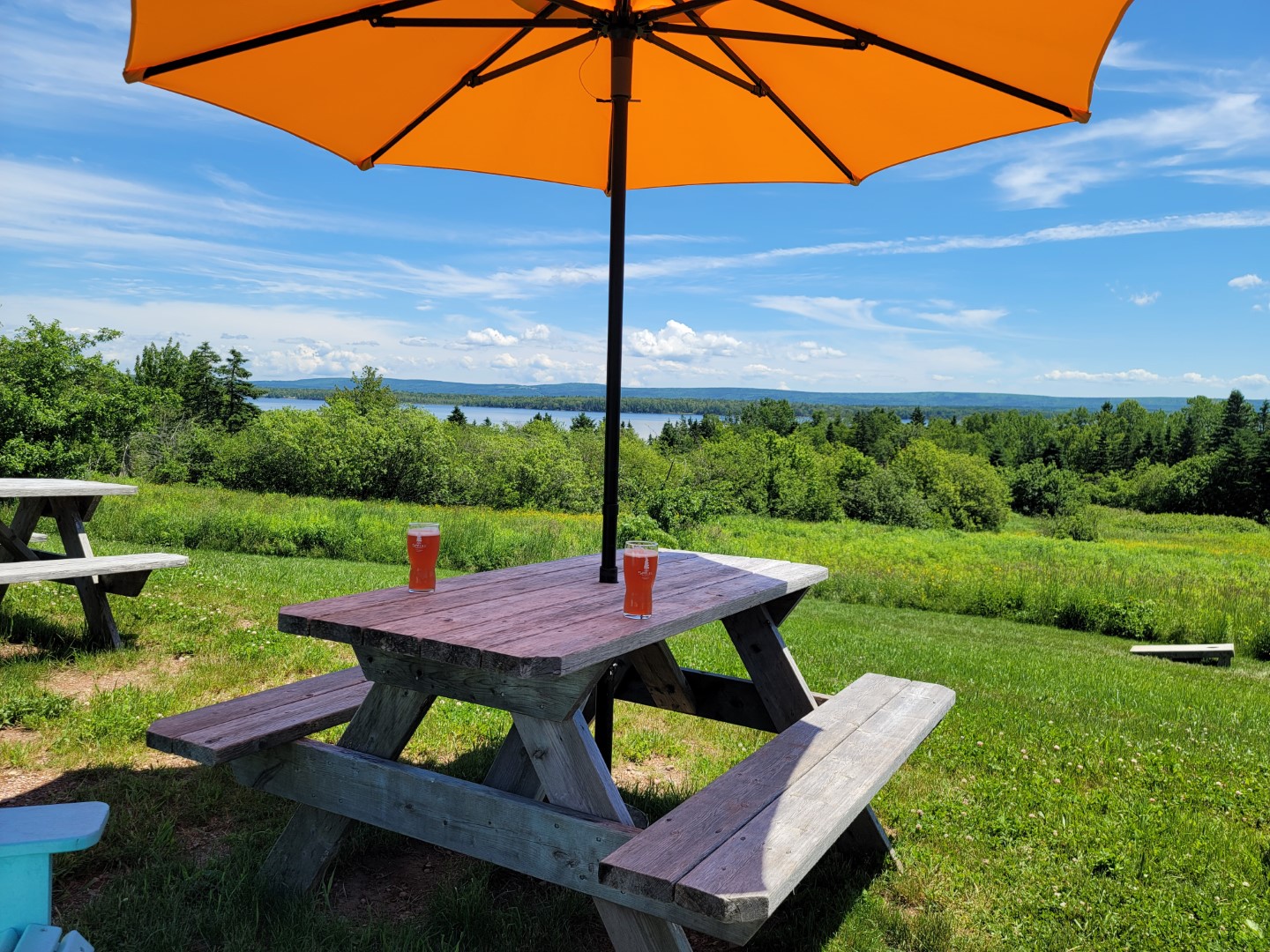 There are some amazing breweries in Cape Breton these days and they are a perfect spot to chill and soak in the island vibes. Big Spruce Brewing is one of our continuous favourites but don't forget that there's Breton Brewing in Sydney as well. Cider lovers check into Island Folk Cider House and be sure to chill on their patio. Route 19 is also a great Cape Breton Brewery to enjoy dinner and sunset at.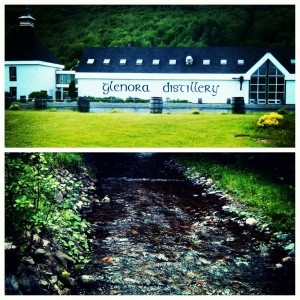 Stop for lunch and a dram at the Glenora Distillery. The grounds are large and throughout the property there's a small spaces to rekindle your relationship with nature. Little Monkey enjoyed watching the babbling brook and spent a few minutes wanting to throw rocks into the precious water source- don't worry, we didn't allow that. We weren't able to get a tour of the distillery, but hope to on our next trip out east.
Fortress of Louisbourg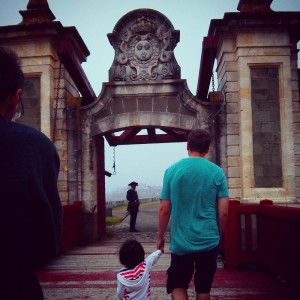 We popped by for a two hour visit but wished we had more time here. This National Historic Site of Canada is home to the partially reconstructed 18th century French Fortress. There's actors in period clothing who are walking around the fortress and, staying in true character, engages and chat you up. My favourite part was visiting the local baker and picking up a couple buns – the version royalty enjoyed, and the version the common folks noshed on. Is it bad that I enjoyed the common version more? This stroller friendly spot gets very cold and windy so bring appropriate gear, yes even in the summer! There's a bus that takes you from the main entrance to the fortress and they're happy enough to board your stroller for you. We baby wore for this but definitely missed the stroller, especially when the wind caught us!
While you're in the area. you can visit the active Louisbourg Lighthouse and even go for a easy hike around the area with the kids.
Enjoy Some Water Time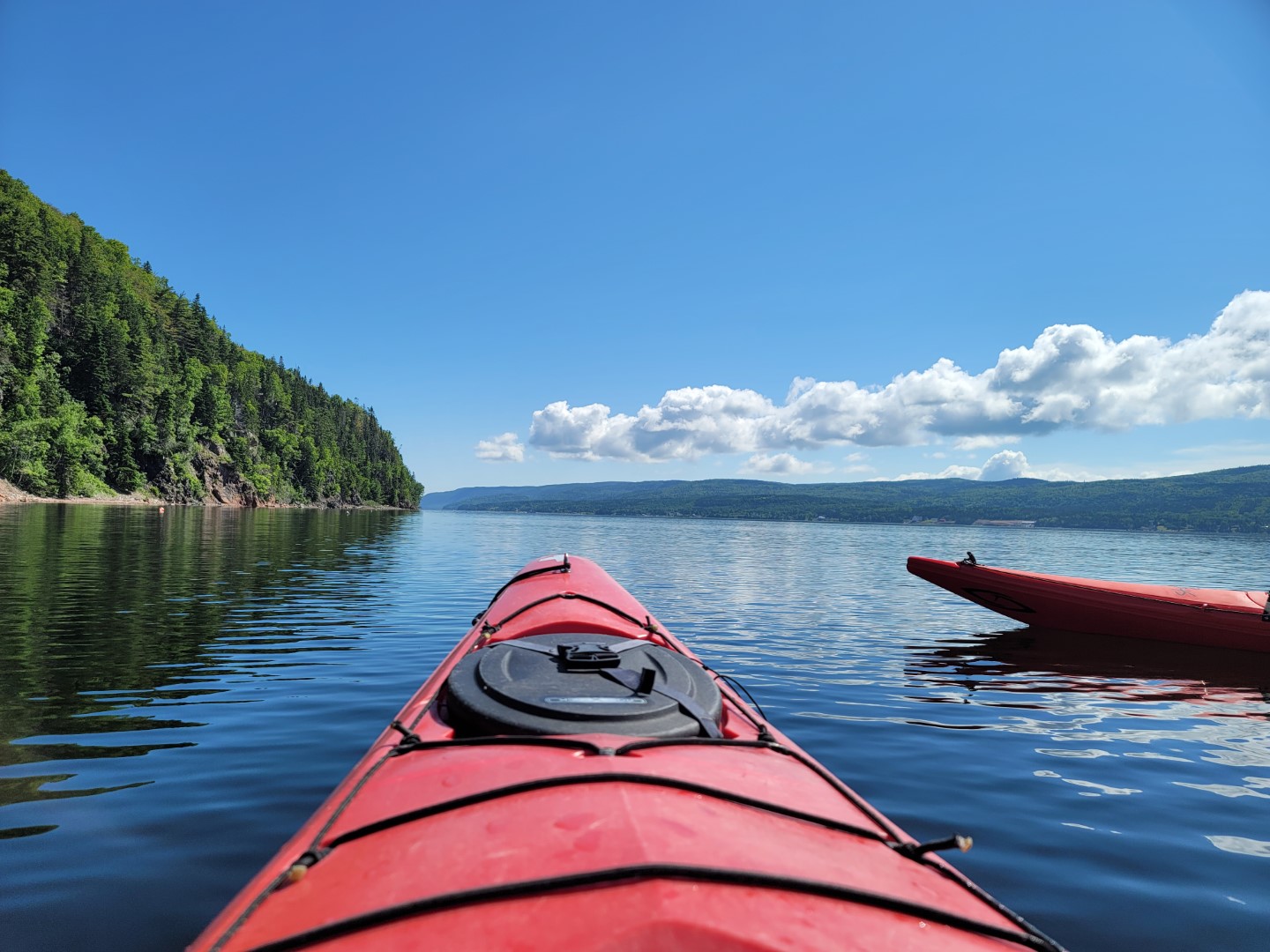 When you're on the island, you're not far from water at any given time. I recently enjoyed an easy kayak with North River Kayak Tours (they also have cute cabins to spend a night at) and definitely recommend them for a fun family outing. The owner is hilarious and the tour guides are awesome.
One day soon I hope to take the kids to see Puffins with Bird Island Boat Tours because I hear it's a great family friendly experience in Cape Breton.
Get Your Passport Stamped at Christmas Island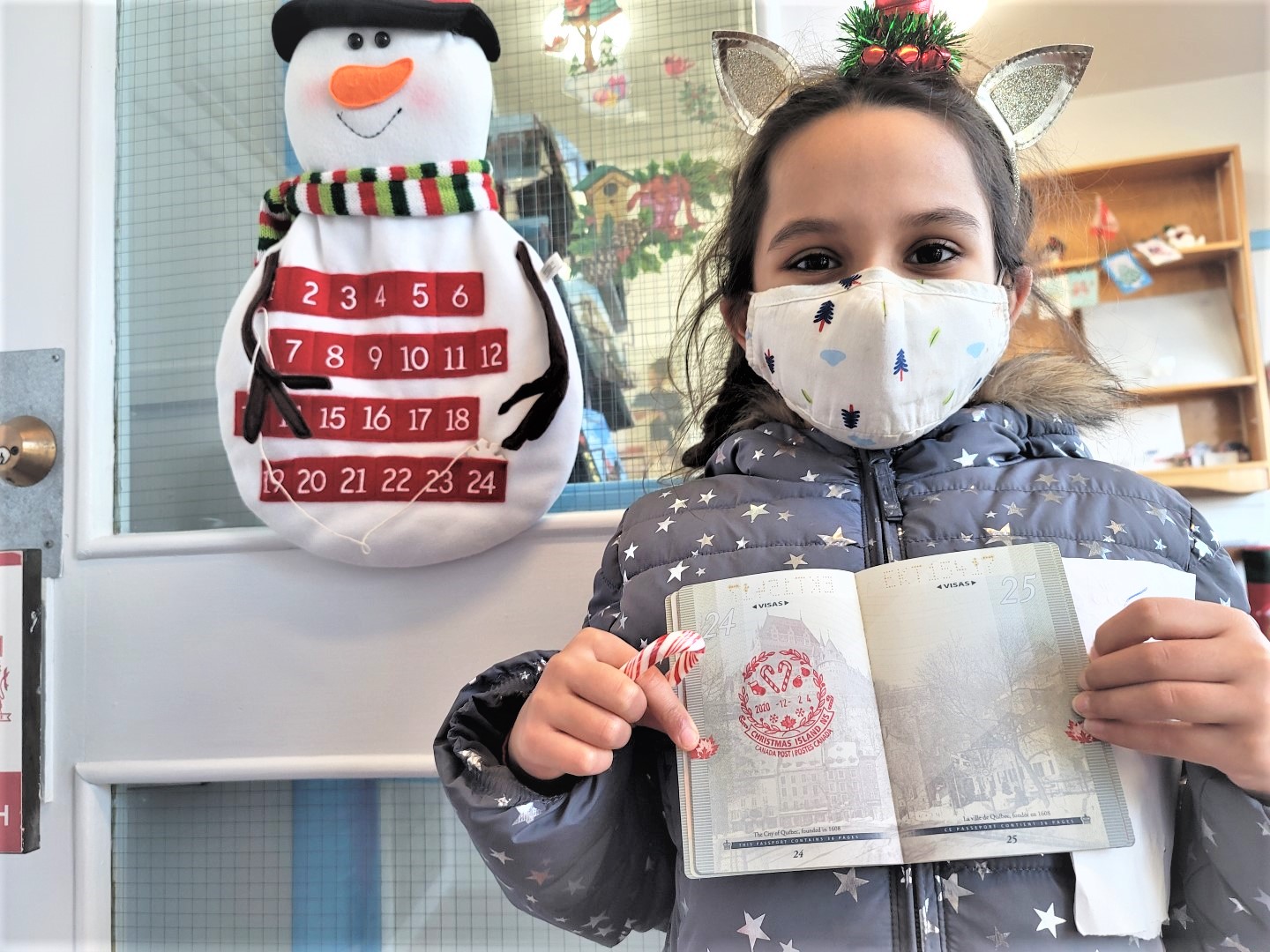 This was a fun family activity in Cape Breton that we discovered during 2021 winter road trip in Nova Scotia. There's a Christmas Island that you can drive to and they'll gladly stamp your REAL passport with the HOHOHO postal code stamp!!!
National Park
Yes you're driving around but keep a day to drive through the Cape Breton Highlands National Park. Don't do what we did – fuel up before you enter the park! There's one gas station and it's in the middle of it all and we had to back track to ensure we didn't end up pushing our car through the park. You can purchase a family pass at the main entrance (where there can be line ups) or drive straight into the park where the attendant will also sell you one. The main entrance is great if you're looking to get some tips on where to go and what to do, the ladies were extremely helpful and funny! This a long drive, give yourself atleast 6 hours with kids and stops! The sights are stunning, there's waterfalls, animal sightings, hikes, fresh water lakes, salt water ocean beaches and so much more awaiting you here. The Cabot Trail runs through the park so this is my favourite way to explore the Cabot Trail, however keep in mind that you can't just "exit" the Cabot Trail, you have to either loop back or complete the journey until you get to a spot that has lodging for the night. Also keep in mind that there is a entrance fee per vehicle to enter the park… if you plan to spend a few days and also visit other parks in Canada, an annual Parks Canada pass is definitely a smart idea!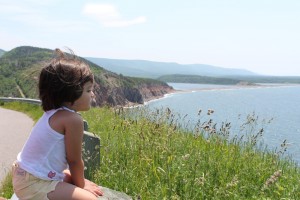 Hiking in Cape Breton
We have done quite a few Cape Breton Hikes with kids over the years. Coxheath is a relatively easy one with kids even in the winter and is closer to Sydney. If you're in the Cape Breton Highlands, many told me to do the Skyline Trail. I did this one without kids but given the flat pathways and pebbly walkways, I saw many kids there. I did the whole loop and will never do that again. Just stick to the left hand side of the trail when you come to the forks and you'll see the epic views and platform at the end.. this way you can return within an hour vs. spending 2 hours doing the full loop (would have been 3 hours if Akira and Apollo were with us).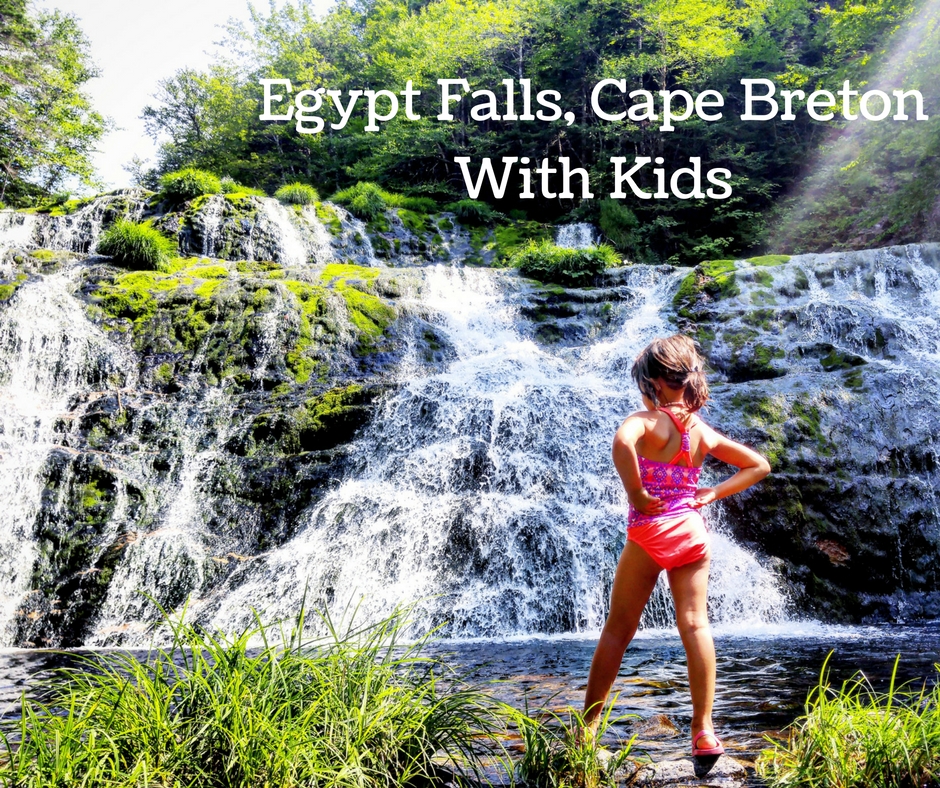 Egypt Falls (closer to Baddeck) is a bit tougher but we have done it with young kids and lived to tell the tale. I share ALL the details for this Egypt Falls hike so you have the tips to go prepared.
I can't wait to take the kids back to Gypsum Mine one day. It is SO cool being able to swim in a Gypsum Quarry! It's a quick 20 min flat walk in (even with kids) and you can spend quite a bit of time here. I'd bring floaties for young kids as there is no gradual descent here. I'm yet to swim myself but having visited at sunset, I look forward to a day time return one day soon!
Explore Baddeck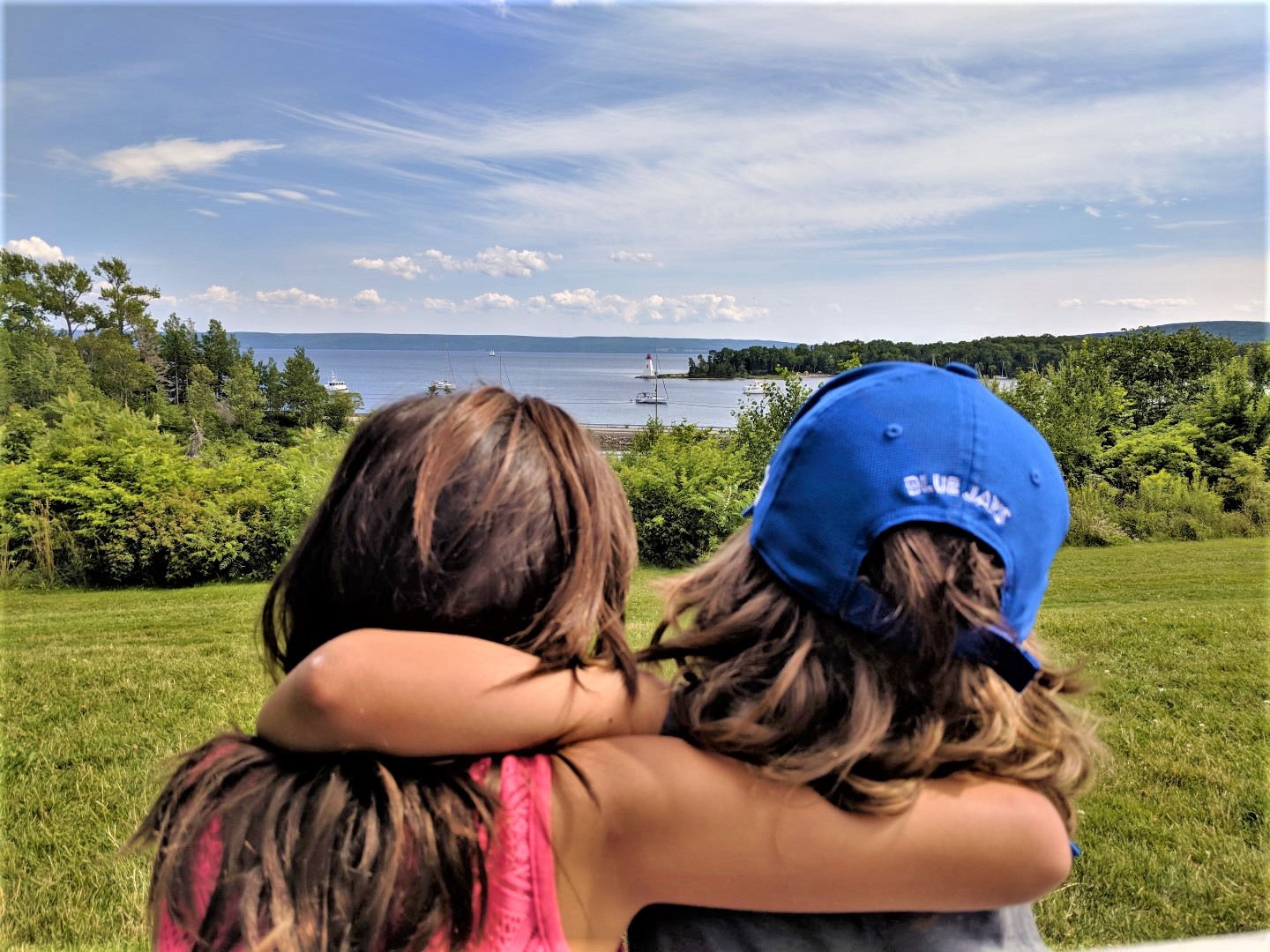 You will find all things Alexander Graham Bell here and it's a lovely way to spend an entire day learning and taking in the sights. The Alexander Graham Bell National Historic Site offers families the chance to partake in hands-on activities and given that this is the start and end of the Cabot Trail, you'll find many local boat tours and cute shops. Be sure to dine at Baddeck Lobster Supper for all you can eat mussels and a fresh lobster. If you visit between July 1st and labour day, there's a ferry from the Lions Club to Kidston Island where you'll find a beach, a few hiking trails and a cute lighthouse. Egypt Falls, North River Kayak Tours and Big Spruce Brewing are both nearby too! During my November 2022 visit to the area I dined at the Freight Shed and it was absolutely lovely! The oysters were fresh and dessert fab – highly recommend checking them out and also picking up some treats at Highwheeler cafe!
Visit a Mine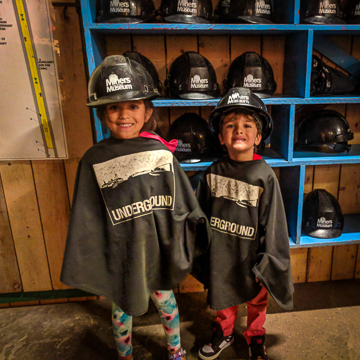 This is one of the best Cape Breton activities we've done and know that you'll have a great time at the Glace Bay Miner's Museum no matter what age you are! We've written a detailed article on what to expect when you go underground at this coal mine and the significance of this mine to people of the island. Young kids and GREAT grandparents all had a fun visit to this Cape Breton attraction. There are great bakeries and a couple beaches in the area nearby if you want to make a day in Glace Bay.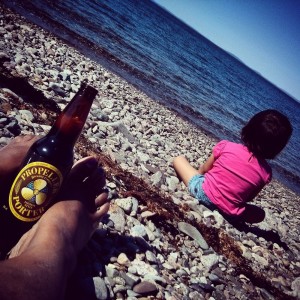 One thing to mention is that Cape Breton is known for its succulent sea food and fresh produce but if you're driving around, plan ahead for food stops. Two summers ago, we didn't plan for this and ended up at sub par spots. This year we found plenty of good eats by keeping our Trip Advisor app open and by stopping and asking the locals where the farms and local hangouts were. Cape Breton has many hiking trails and water activities, both of which we didn't explore this time around. Whatever you do, ensure you stop to catch the sunsets, preferably somewhere the kids can run around so you can relax with a pint in hand.