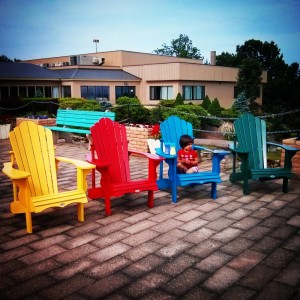 We're still sharing our Nova Scotia tales and as I mentioned on Tuesday's post, we loved our stay in  the Wolfville area. Our stay at the Old Orchard Inn with a toddler and baby was filled with relaxing views and the central location for our exploration could not be beat. This family owned and operated hotel and spa has been in business for over 40 years and you can definitely experience the East Coast charm and hospitality here.
Disclosure : We received a complimentary stay, though as always…opinions are totally mine!
This countryside property is only an hour from Halifax and very conveniently located with easy access to the Annapolis Valley and the Digby Ferry. They have hotel rooms, which is where we were staying but also 28 cottages during the summer months. I got a tour of the cottages and loved that they have a 'deep in the woods' feel without actually being deep in the woods! You know me… all about the glamping! Cottages do have a mini kitchenette which is very handy with young kids.
Our room had two double beds which has become a necessity with Little Monkey no longer sleeping in a crib and yet we had plenty of space for Baby Boy to crawl around when he wasn't sleeping in his crib. We also put that patio to good use as he woke me up very early one morning. Early enough to catch sunrise! I haven't done that in a while! One thing I noticed in the bathroom was that instead of the usual hand soap they offered a squeeze bottle hand soap…I always wondered why other hotels didn't offer these! Way more sanitary. Our room did not have a fridge but you can rent one for $15 per stay. They were booked up during our visit and they offered us access to the kitchen fridge but instead I was able to store my pumped milk in the in-room ice bucket with no issues.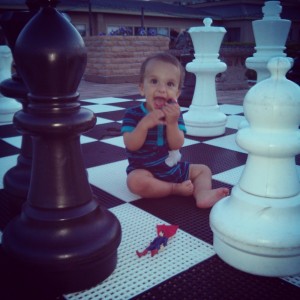 My favourite part of our stay was the incredible panoramic view from their terrace where I not only caught a lovely sunset but also enjoy my breakfast with a view of the Minas Basin where the Bay of Fundy ends. The terrace was a great spot for Baby Boy and Little Monkey to play under our watchful eye (it is an elevated platform so ensure kids don't get close to the edge). One morning Little Monkey and I even enjoyed a breakfast as we lounged on the Adirondack chairs and had a relaxing start to our day whilst the boys slept in. We only had time to enjoy breakfast in the cozy Acadian Dining Room but I heard many good things about the dinner there as well. A menu featuring locally sourced ingredients is proudly on offer here.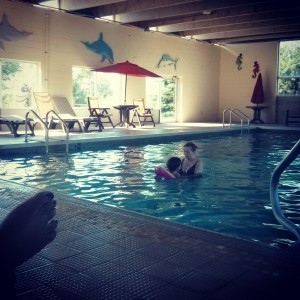 Every nook in this charming property was steeped in history and the Rafters Barn was quite fun to visit. Unfortunately I did not have a chance to swing by in the evening as planned but during the day time I was able to enjoy snooping around the ceiling which is covered with antiques, artifacts and red lanterns. Enjoying a drink in the evening at this bar and playing a game of billiards would be quite fun I reckon!
Little Monkey and her grandmother also enjoyed a dip in the pool one rainy afternoon and I nearly checked myself into their full service spa (but I didn't… I decided to catch up on some work instead). I was quite impressed by the spa at the hotel as I definitely was not expecting such fantastic facilities  and packages to be on offer. Definitely check your self in if you visit the Old Orchard Inn!
The Old Orchard Inn is a great family friendly spot conveniently located in the Wolfville area…it's a perfect stop between Halifax and jumping on to the Cabot Trail. With plenty to do, Wolfville is definitely a city for the food lovers.