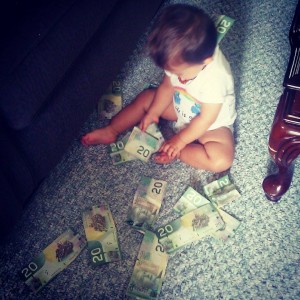 Last week, the hubs shared his tips on how we're saving up for Little Monkey and Baby Boy's higher education, and while the hubs definitely manages most of the finances, I can't help but share my own views as we lead into Education Savings Week. One of the first things we did ( I kid you not!) was open a Registered Education Savings Plan (RESP) for the kids the week they were born. In South Asian culture, it's quite popular to receive monetary gifts after the birth of a family member, so we knew exactly what to do with that cash! Read on if you're curious as to why you should consider opening an RESP for your child.
Disclosure : This post is in partnership with Heritage Education Funds but, as always, opinions are TOTALLY ours!
I've said this before and I'll say it again: I don't know how my parents managed to save up and send my brother and I to colleges overseas, where we had to pay foreign tuition that was over $30,000 a year (and we both did a four-year program too!). We weren't rich by any means, but my parents knew how to save right. Rather, my dad did! My mom has a "spend now" mentality, which can be contagious.
While I enjoyed a very privileged road to  higher education – first in Maine and then in Toronto – the hubs chose to pay his way through our MBA. You may recall him sharing how he built up $80,000 in debt as we pursued our MBA, and the lessons he learned through that journey. We both had different experiences and yet we both firmly believe we need to save up for the children's education and that we need educate them on the benefits of savings, especially given that it could cost about $100,000 a year by the time Baby Boy and Little Monkey enter college!! Crazy times! If you're curious to see what the costs would be when your children are college-age, Heritage Education Funds has  this handy calculator, which is both fun and panic- inducing!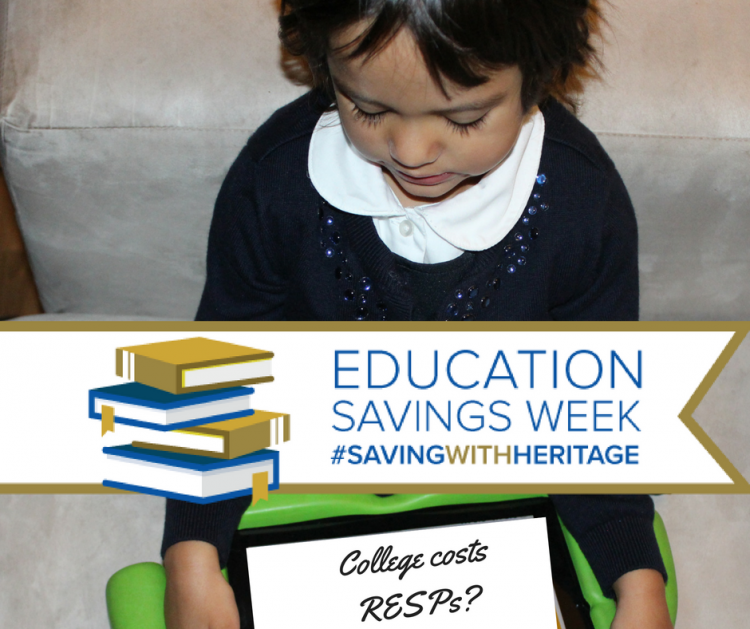 We shared our savings plan with you, but here's a great post by Heritage on other tips to avoid school debt. If you weren't aware, Heritage Education Funds is a leading Canadian provider of group RESPs and has been helping families save for their children's post-secondary education since 1965. I find it remarkable that they have empowered over 447,000 children with post-secondary education!
On Thursday November 24 at 8 p.m. EST join us for a chat about RESPs and learn how Heritage plans can assist students attending post-secondary institutions. I was pleased to learn that money from an RESP can help, whether your child wants to be an actor, a hairstylist or an engineer! Who knows what the leading industries of the future might be!
Do also join in the #SavingWithHeritage conversations, where I hope to learn if I can hit the pause button, change my contribution schedule or modify our plans mid-way. Click here to register for the party!
See you there!