I am a huge fan of Turkish cuisine and one day soon I hope to make it to Turkey where I can taste the REAL deal. In the mean time I'm always on the hunt for a good Turkish restaurant and it's been a challenge in Toronto so I was very curious to check out Pasha Turkish. During our visit to New York on a cold day when our group was lazy we tried to find a nearby spot that could accommodate six adults and two kids and needless to say it was pretty challenging on a Saturday night. Our friends had recently moved to the Upper West Side and we had all noticed Pasha but thought it was a bit of a hole in the wall based on the awning outside and so we were hesitant to dine there but decided that the Trip Advisor reviews were good enough and it was close by to our apartment as well.
Once you walk  through the awning you will be greeted by sensuous Turkish charm and decor. The deep red walls, draped fabrics and colourful lanterns immediately reminded me of my days exploring the souks of Dubai. The inside was very Mediterranean and this is a prime example of not judging a book by its cover or a restaurant by its outer  awnings and facades! The place was empty except for one table and so we had our pick. We settled in the main room where they brought a high chair for Baby Boy. There were various different rooms which makes this a great spot no matter your party's size.
Service was a bit slow and the cocktails weren't that impressive but that's all the complaints I have. The food was truly fantastic and the wine list was quite decent. Our group savoured each of our dishes and some of us may have even licked our plates.  As our group chatted and nibbled on the complimentary bread (so warm, fluffy and yet crispy at the same time) and sipped on our drinks we enjoyed quite a few dishes. I was so wrapped up in the great conversations and finger licking that I forgot to take pictures of all the dishes. I have the highlights below though!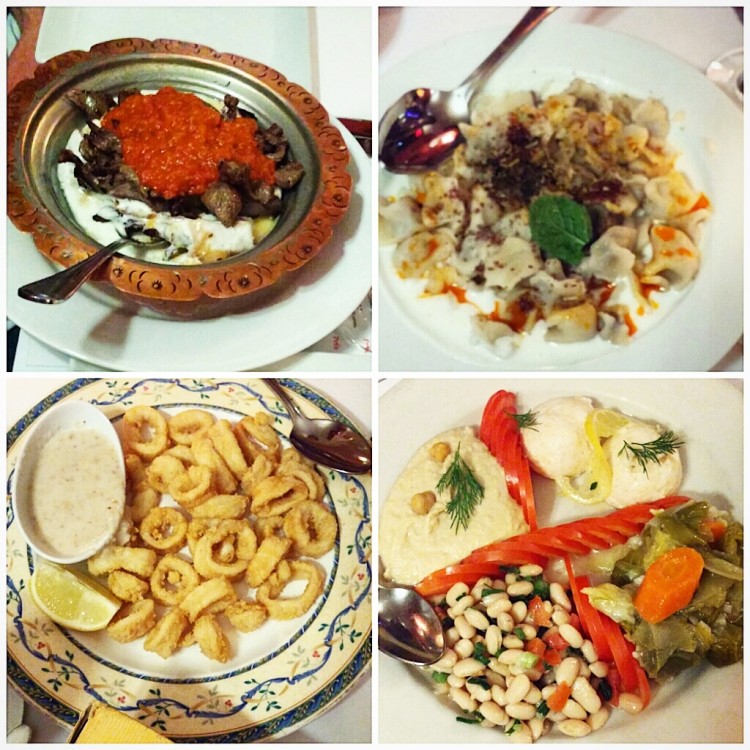 The Yogurtlu Kebab that the hubs got was damn delicious! Slices of grilled lamb was served on a bed of homemade pita and yogurt and was topped with tomato sauce. The bread soaked up all the jus and was my favourite part of the dish.
Baby Boy and Little Monkey loved the Kalamar Tava which was a garlicky grilled Calamari. We also ordered a large Manti which surprised me! This yogurt drizzled dish had home made steamed dumplings filled with ground lamb and fresh mint. I need to learn how to make this one at home!
On a whim we also ordered the Meze Tabagi which was an appetizer sampler that had fairly regular stuff except for the whipped red caviar. Yes…whipped with cream and EVOO! It was slightly dense and quite chewy but I couldn't stop myself from eating it.
If you're in the Upper West Side and looking for a spot that's within walking distance to Times Square (about 18 mins walk) or Central Park (about a 10 minute walk), make it a point to visit Pasha. Maybe you'll bring me back some dessert since I didn't have any!