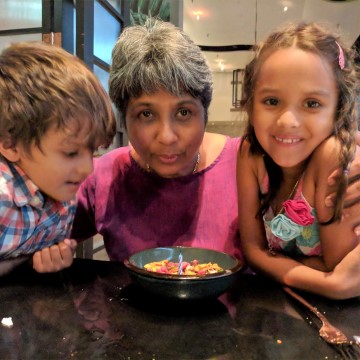 Once a year we all go out for a vegetarian dinner in honour of my mom's birthday. While she's a vegetarian, the rest of our family is comprised of carnivores so this is a special treat for her. Over the years we've visited quite a few vegetarian restaurants in Toronto but this was the first time we hit up a vegan restaurant in Toronto. Last year when I tried to get us a table at plant based Planta I was unsuccessful but this year, with a bit of planning I managed to get a table for the 6 of us (4 adults 2 kids) on a Thursday evening to celebrate my mom's 60th birthday in downtown Toronto.
Given that it was a school night, we arrived for an early dinner at 5:30 p.m. however, my mom received an emergency phone call (just some Bed & Breakfast stuff – nothing to be alarmed about) that saw us waiting on her for a good half an hour. Not once did we feel rushed by our server and I was grateful. I had attended various events at Planta but this was the first time I actually had a chance to order off their a la carte menu and given that I'm TRYING to eat healthier, I was pretty happy to be in a spot where I could eat most of stuff (they do have some gluten-ous items on the menu). Chris on the other hand was not impressed (as you will see in a bit, he ordered a salad!) but I personally think he was a bit cranky and sick that day.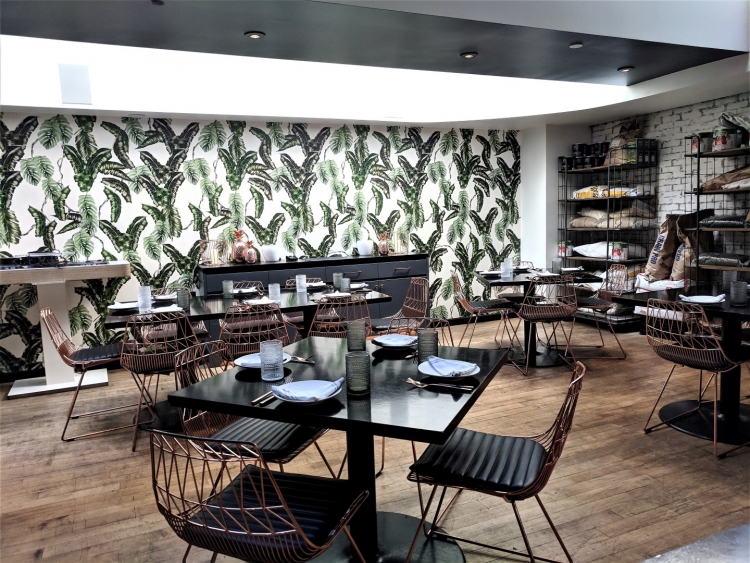 I love the decor at Planta and it was the perfect spot for a celebratory dinner. We did struggle to find dishes the kids would enjoy, but I knew that going in so it wasn't a surprise. This evening was about my mom being able to have an entire menu featuring items she can eat!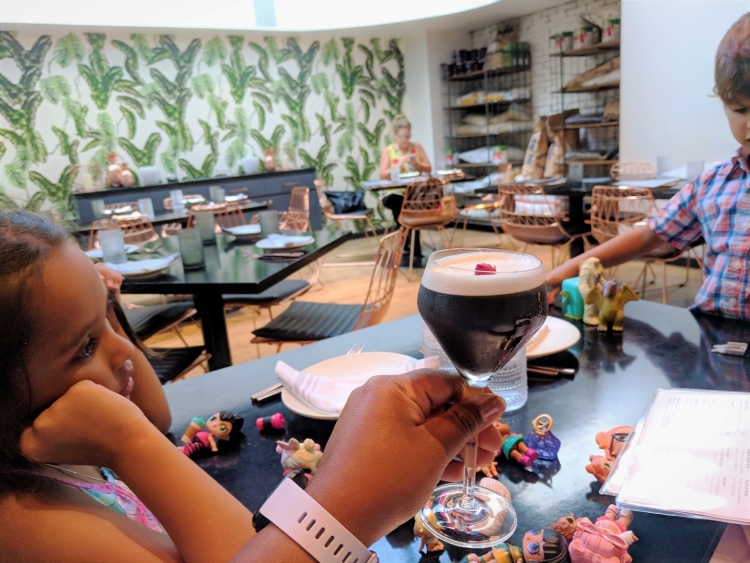 We started the evening with cocktails. You know me, when I see whisky and charcoal on a menu, I had to order the Whisky Sour! Despite spotting craft beer from Collective Arts and Beaus on the menu, Chris abstained on this occasion opting for a cold pressed juice (I told you he was sick!). The cocktails here are innovative, well balanced and made with care. When my mom didn't love the one she ordered, they were quick to replace it with one she did. You can definitely expect attentive service here!
As you may know, we Sri Lankans love our coconut so the Coconut Ceviche was ordered. Marinated in lime juice, chilis, and onion, the young coconut was topped with sliced avocado and smashed organic corn nuts, and then dotted with a date puree. It was magical and one I'd gladly enjoy every single day.
Baby Boy actually loved the Cauliflower Tots which were a mix of cauliflower and potato. They were dotted with truffle soy milk, vegetable oil mayo and truffled nut "parmesan". I didn't have to feel bad about indulging in this one! We loved it so much that we ordered another plate for him!
We also ordered the Queso Dip which was a vegan cheese dip made with black beans, pickled vegetables, and cashew crema. Little Monkey totally ate all the  tortilla chips that came with this dish but luckily, I didn't mind eating the dip by the spoonful! I need to get cashew crema into our fridge!
Two of my favourite appetizers were the Stuffed Mushrooms ( it had artichoke hearts, spinach and cultured tree nut butter) and the Jack of All Tacos (stuffed with guajillo jackfruit, tomatillo salsa, pineapple chutney and lettuce). The tacos had a light kick to it that gave it a lovely flavour and having recently discovered Jackfriut tacos in Sudbury (I don't like the jackfruit curry Sri Lankans make), I hope to master the art of making them at home, one day!
Don't worry, we also ordered the Truffle Fries for the kids and Baby Boy stole a couple bites off my dad's Planta Burger which didn't look impressive but tasted "just like meat" I was informed.
My mom and I decided to share our dishes and we ordered the Singapore Fried Noodles (it had peas, mushrooms, tofu, curry sauce, broccoli, coriander, green beans, crispy noodles, goji berries and thai chilis) and the Thai Noodle (green papaya, carrots, cucumber, mango, nori, tofu, shiitake mushroom, lime, ginger, basil, coriander, mint, puffed rice, cashews, goji berries and chili dressing). I personally preferred the Thai Noodle because of the many textures and flavours in that bowl.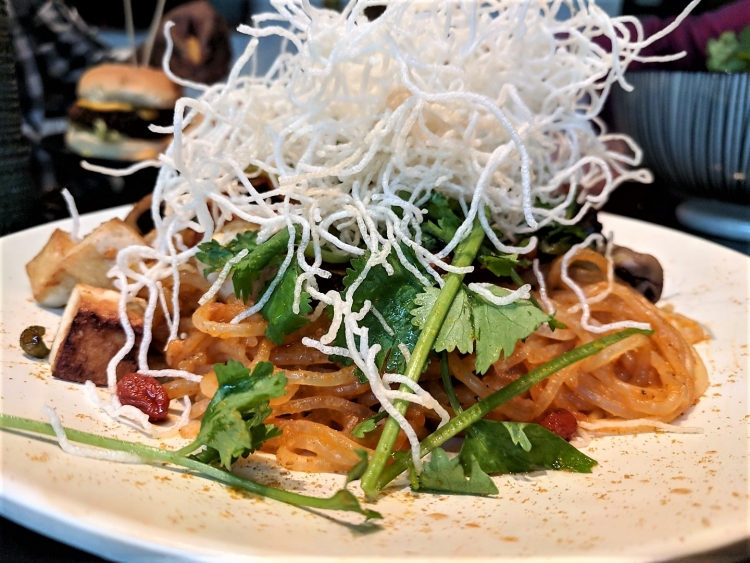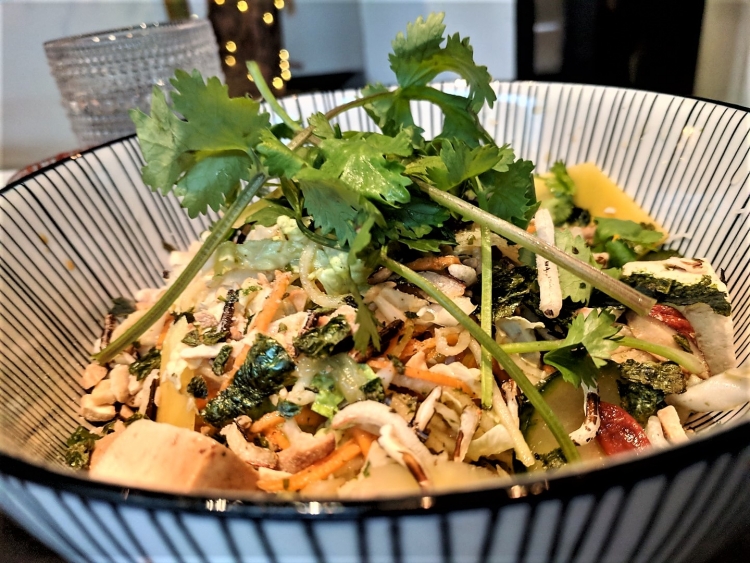 At this point we were all pretty stuffed but I had a surprise for my mom. On arrival I spoke to our server and asked him if they did anything for birthdays. Halfway through the meal he asked me which dessert I'd like for my mom and I chose the Chocolate Terrarium and it was decadent! The kids were more than happy to help my mom with the mission and our server didn't even charge us for the dessert (always a nice gesture!). Check out my mom's surprised face!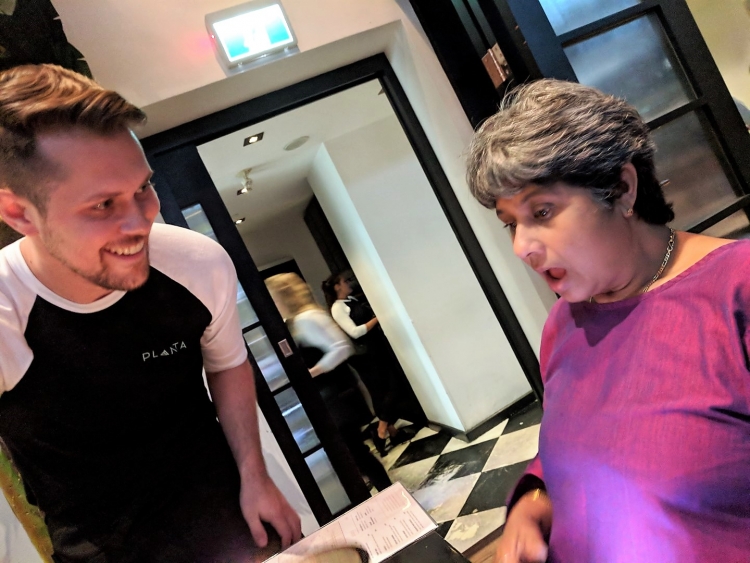 Dinner was a bit long and we only left at 9 p.m. but we were also late in ordering our first course, asyou may recall. Definitely plan for a leisurely 2 to 3 hour meal here and get ready for a delicious vegan meal in downtown Toronto.