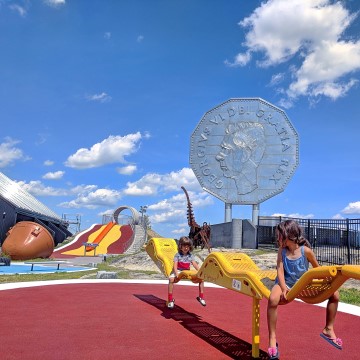 School is out for the summer, but that doesn't mean that the learning has to stop. Our kids have learned a lot during our travels. While most of our family trips aren't centered on education, our recent road trip to Sudbury, Ontario definitely had an informational focus. Though I have heard Sudbury mentioned over the years, I always thought it was a boring small city, not a place to find excitement. Happily, I was wrong.
Last month, while at a travel conference, I met with the team at Sudbury Tourism. When they began telling me about the museums that can be found there, I grew intrigued. It actually sounded like a place my kids would LOVE. Four year-old Baby Boy and six year-old Little Monkey not only learned many things, they actually had a lot fun and kept asking to go back to quite a few places we visited. Sudbury is a 4.5 hour drive from downtown Toronto and is a great summer trip if you're looking for a fun, educational getaway. I wouldn't recommend Sudbury for a culinary exploration or luxury getaway, but it is a gem of a place when it comes to museums that provide hands-on learning opportunities for kids of all ages.
Disclosure : Our visit was hosted by Sudbury Tourism but, as always, opinions are TOTALLY ours!
Things to do with Kids in Sudbury
Dynamic Earth : You can easily spend 3 to 4 hours here, and there is plenty to do for explorers of all ages. This earth science centre is mainly known as the home of the Big Nickel, which towers over the amazing Science Park playground on the museum grounds. Given that our kids were 4 and 6 during our visit, they were more interested in the shinny minerals and interactive displays than the demonstration mine 7 stories down. However, Chris and I found the tour of the mine to be pretty fun, and it's very cool to see (literally – it's an amazing place to escape the heat).
The tour was an hour long and it is dark and damp down there so I would recommend closed-toed shoes and a hoodie, but it was a highlight of our trip. Our guide was great with kids and even us adults learned our fair share about Sudbury's mining history and the tools used over the years. They recommend the tour for those 4 years and above and while our kids were engaged for most of the tour, they did say they didn't enjoy it as much as the other parts of the museum. That said, ask them about mines and they'll tell you!
Upstairs, the kids really enjoyed the dress up area and the interactive sand table and the best part was that they didn't even realize they were learning all about how weather patterns occur! SCORE! Don't forget that there's a unique playground featuring construction machinery that kids can climb on and it's also a great spot to get a picture with the Big Nickel as your backdrop (this was OBVIOUSLY the kids' favourite part!). The space is quite stroller friendly should you need one and there is a cafe onsite if you need some replenishment.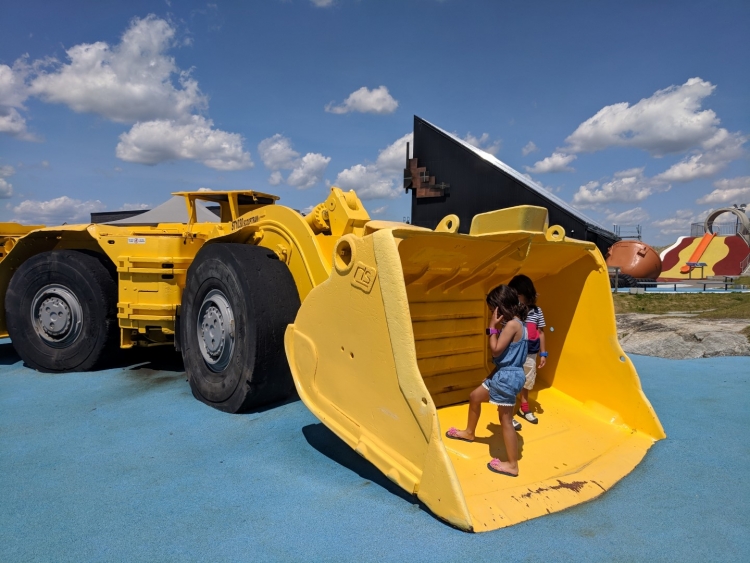 Science North : Be sure to plan an entire day at this science centre, and come back for a follow up if time permits. Science North is absolutely fantastic on so many levels! For toddlers and preschoolers, there is the TD Canada Trust Treehouse area, which is small but sufficient for that age group. For the slightly older, there is everything from shows to live creatures and walls to run into! Each year there is a special exhibit, and if they are all like the Beyond Human Limits one we experienced, that's truly fantastic!
If your child loves collecting rocks and bugs, be sure to take them with you as you visit Science North because there is a Nature Exchange Program where kids can trade those bugs, rocks, shells, sticks (anything from nature really) for points which can be used to "buy" various things. We didn't take any with us but we did a quick scavenger hunt that provided the kids with enough points to get some gems, including a small ring!
I really liked the mix of animated shows and traditional displays (did you see all the stuff we did there in the video above?). The animals on site were a treat to see and learn about. Keep an eye out for the daily events schedule so you can catch all the live shows and demos that are available. We spent 5 hours here and could have stayed there for another 3 or 4 if time permitted! We even returned one evening to watch an IMAX show! The space is very stroller friendly and if you have very young ones it may be a good idea to sneak in a nap for them in the stroller while the older kids play!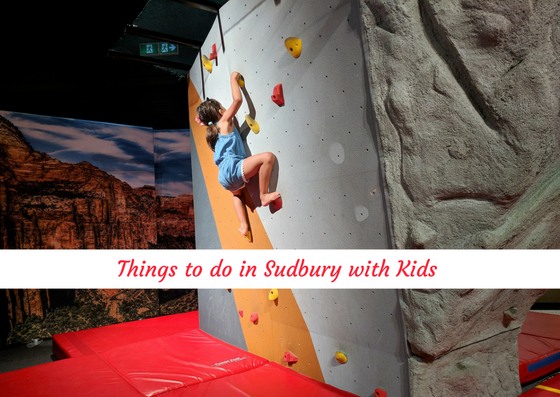 Northern Ontario Railroad Museum & Heritage Centre : If you have a train lover, this spot is about a 20 minute drive from downtown Sudbury and you can expect to spend two hours here. The museum house, constructed in 1916, is one of the oldest surviving homes in the community. The centre provides a historical account of the mining and lumber industry along with an overview of how the railroad affected Sudbury's prosperity. We got to see the mining room, which features tools that were used in the mines, and we also had a chance to show kids the telegraphy room, where they were puzzled by the workings of the two way radio!
The main museum not only has a cute little tea room but also a playground for kids. However, the main attractions are the trains. Kids will enjoy walking through a train that was once a school, while I was impressed at how the community of volunteers helps maintain the lush gardens. We took a quick 2 minute walk down the road to the Heritage Centre, which has a jail in the basement (no longer used, of course) where kids can have their fingerprints and mug shot taken. There's also a train simulator in a small room where the kids got to guide the train and ring the whistle the comforts of a chair. Another highlight was getting into a fire truck and playing with all its buttons. Note that the museum and heritage centre are only open from May to September.
Ramsey Lake Boardwalk : This boardwalk is a perfect spot to wind down your day down. We found a playground at Bell Park but we mainly hung out at the small, shallow beach. The kids were able to splash away while Chris went for a run around the park and I enjoyed the sun setting in the distance behind the kids. Truly peaceful.
Grab Ice Cream and Treats : If your kids have been extra good, you may want to take them to Flurples and grab some ice cream. The Birthday Cake option was so huge that we had our kids split one! Flurples only accepts cash but if you head over to the vegan and gluten free bakery Beards next door, they'll let you put it on your card (they also have air conditioning and you can bring the ice cream and have it inside). The family also owns Tucos Tacos across the street, which is the only vegan joint that has truly impressed carnivorous me!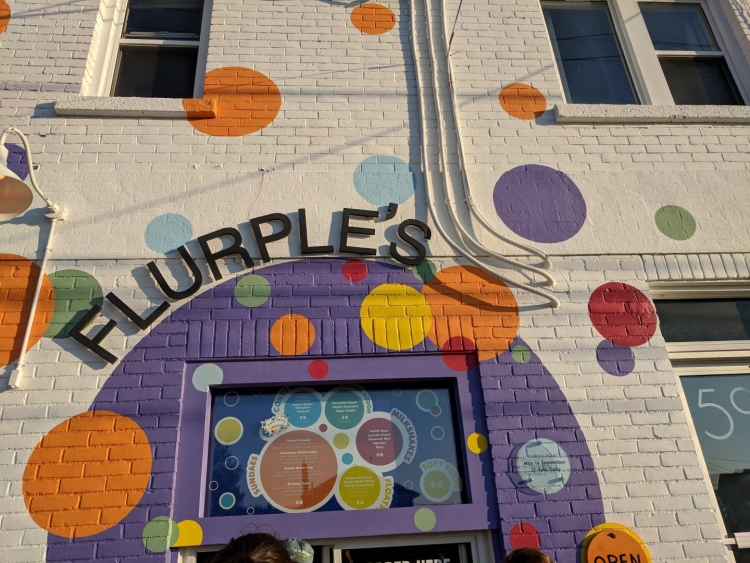 Fun for Parents in Sudbury
You know that we like to mix in a bit of fun for ourselves no matter where we go and luckily we found a couple things to in Sudbury even though we had the kids along!
STACK Brewing : This is a small cabin so while it isn't very entertaining for kids, you can swing by and grab a few fine brews to enjoy at your hotel room. However, there is a toilet planter outdoors that will entertain the kids if you fancy having a pint during your visit!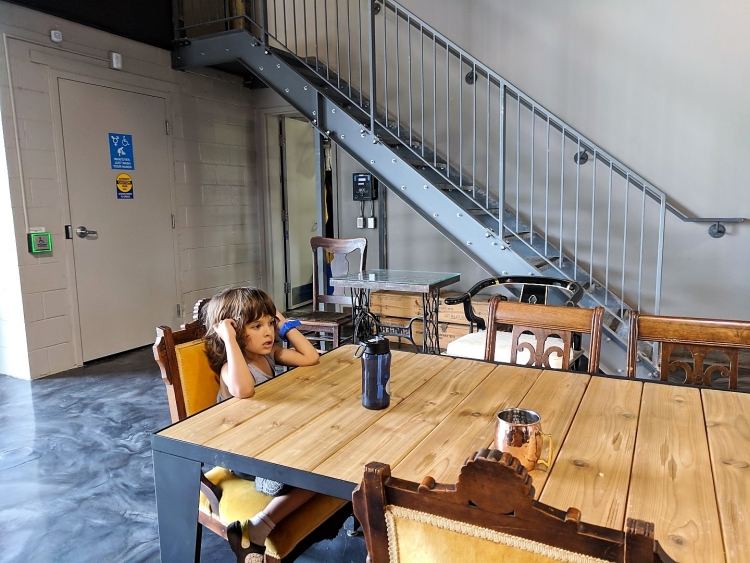 Crosscut Distillery : We enjoyed our tour of this craft distillery (you can pre-book the tours for a quick overview), but what I'd recommend is to swing by for a drink. The owner has young kids and so they've ensured that there's a change table and a table where kids can chill and colour while parents enjoy the distillery's fine gin. They have vodka and whisky as well, but their gin is what won me over.
Sudbury's educational experiences are one of a kind. If any of your road trips take you towards that end, I highly recommend a stopover so you can experience them for yourself. I definitely see us heading back that way, especially once the kids start learning about science and history in grade school. For more inspiration on things to do in Sudbury, check out the Sudbury Tourism site.