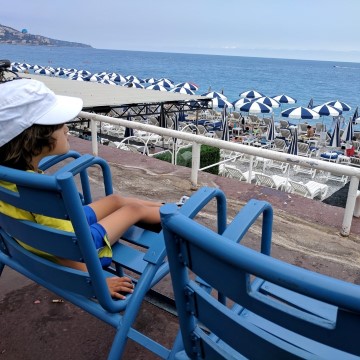 When we decided to venture into the South of France after our explorations in Spain, Chris knew he had to visit Cannes and so our plan was to head to Cannes after Marseilles. Exploring the French Riviera with kids seemed like a perfectly French experience!  Given that it was  mid June (and a hot one) we found it difficult to find a GuestToGuest home in Cannes and discovered a lovely seaside spot in Cagnes Sur Mer. We had never heard of that city before and is one of the many reasons we liked our GuestToGuest experience, it enable us to discover new places during occasions like these. Unfortunately for us, we had a mishap in Marseilles but luckily for us, our host in Cagnes Sur Mer was quick to respond and was able to let us arrive at her home a day early as her mom lived in the next town over and she was able to offer us her entire place. This is how we ended up basing ourselves in Cagnes Sur Mer for 3 nights as we explored Nice and Cannes from there. Many imagine visiting the French Riviera to be glamours and very expensive but we managed to do things on the cheap and found plenty of free activities to keep us amused.
Cagnes Sur Mer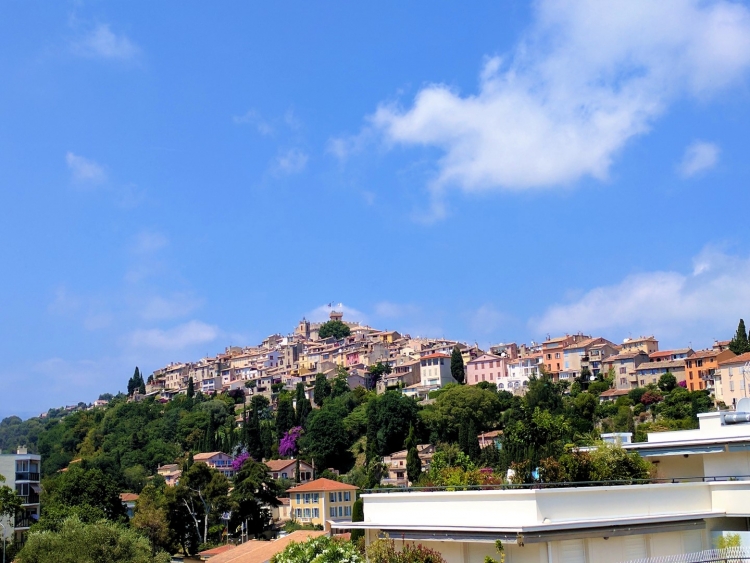 Located a two hour drive from Marseilles and 20 minutes away from Nice and Cannes (smack dab in the middle of the two hot spots in the French Riviera), this seaside city is known for its pebble-ey beach, a famous horserace track and the Ploygone Riviera shopping mall. You'll need to know that Cagnes-sur-Mer seemed to have three areas; the seaside with cafes and resorts; Cagnes town just behind the resorts which was home to SO MANY hair salons; and Haut-de-Cagnes, the medieval village.
For us, after a walk along the 3.5 km beach the Château Musée Grimaldi lit up night is what caught my attention. It looked so picturesque and I made it my mission to get us to the very top of the hill. Little did I realize how hilly the village of  Haut-de-Cagnes really is! We could have taken a bus up but the lack of patience saw us walking uphill as we timed our visit for sunset. The cute little alleys and the main square were perfect spots for the kids to run around at and I highly recommend making a reservation at your restaurant of choice. We spotted quite a few chic dining spots but they were all booked up but luckily for us, we did find a gem of a spot that really was our saving grace! While we didn't get around to visiting the Parc Phoenix or Fondation Maeght, they were on our list of spots to take the kids to. If you're visiting the French Riviera, Cagnes Sur Mer is definitely a more reasonably priced spot to have as your home base but if you're looking to lounge by the beach all day, this might not be your best bet. If, like us, you're looking for a walk-able area with reasonably priced accommodation options and great public transport to nearby cities, this is perfect.
Nice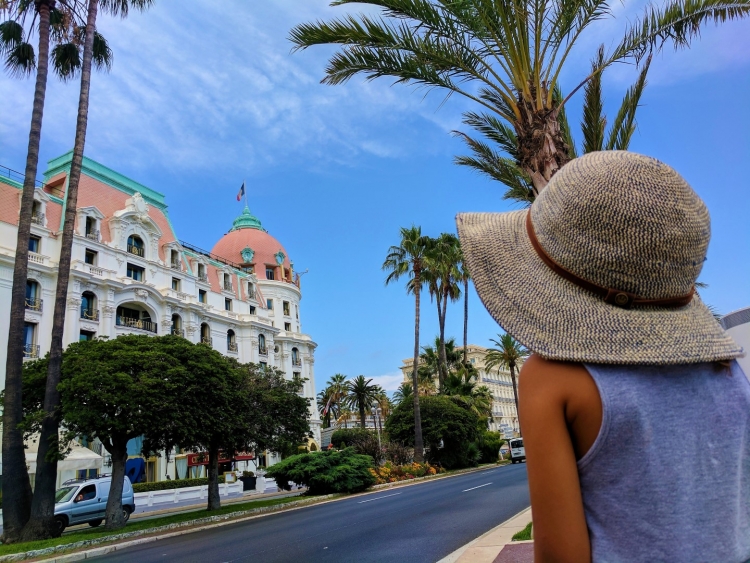 We only spent a day here but was told that we'd need atleast 3 days to explore the many attractions. We were getting very tired during our half way point and so, we spent our day lounging by the beach and seafront promenade by day and then walking through the pedestrian zone by evening as we explored the old town and newer area. From what I gathered, the way to explore Nice is to stop at cafes and restaurants between walks along the promenade and dips in the beach. Mission accomplished! Friends told us that we HAD to visit the museums in Nice but I knew none of us would have the patience for that at the stage we were in. There's always a future visit!
Cannes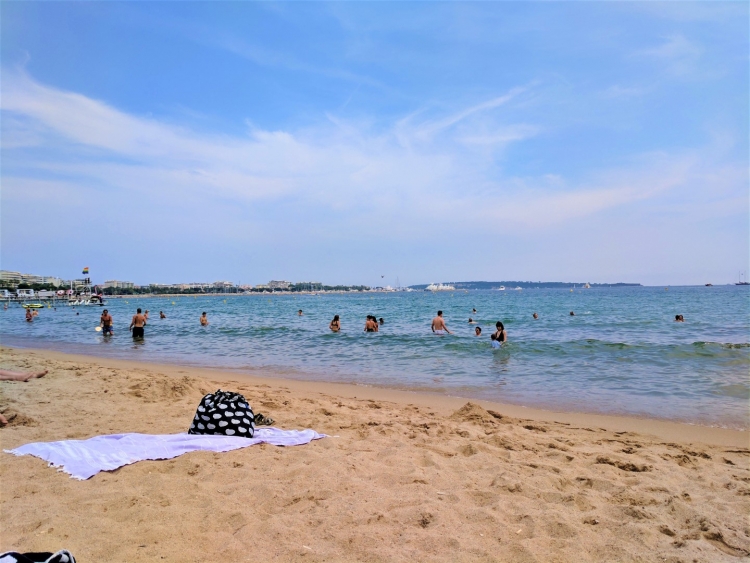 With Chris being a movie fanatic we knew we had to visit Cannes. Little did we know that the Cannes Lions International Festival was happening at the same time! As we strolled the beachfront La Croisette, Little Monkey insisted that it be an ice cream and swim day. Mind you it was ice cream and swim day in Nice the day before as well…it was crazy hot and the place was busy so we didn't argue. We did hop on a SnapChat Ferris wheel and caught some nice views of Cannes.
At the end of the day, our visit to the French Riviera was a lazy one, filled with long walks on the beach and eating ice cream. Not a far cry from the images of celebrities holidaying in the French Riviera that adorn the magazines we read back home, now is it? For those thinking of exploring the French Riviera with kids, my advice is to figure out what you're after. If it's a beach vacation, know that there's only a handful of sandy beaches, so bring those water shoes! If it's for a mix of beach and culture, then you'll be satisfied no matter where you go. From quieter spots like Cagnes Sur Mer to more happening Cannes, there's something for every family and for every budget.