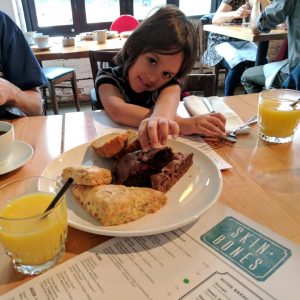 Weekend brunches are pretty great. Whether you are a student in need of a hearty meal after a late night, a parent looking to take the kids out on a Sunday morning, or a retiree seeking the perfect breakfast dish, a weekend brunch can be the most satisfying meal of the week. In my university days, I always used to enjoyed a good caesar, a bit (ok a lot) of bacon with some scrambled eggs, and upwards of four coffee refills, but since moving to Toronto, I have discovered so much more. Sure, most places still offer bacon and eggs, and those remain great side dish options, but look, for example, at the options available at Skin + Bones, a family run spot in Leslieville that offers fresh, farmer direct meals to the table. If you're looking for a Toronto brunch spot with kids this is one for the books.
Disclosure : We were guests of Skin + Bones but, as always, opinions are TOTALLY ours!

Spicy Fried Chicken, Corned Beef Benedict, and the Skin + Bones Burger are included in the options. To walk into Skin + Bones and settle on just bacon and eggs almost seems like a waste of a Sunday morning, especially since you can add house smoked bacon and 2 eggs served any style to any of the above entrees. We visited Skin + Bones a few weeks ago, brought the kids along, and sampled a good portion of the menu, and it was mighty good. Mighty large as well, but more on that in a minute.
The restaurant has a unique layout. One walks in the front door (and there's stroller parking) to a well lit front section where diners can sit by or close to the big picture windows along the front of the building. This front area has room for roughly 40 diners and was bustling the day we arrived. To avoid a wait, I would recommend reservations. While on the way to our table, I then noticed the large 30 ft cocktail bar along the centre of the restaurant that looks to be a great place to spend an evening. In back, dozens of additional seats are available for the dinner crowd that seeking a more romantic vibe and so the restaurant provides the perfect atmosphere for morning diners and evening patrons alike, with separate menus for both crowds.
Our first order of business was to settle on a Brunch Cocktail. I went with the Caesar after reading the first ingredient, scotch bonnet pepper infused vodka, while Yashy went with the 980, named after the restaurant's address on Queen Street East, and featuring gin, blood orange, and lime. I am admittedly not a cocktail expert but do recognize when a drink is prepared with some care. Both beverages were excellent, reinforcing my desire to spend an evening at the grand bar.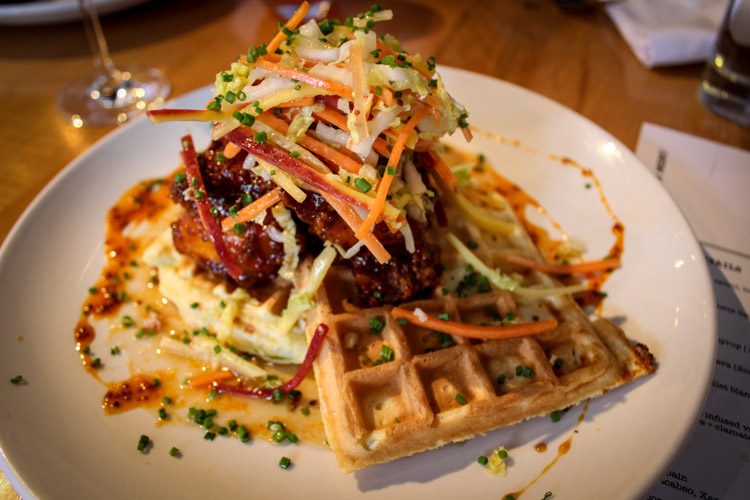 Our food order included the aforementioned Spicy Fried Chicken, Mushrooms on Toast, and S+B Burger, as well as the Bakery Plate, which offers a combination of the house baked goods available at the restaurant. The chicken had been the first item I noticed and when it arrived, it looked good. I think the picture says it all. The coleslaw on top was inventive and tasted great and the chicken was perfectly prepared. I should also mention that the baked goods were a big hit at our table. The kids nibbled on everyone one and devoured the chocolate cake before I even tasted it.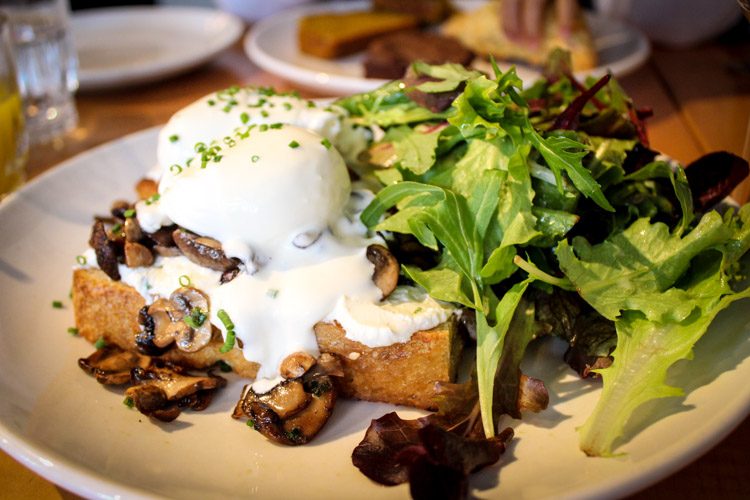 The mushrooms on toast had blue cheese so I passed on most of that dish, but happily scooped up a few stray mushrooms that weren't smothered in the whipped goat's cheese. The accompanying salad had a great tasting vinaigrette dressing as well, and the dish also came with poached eggs. I ate what I could but happily saved my appetite for the S+B Burger, which was one of those burgers that needed to be cut in half and essentially eaten sideway due to the thickness of the final concoct. The burger consisted of a sizable patty topped with truffle aioli, bacon, and a fried egg. (I ordered it without the cheddar). The thing was delicious. Now, I will admit that I have never eaten anything containing truffle aioli that wasn't delicious, but this was an especially good use of that magic ingredient. The burger also came with some excellent home fries, rounding out the brunch. If this burger needed anything, it would be a bigger bun, but then it might be impossible to eat the whole thing.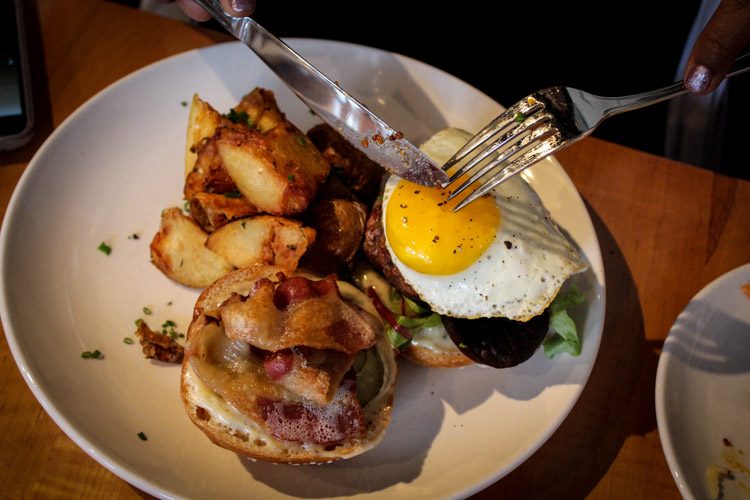 The kids had a great time too. The low seating meant that they could sit contently and easily reached for more food in between burst of colouring. A few other families there that day seemed to be enjoying themselves as well. The great atmosphere and large area in the back also make the venue an ideal place to host events, for which which Skin & Bones is available. Its Leslieville location, right on Queen East, makes it an ideal stop for the growing number of families living in the area. Check it out and let us know what you think!