Yes I did it. I took the baby and toddler to Spledido and it was a charming experience. Splendido has been on my bucket list for ever because any one I know who dines there comes out saying that it's the most fabulous meal and experience they've ever had. It's one of those spots that I plan to indulge in a full tasting menu WHEN I win the lottery, because I want to go all out and cough up about $500 per person with fine wine pairings and all. For now, I ventured in with my parents and the kids during their Summerlicious promotion last month.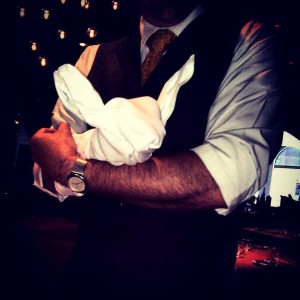 On arrival they graciously whisked away our stroller and brought us to our table. Baby Boy sat in his high chair and Little Monkey is now at the stage where she refuses a booster seat so she sat in a regular chair. I couldn't help but nod and smile at the parents next to us who had a little one sleeping away in a bucket seat. Splendido offers a stool to stash away your purse and any other items so that came in handy when I had to dig through my diaper bag purse to find snacks to entertain Baby Boy with. I was pleasantly surprised by how friendly our server was. He has a little kid of his own so he knew exactly what Little Monkey needed. When he told her he'd let her meet a little bunny if she ate her lunch, he got us all hooked! Boy were we surprised when he came out and formed a little bunny with a napkin! Very cute.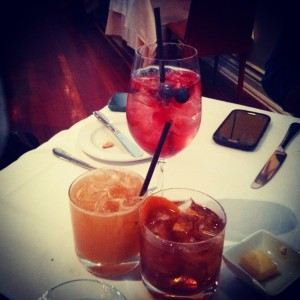 Since there were three of us for lunch we got the chance to order one of everything! Isn't it nice when that happens? Keep in mind that we visited during Summerlicious so there were set options on offer. We also ordered an extra dish as the frites came recommeded by the server, yes the Salt Vinegar Mayo was darn good! My dad started off with a Sangria and I got a Manhattan whilst my mom ordered an orange juice. Little Monkey brought her own milk so we were all set!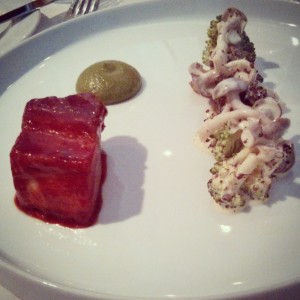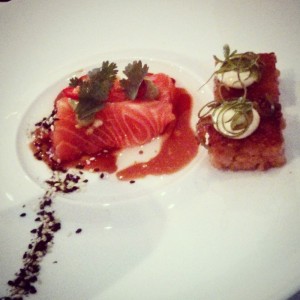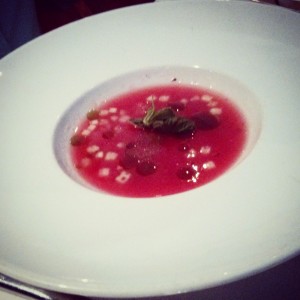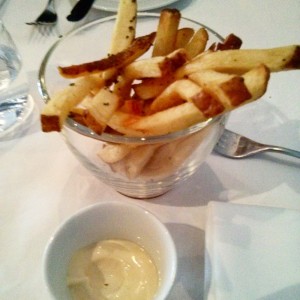 First course favourite was hands down the Salmon Sashmi which had Crisp Rice, Coriander & Jalapeño. It was melt in your mouth buttery goodness. The Pork Belly and Brocolli Salad was also good and surprisingly it was the buttermilk dressing that really made this dish. My mom, being a vegetarian ordered the Watermelon Gazpacho and there was a good zing to it with a bit of  Jalapeño and Black Olive Tapioca. All in all a good start to the meal, especially given that Baby Boy and Little Monkey were on their best behaviour.
To follow up my dad enjoyed his Yorkshire Pork Chop which came with a delicious Corn Bread and Vanilla Creme Fraiche. I opted for the Sea Bass which was a generous portion compared to the other dishes. The Radish and Daikon salad was a lovely complement. Sadly this is when things took a bit of a turn. My mom (who enjoys a healthy dose of salt, much to my dismay) said that her dish was too salty. You can imagine my scepticism – a spot held in such esteem could not possibly err. Sadly her Black Truffle Agnolotti with Ricotta, Nutmeg  and Parmigiano Reggiano was indeed quite salty. Our server was quick to apologize and they brought out quite the fancy looking Bolero Carrot dish for her. She was quite pleased at that!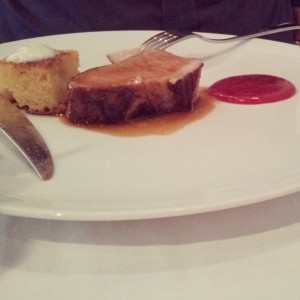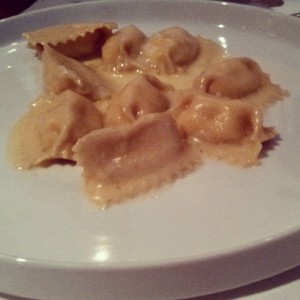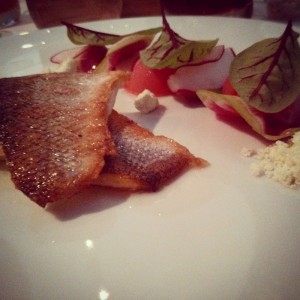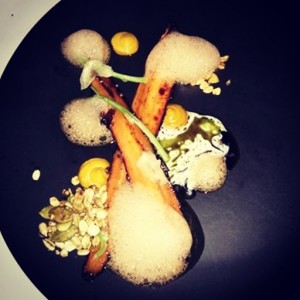 For our sweet ending I ordered the T&T Stilton which was to come with a tabasco Meringue, Apples and Celery. What I received was a brie (without notice) but it did pair beautifully with the plain Meringue, Apples and Celery. Who'd have thought cheese and merringue go hand in hand! I was looking forward to the Stilton but I later found out that the delivery had not come in and they had forgotten to inform our server of the new dish. My mom's Apricot Mousse with Brown Butter, Lavender, White Chocolate and Thyme Ice Cream was definitely licked clean as was the Strawberry Panna Cotta which came with Strawberry Sorbet  and Frozen Lime Marshmallow.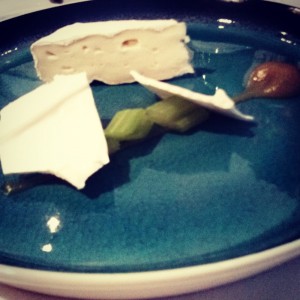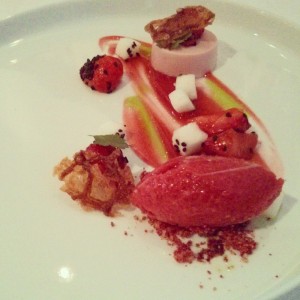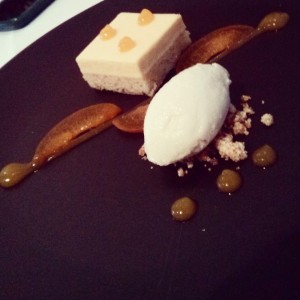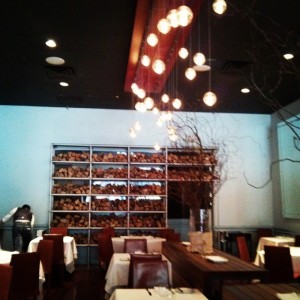 The food was good minus a few hiccups and yes portions were a bit small, it was expected. I knew going in that to get a full Splendido experience one has to come in during the regular run. There are certain spots I'd rather not visit during special promotions and Splendido is on that list. My visit confirms this thinking! We had a great time and they're super kid friendly which was very surprising. If you're planning a visit with a little one, do it! Perhaps aim for lunch or brunch and it's bound to be a fabulous time.