I love celebrating random holidays…or days that should be holidays. Any excuse to gather friends for some laughs I say! After a two year hiatus we decided to celebrate St. Patty's day again this year. For those of you looking for some  last minute inspiration here's what I will be dishing out at our party this Saturday.   Invite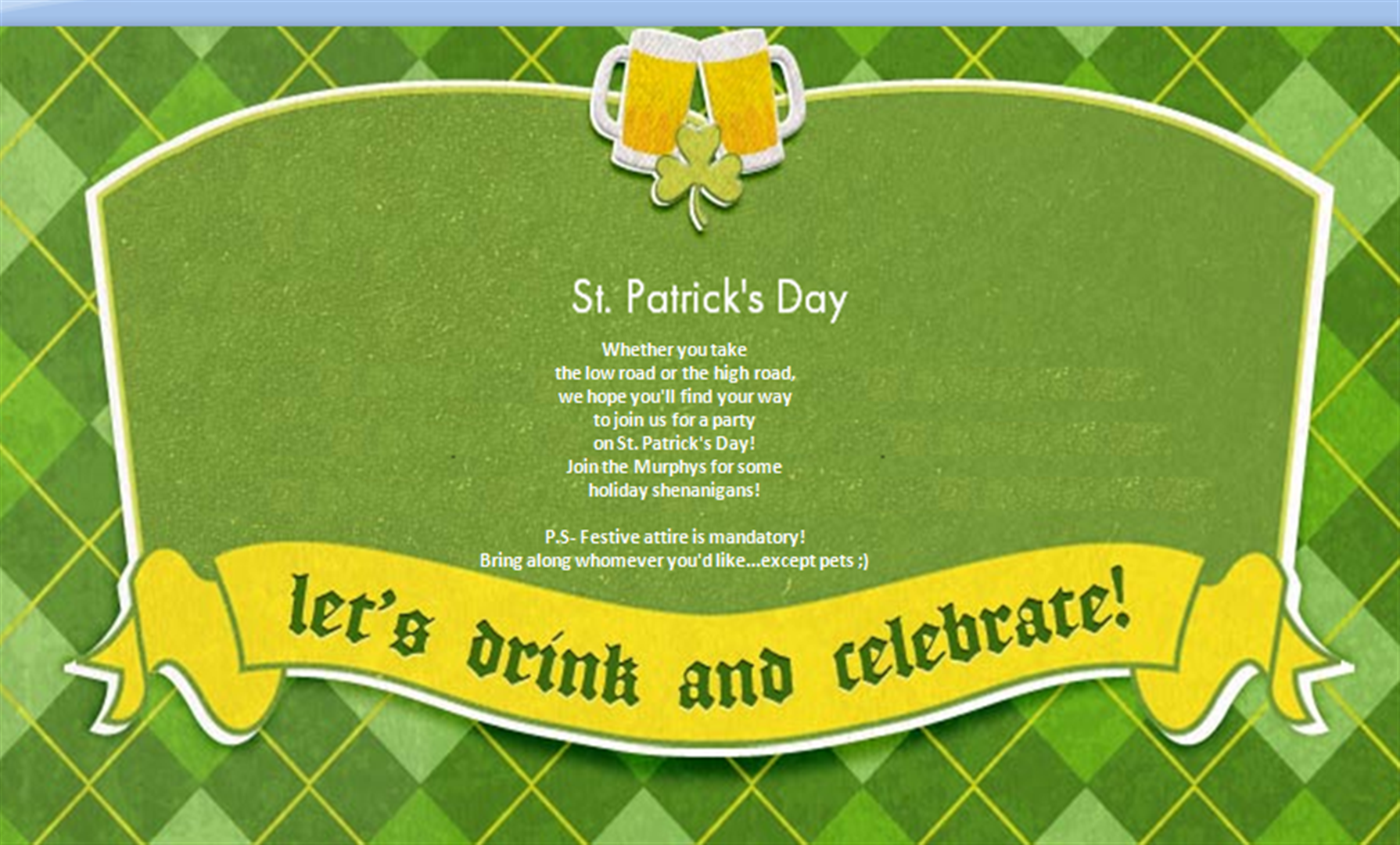 I rely on evite for my invitations, it's easy and since I've been using it for years it has all the addresses I need. They've linked with Facebook now so it's easy to invite any new friends as well. A simple theme or a photo or two from previous events always makes for a festive invitation. As always be sure to provide info on dress code! More often than not we get some peeps who don't dress appropriately so we always have some fun trinkets  to don on them. More as punishment than anything else.         Decor The dollar stores  are my best friends when it comes to party decor. It's also a good idea to check out post event sales for next year eg: some stores tend to discount their decorations the week after St. Patricks or Valentines e.t.c -STOCK UP! I ensure I get reusable items for the most part. Below are the items on feature this year! I bought a pack of shamrock stickers (multipurpose you will soon see!) and leprachaun cut outs. I also have some shot glasses lying around…great decor pieces especially if you plan to put some green sweets in them!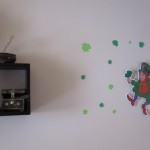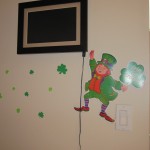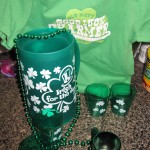 Food For parties I like to serve simple finger foods, less mess and no dishes for me to clean up. So here's what we'll be featuring …all in keeping with the green theme (even though not particularly Irish by any means). Also scattered throughout the house will be green sour gummies, Lime and Watermelon (green coloured) jelly beans, most likely in the shot glasses. Jello shots : My recipe involves half water, half booze. This year it will be lime jello with ABSOLUT vodka and a dash of Sour Puss Apple served in mini cups. Note : I ended up making Margarita jello shots featuring  1 cup water, 3/4 cup Olmecca Tequilla and 1/4 cup McGuinness Triple Sec per packet of lime powder. Rice Krispie treats : There will be green food colouring involved and if I'm adventurous, they will be in the shape of a shamrock or pot of gold Mini cup cakes : Rainbow cupcakes with vanilla frosting, sprinkled with green sugar and sugar shamrocks (Bulk Barn is a great spot to pick up food decorations at) Mini pizzas : Take english muffins, split in two, spread some tomato sauce (I like to make my own with a bit of chilli), slap a slice of cheese and a slice of green bell pepper (when properly sliced they turn out to look like shamrocks! Guacamole : It's green. It's easy.  I shared my recipe here. Serve with Spinach chips Pea crostini : Another easy green recipe. Make humus with chick peas and toss in some green peas and blend. Serve with baked spinach tortillas. Voila! Note : I got lazy and just served it in a dish with pita chips…I wrote a wish on the top though. Points? Potato and spinach samosas : Use mashed potatoes, blend in some spinach and wrap in samosa paper. You can brush some green food colouring on top for added flair.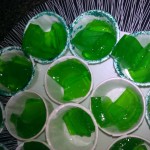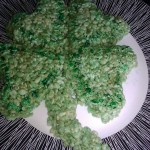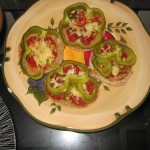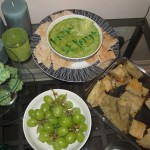 Drink Whiskytini : 2 oz. Jameson Irish whiskey, 1 oz. sour apple Schnapps, 2 oz. white cranberry juice Irish flag shot : 3/4 oz. McGuinness crème de menthe green, 3/4 oz. Carolan's Irish cream, 3/4 oz. brandy. Layer each ingredient in the  order it is listed (green first) using the back of a spoon so that the layers stay intact.   Attire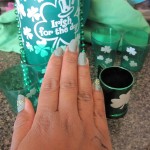 The entire family will be decked out in green… along with green beads, fun tattoos and nail polish (for myself!). Remember that pack of stickers I mentions? I'll be sticking some of them to our shirts as well. Pictures will be added after Saturday (sorry no dress rehearsals here!).. but here's a sneak preview of my nails!           I know pictures for the food and drink are much needed…promise to update. In the meantime I took inspiration from many sites, some of the food and drink pictures are pinned here. Happy St. Patty's everyone…do share  some of your favourite recipes.  I might even try to serve them at the party if it's simple and needs no utensils! Sláinte !