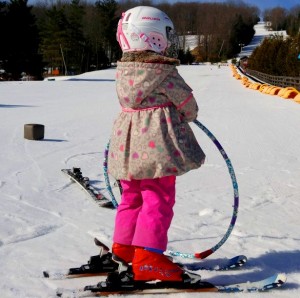 The last time I went skiing, I was in high school. I remember the day pretty well. My father and I, along with my sister, decided that we would test out the moguls of Fanny at Ski Ben Eion, a small ski hill about 20 minutes outside of Sydney, NS. We made it about 3/4 of the way down the tricky slope when my Dad took quite a tumble. My sister and I went over to help him up and knew immediately that something was wrong. He didn't seem to know what had happened and so my sister made her way down to the bottom of the hill while I stayed with him. Eventually I got him back into his skies and we snowplowed our way to the bottom, but not before he had asked me about 3 dozen times where my sister had gone. Roughly every 30 seconds, he would ask again.
That was my first exposure to someone with a concussion. I had played a lot of hockey but never at a level where guys would get their bells rung by a 220 pound defensemen. A fellow classmate once told me that he got hit so hard playing hockey once that his parents had to wake him up every hour through the first night to ensure that he didn't slip into a comma. Dad didn't seem to be that bad; he remained conscious through the fall, and aside from his maddeningly persistent queries on my sister's whereabouts, he recovered through the day and indicated to us that he was feeling OK the next day, a bit of self diagnoses from the doctor.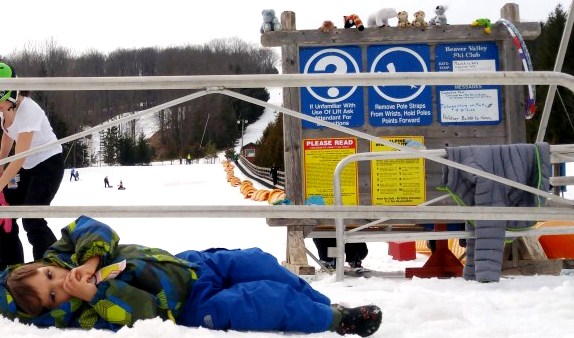 I am not sure if I have stayed away from ski hills because of that incident. Truthfully, I was never much of a fan of the sport, being more interested in teams games like baseball and hockey, but it didn't help that the sport struck me as a little dangerous for a teenager like myself, someone with a bit of a thrill seeking personality who was more interested in skiing straight down the hill as fast as possible rather than applying the basic turning techniques leisure skiers use to cruise down the hill. I figured it wasn't worth the risk when I didn't really consider skiing all that fun to begin with. My concerns seem to be well founded after a series of skiing related deaths in 1997 and 1998, which included Sonny Bono and Justin Trudeau's brother, Michel.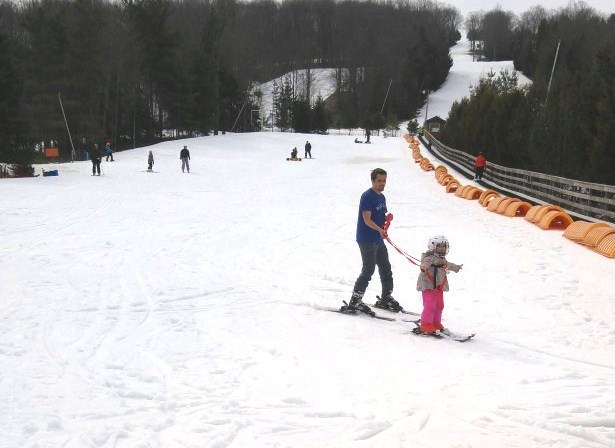 Concerns aside, when my sister and her husband invited us up to the Beaver Valley Ski Club for a weekend getaway (on a strangely warm weekend!), we happily accepted the offer. The ski club is a short two hour drive from Toronto, about halfway between Orangeville and Owen Sound. Renting a cabin for the winter, my sister and brother-in-law, along with their two kids, both under 5, made their way up to the ski hill every weekend. My sister has been an avid snowboarder since high school and her husband is an excellent skier, and they see the sport as a great way to participate in extracurricular activities with their kids, rather than dragging themselves to the rink for early morning hockey practices, where they would be spectators only. In our own way, Yashy and I have taken a similar approach. I'll be spending the next few years trying to keep my kids from forming an interest in hockey, but will respect their wishes if they do. Our focus has been to instill a sense of adventure through world exploration in both kids. Whereas we like to travel together, my sister and their family get their family bonding in at the ski hill.
When we made it to the hill on Saturday morning, we signed up for a day pass for Yashy and I. The kids were free but we did need to be invited as guests to use the ski hill as Beaver Valley Ski Club is members only. The Little Monkey and I went to get fitted for rental skis while Yashy decided to hold off until the afternoon so that she could keep an eye on the Little Man. We made our way to the bunny hill where my niece and nephew were already getting in a few runs. My nephew is almost 5 and can easily make his way down the hill already. My niece, just past 2, spent the morning in a harness as her father guided her down the hill. He was keeping her steady, but with some help from a small ski clip that attached to the ski tips to keep the two skies together, she was able to glide down the hill somewhat independently without falling. I was rather amazed.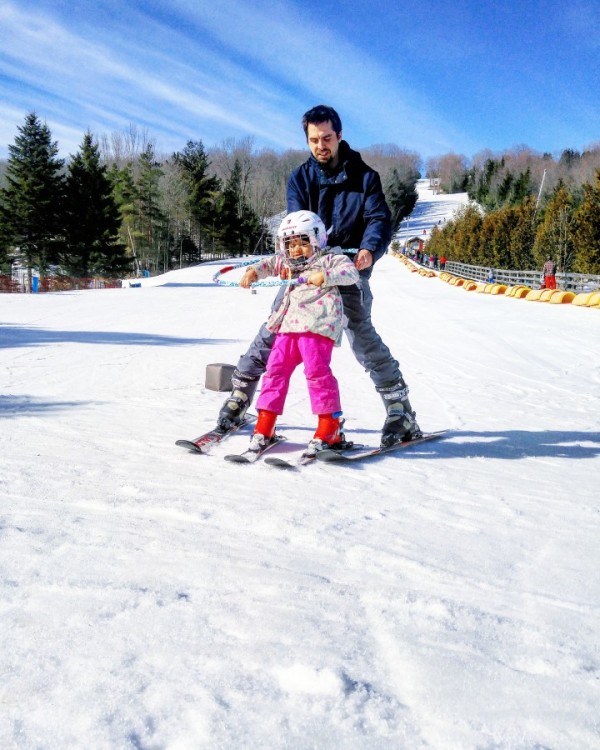 As for us, after shaking off 20 years of rust with a quick jaunt down the hill, I decide to see if the Little Monkey could make her way down the hill with the harness, and she was quite anxious to give it a try. The first run consisted of me holding her waist as I slowly snowplowed my way down the hill, but she loved it and became determined to make her way down the hill without me holding her. On the second run, I held her halfway down the hill and then let her glide on her own down the lower half of the hill. She was almost to the bottom when her weight shifted too far to the right and she fell over. On the third run, we started at the top and she fell about three of four times on the way down, but I could tell she was getting it, and she was certainly enjoying herself. We took a break to get some lunch and during three afternoon runs, she was able to make her way down the hill without falling. After several unsuccessful attempts at skating, she seemed to be far more comfortable on the ski slope. It definitely helps that snow is softer than ice. We had also borrowed the ski tip clip my niece had been using and that made a big difference. Overall, it was a success foray into to skiing. I even took the little man down once, holding his waist as he glided down the hill. If he wasn't so tired at the time, he might have demanded multiple runs as well.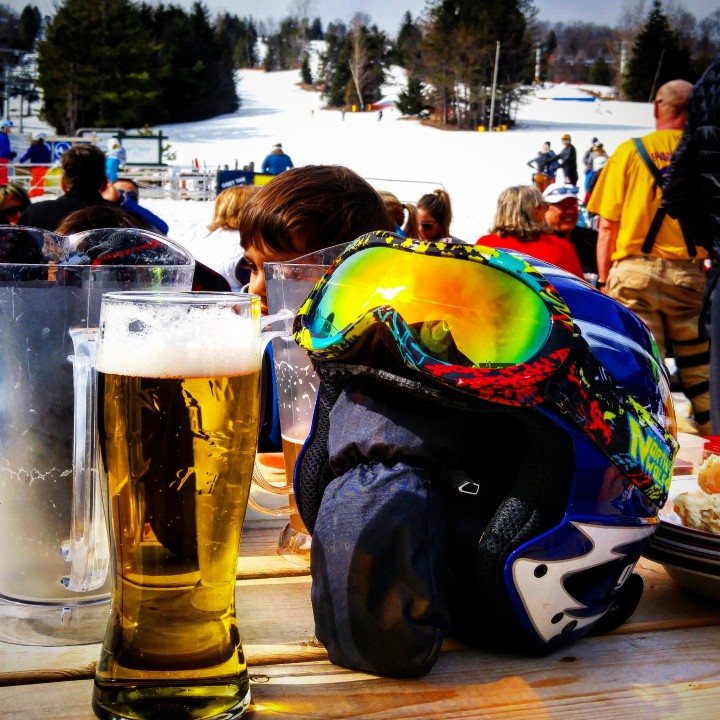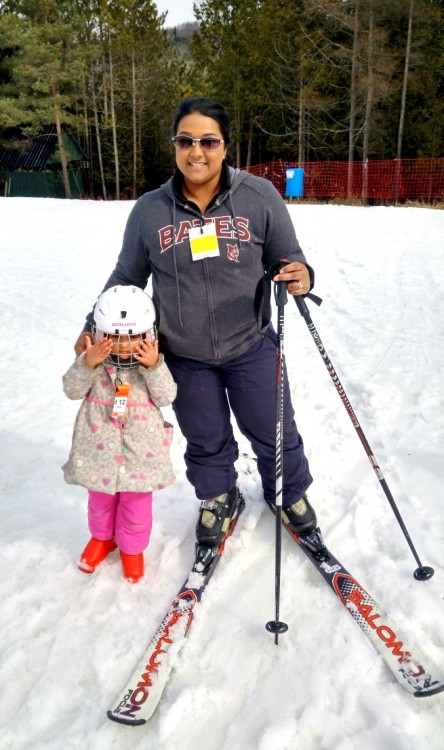 Turns out the the Little Monkey has more skills on the slopes than her Mom as well. Yashy took a turn with the ski boots and skis I rented and the over-sized equipment left her little opportunity to stay on her feet. We tried a little gliding at the bottom of the hill but Yashy couldn't get the hang of the snow plow on her first try. If we make a return visit next season, I'll make sure she adds a successful run down the bunny hill of the Beaver Valley Ski Hill to her bucket list. On this trip, her focus was on the après ski activities and the stunning sky at night out in Grey County!