I love hosting tea parties … besides I need an excuse to use the good china I received for the wedding! Recently a friend of mine asked me for some simple recipes as she was planning to host one herself. Figured I might as well share with my all forty  regulars (to date). Btw tea parties are great for intimate baby showers!
I host  no more that 8 people for these intimate affairs and place setting is the most important element at a tea party. Mind you I like keeping things simple, so I only lay a small plate along with the basic cutlery (spoon & fork), topping it off with a glass for water, the tea cup, a champagne flute and a small napkin. Remember only put out the items that you need, if it's all finger food forget the cutlery! Atleast that's how I roll.
Mandatories for the table could include : sugar bowl, milk jug, butter, water jug, teapot, coffee pot, hot water pot, tea bags etc.
The below recipes are  a mix of stuff I've experimented with. I do not follow recipes so please do play with the quantities to suit your taste.
Drinks (for 8 )
Mimosa: Fill half the champagne flute with orange juice. Garnish with a strawberry. Minutes before sitting down top each glass with sparkling wine, sparkling grape juice or soda. I play around with colours by using cherry soda for red mimosas or blue cream soda for a greenish hue.
Kashmiri Tea : In a large pot  boil 10 cups of water, add 8  Earl Grey or green tea bags, 5 cardamon pods and a small cinnamon stick to the pot and boil for about 30 mins. Add a table spoon of rose syrup, 2 tablespoons of sugar, a pinch of  salt, half a teaspoon of baking soda and continue boiling for 5 mins. Add a cup of milk. Strain mixture into teapot and add a  handful of crushed almonds or pistachios. Serve hot. ( I like to keep the tea boiling till halfway through the meal at which point I jump into the kitchen to pour the tea into the pot and bring it out.
Depending on the guest,  I always put a few flavoured tea bags with a pot of hot water and also serve some coffee.
Food  
Devilled Eggs : Boil 4 eggs for about 10 minutes. Peel and let cool. Once cooled, cut in half and scoop out the yolks. Mix the  yolks with a pinch of salt, pepper, 2 tablespoons of mayonnaise, half an onion chopped finely, a clove of garlic chopped finely and a pink of paprika. The paste can then be spooned into the egg white shells. Feel free to use a piping bag to get a nice pattern. You can add some food colouring to match your theme/decor.
Sandwiches : You can have a lot of fun here, ensure you cut the edges off and split each sandwich into small triangles, squares or rectangles. Some easy savoury sandwiches include, tuna salad, chicken salad, beetroot, egg salad, cucumber and cheese.
Tuna crackers : These bite sized pieces tend to disappear quickly. Mix a can of tuna fish with a tablespoon of mayonnaise, a pinch of paprika, salt and pepper, half an onion finely chopped and a half a teaspoon of curry powder. Mix well and spoon onto mini salt crackers  (love the little round ones or small toast breads).
Sweets : No tea party is complete without some sweets. Biscuits, scones, cake, peanut butter  sandwhiches, fruit tarts are all easy crowd pleasers.  I also try to serve some fruit with some whip cream for the health freaks at the table.
Pink Popcorn : Mix as many pink marshmallows you have (a bag?) with a tablespoon of butter over low heat till they melt and become gooey, if it's not pink enough for you go ahead and toss in a drop of food colouring. Pop a bag of microwave popcorn and mix into the marshmallow goodness. Once mixed, lay them on  a flat baking sheet and bake at 375 degrees for about  15 mins.  mmm nom nom.
These are some of my go tos. Remember that you can pretty much serve anything you want as long as it's bite sized, mini, tiny, little & cute.. you get the drift.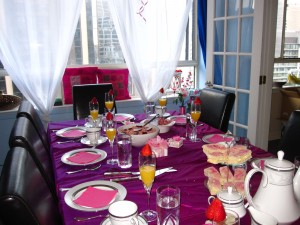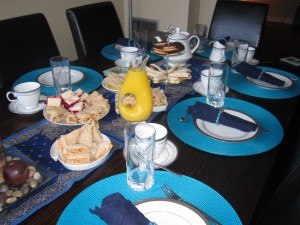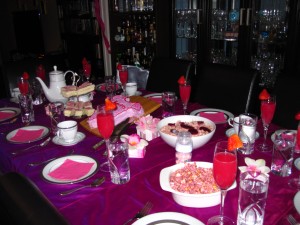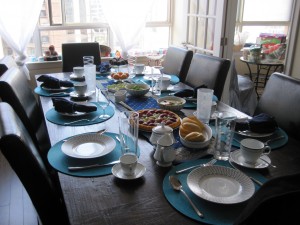 .