Not sure where Moose Jaw is, let alone what things to do there? Don't worry, I found myself in the same predicament when my mom asked me to join her on a girls' trip to Moose Jaw. You see, she had a course to attend in this Saskatchewan city and she was very excited about a geothermal spa. However, she wanted some company to explore all the best things to do in Moose Jaw when she wasn't in class. In the past, she would have traveled alone, but now that she's older, she prefers having company "just in case something happens." I joined her on this adventure, and although we've traveled together many times before, it had been decades since it was just the two of us. Similar to traveling with kids, I had to make some adjustments, like limiting walking distances between places and planning for frequent bathroom breaks. Nevertheless, we have returned from an enjoyable girls' getaway in Moose Jaw, pleasantly surprised by all the fun activities and delicious food we experienced!
Disclosure : This post is in partnership with Tourism Saskatchewan, but as always, opinions are TOTALLY ours!
A Moose Jaw Momcation
Where is Moose Jaw?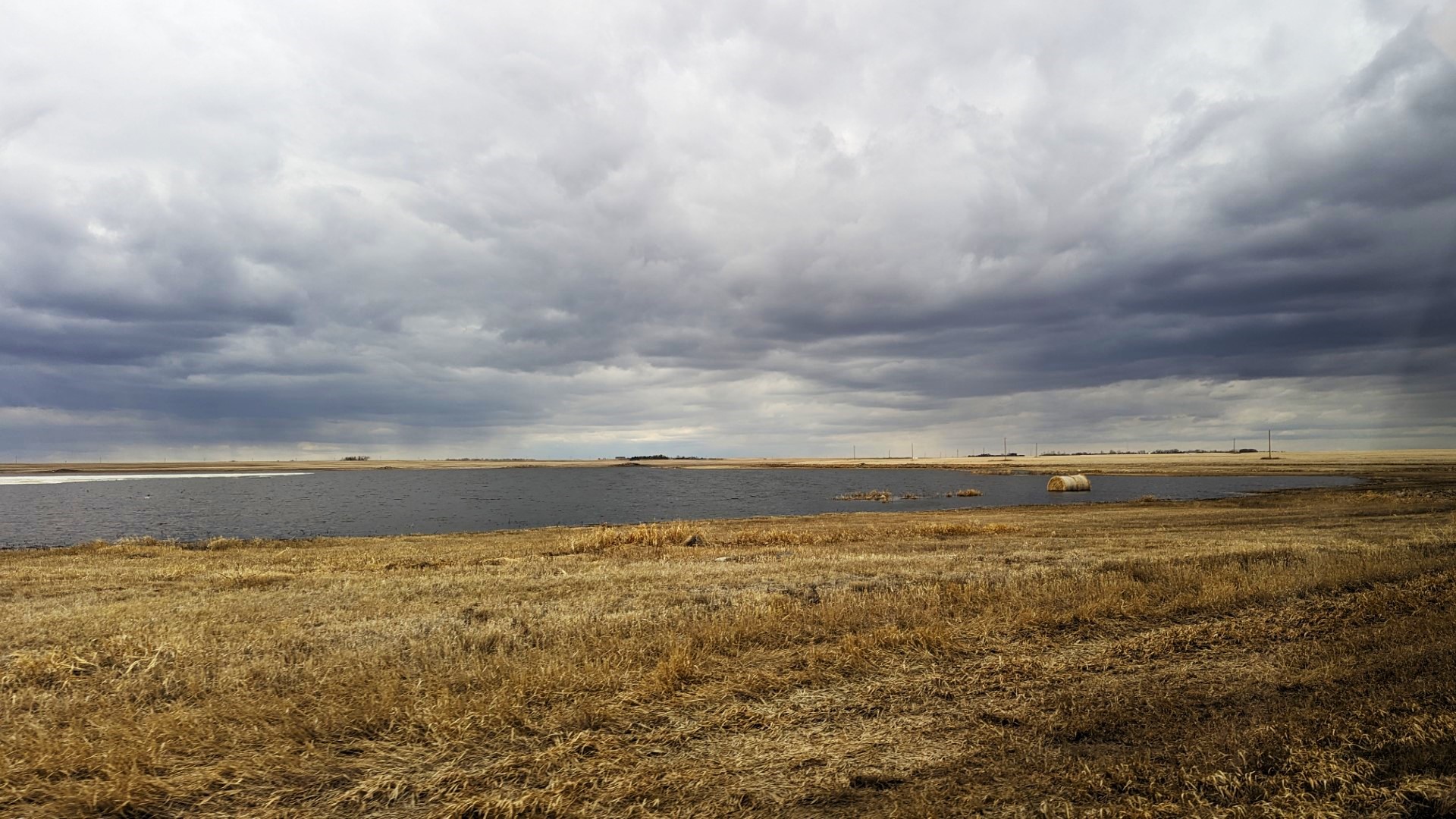 Let's start with the obvious shall we? Moose Jaw is in Saskatchewan, Canada and is the province's fourth largest city. It is located 160 km north of the US border and 65 km west of Regina in a landlocked valley near the Moose Jaw River. And before you ask, no I did not see any moose in the wild (a life goal of mine despite visiting Nova Scotia frequently and having gone to college in Maine).
A local told me that Cree and the Assiniboine people would make their winter encampments in the area back in the day because the valley allowed them take advantage of the warm breeze and the narrowest part of the river gave them ample water access. There are a few theories on how Moose Jaw got its English name – most likely from the Plains Cree name of Moscastanisipiy (which means a warm place by the river) or the word of Moose Gaw (which means warm breeze). The third theory is that the Moose Jaw River looks like a moose's jaw as it runs through the area.
Today the city is one of the most industrialized in Saskatchewan with oil refineries, grain-storage facilities, fertilizer and salt-production plants, flour-milling operations and many stockyards.
How to Get to Moose Jaw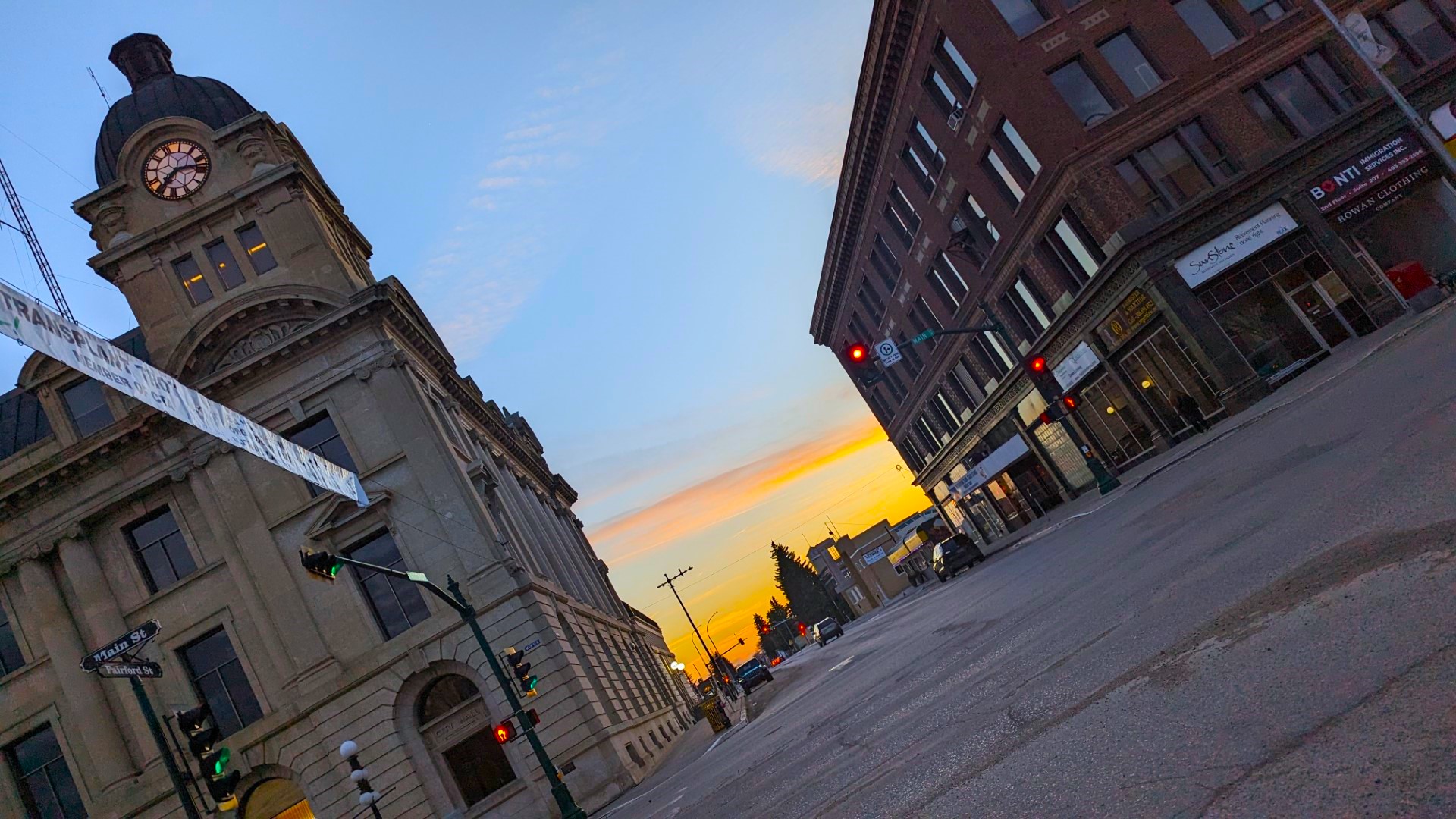 Living in Toronto, we have a couple daily 3.5 hour direct flights to Regina and multiple flights with a Calgary layover. I usually prefer to fly Air Canada but did notice that West Jet flights to Regina were significantly cheaper, especially when booked via Flight Hub. Once we landed in Regina, the airport was relatively small and easy to navigate with bags arriving speedily at the carousel. The car rental company we opted for was also at the airport and we made our way to Moose Jaw within 30 minutes of landing in Regina. It took us 45 minutes to drive from Regina to Moose Jaw on a week day and we encountered minimal traffic. Keep in mind that return direct flights tend to be early in the morning so expect to drive at 4:30 a.m. in the dark for the return journey.
Best Things to do in Moose Jaw on a Girls Getaway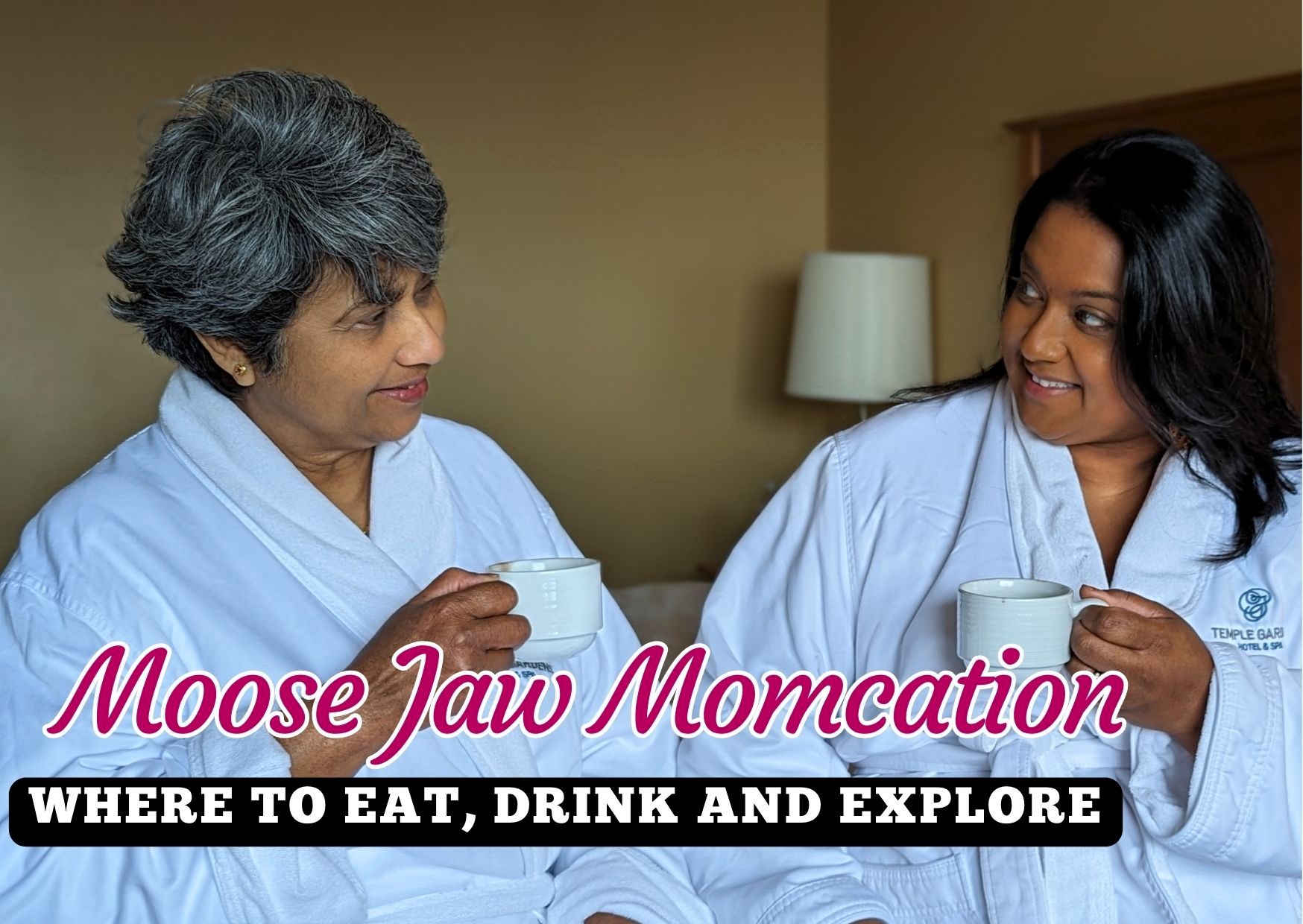 If you're wondering how to spend a weekend in Moose Jaw, we have plenty of ideas. When we initially booked this trip I thought I'd spend most of my time at the Moose Jaw spa hotel but I was so wrong! I was out and about from morning to night during my 3 days in the notorious city. On this mother daughter trip we ate a lot, relaxed a lot and forgot all about the everyday stressors back home. If you're looking for a weekend of relaxation that's also filled with some history and loads of great eats, then Moose Jaw will be a solid backdrop for your next girls trip in Canada.
Explore the Moose Jaw Attractions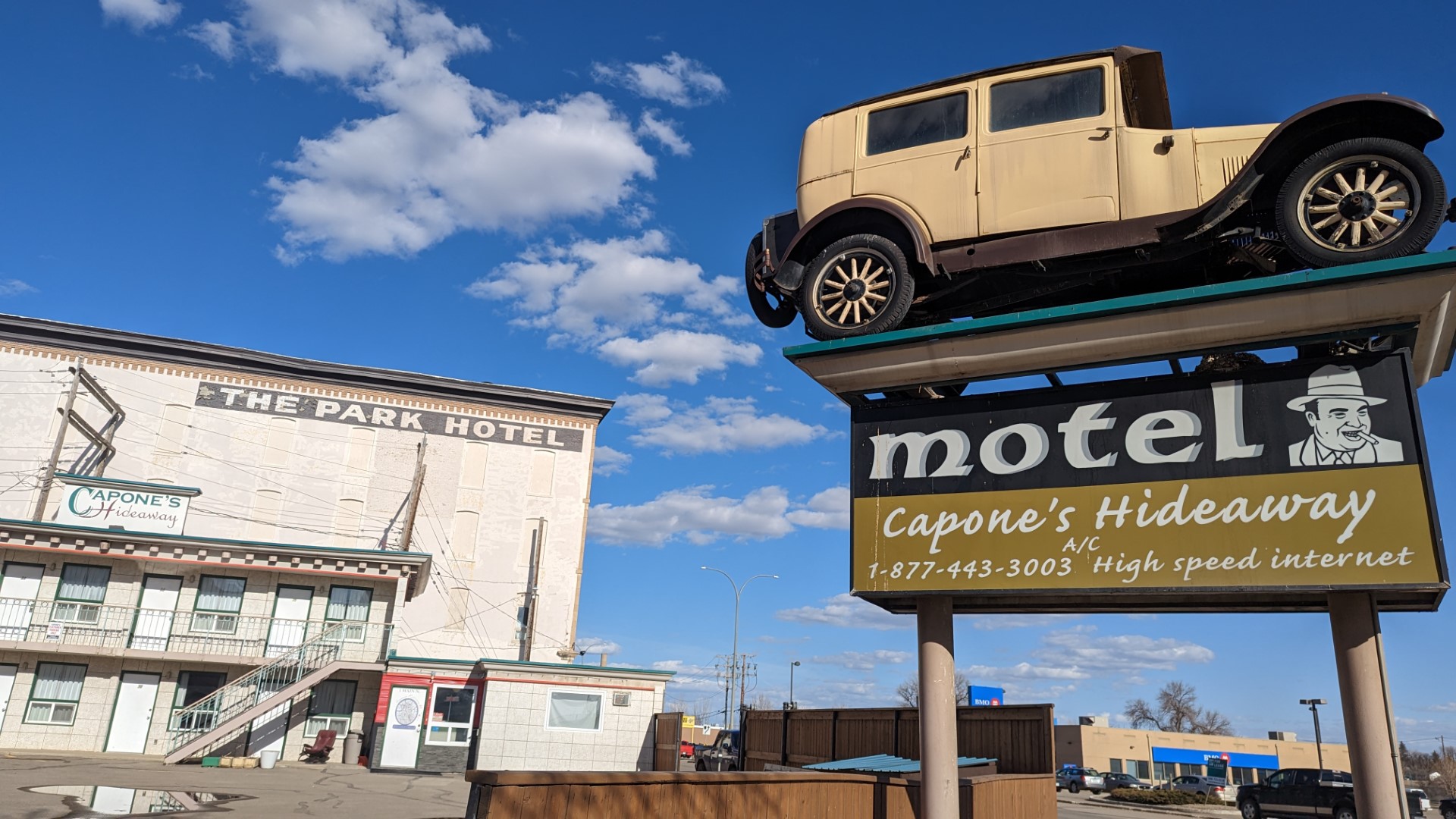 Fair to say that most of us build our vacations around key attractions so I'll start my list of things to do in Moose Jaw by sharing some of the attractions and Moose Jaw tours we participated in.
Tunnels of Moose Jaw : The city was first built in 1882 when the Canadian Pacific Railway chose the area as a hub and soon the connections grew into the U.S as well. There were tunnels built along Main Street when the buildings were first constructed and today you get to tour these tunnels in an interactive experience. This is definitely a history lesson and immersive theatre experience rolled into one and I found it absolutely fascinating. There are currently three tours and I did them all, which is why I think it should be on everyone's list of things to do in Moose Jaw. Despite being a very heavy tour emotionally, the Passage to Fortune was my favourite because it is an important reminder of the unjust hardships encountered by the Chinese immigrants who were forced underground to avoid the head tax and persecution. If you're wondering why Moose Jaw is called the Notorious City, then the Chicago Connection tour will be a good one for you. It's light hearted and the props are amazing. You become a bootlegger during the prohibition era and learn about the possibility of Al Capone hiding out in the tunnels when he was trying to escape the happenings in Chicago. The newest Moose Jaw tour is Bunker 24 which takes you through life in the 1950s between the Great Depression and the Cold War. You are immersed into a 1950s Cold War bunker in this tour. This was very well researched and a full on history lesson which as you can imagine, was a bit too much for me but great for history buffs. My biggest tip when doing these tours is to really look at your surroundings – especially if you appreciate artifacts. My mind was blown by all the very relevant items that depict life back then and I only wish we had a bit more time to look at those elements during the 50 minute tours.
Western Development Museum (WDM): My mom and I spent an hour here but could have spent more time if we weren't rushing back to do another tunnel tour. The WDM has four locations and is the largest human history museum in Saskatchewan with a collection of nearly 80,000 artifacts. The Moose Jaw location focuses on transportation and also gives you insight into the early settlers' journeys. I also learned loads about Saskatchewan's contributions to various inventions and services. If you have kids with you, they'll love running through the trains and the play room. It was here that I learned about the Snowbirds and how the military aerobatics flight demonstration team of the Royal Canadian Air Force are based in Moose Jaw.
Coteau Hills Creamery : You won't find much online about visiting this creamery but thanks to my mom's nature of knocking on random doors, I can share all about how you too can visit this creamery! Located within a strip of containers (Google Maps will get you to their location, not to worry), this creamery is mostly a one man show. This means that no regular tours are offered but you can call ahead to ensure that someone is there during your visit. In our case we lucked out and got a free tour and tasting before purchasing some delicious cheese to bring back to Toronto with us (you know how much I love food souvenirs). The cheesemaker told us that if there's a van outside, there's a good chance someone will show you around! Although it's a relatively small operation, they produce some great quality cheese (buy the FETA!!) and they source their cows milk from dairy farms nearby.
Prairie Bee Meadery : If you want to learn about honey wines this is the place to visit! They have a winery just outside of Moose Jaw where you can partake in full winery tours from spring to fall or if you're only looking for things to do in Moose Jaw, a visit to their store will provide you with plenty of knowledge and samples. Located in the basement of the Grant Hall Hotel, their store carries so many varietals and products. We sampled various mead flavours and sparkling wine during our visit and wish we had time to do their Wine and Dine experience at the hotel which comes with a tour that takes you through the history of alcohol in Saskatchewan.
Sukanen Ship and Pioneer Village Museum : This Moose Jaw attraction is only open from late spring to fall and we missed opening weekend by one week so I did not get a full experience. However, I did walk around to get a feel. The main attraction many would say is the ship on site which is a tribute to the pioneers who settled in this province, particularly a man named Tom who struggled through personal tragedy and local ridicule in pursuit of a seemingly impossible dream to build and sail a ship from Moose Jaw. What looked really neat was the village onsite which is said to have artifacts donated by the community and it tells you the history of the area.
Wakamow Valley : Things weren't in full bloom during our end of April visit so once again, this was a quick visit for us but the locals told us that a hike/walk here is highly recommended during the summer. We saw four playgrounds here and was told that this all season urban natural park has over 20kms of trails and almost 500 acres of parkland. Great for bird watching too.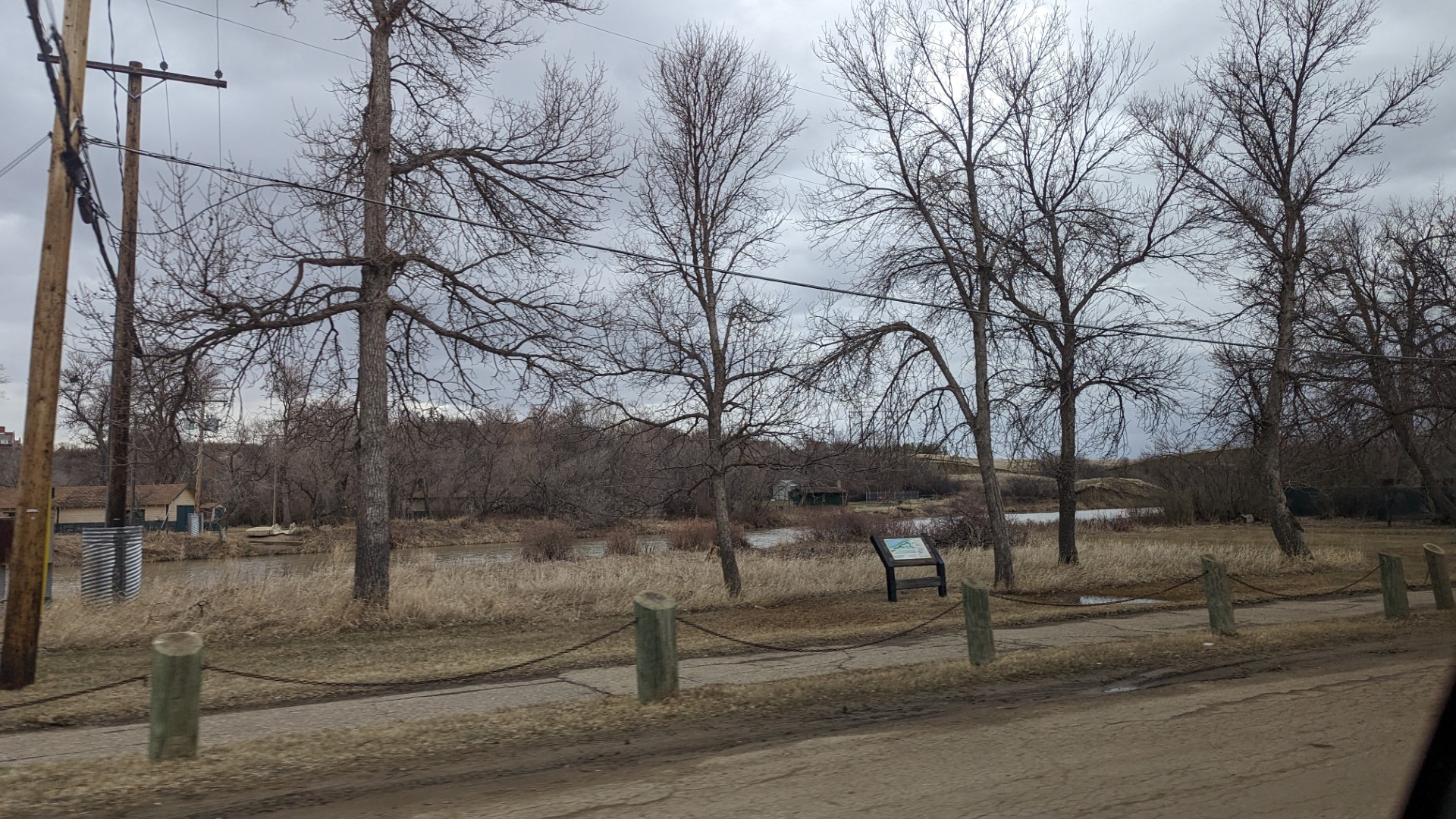 Burrowing Owl Interpretive Centre : This was at the top of my Moose Jaw attraction list even though this was a girls trip and we had no kids with us. Even my mom was disappointed to learn that this Owl sanctuary is only open from the May long weekend to September long weekend. The space was created to help promote the conservation of the endangered Burrowing Owls and there are guided tours during the week.
Mac the Moose : No one can visit Moose Jaw and not take a selfie with Mac the Moose! Located by the Visitors Centre (which was sadly closed during my late evening visit so I wasn't able to take a picture in the jail inside), this Moose recently had to fight a Moose sculpture in Norway for the title of the tallest Moose in the world. Constructed by Saskatoon artist, Don Foulds, using a steel frame covered with metal mesh and coats of cement, Mac stood 32 feet tall until October 2019 when he got a pair of new antlers to maintain his title.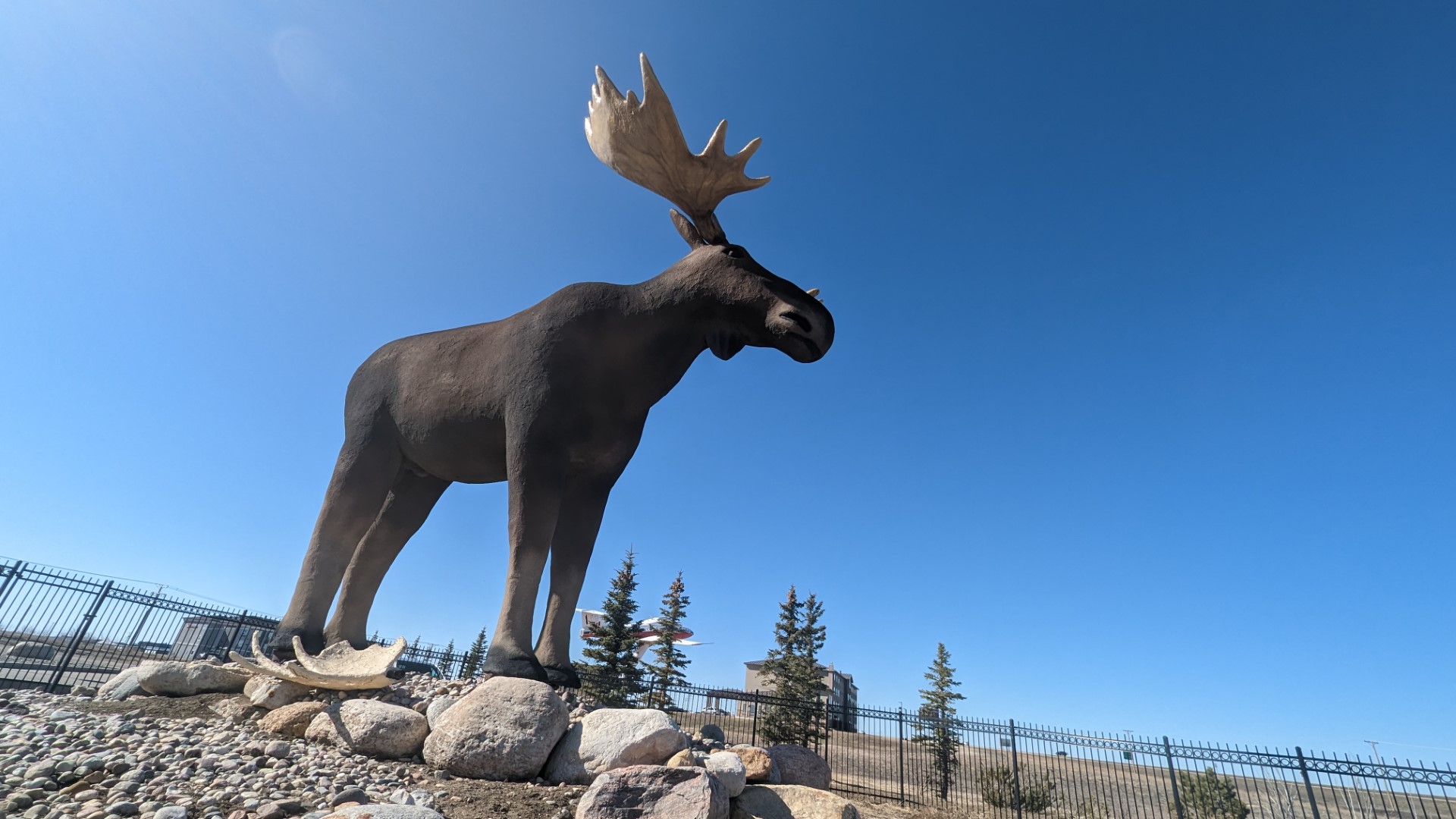 Murals of Moose Jaw : This is perhaps one of the best hidden gems in Moose Jaw. Okay fine, not hidden since it's out in the open but the street art surprised me. The city has hired artists to create art on the sides and fronts of buildings throughout the downtown core. Each one shares a different story about Moose Jaw's history and culture and I made it a mission to hunt down as many of the 47 official murals as I could.
Moose Jaw Trolley Company : This was another Moose Jaw attraction we missed as it wasn't open for the season during our Saskatchewan travels. The Trolley departs from the Visitor Centre and this year there's a new trolley that's not only air conditioned but also has some interactive features. During the daytime there are historic tours through the downtown core in the circa 1911-1932 replica electric streetcar but if you're over 16 years of age and a true crime fan, you'll want the evening Moose Jaw tour that's also filled ghost stories.
Moose Jaw Museum and Art Gallery : I happened to come across this building by chance during my walk through Crescent Park (which you'll definitely want to check out if it's a nice sunny day). This free to enter museum brings to life Moose Jaw's living history. During my visit I wandered around the art gallery and then spent some time in the Heritage Centre which had a Lost Children of the Residential School System exhibit with a selection of the hundreds of pairs of shoes that accumulated on the steps of nearby St. Andrews United Church from May 30th to June 7th, 2021. There were also other exhibits depicting life in Moose Jaw and local celebrations. I'll also mention that the Moose Jaw Library is also next door and it has some lovely spaces for lounging (including a kids area). If time permits, you should also walk around the gardens nearby and see the old tree stumps that have been carved by local artists. I was told that instead of cutting down dead trees completely, they have them carved for the public to enjoy.
Lions Creek Olive Estate : I'm not sure how I forgot to visit this shop, but I did and I regret it big time. I wanted to visit the olive shop to sample and purchase the many oils and vinegars made here.
Get Your Shopping on in Moose Jaw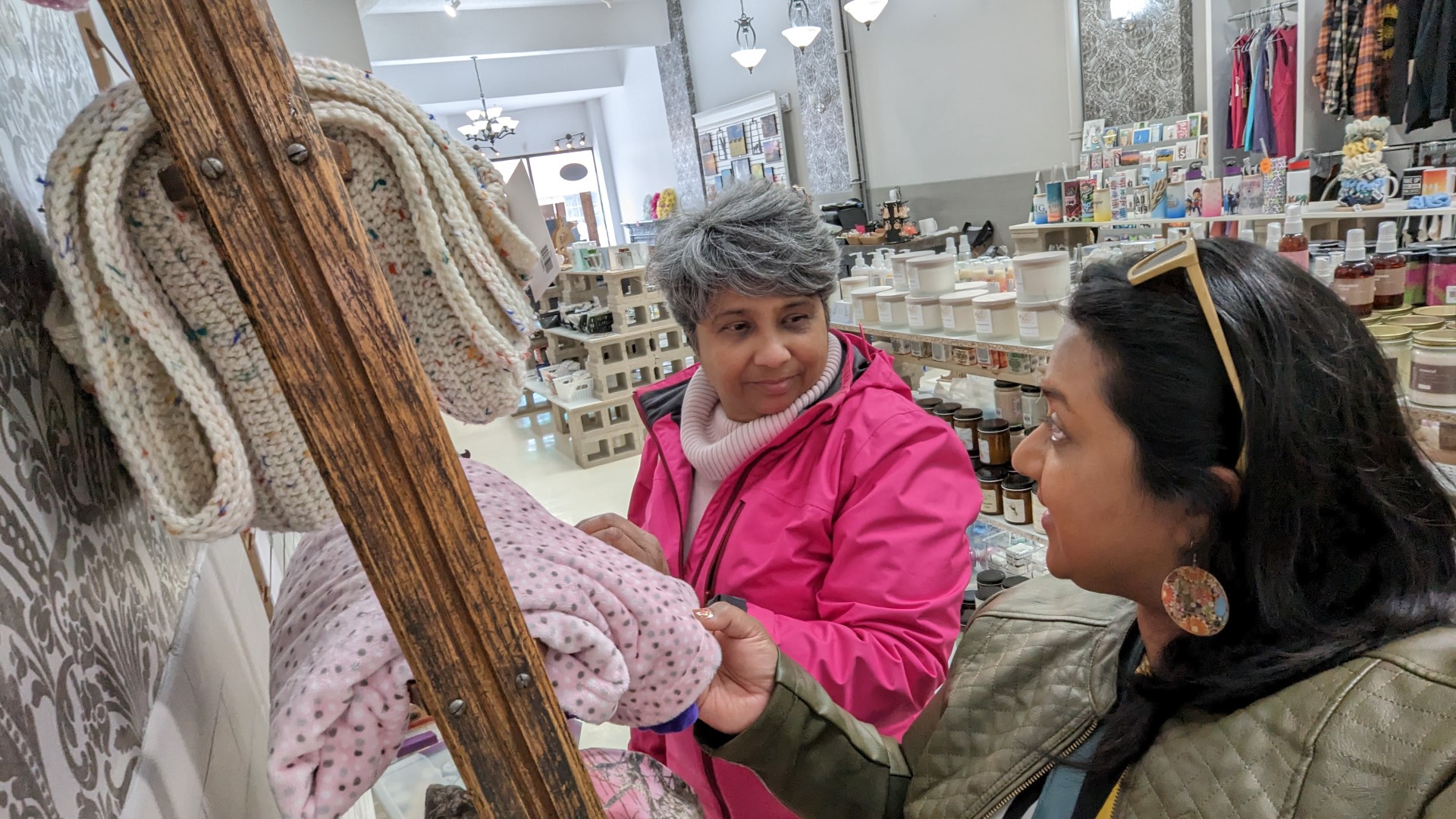 There are a number of cute stores peppered throughout the downtown core and you can find everything from crystals to bowls designed by local artists. I saw many people strolling along the main downtown strip and the side streets during our visit to Moose Jaw. It certainly helped that the sun was shinning during our travels too.
My favourite store was the one right next to the Tunnels of Moose Jaw because they carried fun treats and home decor items. They also have a studio where you can dress up in period themed outfits for old timey photos!
I also loved the With These Hands store because they had a fantastic collection of items designed by Saskatchewan designers, artists and creatives.
The Wandering Market is also a great spot to stroll towards if you're looking to purchase locally made jams, sauces and wooden bowls. This is also where you can find great sourdough bread and amazing produce from local farmers.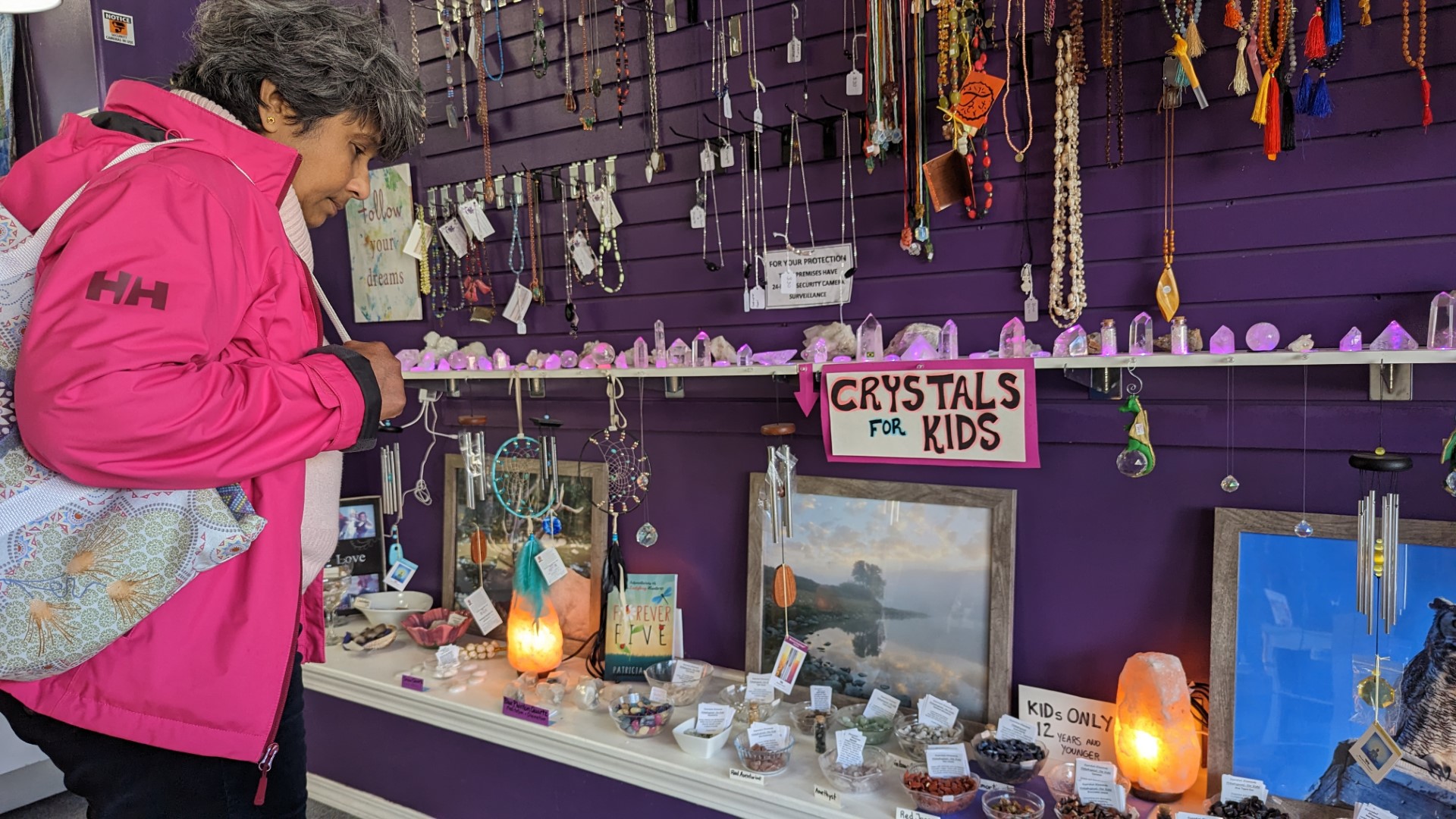 There were also a couple metaphysical stores where my mom bought crystals and healing rocks. If this is what you're into, Moose Jaw has quite a few palm and tarot readers too from what I observed.
Best Places to Eat in Moose Jaw – Restaurants, Cafes and Bakeries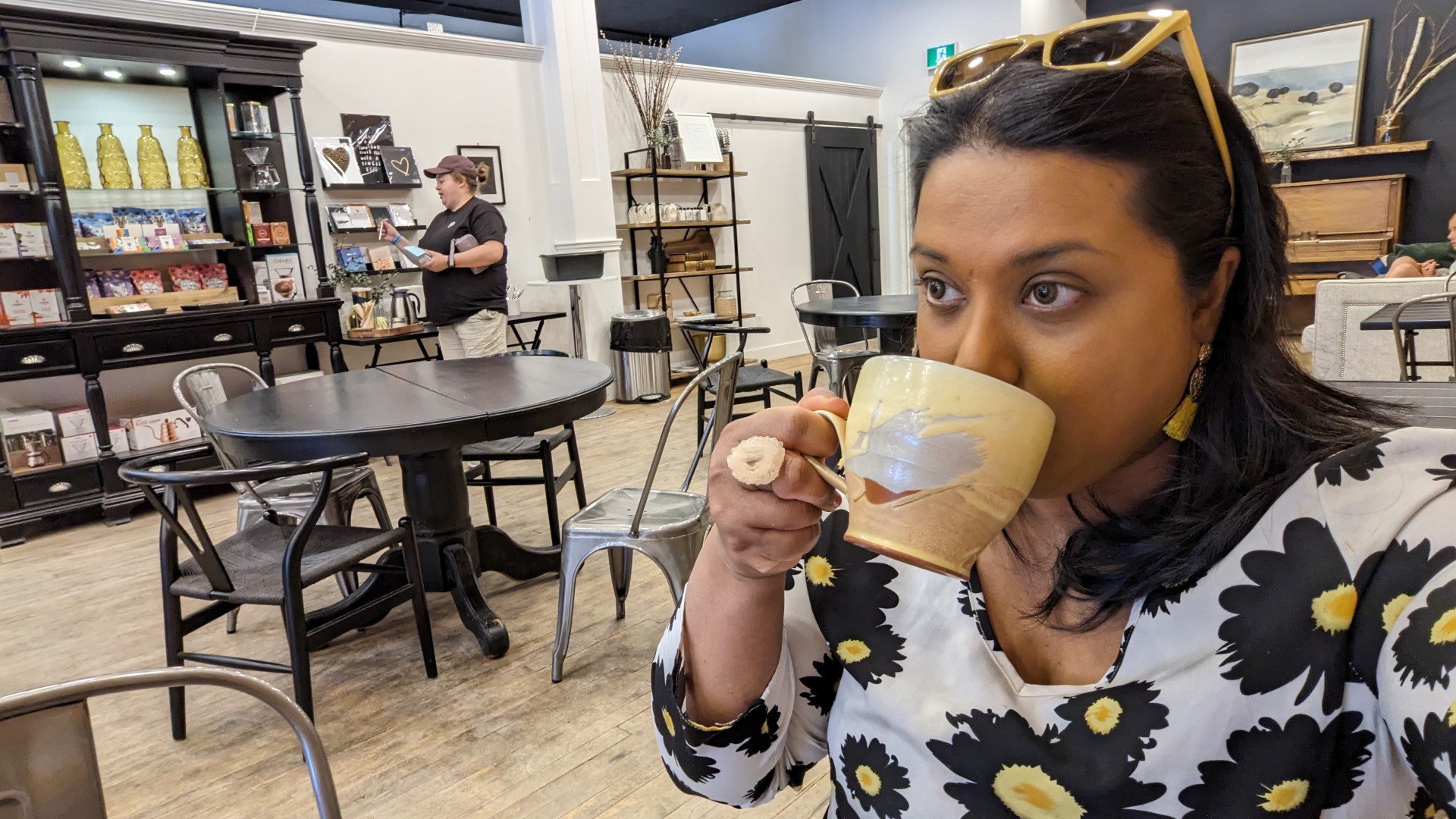 I was surprised by not only the caliber of the restaurants but by the various cuisines on offer in Moose Jaw. Travelling with my mom meant that we opted for places with various vegetarian menu offerings. We both also have a deep love for Asian cuisines and luckily for us, we had a myriad of choices much to my delight. One thing to keep in mind is that most of the restaurants close between 8 and 9 p.m. so get those dinners in early if you're a night owl like us.
Mitsu Sushi and Sweet Cafe : I am so glad I returned here because the first time my mom and I walked in, their kitchen was closed and we had no luck. While my mom was at her course, I connected with a local (her mom was also in the same course as mine) and she recommended that we meet here for lunch. The Aburi sushi was fantastic and the ramen hit the spot. We had other plans for dessert so we didn't indulge in the bubble tea and baked goods here but they looked good!
Kabayan Sari Sari Store : This is a grocery with everything from clothing and hard to find spices to hot meals prepped in front of you. If you're looking for a snack or fancy some traditional Filipino street food, swing by here! There's no seating but you can easily grab take out to enjoy at a park or bench near by. I hear their Halo Halo is fabulous!
Evolve Coffee : This family owned and run coffee shop serves some fun flavours when it comes to their drinks and they also serve warm food for breakfast and lunch. What first caught my eye was the library in the café because it quickly signaled that this was a spot to lounge at and enjoy the slow vibes. My mom and I were on a mission to hit up as many tours as possible on our first day so our breakfast was a bit rushed and while she had a simple jam with toast, I had a great bagel breakfast sandwich and a lavender latte.
IHA : My new friend told me that this Taiwan style bubble tea café in Moose Jaw was her fave and so we swung by for a mid afternoon drink. I had never seen Ceylon tea listed as an option at any of the Toronto bubble tea shops so I knew I had to order that and the two female owners were so kind and recommended some modifications like adding cheese foam that really elevated my drink!
Deja Vu : Other locals we met told us we should pop by Deja Vu for milkshakes and deep friend pickles. So we did! The number of ice cream flavours are overwhelming and I ended up ordering a flavour I didn't really enjoy but I would go back because I love a good thick shake. Pretty sure we could turn the metal tins upside down and the shake wouldn't drip as soon as it was served! The fried pickles were good but average as were the wings. The diner style space was busy during our late afternoon visit and I was told that families love it there for the huge portions.
Spice Hut : On our first night my mom and her friends decided to dine at this Indian restaurant and we had some good food but the spice levels were very mild even when I asked for extra heat. Based on my experience dining here and chatting with staff, it seems that the menu is geared towards people who may be trying East Indian food for the first time. While the dishes were traditional, it wasn't the fully authentic experience I was hoping for. The lamb and mutton dishes were good though as were the pakoras. They do proudly offer many gluten free and vegan friendly menu items so this is definitely something to keep in mind if your diet requires that.
Hive Espresso Bar : I absolutely adored this coffee shop and had I discovered them earlier into our trip, I would have returned to try more of the items. The breakfast pizza was delicious and the pumpkin sticky bun was perfectly spiced with pecans in it too. I don't like to dine out by myself but I did so here because I loved the cozy lounge space which give patrons a chance to spread out and relax.
Taste Patisserie by Katrina : Whatever you do, ensure you make a stop here. The bake shop is beautifully designed and the wallpaper art! I ended up returning on two occasions because I wanted to bring back stuff for my mom and I to enjoy in our room after our nightly spa sessions. Everything here was really well made and oh so pretty!
Ruchi's Masala : This was my last meal in Moose Jaw and boy was it good! The service was a bit scattered because one employee handles all orders and the mini mart at the back but the food was really good. The Ruchi's Cheese Masala Papadum was a brilliant idea! I was told by my local friend that the Bhunna was amazing and it certainly was. That said, Vindaloo and Biriyani are my go to dishes and I regret not having a chance to return and try those. My mom ordered the vegetarian thali and it certainly put a smile on her face. I am so glad I had the foresight to order the Bombay Sandwich for my early morning flight the next day because I enjoyed it on my flight back when I got really hungry. I didn't try their chaat but feel like it would be really good! If you're looking to buy some mithai or spices, Ruchi's has a small store at the back with a variety of grocery items available for purchase.
Yvette Moore Gallery Cafe : I would have never thought to dine in a gallery but that's exactly what my mom and I did. Housed in the beautiful Yvette Moore Gallery (where you'll find Yvette Moore's art along with extensive collections of handcrafted pottery, jewelry, sculptures, glass works and gifts created by artisans from across Western Canada) the café offers soups, salads and sandwiches for lunch. This was the spot I tried all things Saskatoon berry!! They're only opened for lunch and reservations are highly recommended as is ordering the Homemade Saskatoon Berry Iced Tea and the Saskatoon Berry Crepe. Oh go on order the Saskatoon Berry Mimosa or Sangria while you're at it. Whatever you do… don't leave without taking a peek at their bathroom!
Hopkins Diner : Okay I am going to leave you with a dinner recommendation but I did not dine here. Some ladies I met who were on on their own momcation in Moose Jaw, told me that they had an amazing dinner here in the haunted restaurant. Yup… this is a popular haunted restaurant in Moose Jaw and the servers will gladly give you a tour of the place too, I've been told
Himawari Sushi : My new local friend recommended that my mom and I sneak in a dinner here and she was right. I loved the vibe here with the fake sakura trees and the sushi counter seating in addition to the booths. My mom and I sat at the counter and watched the chef prep my Sashimi. The Mango and Popcorn (it was chicken) rolls were amazing, though I'd give the ramen a miss here. The servers were very friendly and we enjoyed chatting all about travel and social media with them.
Moose Jaw Bars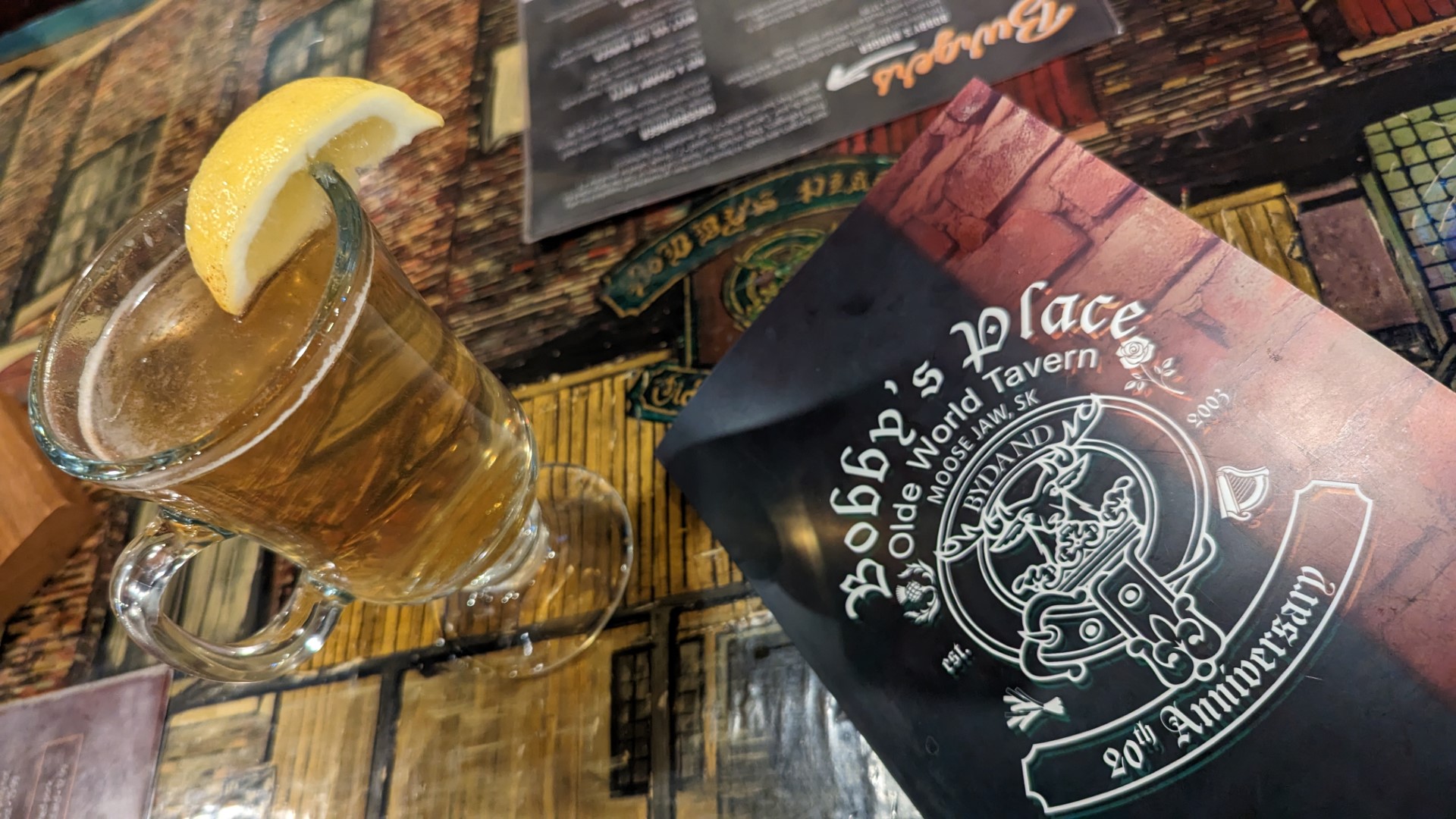 This was a bit of a different type of Momcation compared to the ones I embark on with my friends as my mom doesn't drink alcohol. That said, I did get out to a few bars in Moose Jaw. I found a mix of spots for daytime imbibing and late night drinks so this may help you if you're planning your own girls trip to Moose Jaw and would like some alcoholic bevies.
Rosie's on River Street : This is a funky bar and I highly recommend grabbing a seat inside or by the bar. It's a small spot but you can easily tell that it's a local favourite. The food looked great but I only popped in for late afternoon drinks here. They carry a range of local beers, including gluten free options. However the main reason I loved this spot was the decorations. You'll spend hours looking at the various items on the walls here – it's truly fascinating. Our server told us that people still drop stuff off even though they've run out of space and the owner stores the items in the hopes of doing something with them soon. Who's Rosie you ask? Oh a Madame in the 1920s who was forced out of town by a shady Police Officer for not being able to pay her dues. Not to worry she opened her profitable brothel elsewhere and trained unmanned horses to bring her customers towards her new location! Oh and while Rosie's closes early on week days, they are open until midnight on weekends.
Grant Hall Lobby Bar : One night when we quickly discovered that all the restaurants we wanted to dine at had closed (fast food joints were open but neither of us were in the mood for that), we swung by this Moose Jaw hotel lobby because we were told it was a grand sight to see. I quickly heard live music and wandered into the bar area of their steakhouse and ordered a Lemon Drop Martini, pea risotto and crispy artichokes. My mom was able to get her signature warm water with lemon here too and the two of us nibbled and listened to the live tunes before retreating back towards the spa. This hotel certainly is grand and has a rich history of famous delegates residing there over the years.
Bobby's Place : This is another local hangout and having heard that there were Celidhs here on Saturday afternoons, I had to swing by and check it out. Their selection of whiskies is only outmatched by the number of locals who told me that I HAD to order the fish and chips here. Sadly I did not listen because I was so full by the time I wandered in here but I will take their word for it. If you're looking for a late night hangout spot, this is one of the few places that are open until 11 p.m. on weekdays and 2 a.m. on weekends. And yes, they have live music on the weekend.
Little Chicago Entertainment : So I really wasn't too sure what to expect here since they mostly advertised their escape rooms and ax throwing but… it was a neat space with a great bartender. You can pop by for drinks and board games if you wish or just catch up over drinks like we did. I love that this hangout spot is open until 11 p.m. even on week days, its like chilling in your friend's basement! Of course the ax throwing and escape room programs are great ideas for a Momcation activity but book those early for your group.
Best Place to Stay on a Moose Jaw Girls Trip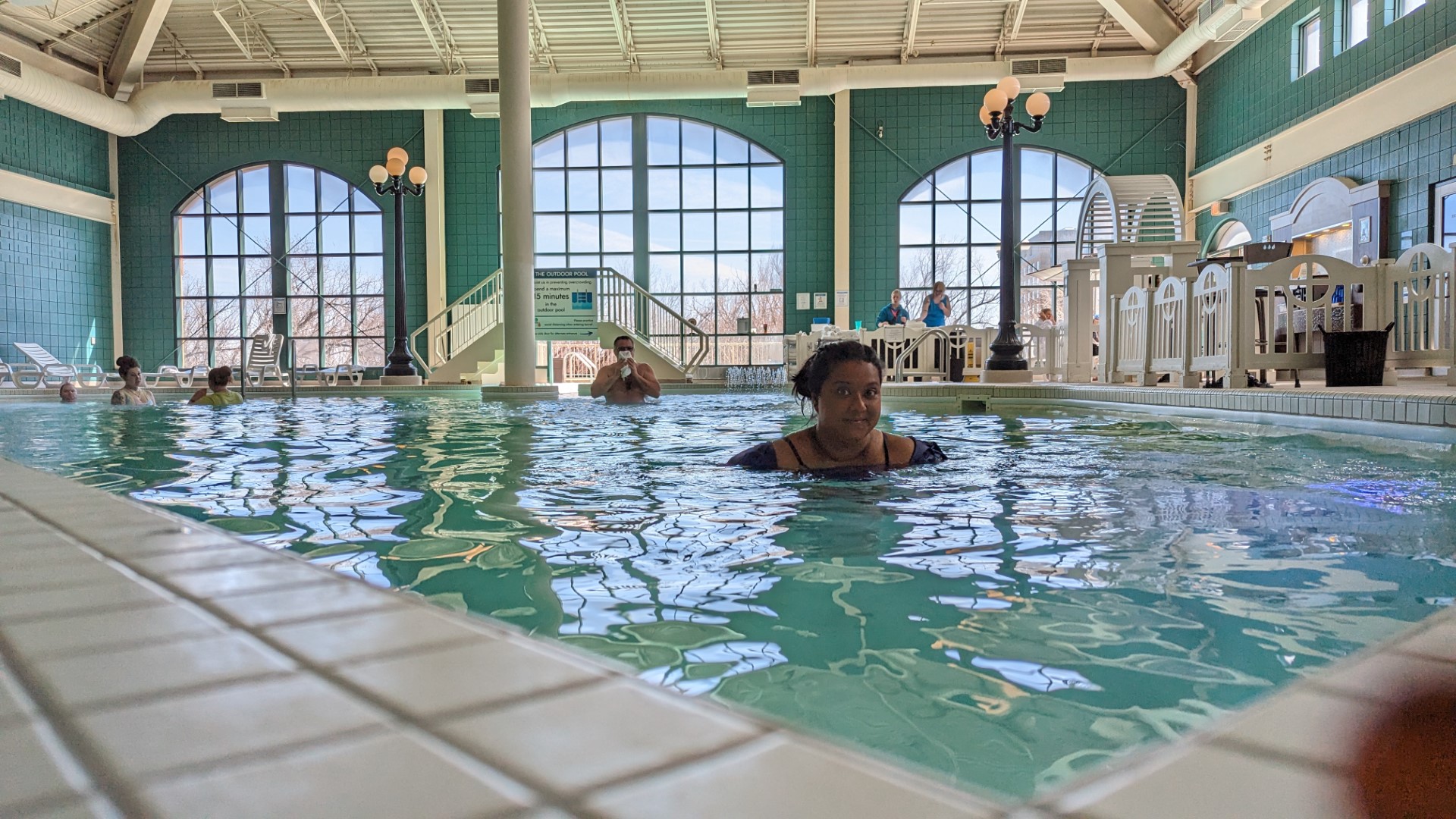 There are many Moose Jaw hotels to stay at but I think my mom chose the best one when she asked me to book us into Temple Gardens Hotel and Spa. The main reason for staying here is to have full access to the geothermal pools and we made good use of this access! If you're looking to spend a girls weekend in Moose Jaw, this should certainly be home base.
This Moose Jaw hotel is currently undergoing renovations on one side but luckily we heard no construction noises during our stay and I would love to return and see the upgrades. The room we stayed in was quite basic but large and had a mini fridge to store all the leftovers I brought back each day. The service was fabulous with house keeping obliging my mom's frequent request for new towels, bottles of water and hot chocolate cups for the coffee machine.
Amenities wise, there is a gym and spa but we didn't make use of them because we loved the geothermal pools and the steam room. We soon learned the art of "taking the waters" here and my mom and I made it our nightly ritual to visit the pools each night before bedtime. Those staying at the hotel have full access to the pools as I mentioned before but there are day passes available for non hotel guests as well. The main perk of staying at the hotel is that we had late night access which is only available to hotel guests. I will mention that the pool is family friendly and on weekends they have adult only hours late at night. Hotel guests are also able to join the free water yoga and meditation classes offered a couple times a week. I enjoyed the water yoga one while my mom was at her course and I ended up chatting with another group of ladies on their own momcation.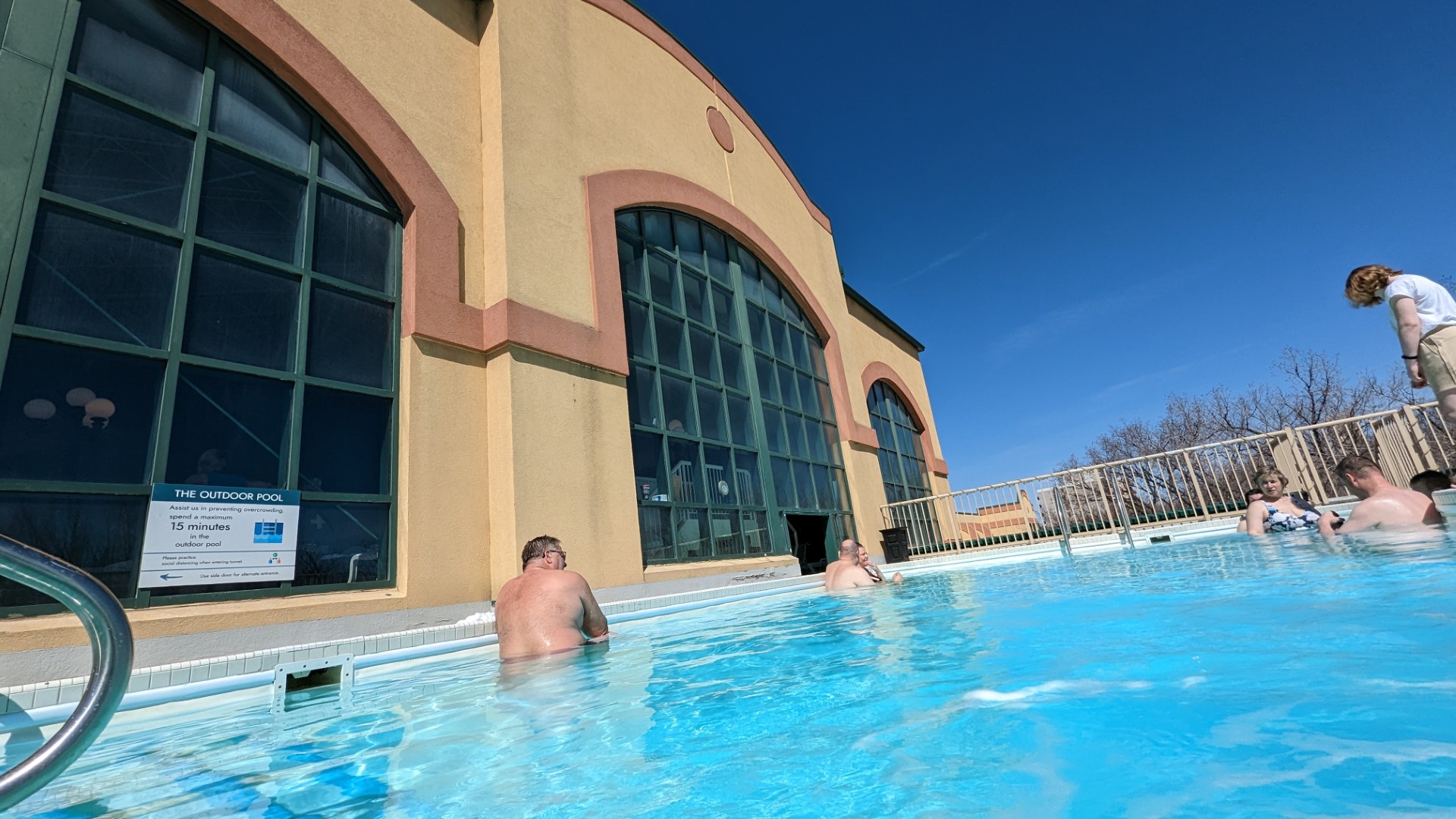 The geothermal pool was a very social spot and no matter what time of day we visited, we met other folks visiting Moose Jaw and many were repeat guests who came back annually. So what makes this pool so special? According to the Temple Gardens Hotel website, a deep well was dug in an effort to locate natural gas in 1910 and they accidentally found these magical waters. In 1980 the City of Moose Jaw drilled a new geothermal well into porous foundations of an ancient seabed, providing Temple Gardens Hotel & Spa with its therapeutic mineral waters. Even today, with its own pressure, the water travels through an insulated pipeline from the well-head located approximately 1/4 mile away. Geothermal heat from the much deeper molten mass of the earth's core continually warms the reservoirs of mineral water to a well-head temperature of about 45°C . The mineral water loses less than one degree as it passes through the insulated pipeline to the Spa and this is why the pool water is warm… even the outdoor one. Oh and yes, this geothermal pool remains open all winter long too!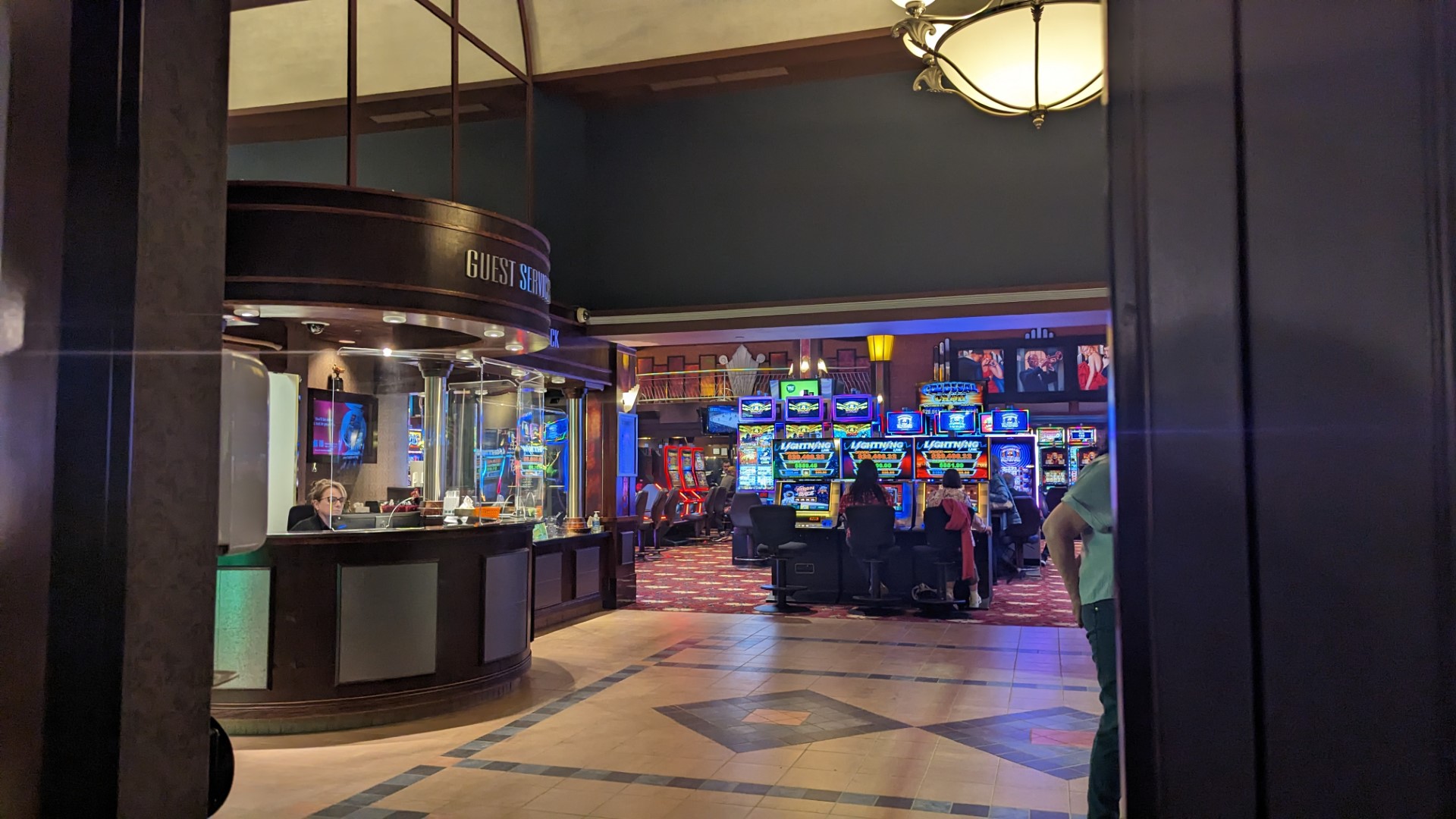 And hey, if your group of ladies enjoy gambling, know that this hotel is connected to the Casino, making it easy to get around at all hours of the day and night.
How to Spend a Weekend in Moose Jaw

Moose Jaw Weekend Itinerary
Day 1 : Arrive and check into Temple Gardens Hotel and Spa. Tunnels of Moose Jaw. Dinner. Bar.
Day 2 : Morning at the geothermal pool (maybe the spa?). Breakfast. Western Development Museum or other attractions. Lunch. Visit the creamery and Mac the Moose. Explore downtown Moose Jaw shops and bakeries before having dinner and visiting the pub.
Day 3: Geothermal pool followed by breakfast before departure.
This was my first trip to Saskatchewan and I am now eager to explore more of the province. Who knows, perhaps a couples getaway in Saskatchewan will be in the cards for us!