This seriously was not a question for us.  Given my  Sri  Lankan background, where  babies get their ears pierced at a very young age (couple of months at most), I eagerly awaited the day we could pierce the Little Monkey's ears. After many delays (must wait for her first set of shots! oh she  has the flu! oh I have food poisoning and can't be dealing with a fussy  baby!) today was the day!
Back in the day in Sri Lanka doctors would pierce the ears with a needle and the thread would be looped for a couple days. This thread would then be replaced by a clove. Yes you heard right. The clove that you have in your spice cabinet, it's supposed to have healing powers. While I would have loved to have had a doctor perform the task it seems that in North America it is the aestheticians and stores  like Claire's that handle this. I was a bit skeptical of the cleanliness of these places and so chose  to go with Caryl Baker Visage, as it was  right across the road from us with friendly staff in a some what sterile environment. A young lady,wearing new gloves, marked the Little Monkey's ears (eye balled it and so it's not super perfect) and accomplished the mission.  Thankfully I had given a tiny bit of baby Tylenol prior to the piercing  so the crying was minimal. Yes I know.. it's wrong to drug your kids. But it helped her (and me) and she's happily decked out in some  pink bling now. So  for $60 we got a pair of gold earrings with her birthstone (wasn't the usual opal for October but apparently they have their own system. It was pink. I didn't complain), the solution and peace of mind that it was  not done at the back of a dingy store.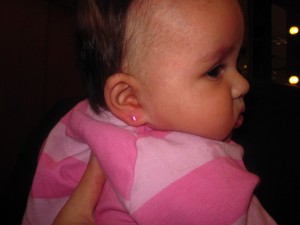 I love earrings (okay I'm a bit of an addict when it comes to earrings)  and did not really think  twice about piercing her ears. Until I came home and decided to see what other parents' thoughts were (online). My was I  shocked! There's a lot of debate and many feel that it is appropriate to let the child decide for herself if she wants to get pierced (when she is older, like Sandy from Grease). I respect them. But… that wasn't the option for us. We received sets of earrings as gifts, as is common practice in South Asian cultures for a baby's first gift and I cannot wait till she graduates out of the trial pair. I ensured that the trial pair was a good gold set, none of that plated stuff as it can cause irritations which can lead to infections, and will be cleaning it twice a day (atleast) with the antiseptic solution. Fingers crossed that all goes well.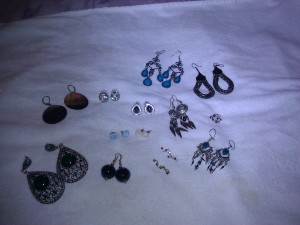 Random fact, did you know that sailors wore earrings as a symbol of them having  travelled  the world? Also pirates wore earrings as a burial security.  In case their bodies were ever washed ashore, they  hoped the earrings would serve as payment for a proper burial. Interesting eh?
What do you think? Will you wait till your child is old enough to ask for the piercing ?
Update : We noticed two weeks in that one of the earrings were off centre…we were told to remove the earring  and come in two weeks later. The staff were super friendly, re-pierced the ear and used a new earring as well. If  you're getting it done at the Eaton Centre location, try to get Ebony, she's fabulous! We noticed a big difference when she did the second one vs. the girl who did it the first time.
Update 2: At 2 years of age, Little Monkey developed an infection and we decided to remove both of them because it was such a painful ordeal having to use pliars to remove the pair of gold earrings that were stuck in there.