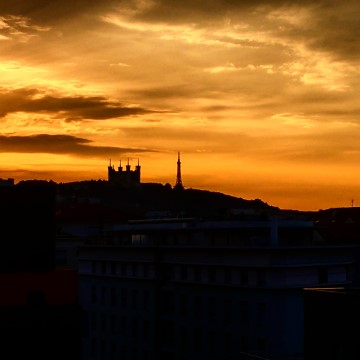 The city of Lyon in France is a UNESCO world heritage site and was one of Chris' favourite cities. We arrived a bit weary after having spent the last few days moving from city to city every two days and so when we discovered that our GuestToGuest home in Lyon was absolutely lovely, well situated, had unlimited fast internet and had a huge projector screen, we decided to hangout there a bit longer than originally planned. This is how we ended up spending 6 days in Lyon with kids instead of just 2 days. We spent our days exploring and our nights binging on Netflix and watching pretty sunsets from our home in Lyon.
Cinema and gastronomy fans will definitely want to visit Lyon because it's a great hub for both. While Vieux Lyon is charming and lined with bouchons (traditional restaurants) and cute little shops, we stayed across the river near Jean Mace (and Parc Blandan!) which had easy tram access into the downtown core (or a 15 minute walk) and is an area worth looking at if you're hoping to save a few $$ on accommodations.
If you plan to spend a few days exploring Lyon, the Lyon City Card is worth getting as it not only gives your unlimited public transit access but also covers your entrance fees to 23 museums, a boat ride and walking tour. Check out our video below to see what we got up to after roaming around the French Riviera!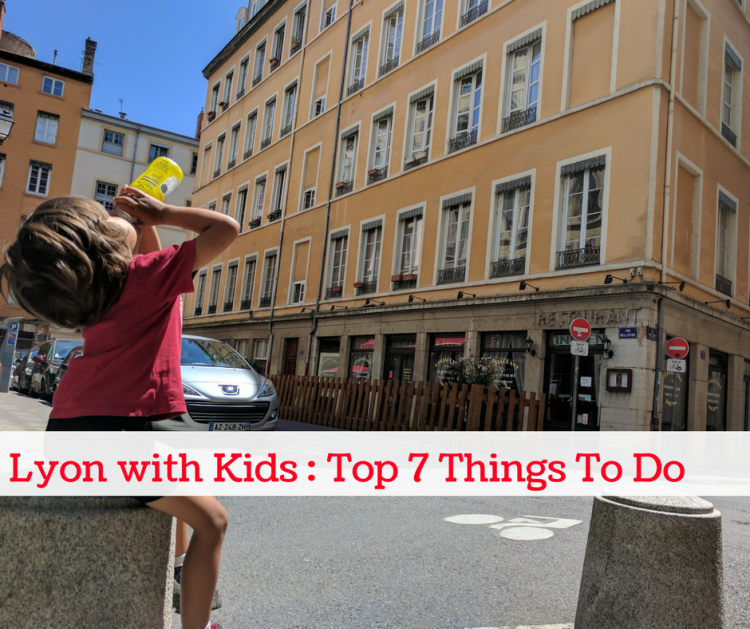 Top 7 Things to do in Lyon with Kids
Vieux Lyon : families will love roaming the pedestrian only alleyways as they nosh on local eats and devour all the sweets! I loved our traditional meal at Le Laurencin in Vieux Lyon.
Museum of Miniatures and Cinema : a MUST visit for film lovers and we have shared more details about our visit here.
Boat Tour : No better way to take in the city and its mix of old and new architecture
 Basilica of Notre-Dame de Fourvière : We saw this structure beautifully lit up at night hovering over the city and took the funicular (also on the city card) up one afternoon to take in the marvelous architecture and get a birds eye view of the city.
Parks : we saw a few squares and parks for kids to run around at but Parc Blandan was our favourite. I found this list of Lyon parks helpful as well!
Les Halles de Lyon Paul Bocuse : Time your trip around lunch or dinner and you'll be happy you did so. There are many permanent vendors and while it can be a bit intimidating to figure out what to eat, the vendors are quite friendly and happy to chat your ear off if you come during the less busy hours. We found ourselves visiting an hour before dinner and had a chance to chat with a few of them but sadly most of the restaurants weren't open.
Eat, Drink and be Merry : you can't visit Lyon and not discover its famous eats, fabulous drinks and just have a good time. It's a fun spot for families who enjoy the city living vibes with its happening cultural and gastronomy scene.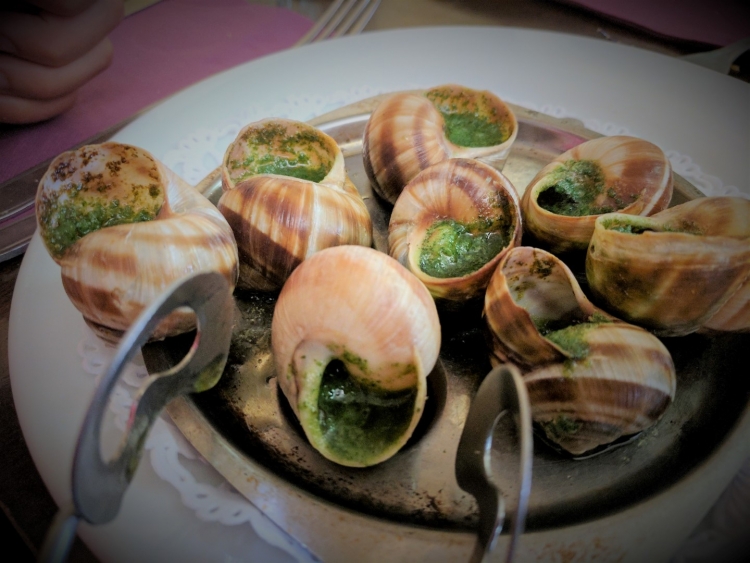 Lyon is an easy city to navigate and the only challenging part is trying to find the narrow passageways (named traboules) in Vieux Lyon. It is said that the traboules allowed the inhabitants to get from their homes to the Saône river quickly and allowed the canuts on the Croix-Rousse hill to get from their workshops to the textile merchants at the foot of the hill. Today it's a fun little tourist excursion but we kept getting distracted by the craft beer and candy shops, each time we attempted to find it!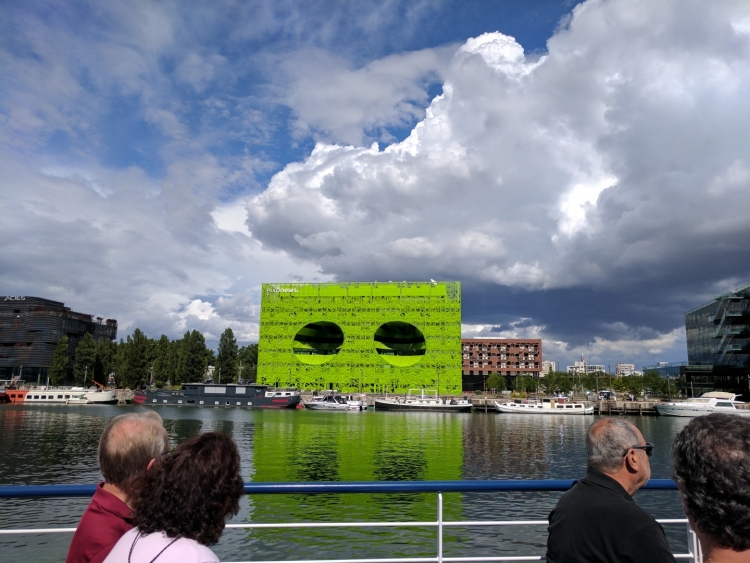 Some things on our list that we didn't quite get to included the Mini World Park in Lyon and the Museum of Confluences. Lyon is also known for its light festival, the Fête des Lumières, which happens over 4 days in early December  and I must return to the Capital of Lights for this one day soon!