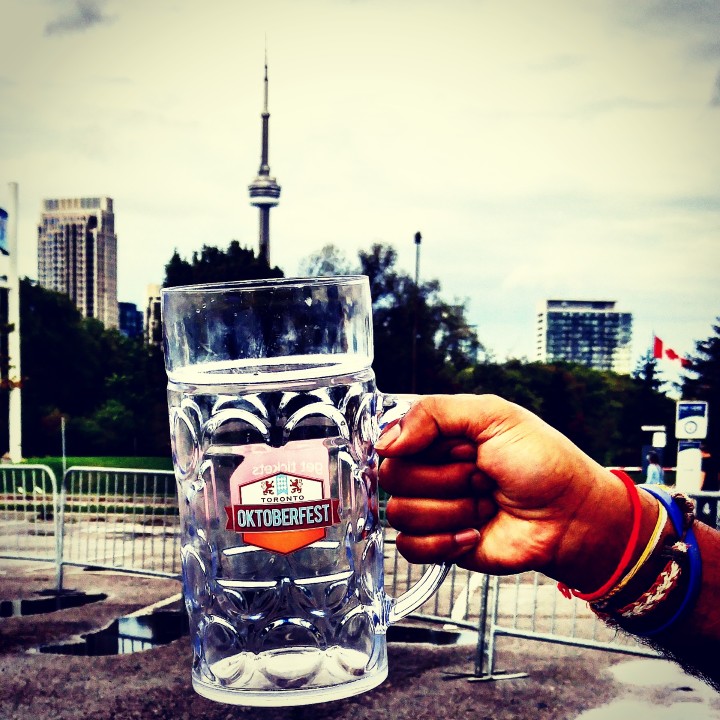 This weekend we checked out the Toronto Oktoberfest for the very first time and are happy to report that the event delivered what they promised! A taste of Germany in downtown Toronto was enjoyed by many families this past Saturday afternoon and the torrential downpour did not dampen our spirits! Celebrating Oktoberfest in September might seem a bit odd but we didn't question it too much as we prepped for the celebrations.
The all ages session kicked off at 11:30 a.m. and we go to the Ontario Place parking lot around noon and was greeted with NO Line ups and quickly checked our selves through the VIP entrance. Having  grabbed a 1 L stein we wandered around through one tent to another and was welcomed by Oom-Pah tunes traditionally heard at beer halls. Instead of racing to the beer vendors, we decided to push our double stroller towards the VIP lounge and that's where we parked it for the entire four and a half hours we were there. We spotted plenty of strollers and all were tucked away from the main pathways, which made me realize that we were in the company of parents who knew how to attend events!
We had VIP tickets gave us access to the VIP lounge which had a couple tables and lounge chairs. More importantly it gave us access to the best event toilets I've seen to date! Forget the porta potties that the general ticket holders had access to…the VIP ticket holders had individual stalls, flush-able toilets and proper sinks! This to me was the main purpose of having VIP tickets. The other perks, such as access to the lounge, the hat, guaranteed stein and two drink tickets could have been purchased separately with no issues. But that toilet… that was stellar!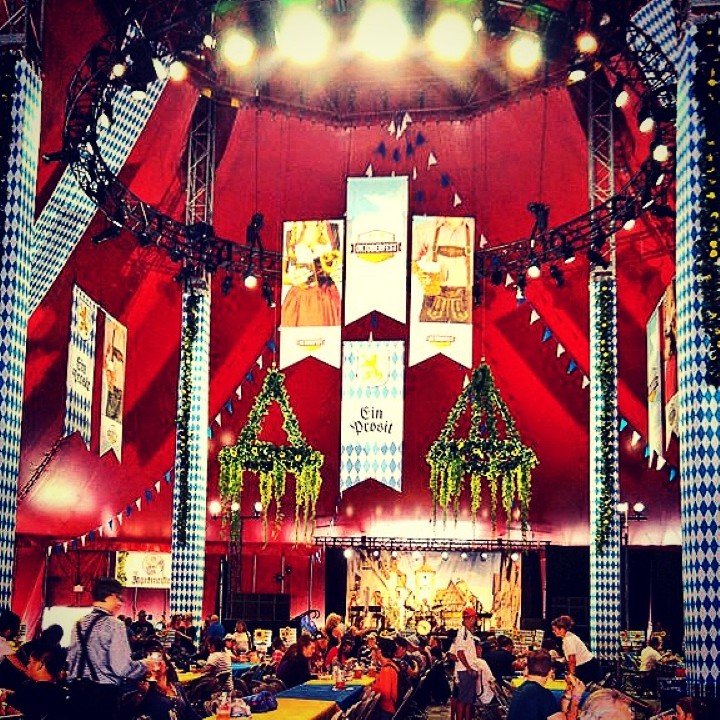 The main hall was gorgeously decorated and has me yearning to hit up a Christmas market again this year, like we did in Belgium last November! The main stage was always rocking with games, live music or the cutest old couples dancing away (I'd like to say it was Schuhplattler but I'm not really sure!). The middle area had plenty of tables and chairs and kids were dancing by the stage every time I looked over. We even spotted a flip cup session!
The space was quite large that we never felt claustrophobic and we didn't have to deal with line ups at any of the vendors either. I'm not sure how busy the other sessions were, but the all ages session was relaxingly fun and we'd definitely go back next year! In addition to the music and dancing, there were other things for kids to explore, including an inflatable corn maze, axe throwing (for the professionals!), ring tosses and ping pong. All this was free of course. We pretty much took over the VIP lounge area and I was thrilled when another family came in and the kids made new friends. We sipped our beers and they coloured and ate candy!
Speaking of food and drink, you know that was the  main focus here! I wasn't expecting much on the food front and was pleasantly surprised by the selection. There were bratwursts, pretzels as big as the kids' heads and plenty of porky goodness! In addition to the Curry Brisket Poutine, I loved the Ploughman platter which had various types of sausages and a lovely thick cut of pork belly. The food was cash only and ranged from $6 (pretzel) to $24 (platter that fed three of us!).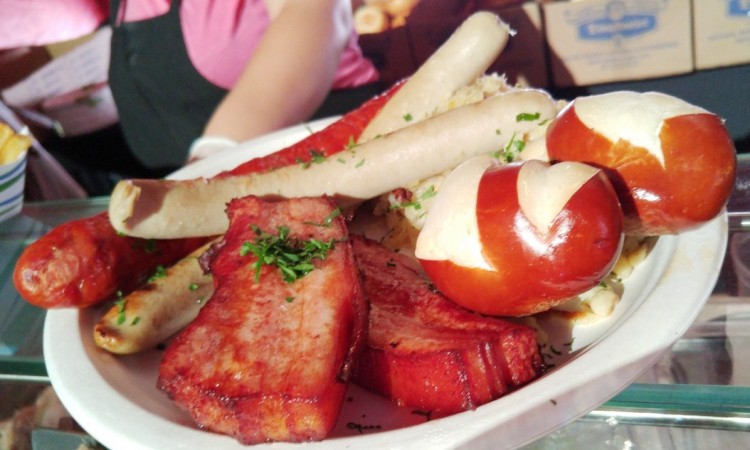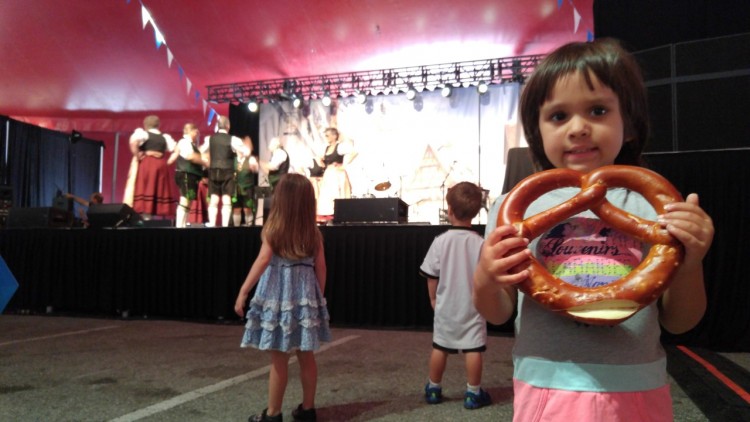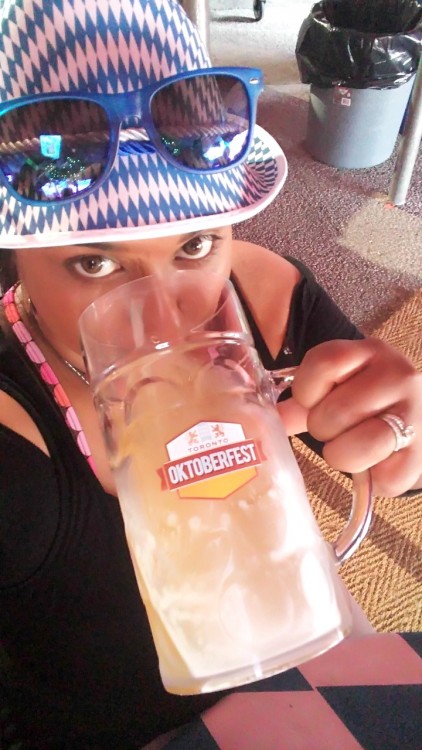 What's an Oktoberfest without some Bier? There was enough of a selection on offer that everyone in our group was able to find a style they liked. Mind you this wasn't a craft beer festival but there were a couple different varieties on offer. I do hope more and more European craft breweries enter our Canadian market and come out to the Toronto Oktoberfest! I even found the Schöfferhofer Grapefruit radler that I was in love with during my second pregnancy! Drinks were $8.50 for half a stein and I kept going back for the Erdinger Dunkel. The only thing I didn't see (and I wasn't really looking for it!) was a water station, so that's something to keep in mind for next year.
I found the event to be extremely well organized and they really did make it easy for families to enjoy bier, good tunes and great eats with young ones around. We saw many families having a great time! I think the space worked out really well for an event of this type and there was plenty of space for toddlers and grandparents alike! Little Monkey brought her own backpack filled with snacks, juice and toys, and this kept her happy. We did get hit with a torrential downpour that had water seeping in at the edge where we were parked but the tent was sturdy and we all stayed dry. Well…all except Baby Boy who wanted to go jump in the puddles!
We stayed until the very end and Baby Boy even took a nap in the stroller! My only advice is, be sure to call an Uber well ahead of time because the area can get quite congested and it took us four attempts to get a driver. Toronto Oktoberfest was a lovely way for us to kick off the fall season and got me motivated to make a trip to Germany a reality. We're really hoping that Germany is the next European city we explore. I promise to grab some fashionable threads to wear to next year's Toronto Oktoberfest!
Prost!!