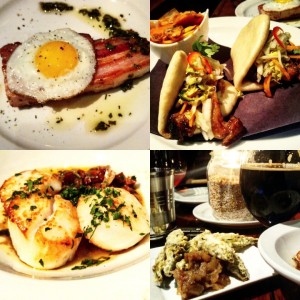 It's the best of times for beer drinkers in Toronto, and better times lie ahead. With the recent announcements that former Dieu du Ciel Brewmaster, Luc Lafontaine, is going to open up a brew pub on the east end and that the owners of beer Mecca Bar Volo plan on opening a new bar in Little Italy, Toronto is quickly becoming one of the premier beer destinations in the world. Also on the horizon, a second, much larger, Bellwoods location and the potential for a designated beer district extending from that location. Breweries and brewpubs are opening so quickly that I've lost track of most of the newer locations. Maintaining a full knowledge of the Toronto beer scene is becoming a full time occupation, but it seems like only yesterday that a small, inconspicuous pub called Bar Hop opened it's doors near King and Spadina, at a time when Bar Volo was really the only place downtown where experienced beer drinkers could treat themselves properly.
As Bar Hop and its clever name quickly gained popularity (despite one of my friends asking several times one evening where exactly we were starting our planned bar hop), the owners wisely recognized the need for a larger location, eventually finding a second place to call home little more than 100 meters up the road. The Bar Hop Brewco opened its doors this past year, teaming up with chef Mark Cutrara to offer an expanded food menu, and featuring the same extensive beer selection the first location had become known for, and after months of good intentions, Yashy and I finally found the time recently to stop in, sans kids, for a meal and a few beers. I was truly excited, imagining that the size of the new location would mean a bigger and better food and drink selection.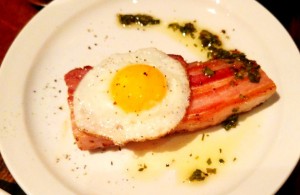 I was right to expect some great eats. The appetizer menu at the Bar Hop Brewco offers some delectable options. We settled on the Thick Cut Bacon Steak, the Seared Digby Scallops, the Aged Beef Carpaccio, and the Curried Okra Tempura, and since we also wanted to order the Gazed Pork Belly Steamed Buns, we decided to save the House-Made Giardiniera Pickles and Scotch Olives for another day. Had we room for the Roasted Pig's Head Nachos or the Whole Roasted Branzino Tacos, we would have certainly indulged. Let's just say that there are enough great options to make several trips to the bar with the hope of trying something new (we didn't even look at the sandwich section of the menu since it was well past lunch). The Thick Cut Bacon, Digby Scallops and Steamed Buns were my personal favorites, and Yashy liked the bacon and steamed buns as well. Everything we had paired well with beer (don't most foods), and so we'll happily head back here for dinner and drinks any day. We just need to order dishes one by one, as we quickly ran out of space at our table and Yashy accidentally spilled half her beer on herself and our neighbour!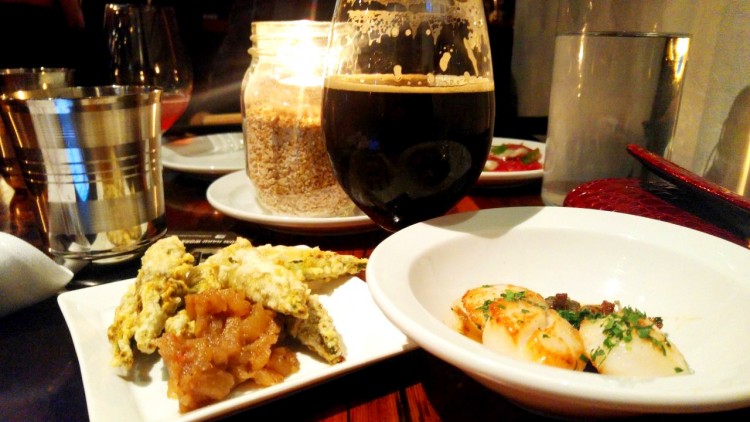 The tap selection at the Brewco has several options not available at the original Bar Hop, while the extensive bottle list is the same one used at the first location. The tap list at Bar Hop rotates frequently, though there are some staple selections that are usually available, including some great Belgian options. The tap list at the Bar Hop Brewco, like that at Bar Hop, is one of the best in the city. I started out with the Raspberry Uber Berliner Weisse, a very good sour beer I had been anxious to try and also enjoyed a glass of Amsterdam's Eastern Migration, a great Olde Ale that was available in limited quantities in December.
If you are new to craft beer, Bar Hop is a great place to start. Their extensive bottle list has a section called gateway beers, featuring a number of European selections aimed at shifting beer drinkers away from the Keiths and Budweisers of the world into more flavourful suds. After getting some gateway experience, beer drinkers visiting Bar Hop have the opportunity to enjoy a world of outstanding beer, some of the finest in the world, including the rare Westvleteren XII, a beer produced and sold in one location, the Abbey of Saint Sixtus in Vleteren, Belgium. The bar often features a selection of beer from the aforementioned Dieu du Ciel brewery, and if they have the Peche Mortel on tap when you arrive, order it. Widely considered to be Canada's best beer, Peche Mortel is an Imperial Coffee Stout that even non-beer drinkers usually enjoy. Even if you refuse to taste a beer at Bar Hop, their excellent selection of Bourbon might please your palate. There's a drink for everyone at Bar Hop.
We didn't visit Bar Hop until several months after it opened, but not for lack of trying. Despite the added room, the place is still not a great place to take kids. We ate upstairs, where several booths in the back would be suitable for little ones, but good luck getting the stroller up those stairs. The place tends to be very dark and usually crowded, making it tough to meet up with other families. These days, we often travel in groups of 7 or 8, with 4 adults and 3 or 4 kids in tow. Bringing small children is ill advised, but I imagine that we will one day bring the kids along. The thick cut bacon and fries would certainly please the little ones enough to keep them quiet for a couple beers at least. It is perfect for those occasional date nights we manage to squeeze into our lives!