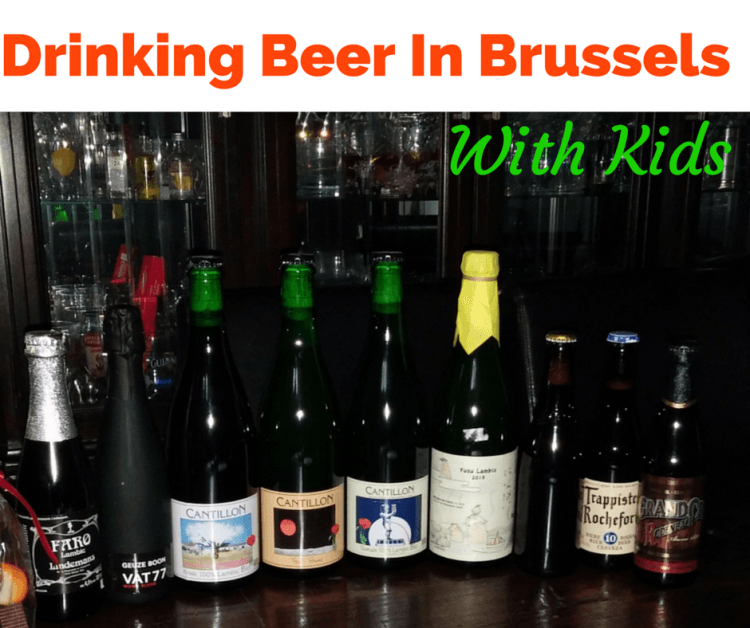 My first post about Belgium is about beer… no surprises right? We decided on an impromptu 3 day trip to Belgium mainly to soak in some Christmas ambiance, the way only Europeans know how to deliver and beer exploration was on the top of our list. This was going to be a lazy trip where we ate and drank and we surprisingly caught a few sights as well! Drinking Beer in Brussels with kids is totally do-able and wholeheartedly welcomed by the locals. None of the spots offered us a high chair but we had our My Little Seat which was great for Baby Boy. Whether you're looking to buy beer or drink beer, there's some great gems we discovered!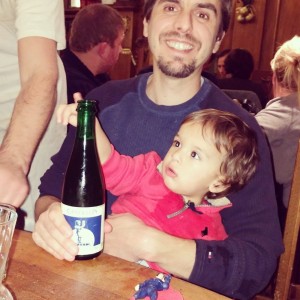 First of all, it's one of the oldest pubs in downtown Brussels, dating from the end of the 19th Century. We ended here on two occasions because we had such a blast. The first time was the very night we landed ( a Friday) at 10 p.m and the place was quite packed. Yet we managed to find a table that was able to fit us all and a single umbrella stroller. You're not going here for the service because the server just grunted and took our order, refusing to speak any English (though I have a feeling he knew how to). Fine by us…we stayed here well past 1 a.m. and he warmed up once he realized that we were ordering good brews. Baby Boy even got his first taste of beer.. a Cantillon Gueuze. A La Becasse was actually the only bar we found that had any of Cantillon's beers! We swung by again on a Sunday afternoon and the place was empty. As was the kitchen apparently, and I wasn't able to order any food. If you're looking for beer you must swing by here but do so on a weekend night and you'll enjoy a great vibe – noisy yet perfectly tavernish. Both Little Monkey and Baby Boy had a good time here and no one said anything to us.
Le Corbeau
Not only is this a fabulous spot for beer but it's also a great spot to dine at. We enjoyed some traditional dishes, all of which were made using beer. From stews to steaks you can find a great selection to accompany a wide range of brews. It can get busy here but we luckily swung by for dinner around 8 p.m on a Friday evening and were able to secure a spot. It's tight in here but they happily stowed our stroller away while we enjoyed our dinner.
There's quite a few Delirum bars in downtown Brussels but the one that won us over was the Monasterium, which specialized in Trappist beers and even had a selection of Belgian influenced beers from the famous Californian brewery, The Lost Abbey. The space was large with gorgeous stained glass windows. You order your drinks at the bar  and there's many benches to spend the hours away on. We were here on a Sunday and it got busy towards the evening. We saw quite a few families with strollers during our Sunday afternoon jaunt and since they offer over 3000 beers and 400 vodkas, there's no need to really step away…well.. except for the fact that they didn't serve any food. No better way to spend a rainy Sunday afternoon than nestled in this cozy spot. If you are looking for a wider range of non Trappist Ales, you can always step next door if there's something you want at the other Delirum Cafe and bring it over! The Cafe was definitely more up beat but there's no way we could have brought the stroller and kids into the club like vibe at the Cafe.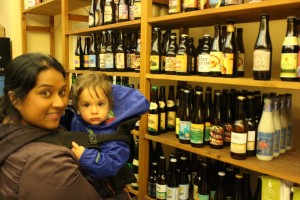 This was one tough spot to find without our trusty phone GPS, but when we finally got here, we knew it was worth it. This is where you will want to buy your beers to bring back home. It's a tiny shop with friendly staff who will go out of their way to educate you on the beer selection. The hubs had this on his must visit list and was able to score some excellent finds to bring back to Toronto. While we waited for our bottles to be wrapped in bubble paper (yup.. you read that right!) we enjoyed a beer each and to our pleasant surprise, it was on the house…yes, we did buy a lot of expensive beers to bring back, but it was a nice gesture none the less.
The hubs was very excited when he wandered in here and might have dropped several hundred dollars had he had the luggage room. The rarest of rare beers can be found here, including the elusive Westvleteren XII, traditionally sold only at the Abbey of Saint Sixtus of Westvleteren, and Cantillon Fou Foune, a limited yearly release that is the hub's new favorite beer (sadly, he may never find it again). You can also purchase the glasses that go along with the beer! A great spot to buy beer souvenirs!
No matter where we went, no one cared that there were two young kids along with us. It's also a great place for night owls like us because they don't kick kids out after a certain hour. Also, if you're visiting either of the beer shops, do them a solid and take a good bottle of craft beer from your locale. They'd love the gesture!
Cheers!