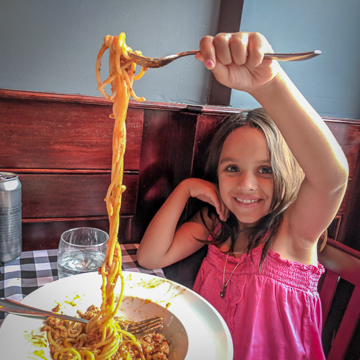 Perth, Ontario is a pretty easy place to love in the summertime. Despite having a population a little over 5,000, the town has a number of great restaurants and family activities. Just a one hour drive southwest of Ottawa and lying along the Rideau River, Perth is the place to go if you need to escape the big city but still need a little culture when you get away. As with any place our family travels, we were looking for good food. After doing our online research on where to eat in Perth, we also talked to the locals, which was a wise decision. Who better to ask than those who know the area best?
Disclosure : We were hosted by Lanark County Tourism but, as always, opinions are TOTALLY ours!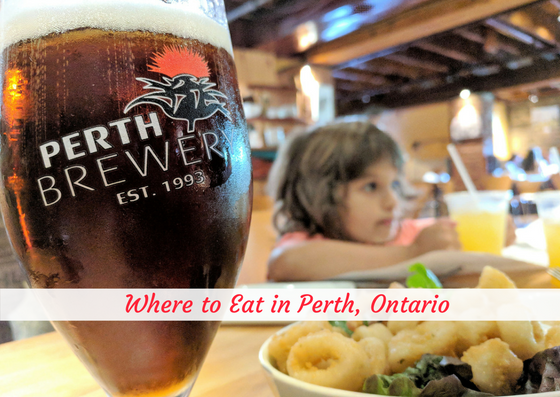 During our four days in the city, we were based out at the welcomely luxurious Best Western Plus Perth Parkside Inn & Spa. Located downtown, the hotel is a perfect home for those visiting the city and looking for a comfortable night's sleep in style (which isn't always easy to find in small towns). We spent our days exploring both the town and the surrounding attractions, of which there are many, and built up quite an appetite by the time we returned to our hotel each evening. Luckily, we found four excellent restaurants near our hotel, the farthest of which was a 5 minute walk. Those are the kind of distances our family embraces.
Here is a summary of our culinary adventure through Perth.
Dinner Spots in Perth
Fiddleheads
Upon seeing the beautiful limestone building across from our hotel, we decided to step in to Fiddleheads for our first meal in the city. Though hungry after our 3.5 hour drive from Toronto, we were not in the mood for pub food. Luckily, Fiddleheads has a wide ranging menu. One of the specials that evening was the Beef Brochette with couscous and shrimp cocktail. Since Yashy and I were both looking to avoid a fried meal, we decided to share the brochette and the Voodoo Penne. The brochette was the better dish, flavourful and essentially a nice light meal with a shrimp cocktail appetizer on the side. The penne featured sea prawn, scallop, and chorizo sausage with a Clamato reduction and corn & black bean salsa. The ingredients were fresh, but the Clamato reduction did not enhance the flavours of the seafood enough for me. Also, as they are out of season, fiddleheads were sadly not on the menu.
Fiddleheads has a children's menu and so our little ones shared the linguini pasta and the chicken tenders, finishing off both with no complaints. For dessert, we ordered the Maple Bourbon Pecan Tart and the Ice Cream Parfait. If you need a craft beer, skip Fiddleheads. Most of their selection is from the big breweries, though they did offer an Amber Ale from the nearby Perth Brewery. Overall, Fiddleheads was the least impressive meal we ate in Perth but we still enjoyed eating there. The menu has some nice options and its patio offer patrons a view of the lovely Stewart Park. It's a large restaurant too, so getting a table here should not usually be a problem.
Bistro 54
On day 2, we had hoped to dine at the Stone Cellar but faced a 45 minutes wait with no reservation – on a Tuesday! Luckily, we were able to find a table at Bistro 54, just a short walk away. Bistro 54 is an Italian restaurant that serves a small sampling of appetizers, bruschetta, excellent home made pasta dishes, and a half a dozen mouth watering entrees. This is my favourite restaurant in Perth.
We started with the Bruschetta Espanola, topped with Spanish white Boquerones (anchovies) and a healthy dose of lemon and red onion. They were really delicious. We also ordered the Chicken Kofta, knowing that the kids would like it but hoping that they would save some for us. They did not. Since Bistro 54 has no kids menu, we started with with the kofta before having them share the Bolognese, made with pork and beef, topped with garlic, onions, and sweet peppers, and served with garlic bread. Despite the garlic and onions, unnoticeable in the dish, the kids loved it.
For my main, I ordered the Piperade dalla Spagna, a piece of boneless chicken served on top of a sweet pepper and smoked Spanish paprika stew, with grilled vegetables on the side. Perfectly prepared, healthy, and very flavourful, this dish is the type of meal I would love to make for myself at home (but fail to match 100 times out of 100). Yashy ordered the Brasato di Manzo, a generous serving of Chianti braised beef brisket with a Gorgonzola stuffed twice baked potato. I sampled the brisket to ensure that it was as delicious as it looked. It was. For dessert, we went with the Crème brûlée, a Murphy family favourite. I did not expect to have a great Italian meal in a small town, but was happily surprised.
O'Reilly's Ale House
Yashy and I had been eating out a lot before visiting Perth and remained weary of pub food. I wanted to check out O'Reilly's because the craft beer list looked to be impressive, but we very nearly skipped the restaurant. Fortunately, most locals we spoke with recommended the place and I am happy that we decided to check it out. The beer list was great, with a significant selection from nearby breweries, and the menu had more than a few healthy options, with a range of salads, tacos, sandwiches, hot plates, burgers, and pub fare.
After eating healthy for the previous two nights, I indulged, ordering the Suicide Wings to start and the Butter Chicken as a main. The wings were nice and crispy though hardly at a suicide level. The butter chicken was spiced a little more vigorously than is typical of the dish, but still good. Yashy chose the Sesame Tuna Bowl, certainly the responsible choice, but also quite tasty. She had the Halloumi Crostini as an appetizer to counter her healthy decision!
I was most impressed with the Fish and Chips that the kids ordered off the children's menu. It's some of the best fish & chips I've tasted west of Newfoundland. The batter was close to perfect and I would like to have tasted it with fresh cod, but that's just the East Coaster in me complaining about leaving the homeland. Overall, the food was very good and I would certainly return to sample more of their menu. I also found a great new brewery, Small Pony Barrel Works, which specializes in sour beers. The Storm Front, a red sour ale aged in oak barrels with ginger and lime leaves, was amazing. I made it a point to stop into the brewery a few days later on route to Ottawa. The kids wanted to return for the arts and crafts kits they give each child!
Rocky River Cafe
Our last meal gave us what we sought all along, a mixed menu of cuisines with some intrigue and a lot of flavour. The menu is limited at Rocky River Cafe, but we were all able to find a dish that would leave us fulfilled. Amongst the specials that day were Oysters and a Moroccan Chickpea Soup. The oysters were fresh and delicious, while the soup was a favourite at our table. Even the kids were digging in. We also ordered the Bitterballen for the kids, a Dutch treat, but they didn't enjoy the texture and shifted their attention back to the soup. Our Little Man even tried oysters for the first time, and loved them. He's now ready to make the most of his upcoming trip to Nova Scotia.
I had the Chicken Marsala, served on a bed of fresh pasta with a heavy dose of sauteed mushrooms. I was not very familiar with marsala spice and like the introduction I received at Rocky River. Yashy went with the Blackened Chicken Quesadilla, a substantial dish that even the two of us would have struggled to finish. Order that one if you are hungry. The desert that day wasn't for slouches either, but the kids had not problem polishing off the Coconut Cream Pie.
[themify_hr color="gray" width="100%" border_width="1″ ]

[themify_hr color="gray" width="100%" border_width="1″ ]
Lunch Stops Near Perth
We spent our days exploring the beautiful countryside that surrounds Perth, making stops into Murphy's Point Provincial Park and Wheelers Maple Products for some afternoon fun and explorations. Outside of the town, we continued to pass fields of farmland and the occasional fruit stand, where we picked up fresh strawberries whenever we could. We also found a couple great places to grab lunch.
Wheelers Pancake House
What's a better place for a late brunch than a maple farm? I can't think of an answer.
The menu is amazing in its simplicity, each of the options contains some combination of Pancakes, French Toast, and Sausage. I had the French Toast and a Sausage, both topped with a river of maple syrup, with a side of Maple Baked Beans. Yashy and the kids contentedly ate pancakes and sausage. Yashy admitted that the gluten free pancakes are quite good too! Strangely, the coffee isn't very good here, but at least they put a lot of love into the syrup.
The grounds of Wheelers Maple Products, where the restaurant is located, also contain a maple museum, a zip line for the kids, and the coup de gras, a chainsaw museum. Inside the large shed, hundreds of chainsaws are in display, no two alike. Horror movie fans like myself might get experience flashbacks of the "Texas Chainsaw Massacre". If you are an avid woodsman, you probably grow light headed. It's an amazing sight.
CC's on the Rideau
Not far from Murphy's Point Provincial Park, CCs on the Rideau offers farm to table meals. They have a large patio near the base of Lower Rideau Lake, a very nice spot to enjoy lunch. However, we were spending the day at Murphy's Point, so we enjoyed a nice takeout lunch that kept us energized for an afternoon of mine exploration and fun at the beach. Our feast included CC's hand breaded Chicken Fingers and the Crab Cakes, both so delicious. We also enjoyed the Shrimp Scampi and the Black and Blue Salad, all laid out on the beach for a perfect afternoon in the sun.
[themify_hr color="gray" width="100%" border_width="1″ ]
With a number of options downtown, as well as some great stops in the countryside, Perth offers great dining places and family attractions. We really enjoyed touring the town on Heritage Bicycle Tours, canoeing with Perth Outfitters, and exploring a mica mine in Murphy's Point Provincial Park. We also liked that eating local was a focus of the many of the places we stopped into. If you are on our way to Perth, you're in good hands.